Tony DeSare's album Christmas Home was released in 2015, but too late to get it out to the radio stations and the reviewers, to draw much attention, so we decided to sit down with the affable singer, pianist, arranger, composer, lyricist and film scorer to talk about his album and his career.
"I have self-produced every album and I didn't get Christmas Home out early enough to get any press. I think that I got it mastered right around Thanksgiving and it was just too late to submit to press.
In the genre that I am in it is only natural (to do a Christmas album), because the great Christmas standards also have a lot in common with the great standards of the Great American Songbook golden era, like Irving Berlin, Gershwin and Cole Porter. The songs are right up my alley. It wasn't a question of if I would do one, but when it would feel right to do it. In the last few years I have started to do a lot of holiday Pop shows with orchestras, which I just love so much. It gets me in the spirit too, because for two or three weeks I am usually with different orchestras. I am doing ten shows with the Philly Pops and they have dances and they a children's choir with the full orchestra on stage. I have been doing it for the last four years or so.
Part of it was it would be really great to have my own Christmas arrangements and I could sell CDs after the show. It made sense business wise to do it and creatively I have wanted to do something for a long time. It is just that I knew when I did do it I would have to take it very seriously. If I record, "Have Yourself a Merry Little Christmas," that is going to be my version of it. It is not like I can keep trying to record better versions of it. Around the same time that I was thinking about doing a Christmas album, I fell in love with a Sinatra album that had slipped by notice, because it wasn't released on CD at the time when I was really getting into Frank Sinatra. I think it was 1955 or '57 that he recorded that. It is very unique. It is just Sinatra with the Hollywood string quartet and a couple of additional soloists. It was a string quartet, a French horn, a harp, and a really, really light rhythm section with just a bass and brushes. I just fell in love with it.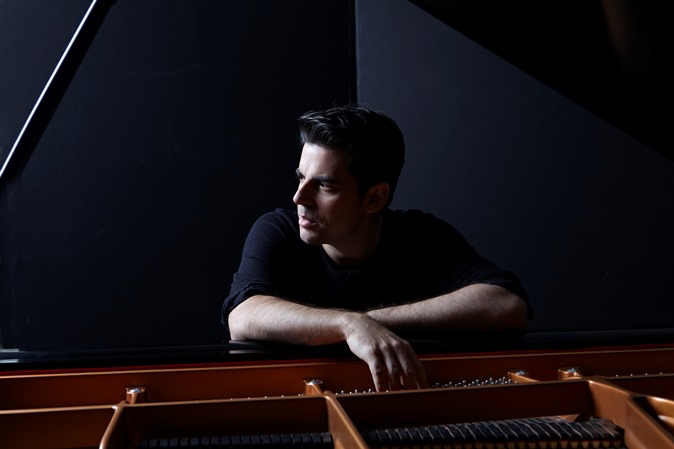 I really wanted to do something like that and I felt like I could pull it off, so I started planning. I asked Michael Ludwig who is the concert master of The Philly Pops and he is a world renowned soloist. I knew that he would be great as a first violin soloist. I started to put it together.
I spent a lot of time with my arrangers and bounced scores back and forth with them. I added the live video shoot during the sessions, which added an extra layer of complexity, because we had to think about how we all looked while we were recording and keeping the cameras rolling. Also, it keeps you honest, as far as what you can do in fixing any mistakes, because I wanted to do it the old school way, with all of the musicians, all in one spot letting all of the mics bleed into each other. There is a sound in that and a unity in that, which is part of the charm in those old recordings and why we loved them so much. I think that was pretty much how everything worked until getting into the seventies.
When they started to make the seventies albums of The Beach Boys and things like that it was part of the change with everything being multi-track. Now it is like everything is isolated and to me you may get perfect recordings and they sound great, but part of the charm of those musicians was that you had really good musicians just playing together in a room. Even when you have the little imperfections that come out in a situation like that, I wanted them. I wanted that feeling in the Christmas CD, because they are great songs. I wanted it to feel like a classic 1950s Christmas album, but also the thing that I hoped for was that it would have some feeling that is fresh and relevant. That was my goal and then I just worked as hard as I could on it. It took up my life for four months," says DeSare.
Now that he has a young son, the Christmas album took on even more meaning for Tony DeSare.
"That is why I took it so seriously when recording it, because in ten years if it is still circulating I don't want to think that I should have invested more money or time in this project. My son is three now, so he was a little more than two last year when I was playing it (Christmas Home). He was there in his chair and I just put it on. At first I thought there was something wrong with him, because he was glazed over and staring when the first couple of songs were on. When "It Is Beginning to Look a Lot Like Christmas," stopped he wanted to hear it again. He wanted to hear it six times in a row. Then he listened to the whole (album). It is almost like he knew it was me or something about it just captivated him. He didn't make a peep. It was so crazy," says DeSare.
As for the songs that he decided to record for his Christmas album Tony DeSare says, "There are a ton of Christmas songs out there, but as far as Great American Songbook Christmas classics there are handful of great ones and I wanted to make sure I had those on there. "Have Yourself a Merry Little Christmas," "I'll Be Home for Christmas," "It's Beginning to Look A Lot Like Christmas," and "Christmas Song." I didn't want it to be a swinging Christmas, because I could probably save that for another project. I didn't really want to mix in the big band, "Santa Claus Is Coming to Town," "Sleigh Ride," "It Is The Most Wonderful Time of the Year," type of thing. That to me was a different vibe. I wanted something that was warm and by the Christmas fire and romantic. The instrumentation that I had lends itself to that. That is why I picked the great Christmas ballads. I wanted to have a couple of originals on there. I had only written one Christmas song before, which is one of the end tracks. I wrote "Christmas Home," for the project.
For "Christmas Home," I wanted to write something that was in that style of songwriting in the thirties and forties. I thought a waltz would be nice to have on there. I came up with a melody. The lyric is really about a young family and when you have your first Christmas in your home with a baby. That is like when your own family Christmas starts. Up until then even if you had been living on your own for a while, your Christmas is still part of your parents' home. There is tradition, but at some point you become where Christmas is and you have your nuclear family now for Christmas. That is what the song is about, the first time that it happens to somebody."
There is also a fun bonus track when you buy the album and it has Tony DeSare impersonating eighteen different individuals, as he imagines how they would sing "Jingle Bells."
(Editor's Note: For the video only 17 impersonations were used)
He says, "When I do this with orchestras I will do this solo at the piano and it is really effective. The version on the album is a live version with the Naples Philharmonic. It was the holiday show for their concerts.
The fun thing about putting that (version of "Jingle Bells") together is all those people that I do vocal impersonations of are all artists that I really love and I spent a lot of time listening to, so I have their voices in my head. I love Randy Newman and I love Elton John. Radiohead, Neil Diamond and I love Michael McDonald. It is a lot of fun to be able to have that piece in my repertoire when I do Christmas shows."
This Christmas season also marks another first for Tony DeSare, "I scored my first film and it is a Christmas movie Love Always Santa. I scored seventy minutes worth of music and they licensed three tracks off of my Christmas album. I am really proud of it. I always wanted to do a film score. I have been on stage with orchestras for several years and I have been paying more attention to the arranging and how things come together."
Life began for Tony DeSare in Glen Falls, New York, the song to Don and Louise and older brother to Trina. He grew up in the neighboring town of Hudson's Falls. When he was a young boy, his father would play the guitar and sing at home and once Tony DeSare was in school he became involved with the music program.
"Early on what my dad was playing was stuff that he loved. It ranged from Elvis and The Beatles to James Taylor and The Eagles, David Gates and Bread, Dan Fogelberg and Jim Croce. It was guitar oriented, melodic (music). I guess I got that from him. I like melody and a good lyric. He liked songs that were pretty, catchy Pop songs. I didn't grow up early on listening to any Jazz in the house or anything like Frank Sinatra. He had the Trilogy album, which I loved as a kid, but really all that I listened to on it was "New York, New York," and "It Had to Be You." That was my breadth and knowledge of that genre.
When I was in fourth grade the first instruments that were offered for kids to play were the string instruments, so I picked the violin. I just always loved the music, so I came home and I said that I wanted to play the violin. That is where I found my basic rhythm and (learned how) to read music and pitch. I always was fascinated by piano, but we didn't have a piano in the house, but by the time I was at the end of the sixth grade I really wanted to have piano lessons and get a piano. My parents got me a keyboard and I had piano lessons. I just fell in love with it. Any spare time that I had I was down playing the piano, learning stuff that I was fascinated with and I just kept on progressing with it.
Most professional piano players that I know started when they were five years old, but I started when I was ten. I have always been a late bloomer I guess. It is the same thing with my career. My career continues to slowly get bigger and stronger. I feel that I am getting much better as I get older and I am learning how to practice on my weaknesses.
I got into things like Scott Joplin and I loved "Rhapsody in Blue." I discovered that after a year of playing piano. That is what really changed my trajectory, because I got serious about the piano at that point and I was determined to play "Rhapsody in Blue."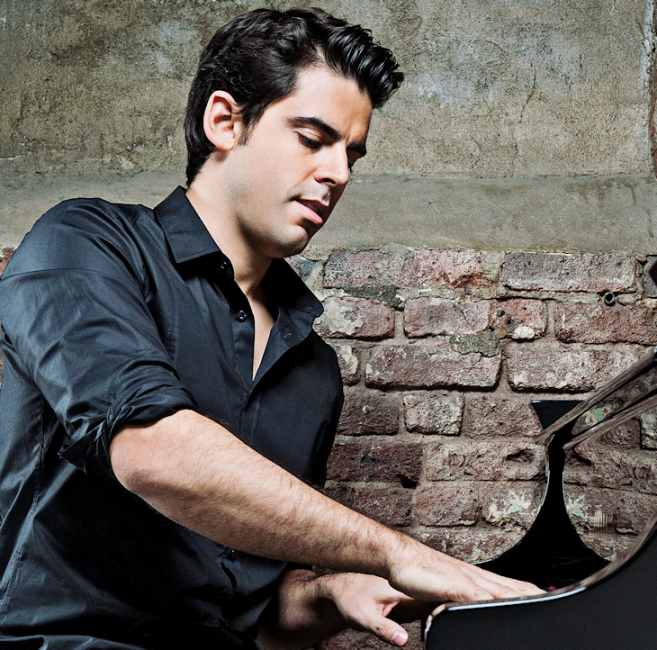 I just loved Scott Joplin's music and when I would hear "The Entertainer," and "Maple Leaf Rag," I would just want to hear it again. When I first heard it, it was magical.
I really didn't start singing until my voice changed. It was something that once I started it felt natural to me. Everybody who does this professionally has a very different path. I have had very little formal education in any of it. I took piano lessons when I was a kid for a few years. I have picked stuff up along the way from all of these great talented pros that I have gotten to know through just being in this business. I never took voice lessons and I never really took Jazz piano lessons. I have learned by studying people who do it really well.
I started singing in my mid-teens and by the time I was a senior in high school my friends kind of urged me to do a show. I was pretty shy. I put together a little Jazz combo and I did a show at my high school. I got all of this local press attention and before I knew it I was playing hotels and upscale kind of bars in the Lake George / Saratoga Springs region, which is a big tourist area during the summer.
I went to Ithaca College and I started premed and eventually I switched to business. I would have switched to music, but I would have had to stay there longer. I got a business degree and while I was at college I (gained) a following from the students there, which was really encouraging.
I moved to New York without any connections and it took about six months but I got a steady five nights a week job at the Marriott Marquis hotel in Time Square. I certainly was lucky. I just happened to have the skill set that they needed. It is so true about luck that when you have the opportunity, you also have to be prepared for it. I was lucky to get that shot, but they had been auditioning people for quite a while already and they needed somebody that had a keyboard and that could play left hand bass, play piano and sing and have a large enough repertoire to do four hours a night.
After doing the Marriott Marquis for about a year and one-half I got an opportunity to do an Off Broadway show of Frank Sinatra's music called Our Sinatra.
DeSare talks about that experience, "It wasn't really acting, and it was a musical revue. Nobody was doing an impression of Sinatra. It came from a cabaret show at the Algonquin. There were three singers on stage. I played piano and I sang in it. It was different, because I was understudying somebody who was portraying his angle. I learned so much doing that. I learned a lot from how things were put together and what worked well every night. The thing about this show is the repetition and when I did take over the show eight (times) a week I really got to observe. I had the whole thing memorized and I could watch the audience throughout and find out what things were effective and which things weren't. It was one of the big break throughs in my career getting that show."
Tony DeSare describes the Great American Songbook as the Pop music of that era, "It is hard to picture, because we have gotten used to this being a catalogue of almost being America's Classical music. There was a time when Beethoven was the Aerosmith of his time. It is important to remember Frank Sinatra was the first Justin Bieber, as far as the cultural spot that Justin Bieber has been occupying. Frank Sinatra was the first one of that mold. He was the first one to have tons of screaming girls and he was singing these great songs. At the time nobody was saying these are amazing songs.
Early on the biggest market for the music business was sheet music, so the key was to come up with songs that were easy enough to play, but sophisticated enough that people wanted to learn how to play them and they would sing them around the piano. That is how the whole popular song business got a foothold. They started to create stars and stars were the ones who could get songs heard, but it was a song driven market. They were Pop songs and they were three to four minutes, little stories about romance and life. To me it uses the vocabulary of Jazz. People ask me if I consider myself to be a Jazz artist and (I say) only to the extent that I use the vocabulary for these classic Pop songs. I love a good melody and I love a good lyric. There have been plenty of songs written in the last 110 years. The focus has moved further off of good melody and lyric and so has the number of Pop songs that will survive translation to another genre, another arrangement and another tempo. So much of what is written today is as creative as it can be, but it is not focused on the song, it is focused on the sound of the bass drum or the beat."
That said Tony DeSare's musical palette is quite vast. "I think it is what in the last few years has allowed me to carve my niche in what I am doing. I have loved so many eras of music and I have been trying to familiarize myself with being able to do (them). Now when I do a live show I really cover 100 years of Pop music. I will do something from 1915, something from the twenties and thirties. I will do a Bob Dylan from the sixties, I will do Elton John and Billy Joel or even Bee Gees or Bruce Springsteen from the seventies, Prince from the eighties and I have original songs. My operating theory about all of that is to present all of these quality songs and to offer a different interpretation and not like a cover band, but focusing on the song. I know that it works, because I have seen it work time after time with audiences. All of those generations can work together in a show, because they are strong songs."
Tony DeSare has enjoyed successful tours throughout Europe, as well as Tokyo and Australia and he is appreciative of how the audiences in those countries have responded to his performances and he wants to return.
Tony DeSare's Christmas Home is his fifth album, all self-produced and one gets the sense that despite his success the best is yet to come.
He says, "This (music) is something I loved when I was a kid. I am not curing cancer or anything, but it is something that I really wanted to get good at and I am constantly frustrated that I am not better at it. I love sharing it. Maybe I would have been more successful if I had cared more about being famous and making a lot of money. I just really wanted to make music and to share it with people. I have never fantasized about being famous or anything like that. Maybe if I did my music might (reach) a wider audience. I am not complaining. I love what I have been able to manifest from playing music."
Please visit the Tony DeSare website.
#TonyDeSare #TonyDeSareChristmasHome #TonyDeSareOurSinatra #RivetingRiffsMagazine
This interview by Joe Montague published November 26, 2016 is protected by copyright © and is the property of Riveting Riffs Magazine All Rights Reserved. Except where indicated photos are the the property of Tony DeSare and are
protected by copyright © All Rights Reserved.
This interview may not be reproduced in print or on the internet or through any other means without the written permission of Riveting Riffs Magazine and is protected by copyright © All Rights Reserved