Ulrika Ölund's Paper Planes and Skylines - Country with a Pop Twist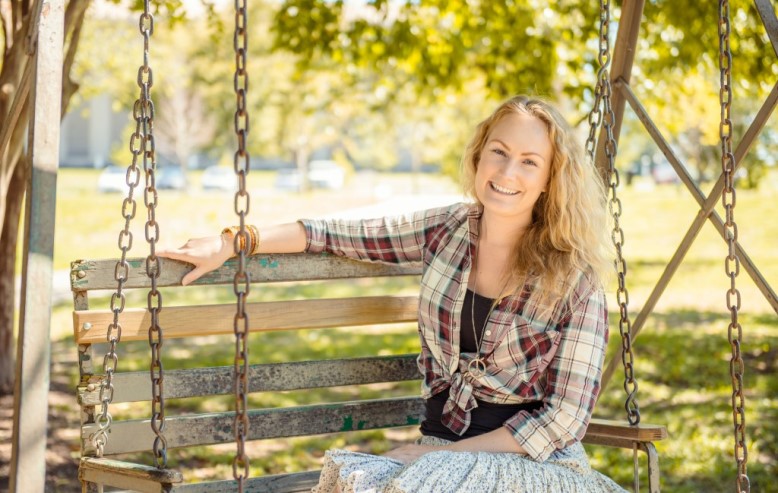 Ulrika Ölund's current album Paper Planes and Skylines is appropriately titled as it provides a snapshot of the Swedish Country music singer, songwriter and musician's life and career. If you are expecting to hear a Swedish accent on these songs or some Swedish concoction of what Country music sounds like from a Nordic country you are going to be disappointed, because Ulrika Ölund sounds like she would be comfortable in Nashville, Tennessee. Guess what? She is and she has spent a lot of time in Nashville and she cut her teeth in the music industry as an intern at Curb Music Publishing. Ölund describes her music as Pop with a twist of Country, but we believe that North American audiences will hear her music as Country with a twist of Pop.
If you enjoy the music of Little Big Town and Lady Antebellum you are probably going to enjoy the music of Ulrika Ölund. Her song "Those Were The Days," is an excellent feel good song that will put a smile on your face. It is up-tempo, with great vocals and solid instrumentals. It would be difficult to imagine concertgoers staying seated during this song, because the music encourages you to stand up and to sing the chorus back to Ölund as she performs. Like most good Country songwriters Ulrika Ölund draws from personal experience and "Those Were the Days," talks about her time growing up in Undrom, Västernorrland in northern Sweden, five and one-half hours drive north of Stockholm. The lyrics draw great word pictures and it is easy to imagine the scene unfolding. There are plenty of great songs on this album, but we would buy the album if this was the only good song, because it is that good.
"I grew up in the north in a very small village and there are about 500 people there. Everybody knows everybody kind of a thing and I think that's imprinted very much on me as a person. I like to think of Sweden as a country filled with music, beautiful nature and quite shy but welcoming people," says Ölund.
She says that the song "Those Were The Days," was written after she wrote "Home," (which we will get to in a minute) another song that pays tribute to the village Undrom.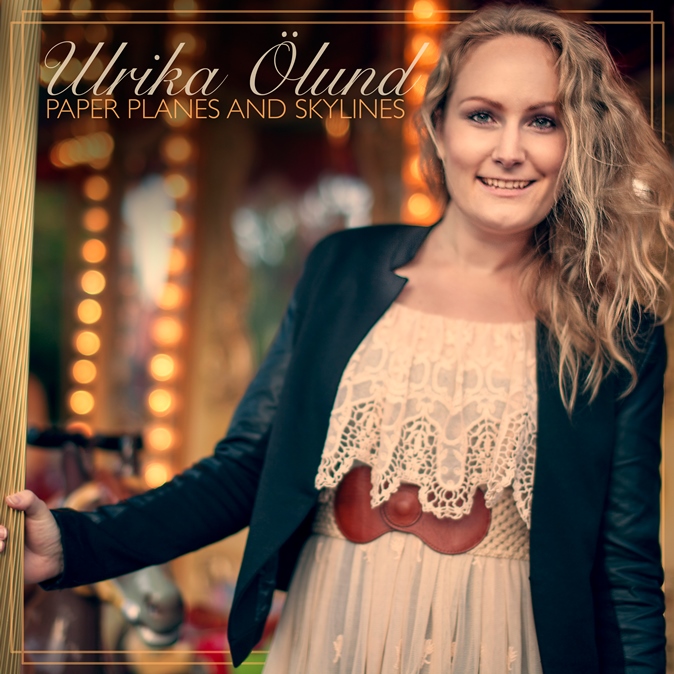 "(The song) "Those Were The Days," was inspired by my teenage years. I went along with the tribute part and how my teenage years have made a mark on me. It is a bit nostalgic (and about) uncomplicated love when you are young. When I was a teenager my friends and I always went out to the woods and we lit a fire. We brought our guitars and we sat there and played music for hours. It didn't matter if you were good or if you knew the lyrics or if you knew how to play the guitar. Everyone was just singing and spending uncomplicated time together, so I wanted to write something about that," says Ölund.
The song "Home," also has a companion music video. It is not a glitzy video that is going to knock your socks off with a lot of drama or hype or special effects and it does not need to do any of that, nor would it be a good fit for this song if it that as the intent. It is still well done, but the message of this song and this video is simply, Ulrika Ölund telling us, this is where I grew up, here are some of the people I know and these are the hills, the river, the fields I still love so much and this is the bridge I used to walk on. This is where I had my first heartache and where I learned to play my guitar. It is a song that lets the listener get to know this talented and personable young woman. You get to see through her eyes and hear through her words a beautiful part of Sweden and the people like her grandma that helped shape her life. Just maybe while you are listening to "Home," you will have a few memories of your own.
"It is a tribute to my hometown and I have never managed to write a happy song before, mostly because I think I like the melancholic way of writing, the words and the melodies. I had never been able to write something that felt sincere and happy. (When I wrote) "Home," I was not trying to write a happy song, because I had already given up on that thought. I decided to write something about my hometown, because it is a huge part of who I am. I still have my family up there and I wanted to give something back and to let my music speak for my feelings about Undrom.
It was really a fun (video) to make. I shot it myself and edited it myself. I have never done that before and that summer I decided to try something new. I bought all of the equipment and I know a lot of people who shoot video and they volunteered to help me, but I wanted to do it myself. I wanted to put together my family, my friends and all of my favorite surroundings, so that's what it is.
It is mostly people that I know and some people that I don't know, (as well as) my friends' friends or people from towns close by and who wanted to be a part of it. They are mostly people that I know, but also (some) new faces for me," she says.
When you visit Sweden one of the first things you realize is that just about everyone who comes from a small town or village is very athletic or very musically inclined and in both of those areas the people are very gifted. For a country of just under ten million people Sweden has a lot to be proud of and Ulrika Ölund is one of those people.
"I did not grow up in a musical family at all. I grew up in a sports family. When I grew up I played soccer and then I started to play guitar when I was around ten or eleven. I fell totally in love with making music, playing music and listening to music. That started taking up all of my time. When I was sixteen I dropped soccer and I started writing my own songs and after that music was a huge part of my life," explains Ölund.
As for when her interest in Country music started, she says, "I attended the reputable Songwriters Academy in Örnsköldsvik, Sweden. In that school you write songs for other artists and you learn to produce and you learn to develop yourself as a songwriter. My lyric teacher came in one day and listened to the tracks that I had been doing and he said everything that you do sounds like you have been influenced by Country. I said, that's really interesting, because I have never heard Country before. I heard Dolly Parton and that was it. I said no I don't listen to Country. I listen to Pop, Rock, R&B and Soul. He gave me a list of CDs to listen to and I went and bought the CDs straight ahead and I listened to them carefully. I realized that I totally got what he meant. This is what I was doing, Pop with a twist of Country, although I had never really listened to Country before.
That was really a turning point for me and after that when we were doing our internship in school where we could go to any record label that we wanted. I thought if I felt this way, just listening to these CDs then I want to go to Nashville and try to find out even more about me as a songwriter and as a singer, so I emailed Curb Music Publishing in Nashville and I got an internship there for seven weeks. I went there and I learned a lot. After a few weeks they asked me if I wanted to write with their feature writers and that is where I found my own sound."
As for venturing to America at a young age and immersing herself in a completely different culture she says, "I tend to do (things like) that a lot. I just throw myself out there to see what happens."
One of the songs that Ulrika Ölund co-wrote with Jefferson Ross, while she was in Nashville was "Crust Of the Icy River," from her 2008 EP Memorylane and it received considerable airplay on radio stations throughout Sweden, as well as being played on stations in Germany, America and Norway.
"When I came home from that trip I wrote a lot and it was really like trying to find my sound even more and trying to find my sound recorded, not just sitting down with a guitar and vocals. I was trying to get to the core of who I am as an artist. I got really good reviews. I put together five songs on that EP and that was really the starting point for me," she recalls.
In 2009, Ulrika Ölund entered her song "Unforgettable," (not to be confused with Nat King Cole's song of the same name) in the International Songwriting Competition, which drew 15,000 entries from 100 countries. Much to her surprise she became one of the semi-finalists in the performance category.
"I was shocked, because when I entered that competition, I wanted to try and see how far I could go and to just do something for myself as a fun thing. I didn't expect to be among the semi-finalists at all," she says.
We make the suggestion to Ölund that her 2010 single, "Sick and Tired," does not lead one to believe that this is a happy song and she starts to laugh, "It is not a happy song. It is about being fed up. It is when you get all these expectations (from someone else) about who you should be, where you should live and it is basically about a relationship when the other person is trying to change you, so you will fit their standard way of being and after a while you say enough! I am sick and tired of this. I am not going to do it."
The conversation segues nicely into a discussion about the song "Not Gonna Change," from the current album Paper Planes and Skylines.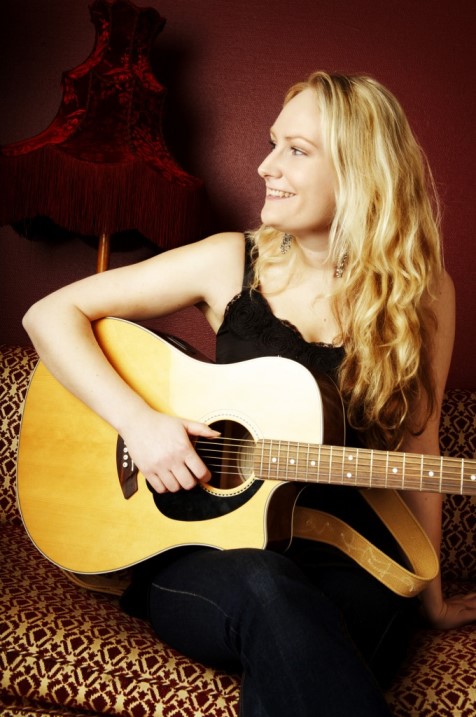 "That is actually a song that I wrote many; many years ago, I think it is about ten or eleven years ago. It has been a part of my set list off and on playing live, but I never wanted to record it before. While doing this album it felt like a good fit for it, but I didn't like the lyrics and I felt like it had to change. There had to be a twist on it. I rewrote the lyrics for this album, but with the same (message) that I'm not gonna change and about standing up for who I am. It is an old song, but it is close to my heart, because it also says a lot about who I am as a person," she says.
The song "Not Gonna Change," offers the opportunity for Ölund's acoustic guitar playing to really shine and once again her vocals sound more like she was born in the southern United States than a young woman who grew up in Sweden and now lives in Gothenburg in the south of Sweden. How does she achieve that sound?
"I actually have a harder time writing songs in Swedish (she laughs). I am really struggling with that. It comes natural to me (to write in English) when I am sitting down with my guitar and just trying out new songs, melodies and chords. I always start to sing in English. For me it is in one way a richer language. I feel there are more sentences to play around with. I also think that since Swedish is my native language, it is very close. I think that it gets too close and I don't know what to do with it.
In the north we have a certain accent and when I go to Nashville it feels similar. I guess it has the same kind of rhythm in it. That is how I feel. It has a rhythm that feels very similar to my native dialect. The American accent and the way to use words feels closer to home (to me)," says Ölund.
The second song on Paper Planes and Skylines, "All That You've Got," is a song about your heart breaking, as the one you loved walks out the door and all you are left with is the feeling of emptiness, as you feel like your world just crumbled. If you have ever had your heart broken, you will be able to identify with the lines '"This is when your heart goes numb / But you are standing up tall / Even though it hurts like hell"
Ulrika Ölund talks about "All That You've Got," "It is about finding your inner strength in rough times and when you feel like giving in. You are lying on the floor and saying I can't do this. It hurts too much. You are standing up for you and you do not let love bring you down."
In 2011 Ulrika Ölund once again enjoyed radio success with a song, only this time it was not one that she had written.
She explains, "The song "Trains," was originally written by a man called Rolf Carlsson and he had a Swedish title for that song when he got a lot of airplay on the radio and a few TV performances. He contacted me in 2010 and he asked me if I wanted to do an English version of his song and to rewrite the lyrics, so I did that. His record company said, we really like this and they wanted to record it. We recorded it and it was released in 2011, but nothing happened. We thought that radio was going to pick up that song, but it didn't. After a year it started to get airplay on every P4 radio station across Sweden. When you release a song and you really believe in it and nothing happens after the release, you go okay well it wasn't the right song to release right now. When after a year it (received) really good airplay and PR that was really cool."
In 2015 Ulrika Ölund took the songs from Paper Planes and Skylines on the road when she returned to America.
"I had been in Nashville two times before and the first time was when I was in school and I was there for seven weeks. In 2010 I went back there for three months and since then I wanted to go back, because Nashville for me is like a second home. It is my musical home. That's how I feel. I knew that I wanted to go back to Nashville and to play at the Bluebird (The Bluebird Café). I was talking to one of my friends about his trips to America and we said why not go on a mini tour and visit many states and play in cities that I had never played in before and of course go to Nashville and play at the Bluebird again. We also wanted to do the Skyline Drive (in the Blue Ridge Mountains of eastern Tennessee) and the Smoky Mountains to see the mesmerizing nature. That was really, really beautiful. The Smoky Mountains are one of the most beautiful places I have ever seen (you can hear the happiness in her voice).
It was called the Skyline Tour, because of my album name, Paper Planes and Skylines. I decided to name my album Paper Planes and Skylines, because all of the songs are about me starting out in a small village in the north of Sweden, running around throwing paper planes and starting to write my own songs. (It is also about) then going for the skylines, being out on the road, finding my sound, finding out who I am and having that safe place to go back to up in the north, a really calm and beautiful place. Then it was heading out to the skylines. I would throw myself out there and try new things and (it is about) being out on the road. It was called the Skyline Tour, because of that part of my life and part of the album.
As for the album she says, "I wanted it to be an album about love and the different shades of love, with all of the emotions that come with love and heartbreak. I wanted to do an album for many, many years, but it never felt right and it never felt like I got the right songs together (as far as) how they speak to each other. For me it is important that they become like a book. I finally got the songs together and we started the recoding process.
I produced, wrote and co-wrote all of the (songs). My love Petrus Wessman (songwriter and producer) was a huge help during the process, as he co-produced, mixed and supported me. He also co-wrote two of the songs, "Home," and "Those Were The Days."
We started out recording the drums at Nordic Sound Lab in Skara with a drummer named Magnus Höglund, then Christopher Ek played bass on eight of the songs and after that we went to Gura Studios in Mariestad where I know a guy who is really, really talented and his name is Stefan Jonsson. During two intense days we recorded guitar on all the tracks, as well as mandolin, dobro and banjo. He even got me to play mandolin on one of the songs and I had never done that before."
In addition to being a touring artist, Ulrika Ölund works in Sweden as a music consultant and she takes time to explain her role.
"We in Sweden call it a Studieförbund, arranging courses, study circles and cultural activities. In my work I help singers and musicians come one step closer to their dream by giving them a place to rehearse, coaching them, printing posters, helping with travelling expenses to gigs etc. Folkbildning is a part of the liberal non-formal educational system."
"I grew up in a beautiful small town in the north of Sweden where everyone knows everyone. I was really shy growing up and music became my language, my way of expressing who I am and it has been so ever since. Today I run my own company, I write my own songs and I'm involved in every little bit that has to do with my music. It's very important for me to stay true to myself and be able to express myself freely," says Ulrika Ölund.
Please take time to visit the website for Ulrika Ölund. You can follow Ulrika Ölund on her official Facebook page.
This interview by Joe Montague published March 19th, 2016 is protected by copyright © and is the property of Riveting Riffs Magazine All Rights Reserved. All photos are the property of Ulrika
Ölund and are protected by copyright © All Rights Reserved.
This interview may not be reproduced in print or on the internet or through any other means without the written permission of Riveting Riffs Magazine, All Rights Reserved