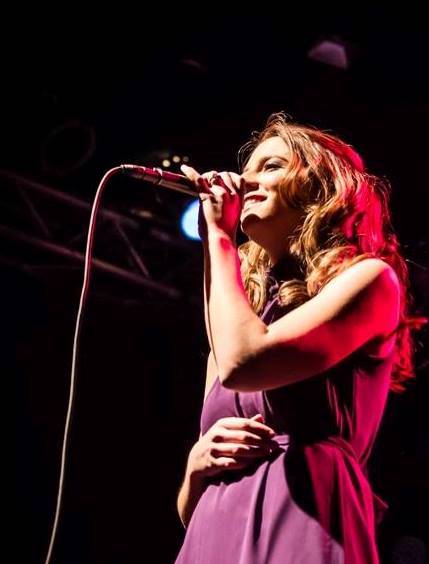 As we talk to French singer, songwriter and musician Violette we will unabashedly admit that Riveting Riffs Magazine is a big fan of her music and of the person as well. In the late fall of 2014 Violette released her album Falling Strong, which takes its name from the song of the same name and that appears as the second track on the record. While we have watched the Berklee College of Music graduate evolve as an artist Falling Strong represents Violette's most diversified and accomplished album to date. She recorded songs in French and English, in addition to her first duet, one with Louis Cato (Mariah Carey, John Legend and Marcus Miller).
About "Falling Strong," the song, Violette says, "I called Louis and I said I wanted to write, so we went into the studio together and he said what do you feel like writing? I was listening to Motown all of the time and it is very much going through my veins right now. I said let's take this thought there and see what happens. We laid down drums, bass and the guitars and I was singing all over, so we could see what we started to like. I went home with that track and I figure it has that Marvin Gaye vibe also. Nobody knows it yet, but Louis has an incredible voice, besides all of the other skills, so I thought he would be the one for the duet."
Violette elaborates about Cato's musical abilities, also noting that he co-wrote another one of the album's songs with her, "Annabelle."
"He is a wonderful musician. He is one of these aliens who can play an instrument (drums, bass, guitars) at a level that nobody would expect. He is an outrageously talented fellow."
"Falling Strong," which has an accompanying music video is a fun, upbeat and romantic song that celebrates being in love. Violette delivers a sincere energy and joy to the song, mixed in with that sweet girl next door persona, while Cato was an excellent choice as the male part of this duet and brings splendid vocals and an R&B vibe.
The placement of the song "Falling Strong," on the album immediately following the song "All My Life," was a wise choice. "All My Life," is a beautiful, romantic love letter, as it describes that magical moment when you realize you just met "the one," with whom you believe you will be spending the rest of your life. The music video for "All My Life," is cute and it offers two different interpretations of how they met, the courtship and marriage. We get his perspective and we get hers and both are positive and fun.
"My husband Brad Hasse directed the "All My Life," and parts of it are autobiographical and parts of it are fictional. We worked around the concept for quite a while with the help of our friend Parin Sarasin, who built the puppets (used to depict Violette and Brad in the video) from scratch and then built all of the props. We filmed at home, so it is a very homemade tale!" she says.
In an interview with adcyoungguns.org Brad Hasse said, "When purchasing some of the props for the video, the owner of the liquor store I went to wasn't too sure of me when I said, "Excuse me sir, I'd like a bottle of your finest, but absolutely smallest, bottle of champagne please!" We weren't as lucky at the bakery or pizza parlor, so the props for those scenes were made from scratch."
Violette refers to Falling Strong as her most personal album, "because I had the great pleasure to work with my friend Brian Bacchus as a producer on this album. His approach to producing is extremely free and it is not like he told me that I should write this and that. I wrote what was in my heart and ears. I would say that is the best picture of that period of my life, as far as music based and what was happening in my life."
What was going on in Violette's life when this album first started to take shape almost three years ago?
"I was building my family with a baby and marriage, so it is a good way to feed your music and taking time to have new things to say," she says.
Violette's vocals are tender on "Annabelle," one of the songs that she recorded in French and the song bears the name of her daughter.
"I wrote it the same day that I wrote "Falling Strong," with Louis. We finished the track "Falling Strong," and I was hey Luis we have twenty minutes and I started writing this song and I said let's record a track to it and see how it sounds. I had the chorus and I wrote the verse with Louis. I usually start with melodies, so I came back home and I started going through a number of ideas and I trashed them and I got upset. Finally, it shaped up when it had an affectionate (feel), but it is a strong transition when you are becoming a mother. There is some fear and some joy and some soul mixed together and that song was about these doubts and these fears all wrapped up in love and everything," she says.
Violette who spent the first nine years of her life growing up on an island in the southwest of France, before her family moved to Paris when she was ten years old, still performs in France whenever she gets the opportunity.
"It is always a great time when I go back, because I grew up there. The audience is always friends and family and people who have been following the music for a long time, so it's a really fun time.
It is a funny thing, I always say I only started singing in French when I moved to the States. It is very funny. I started my career mostly in Jazz, in Gospel and Soul music and when I started arranging standards it was in English. When I moved to Boston, so many people said to me, oh you are French can you sing some Édith Piaf and Jacques Brel songs? At some point I thought I really need to get a repertoire this is embarrassing. I thought of learning a lot of French songs and performing them. This also opened up my French writing. They say sometimes you have to go abroad to find yourself. It was ironic that I had to move to the United States to release that singing and writing in French. People in the States love French music. They absolutely love it.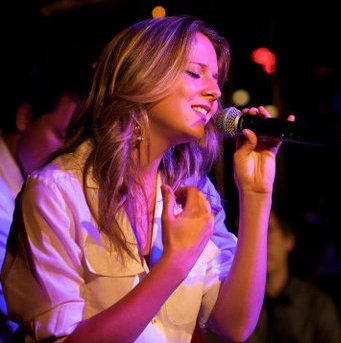 I have performed in Montreal (Canada) many times and I would say it's probably one of my favorite places to perform. The culture there is an integrated part of anybody's life. You see it in a number of festivals. The first time I played there I didn't know how many people there would be and it was such a pleasant surprise, the people were so warm and were so enthusiastic about music in general and the arts. I think if New York didn't appeal to me, it (Montreal) would definitely be a place to move to," she says.
"Envol," another one of the songs recorded in French, was written with Violette's mother Anne de Bartillat, one of two songs that they wrote together for this album, the other one being "Moi Pour Moi."
"Usually, when I perform "Envol," I check out whether or not people in the audience speak French. The subject of the song is pretty heavy. It is a song about parents losing their child. During the two years of writing and producing the album I became a mother. I really feel nowadays that I didn't know the meaning of fear until I became a parent and mother. The idea of losing your child is a very difficult thing to accept. This song talks about friends of our family who went through this and the lyrics are really intense. The lyrics were written by my mom, so it was a good family collaboration around a topic that meant a lot to both of us," says Violette.
For the beautiful "Perfect Illusions," Violette made good use of strings arranged by Duncan Winkel.
"I wanted to write a song about how our mind can be our best ally and also how it can be our enemy. Sometimes when your will is very, very strong, it is not directed into a positive goal or a very meaningful one and if it is a very bad thing how it can destroy us. To me that can occur in many different circumstances in the lives of people. Some people set goals for themselves that endanger their own lives and that don't make them happy. That is what I wanted to write in that song. I was not trying to be preachy or anything, but to have a more compassionate take on it. It is really difficult to help someone who has mental obsessions. It is a blend of trying to communicate with someone in an affectionate way, but also to be firm. With "Perfect Illusions," I was trying to find a strong rooted groove, but also in a very affectionate way. The strings were a good way for that, because it always grounds the music. It also has that romantic aspect of the strings that can convey the very strong and firm I want to help you and you need to get out of this, but also I am here, because I love you. It's not simply preaching or a speech. The strings were arranged by Duncan Winkel who was one of the performers in the Boston Boys, a band that was right out of Berklee College of Music where I studied. When I heard his work with the Boston Boys I liked it and that is why I asked him to arrange strings for "Perfect Illusions," she says.
The Jazzy "Musiques D'Amérique," is a good song that makes great use of a horn section consisting of Curtis Taylor (trumpet), Stantawn Kendrick (alto sax), Anthony Ware (tenor sax) and trombonist Robert Edwards. The horn arrangements are by Kamau Kenyatta.
About "Musiques D'Amérique," Violette says, "The song is the one that closes the album. I would say it is a recapitulation of the album and "Musiques D'Amérique," means American music or music that is from America. It is about how I enjoy all styles of music and how America gathers all styles of music. I have found in the States that it is open to blending and mixing different genres of music, which I find in France, is a little more difficult and it is a little more closed up, as far as mixing Jazz, R&B, Soul music and Gospel. I think they are very separate (in France). I also wanted to bridge the French influence in my songs, so I figured if I was going to bridge the American and French music, New Orleans would be a good place to do that, because it is the cradle of so many cultures. Kamau Kenyatta is a wonderful horns arranger and he worked on the entire album. The song was a tribute to all the styles of American music."
Please visit the website for Violette. Return to our Front Page
Interview by Joe Montague, protected by copyright © All Rights Reserved. Photos courtesy of Violette, protected by copyright © All Rights Reserved.
This interview is protected by copyright © and may not be reproduced in print or on the internet or through any other means without the written permission of Riveting Riffs Magazine, All Rights Reserved