WW Club Dancing In My Dreams - Amanda Walther Talks About the Album More Better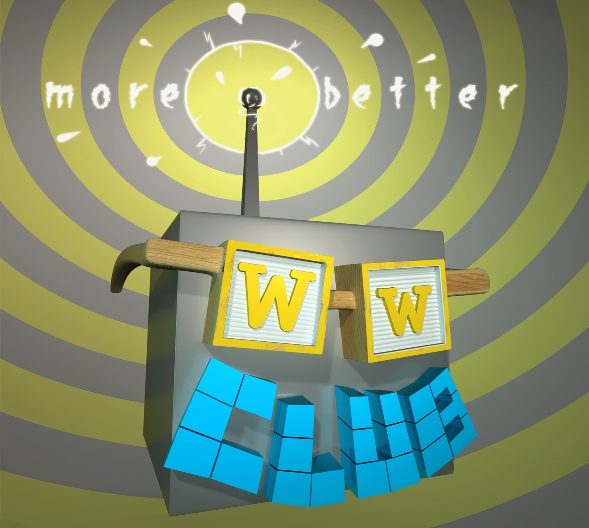 The last time that we spoke to Amanda Walther she was on the verge of a huge musical breakthrough as one-half of the Rootsy duo Dala. Along with her musical partner Sheila Carabine, Walther embarked on several years of touring more than 200 days per year primarily in America and Canada, with some additional concert dates in the U.K.
Fast forward to 2015 and Amanda Walther says, "I am a new mom. I am a year in and I love it. It is wonderful. I wasn't a mother when we started this album (More Better by WW Club, pronounced as Double W Club), but I am now. It is quite fitting and it has been helpful."
The children's album opens with a song that takes its title from the group's name WW Club, a gentle rap / R&B blend that gets your toes tapping, your hips moving and your head nodding to the beats and grooves. The message is simple to love, "love like your mom makes, love like syrup on pancakes," and "we don't exclude, we just love," and the harmonies on the chorus are beyond smooth, while inviting you to sing along with them, whether you are a child or an adult. The liner notes do not tell us whether it is Tim or Mike Walther leading the rap, but whoever it is does a good job.
Then there is the Pop song "Dancing In My Dreams," oh yes!! With Amanda Walther singing lead vocals, sign this lady up – wait she is already signed. She is joined by Mel, Tim and Mike Walther. Yes More Better is a family affair. This is an upbeat, beautiful little song that made this writer wonder if there is a children's Top Forty, because if there is, this one would rank at the top of the charts.
When and how was the album More Better created? A better question might be where were the seeds of creation first sown? Would you believe in the hearts of some children in a crawl space when cousins were visiting one another?
Amanda Walther explains, "I have always been very close to my cousins. We grew up together and we saw each other every weekend. In the Willson family my aunt and uncle had six kids. My brothers, my other cousins from Toronto and I would go and visit them in Brampton almost every weekend to hangout and play.
We found this crawlspace in the basement and we turned it into a clubhouse, which we called the WW Club (Double W Club). That is where our creative juices started to play off of each other. We would produce plays in that basement, we would come up with musicals and we wrote songs. It has taken us this long to actually do something with that club.
I was between the ages of zero (she chuckles) and eleven, but I guess my fondest memories are when I was around seven or eight. We put on some fantastic and hilarious plays. We were just a very close knit family that grew up in creative households and that was our form of expression. I am pretty much in the middle (age wise). It was an interesting dynamic. My (older) brother Ken had a way of naturally leading the group, but we were all so creative, that it was pretty organic. We really created it for ourselves.
Almost all of us are parents now. It started when my cousin Mel said you know I am really having a hard time finding music that I can stand listening to along with my daughter and she asked me to make an album for her. She and I started writing together and then I started to write with my brother Adrian who is a professional musician and producer in the U.S. One thing led to another and we just had so much fun writing these songs that we had to put it out officially.
It started with a song called "Bumble Bee," and we were in the backyard and I had a guitar in my hand as usual. A huge bumble bee came buzzing by and I just started singing bumble bee and a friend of ours started oh look it a bum bum bumble bee and that was it, the song was born. I sent a very rough recording of it to my brother Adrian in Nashville and he played all of these instruments making it sound so amazing. That sparked the inspiration to keep writing.
As already alluded to, More Better is an eclectic album reflecting several musical influences and themes from the slow moving and contemplative "Mars," to the funky "Bathtime," with once again Amanda Walther leading the way with outstanding vocals.
When asked about her vocal performance on this album, Amanda Walther replied, "I definitely got a chance to reach outside of my genre with those songs. It was so much fun."
The song "Stop, Drop and Roll," although fun has a serious message for burn victims and provides an excellent opportunity to educate children and adults alike what they should do if they catch on fire.
She says, "The chorus for that song just came out of a laughing session and then it occurred to me that was the proper steps so then I went on Wiki How and it had the most in-depth Stop, Drop and Roll instructions I could find. I thought it was very helpful. With their partnership we wrote "Stop, Drop and Roll."
A lot of children go through stages where they are afraid of the dark and what lurks in the dark or under the bed, that being of course monsters!
"We actually wrote "Monsters" for my cousin and bandmate Mel. Her son started to be afraid of monsters and we really just wanted to write a song that kids could sing back at their fears and that we could too. We wrote "Monsters," which is our acoustic Punk fightback song," she says.
There is an incredible line,"Monsters don't eat children, they only eat carrots." One cannot but help read into this that just maybe there is also a message here to encourage children to eat something good for them, like carrots and maybe that is the reason we hear the word carrots pondered, like really?
As to the eclectic nature of the songs, "We have a wide range of musical interests between the four of us, especially when my brother Adrian and I were bouncing ideas off of each other. Sometimes I would have just a nugget, a melody of a song and I would send it to him and we would both allow our imaginations to run wild. I think that is why a children's project is so much fun. It gives you permission to tap into those creative energies that you had when you were a child with no limits. We didn't want to limit our creativity. The whole focus of our album WW Club is about encouraging creativity. I feel like that is what we did. We allowed the song to guide us down this awesome, imaginary road and we let the song take us where it would. That meant that we have an eclectic and sonic buffet (she laughs) on the album. We dig so many kinds of music and it all came out as we were writing."
Amanda Walther says the response has been great to the WW Club's album More Better, "People that we have come across really want to have music that their children can enjoy with them and that is fun, but also as adults that they can find funny and they can love it as much as their kids do. That is the goal and I feel like we are getting there. A lot of parents have written to us and have posted to us on Facebook and they have said how much they love it and how their kids are singing along like crazy. It's great. It has been really great.
I am a big believer in and I am pretty passionate about children's education in general and in the arts. I feel like there is no reason why we need to simplify or dumb down the musical elements for children. There is a reason why all of my nieces and nephews sing along with radio hits, because it is catchy music that is easy to sing along with and often there is a chorus that makes you want to dance. That's what we are trying to do with WW Club. We just want to make music that we enjoy, that we are proud of and that is good music for children. Our Music talks about things that children are interested in or any of us really. We did write the songs out of our own imaginations, so …. (and her voice trails off into laughter).
As for Amanda Walther's other musical collaboration, Dala, the duo is now touring again.
Amanda Walther says, "We have been so fortunate to travel all over the States and all over Canada, playing in some beautiful venues and meeting some extraordinary people, theaters and festivals and folk clubs. We were totally embraced by the U.S., which I think is amazing and we also traveled across our home country of Canada. It has been an extraordinary trip and an amazing life and we both consider ourselves to be very lucky to have had the chance to be fulltime musicians."
You can listen to some of the songs from WW Club's album More Better here. Return to our Front Page
This interview / review by Joe Montague published August 17th, 2015 is protected by copyright and is the property of Riveting Riffs Magazine © All Rights Reserved. Cover art courtesy of WW Club is
protected by copyright ©, All Rights Reserved
This review may not be reproduced in print or on the internet or through any other means without the written permission of Riveting Riffs Magazine, All Rights Reserved