YYNOT is a Rock band mostly out of California with a dash of Florida and their name addresses what others might be prompted to ask. Those questions might be why three musicians and a singer got together first as a RUSH tribute band and later started to write their own songs, but still very much in the vein of Progressive Rock. Another question might be what does a twenty-two year old lead singer (Rocky Kuner) know about the pinnacle of RUSH's career or what does she know at all about that era of music? Yet another question stems out of the former question, which is can three older (not old) guys who grew up listening to RUSH and a Generation Z singer actually make it work? Well if one considers the strong following that YYNOT has and they have played concerts all across America rather than just being a regional band then the answer to the last question is a resounding yes!
The new album Resonance opens with an instrumental "Synergos," written by Billy Alexander, a longtime friend of Riveting Riffs Magazine. Alexander sat down with us to talk about the band YYNOT and the songs on this album. Heavy drumbeats (Joel Stevenet) and dare we say it, riveting guitar riffs slice through the air (courtesy of Alexander), while Tim Starace works his magic on bass.
Superb songwriting (Billy Alexander) and fabulous vocals by Rocky Kuner take over with the second song on the album, "Wildest Dreams." The song is both an encouraging missive and a challenge to keep imagination alive, to keep that little girl or little boy spark inside of us or to reignite it and to keep pursing our dreams. The theme is reflected in the chorus, "Sing it to the top of your lungs / Who's to say you're not forever young / Set a course to cross the sea / May you imagine yourself / Living your wildest dreams…"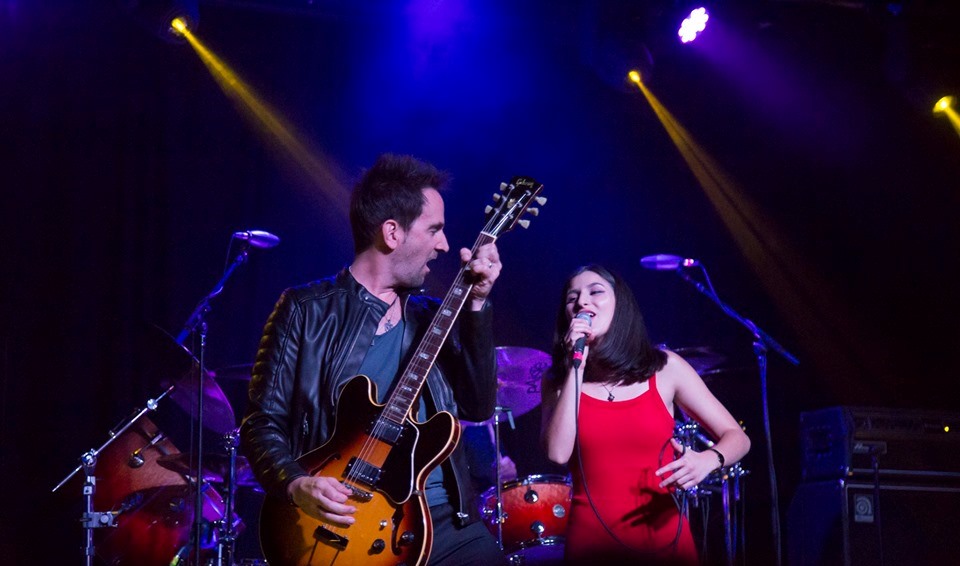 Billy Alexander who is also the primary songwriter for the band talks about "Wildest Dreams," on which Rocky Kuner's splendid vocals are showcased, "The current single that is out now is called "Wildest Dreams." The song talks about no matter what your age and no matter what your path in life never forget how you felt as a kid and how everything was exciting, fresh and new. You took chances and you had dreams. A lot of times people get so caught up in life or they see themselves as, well I can't do that anymore, because I perceive myself as being a dad or a mom or a grandfather or a grandmother. No matter where you are with it don't forget you are still a child inside. You didn't go anywhere. It is the same you. You weren't replaced by an alien adult creature. You are the same human being."
It is also reminds me and anybody else listening to have a dream even if it is not a major life dream. It might be a dream to get away to a tropical island to recharge.
Musically the song was fun, because it allowed me to keep the Rock and Roll edge and to keep the guitar slicing through there. I like being able to have a lot of flowing guitar textures throughout a song. There is a lot of melody. There is even a rhythm break when Joel gets to take off a bit and do some drum fills. I thought it was an opportunity for each of our music personalities (to come out). It felt like a fresh new song and radio friendly."
The conversation then turns to the history behind the name of the band YYNOT, and Alexander explains, "What you know of me is more from the Country and Country Pop kind of stuff that I have been writing and producing predominately writing and producing for however many years (He had one song that charted in the top twenty and another in the top thirty, as a member of the band FEEL.), but I grew up listening to hard Rock and Rock and Roll stuff. When I was nineteen and twenty I had my own band and I wrote all of the songs. We were much more like a Prog Rock type of a thing. I have experience doing that and I definitely have that whole world and background with that.
This was an accident how this (YYNOT) came along. I still continue to do other genres of music, writing, playing and producing, but this one fell into my lap, because of nostalgia. I grew up loving the band RUSH, but I was very young, 10 years old and it was the first concert I ever (attended). They were big heroes of mine as a kid and I looked up to them, because of their musicianship and their writing. I really gravitated towards them and they were a very strong influence on me wanting to be a good musician. I would still see RUSH when they would come to town even though I had stopped buying the records. I still kept track of them and they were a great live band.
The last show that RUSH did I knew it was probably the last time that I was going to see them, so I got some good tickets for my wife and I to see them on their R40 tour in Irvine, California in 2015. For that tour they were running their careers in reverse chronological order. They started with a bunch of stuff I wasn't familiar with and that was their newer material. Then midway through (the concert) they played when I left off (started going in a different musical direction) and going back to the beginning when they were a Canadian trio in 1974 and their first album.
Throughout that concert I started getting very nostalgic and I had a germ of an idea in my head. I thought with some of my skills in writing and producing it would be fun, as a musical exercise to write an instrumental that had a lot of heavy nods to that period of their career. If nothing else it was something for me that was better in quality than the cassette tapes from that style of music that I had written in the late eighties or early nineties. Then I recorded it. I recruited a Nashville drummer friend of mine Tony Morra who had played on a ton of stuff that I had produced and written over the years. He was also a RUSH fan.
I came up with the name YYNOT for that song," then he continues to explain why he chose that name, "Well for one RUSH has an instrumental song that is very popular and that they named for the Toronto airport YYZ. I took that and made it a little bit of a cheeky answer to anyone who might ask why bother doing an instrumental song that sounds like a bunch of stuff from RUSH in the seventies and eighties. I asked the question in the name of the song, before it was asked. It grew from there."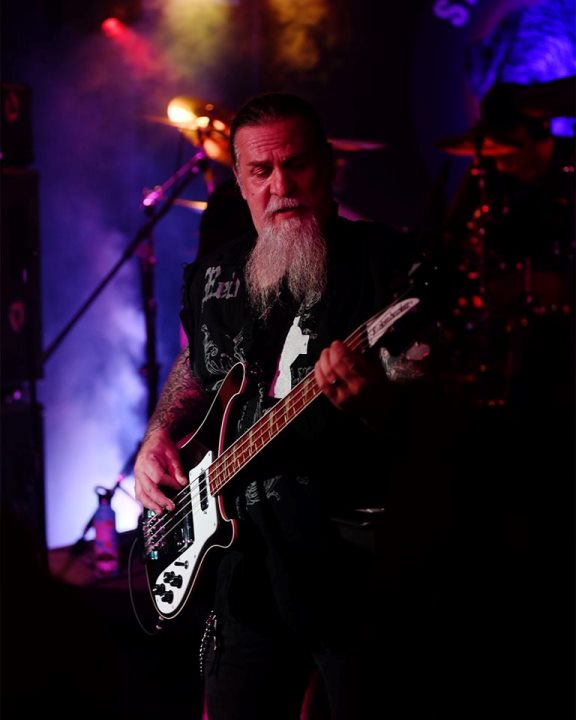 The song "YYNOT," is the last song on the band's debut album that is simply titled YYNOT. The album released in June of 2018 sounds polished, as you would expect from seasoned musicians and it also serves proof once again of the excellent production skills of Billy Alexander. It also provides us with our first glimpse of or shall we say listen to the vocals of Rocky Kuner.
Billy Alexander continues, "People encouraged me to share the song "YYNOT," and through doing so I discovered an incredible bass player Tim Starace. We got together and I said I will do my guitar part here and let's just do some RUSH covers for fun. I will mix the audio. We will share them as online covers of these songs. I sang the songs, but with a lot of the songs that I liked from RUSH back then (Geddy Lee) had very high screeching vocals. We needed someone to do that and I just didn't want to get some friend of mine who was in a Metal band and who sang falsetto Heavy Metal style. I wanted somebody who sang like Geddy Lee did back in the seventies when he just belted it in the higher register. A friend had me check out Rocky (Kuner) who was here in Orange County and I caught a video of her doing "Highway Star," by Deep Purple. Here was this little (person) just belting out these vocals and I didn't listen to the rest of the song on YouTube, I called her immediately. I said hey I have this project if you want to come and meet and here is the song. It was the Prog song "Hemisphere," by Rush from 1978. She learned it and came in prepared. She nailed it.
When I first saw Rocky do (the Deep Purple song) she was eighteen, because that was her senior year. She had cool parents who had Rock and Roll music and continue to have that music constantly flowing around the house. From day one she was exposed to it and liked it. Rocky has that in her blood. She likes a lot of other stuff. She is up on everything that is current and the music she has written is a little more R&B. Rocky has an open heart and an open mind to all kinds of Rock and Roll. It is very evident that when Rocky sings a song even if it was one that was popular in 1975 she will sing it with all of her might. It is amazing to see and it crosses all boundaries. We have guys who are in their sixties who are tearing up at our shows, as they are watching her do a performance of a RUSH song. They grew up (with this music) and now they are hearing it performed by this girl who has this fresh look and voice. It has really been a trip and it is a lot of fun.
When it came time for us to play live we asked is it feasible to have a bass player who lives in Florida all the way across the country and a drummer who also lives far away. Rocky and I were at least in one location and we decided to try it. We played our first show here in Long Beach with the drummer who recommended Rocky, Chris Moore. In the meantime I was writing more material and I thought it would be good to keep it in the same vein of sounding like something RUSH might have recorded back in the day. Since we are playing these older RUSH covers I didn't want to confuse everybody by producing something that is ultramodern. I wanted to keep within the framework of the theme and so I did that with the intention of slowly moving away from the obvious styling. Once we got some people onboard who were interested in the original material they started asking for those songs in the live shows and they started asking for those more than they did the covers. It grew from there," he says.
As for the type of music fans that are drawn to YYNOT Alexander says that a good portion of their fans come from people who are fans of RUSH and the demographic is comprised of males between the ages of forty and sixty.
"There is however another generation of fans that were exposed to this type of music by their parents and they come out to our shows as well. (The appeal seems to be) that we have a female vocalist who is twenty-two years old and the songs are accessible lyrically, so they crossover beyond just screaming Prog Rock from the seventies," he says.
The conversation segues back to the current album, "The debut album received good reviews and we have played across the country, so we decided to do a second album. This time I steered it more in a personal direction and I also focused more on the production end of things. There is a little bit more of our own personalities which are always there. This record is a recognizable shift. The record was released on September 19th (2019), but the reaction has already been really positive. It always blows my mind the passion that these fans of ours have. That just charges us up," says Billy Alexander.
"Another song that is very personal for me is "Precious Time." It is the last song on the record. There is a lot of meaning in it for me personally. I don't want to get too much into that, because I want the listener to relate their own personal experiences and thoughts (to the song). I was concerned that it might be too personal and not enough of the YYNOT Rock type of song. I went with it and it felt right to be the last song on the record," he says.
We have known Billy Alexander for more than a decade and this appears to be the most fun he has enjoyed for many years, "I am so used to (having the mindset) this is the job at hand or I am hired to do something . I am used to it needs to be hit radio or this or that. Tim Starace would pull me back a lot to make sure that we were always having fun. That should be our only goal, because there isn't any pressure. There are no expectations. It is just let's do this for kicks. We all have our separate lives and separate projects, let's just make this a fun thing. We have a lot of fun playing live together. The people in the band are various ages. Rocky is twenty-two and myself, Joel and Tim aren't twenty-two. Somehow it works with all of the different backgrounds and the different personalities.
It just really gels and the music is the one thing that brings us all to that place. It is a real joy for me. I am a kid again and I can write something that maybe before would have seemed a little pretentious or self-indulgent, but now it is like wait a minute I bet if I was thirteen I would think that is cool. I just go ahead and do it now," says Billy Alexander.
If you are a Rock music aficionado then Riveting Riffs Magazine says Resonance by YYNOT is a must have album for your collection.
Please visit the official Facebook page for YYNOT or the band's website.
Middle Photo by: Robert Provard, protected by copyright ©
#YYNOT #YYNOTRockBand #YYNOTProgRock #RushTribute #BillyAlexanderMusician #BillyAlexanderProducer #RockyKuner #RivetingRiffsMagazine #RivetingRiffs
This interview by Joe Montague published October 29th, 2019 is protected by copyright © and is the property of Riveting Riffs Magazine All Rights Reserved. All photos and artwork are the the property of YYNOT and Billy Alexander unless otherwise noted and
all are
protected by copyright © All Rights Reserved.
This interview may not be reproduced in print or on the internet or through any other means without the written permission of Riveting Riffs Magazine, All Rights Reserved