Alaina Blair "I Dream That Way"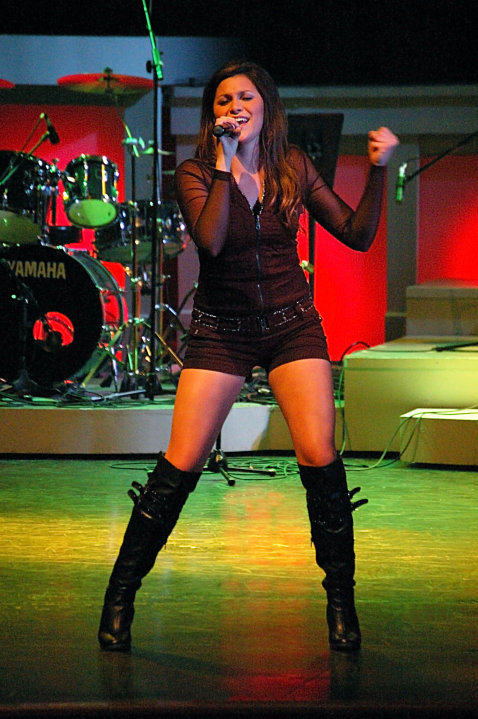 Twenty year old Alaina Blair's debut full length self-title album opens quietly or so it seems until at the thirty-eight second mark of the opening song "Sweet Talkin' Lola," when she launches into a Rock number driven by thundering guitar riffs and Blair's edgy vocals with lyrics that have a bite to them turn her into a Rock temptress. Ron Blair (no relation to Alaina) of Tom Petty and the Heartbreakers is featured on slide guitar, vibes, keys and bass, Billy Alexander who also produced the album plays electric and acoustic guitar and Tony Morra backs Alaina Blair, playing drums. Ron Blair, Alaina Blair and Billy Alexander co-wrote "Sweet Talkin' Lola."
Alaina Blair talks about writing "Sweet Talkin' Lola." ". I talked to Ron and I asked him if he was interested in writing a song with Billy and I and he was yes for sure, come on over. We were all sitting around in his living room and he got all of these random instruments that he could find. His whole house is just filled with music and it is so awesome. Every time that I go in there I feel like a kid in a candy store. He got a mic set up. We recorded everything that we had been working on and we didn't have any lyrics until the next time that we got together. Our working title was "Oh The World Didn't End After All," because the day that we wrote it was the day the world was supposed to end. The next time that we got together Billy had the idea of "Sweet Talkin' Lola," he brought it to the table and we talked about it. A friend of his was in a situation where this kind of sleazy girl was always getting what she wanted and there was not a man she couldn't manipulate kind of a thing. I loved that idea (for the song), because there is always that girl who knows just what to say and how to just get the guys to do what she wants. Not many girls sing about a girl, but the idea behind it was something that I liked and something I wrote about. We laid down a rough track of it and we kept putting different things on there (with the instruments) like a cow bell. When we were almost done with it, Billy had the idea of having this song as the intro to the album. I really liked the idea, because it sets the tone for the album. It has the soulfulness that "Down," has and it has the Rock part of it that "I Am A Mess." It makes everything come together. I liked having that as the first song, but we didn't want to scare everyone (she laughs) if all of a sudden there was this blaring guitar and so we decided to have a soft intro and then we bring everyone in, before we hit them with the guitar (she is still laughing) then show them what the song is really about.
Alaina Blair is a versatile artist and the song selection for this album demonstrates that with "Down," (co-written with Billy Alexander) in the vein of Duffy and the staccato beat of "More," a challenge to guys who may try to chat up this singer. If her performances during her album release at LeStats West on Adams Avenue in San Diego and the Rock The Oaks Benefit Concert are any indication, Alaina Blair has great stage presence and brings passion to her songs.
Talking about her musical influences she says, "I grew up listening to Country Music with my mom and I also grew up listening to Rod Stewart with my dad. I was a huge fan of Country Rock and as I got older I started listening to Joss Stone and then once Grace Potter came out, I was okay I want to sound like them. I love Rock Soul and for two years I wanted to do that style of music. Everyone kept coming up to me and saying oh you are a Country singer and I said no I am not a Country singer, I do Rock Soul. I was so stubborn about it and then it was like there is no sense in trying to fight it, so I embraced it. I never lost my love for Country music. I wanted the album to be Pop Soul with a little bit of a Country feel, but I finally accepted the fact it is a New Country Rock with a touch of Soul."
Billy Alexander's fingerprints are all over this album and that is a good thing. Alexander who was with Curb Records in 2002 has enjoyed two hits during his career, "Won't Stand In Your Way," that peaked at # 18 on the National Radio Charts and "Got Your Name On It," that went to # 28 on the Billboard charts. Billy Alexander played with Anna Nalick and played lead guitar and sang lead vocals for John Waite.
Blair and Alexander met when she attended a gig for a friend of hers with whom Alexander was working at the time.
Alaina Blair recalls, "We decided to go and have a writing session to see how it would go and we ended up writing "Just Belong," a song on my EP (Gypsy Girl) on the very first day that we met. Then we said same time next week? I just showed up and I kept showing up. We co-wrote all of the songs on the EP together and then we ended up writing all of the songs for the EP except "Goodbye To Love," which he had already written. I loved the song so much and I really wanted to make it a part of the album (EP). He felt that it fit as well."
Well that EP signaled that Alaina Blair had arrived as a singer-songwriter as Gypsy Girl, although an EP was nominated in 2012 for Rock Album of the Year for the Los Angeles Music Awards. The title of the EP is also appropriate as Blair was born in Irvine, California and lived there until she was four years old, before moving to the Bay Area in Northern California, then to Arizona for eight more years until she was sixteen when she decided to return to California and lived with her aunt in Carlsbad, so she could pursue a music career. Later she relocated once again to Temecula, California to live with another aunt as she was performing once a week at Country At The Merc, as one half of a Country Music duo with Ryan Anderson.
Writing songs for the self-titled new album began in December of 2011.
"The first song that we wrote for the album was "Down." That one we took so much time on, because we wanted to get it just right. It is about a guy and things weren't really working out (with the guy). The whole situation felt like I was suffocating and it was consuming my mind. I wanted to write a song about it. We performed the song, before we even had a bridge written. We decided to dive into the meaning of the song and later on we added a bridge then we decided it needed a horn section. We went kind of crazy on that song, but it set the bar for the new album," she says.
The pace slows down for the song "I Dream That Way," is a beautiful song about dreaming of the world as a better place. Brett Cookingham's lap steel serves as a pretty accompaniment to Alaina Blair's vocals and this is the most emotive song on the album. It is evident in her voice that she considers each phrase, each nuance carefully and to parlay this into acting terminology she is completely "in the moment."
The song is dedicated to a close friend of Alaina Blair's who passed away from cancer this past year and whom she credits for encouraging her to keep pursuing her dreams.
Billy Alexander talks about recording the song "I Dream That Way." "I remember writing it very quickly and then setting up a mic for Alaina to do just a rough vocal. She blew me away with that single take, breathing so much life into those words that we ended up using that take for the final!"
"I Dream That Way," was co-written by Billy Alexander, Alaina Blair and Brett Cookingham.
The song that should really get the crowd going during her concerts is the tune "More," a truly bonding song for women if ever there was one. It is a song about a woman who has grown weary of hearing tired pickup lines and wants a guy to talk to her who is actually interested in her, with lyrics like "Please say something elegant / Maybe something intelligent / I would love for you to entice me / Please try to surprise me." The song has a quick tempo and one can envision women standing and singing back the words to Alaina Blair. "More," was co-written by Billy Alexander, Alaina Blair, Warren Sellers and Kevin Fisher.
If you want to catch a star on the rise give a listen to the music of Alaina Blair.
Reviewed and Interviewed by Joe Montague April 2013
This review / interview is protected by copyright © and may not be reproduced in print or on the internet or through any other means without the written permission of Riveting Riffs Magazine, All Rights Reserved