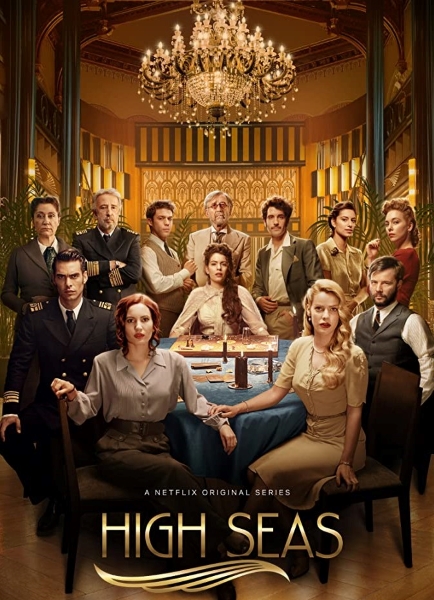 The third season of Alta Mar (High Seas) the Bambuu Producciones series streamed on Netflix fell short of seasons one and two, which had made this late summer offering a much-anticipated event. Most of the original characters were back, veteran actor Jose Sacristán as Pedro Villanueva, Ivana Baquero, who once again is the best actress or actor in this series in her role as Eva Villanueva and Carolina Villaneuva played by Alejandra Onieva. The brother and sister act of Fernando Fábregas and Natalia Fábregas, the former played by Eloy Azorin and the later by Natalia Rodriquez are the owners of the shipping line, which this time instead of departing way from Spain leaves port from Argentina and is heading towards Mexico. Jon Kortajarena, a strikingly handsome actor who plays Ivana Baquero's romantic interest in seasons one and two as Nicolás is almost a non-factor in season three and with only the filmiest of reasons as to why he is relegated to another ship. We missed that onscreen romantic chemistry and drama that Baquero and Kortajarena create.
The insertion of two British spies on a ship where everyone else is Spanish simply does not work. The role of Fabio is stilted and that is not on actor Marco Pigossi and the responsibility is entirely with the writers. It is obvious that Mr. Pigossi if given the opportunity had much more to bring to the role of Fabio. The actor who intrigues us is Eduardo Blanco as Capitan Santiago Aguirre. No matter how misguided the writing is for season three Aguirre brings authenticity to his role, as he did in seasons one and two. Ignacio Montes as Dimas Gómez and Begoña Vargas, as Veronica de Garciá who provided a particularly good comedic and romantic subplot during season one and two see their roles change for the final season. The romantic tension has almost disappeared as a subplot. The character of Dimas is almost nonexistent, but the role of Veronica has been elevated and that is all we will say about that, so we do not spoil this for you. Vargas has appeared in the television series Boca Norte and A Different View and she is an exceptionally good actress that we would like to see more and in a more substantial role. Montes, while still a young actor (28) is a veteran of television series and he is a physical actor who through his body language, facial expressions and tone of voice brings a character to life, without having to be overly demonstrative.
For those of you not familiar with the Alta Mar series, in brief a brother and sister inherit a Spanish shipping line (although in seasons one and two we were under the impression it was one ship) from their father. The time is the late 1940s, following the Second World War. Eva Villanueva is a writer who in American terms is very much like an adult version of Nancy Drew. Is she drawn into situations of intrigue or can she just not prevent her curiosity from luring her into these mysteries? She has been from the onset of the series its most treasured asset.
The biggest flaw with season three of Alta Mar is the script, which is totally out of character for creators Ramon Campos and Gemma R. Neira. We cannot comment on the writing of Sara Alquézar, because we are not familiar enough with her work, although she is a well-known television writer in Spain. Since we do not know the timelines associated with the filming of these six episodes, we do not know if the possibility of shutting down the set due to COVID-19 already loomed as a possibility and if the writing and the shooting itself was hurried. Certainly the confusion that arose with Bambuu Producciones issuing a statement earlier in the year that there would be a season four and then Netflix subsequently issuing a conflicting press release that season would be the final season for Alta Mar could have impacted the way these episodes rolled out.
The beauty of seasons one and two was that they played like a good movie that you only got to watch in segments. It was lavish, characters were well developed, and the plot was developed carefully and naturally. The new characters to whom we were introduced this year we still know very little about and their roles thrust major characters and middling characters from previous seasons into the background, denying us of the opportunity to enjoy the brilliant acting of Azorin and Rodriquez and much of the time leaving Baquero to carry the show with another scintillating performance, but leaving us wondering, just who is she playing opposite in Alta Mar? Is there a leading man? From our vantage point we would have to say no. The character of Eva is even denied the natural closeness with her sister Carolina that was so evident in previous seasons.
This season of Alta Mar seems so out of character for Bambuu Producciones that we are going to suggest, although we are not privy to any inside information, that the shortcomings for this season lay with Netflix.
Although, the rumored to be 29,000 square foot set is the same one used for the former two seasons, the sense of lavishness seems somehow to be missing this time around. In previous episodes, despite the danger, the intrigue, and the unpredictability of the plot you wanted to be on that ship. This season the surroundings seemed to be very much a ho hum experience.
The one thing we will say is the suspense element is once again very much in play, but even in the final episode that seems to be very rushed.
These actors, all of them are very good at their craft and most of them were not given substantial enough roles in season three to do them justice or to satisfy the viewer. Our advice to Bambuu Producciones, go back to seasons one and two and find out what worked so well in those episodes and then create a two-hour movie. If Netflix is smart, they will pick up the distribution rights and if they are not clued in enough to listen to what their subscribers are looking for then someone else will offer you a distribution agreement.
As a final note, this is a disturbing trend in Spain's television and streaming market for 2020, as earlier this year the wildly popular RTVE television series (later streamed on Netflix), El Ministerio del Tiempo came to abrupt end, while garnering good market share during its time slot. This was also a series that had brilliant actors and actresses most of whom will be forever endeared to the hearts of those who watched the series.
This interview by Joe Montague published August 11h,2020 is protected by copyright © and is the property of Riveting Riffs Magazine All Rights Reserved. All photos are the the property of
Bambuu Producciones and Netflix unless otherwise noted and
all are
protected by copyright © All Rights Reserved.
This interview may not be reproduced in print or on the internet or through any other means without the written permission of Riveting Riffs Magazine, All Rights Reserved