Nashville based singer and songwriter Amy Black is a lot of things, but there are some things that we should dispel immediately about what she is not, just in case readers get the wrong idea from some of the titles for her original songs from her new album Memphis. Her song "It's Hard To Love An Angry Man," is not about any men she knows, unless we want to count the men she has encountered and observed at Home Depot (more about that later) and it is definitely not about her main squeeze, her hubby, whom she describes as her Zen master. The killer tune "The Blackest Cloud," in no way suggests that Amy Black suffers from a Chicken Little syndrome either, far from it, as in the view of this writer she projects as being a happy, positive individual and our conversation was often punctuated with her laughter.
Memphis is the fourth album that Amy Black has released and in some ways is a continuation of the stylistic thread of her previous record, The Muscle Shoals Sessions.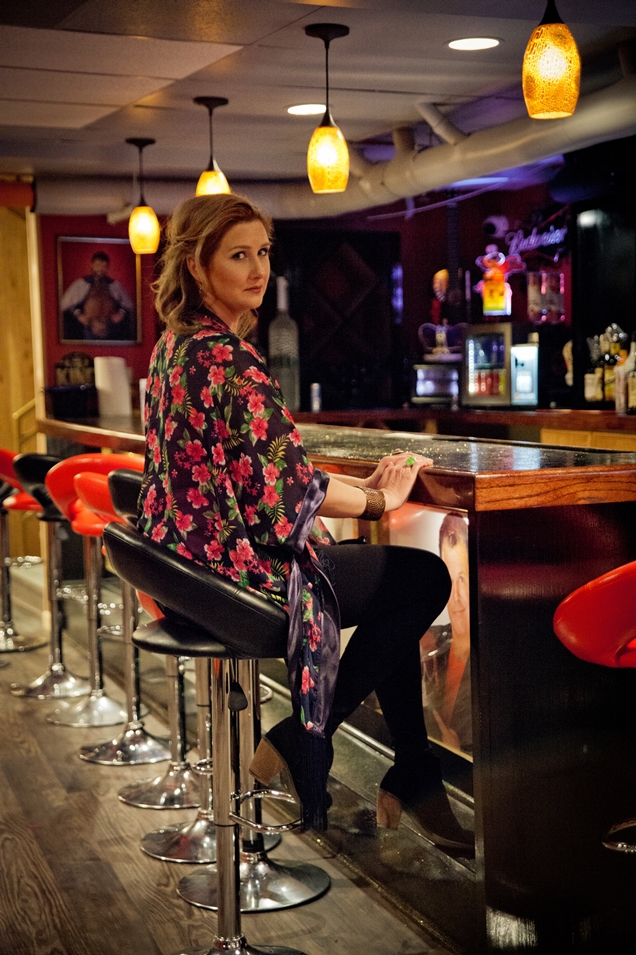 Talking about the evolution of her music Black says, "I think the shift started with my second album, This is Home that I recorded in Nashville and you can definitely hear on the first three songs on that album a little bit more of a soulful, Blues thing going on, before the rest of the album goes onto singer / songwriter kind of Americana.
About the same time that I was recording the Nashville album I had this day booked at Muscle Shoals and I was going to record this song called "Alabama," that I wrote for my grandfather who was from the Muscle Shoals area I thought it would be cool to go to FAME (Studios) and record that song. (Instead) we knocked it out in Nashville, so there was no need to record it (at FAME). I also got sick after that recording, so we had to reschedule FAME. By the time I went to FAME I had a totally different mindset. I had already finsished the Nashville album and I thought I am going to FAME for one day and Spooner Oldham is coming. We booked Spooner to play organ.
I thought let's do something totally different, so I started digging around in the Muscle Shoals catalogue. I think the Muscle Shoals film had come out at that time and I had seen that. That is where my family is from and I was excited about what I had just learned. I thought let me find some songs from Muscle Shoals that had been recorded back in the day and that I felt I could do something with them, (as well) as recording them with Spooner. I recorded a five song EP the first time at Muscle Shoals and then I went on a national tour for my album. I really enjoyed singing that music way more than I thought I was going to and so I started doing a live show, a Muscle Shoals show. That went really well and it developed a whole other side of me as a singer and that I didn't realize was there. I decided I wanted to go back and turn that EP into a full length album. That's what I did in 2015. That's how we got to the Muscle Shoals album.
At the time that I recorded the album I had been singing Muscle Shoals music live for about a year and one-half or a year. I already had made a lot of changes, as an artist and Muscle Shoals helped me to communicate that through music. That put me on a new path that led me to Memphis."
What is it about the Memphis sound that appeals to Amy Black? Well for the daughter of a minister, who had a band while attending Berklee School of of Music that was called Amy Black and the Minor Prophets and whose first bands upon graduation was called Sound Doctrine, her answer might surprise you.
She says about the Memphis sound, ""I feel like it is like a good gut punch (she laughs). It is gritty and not as smooth as some of the soulful music that I listened to. For instance when you listen to Ann Peebles (singing) "I Pity the Fool," she digs into that line "look at the people," I can't even explain what it does to me. It gets me. I feel so sucked in that my whole body becomes a part of it. There is something about it that involves my whole person and I feel it all the way down to my gut and my soul.
I am pretty innocent. I grew up a minister's daughter and I wasn't the kind that ever broke too loose. I think I have it in me, but I think that I have a ton of self control, which is for better or for worse. Sometimes I wonder. Maybe that's what it is, because I am so "good" and I try to be. There is something about this music that releases another side of me."
The Memphis sound is front and center on the album that bears the city's name.
Black explains, "When I made the decision to go to Memphis and I decided that was my next move, I very much had a mindset of place and the impact of the place where you record music and the history of that place is very meaningful to me. I think it has a real impact on the kind of music that you make.
(In going) to Memphis I remembered a guy that I had met five years ago in Nashville when I was visiting and playing on the show called Music City Roots. He had a Soul band with a bunch of older guys and his name was Scott Bomar and the band was the Bo-Keys. I remembered talking to him and hanging out with "Skip" Pitts who had been the the guitarist who had done the wah-wah on "Shaft," (Isaac Hayes) and hanging out with him (Bomar) in the green room. I hung out with one of Otis Redding's players who had survived the crash. I thought back to that and I wanted to get in touch with Scott, because I knew he was connected with the Memphis music scene and with some of those guys and who used to play on some of this music that I loved so much.
With thunder booming in the background, somewhat appropriate, while discussing an album that boasts a great song, like "The Blackest Cloud," Amy Black talks about the musicians that appear on the Memphis album.
"I got in touch with Scott and I started talking about the project. I went down to Memphis and I met with him there. I talked about some of the guys that I wanted to have on the project. They happened to be guys that were in the Bo-Keys and the Hi Rhythm guys. Pretty quickly we determined that we were going to go after having those guys on the project. That was Howard Grimes on drums, Rev. Charles Hodges on keys and Leroy "Flick" Hodges on bass.
When we were talking about filling in the rest of the band we definitely pulled from some of the younger Next Gen guys. I thought it would be really cool to get a guitar player who had played for Stax or one of the other record labels, so Bobby Manuel who played for Stax for years was still around Memphis and we reached out to him. He was able to join us. He has seven stents in his heart, so life has been tough, but he was able to come in. He came up to me after the recording and he said Amy thank you so much for having me on this project, you made me feel like a kid again. That was encouraging and he sounds great on the songs that he is on. He just nailed it.
It was through working with Scott that I was able to get those guys and build relationships with them. Since I have released the album I have gone back to Memphis and done a show. Charles and Leroy played with me live in Memphis, which was great," she says.
The conversation drifts back to talking about Scott Bomar, "Scott has the Memphis sound that I was looking for, the classic Memphis sound that is so dialed in and that is both because of the type of music that he is making with the Bo-Keys and these are his guys that he makes music with. Without Scott I wouldn't have gotten the Hi Rhythm guys. I was really familiar with Scott's music and what he had done with the Bo-Keys and I was looking for a similar sound. When you record at his studio, because he has done all of his records there he really knows how to get the sound that he wants out of that room and his players are used to playing in that room. Having Scott really made it for me. I am not saying somebody else couldn't have done a great job, but I just knew that I liked what he was able to do and that is what he delivered on."
The songs "Reach Out and Help Somebody" and "Nineteen," both feature strings and Black says, "They were from the Memphis Symphony. There were five of them. It was an overdub, so I came back from Nashville to Memphis, just to be there for strings, because I didn't want to miss that. It was beautiful, a cello player, three violins and one viola. It was stunning and beautiful. I just felt really happy to be able to have strings on my album."
Marc Franklin did both the strings and horns arrangements for the album.
The conversation segues back to the collection of songs on Memphis and Black's original song "What Makes a Man," one she has described as being a tribute to singer Anne Peebles.
"I discovered Ann through this process of digging into everything that I could find and all of the Memphis music that I could get my hands on when I was writing for the project and trying to figure out what I wanted to do for covers. Also, I do a live review show and so I was trying to figure out what songs I could do justice to in that. I knew Ann Peebles from "I Can't Stand the Rain," and a lot of people know that song. I have known it for a long time, but I really didn't know much of her other work. With digging through her albums and her other work it really got to me.
I think she is amazing and I think she is one of the best singers out there. I like what she offers and what she brings to the table. She has some ballads that are beautiful and stunning, vulnerable and really touching, but man when she wants to come after you (she laughs) in a song that is where the gut punch piece comes in for me. She's fierece. I just love that about her. It's very different to me. Of course I grew up listening to Aretha (Franklin) and other Soul singers, but I think Ann has something very unique that she offers and you have the Hi Rhythm guys behind her doing what they do. That's just an infectious kind of groove. I don't want to be repetitive, but I think it is a groove that just marches forward. It is consistent and you get to lock into it.
When I wrote "What Makes a Man," with my friend Karen Leipziger here in Nashville we were listening to Ann Peebles before we wrote the song. We were thinking of her, the feel and the groove of "I Pity the Fool." That was the song we had in our heads. When I took it to the studio and I talked to the guys about what I was trying to accomplish I just said to them, this is my Ann Peebles song and that is all they needed to hear (she laughs). They locked right in," she says.
There is a nice call and response on the chorus for "What Makes a Man?"
Home Depot will never seem the same to you again after listening to Amy Black's song "It's Hard to Love An Angry Man," and she tells us why.
"I have no idea where the inspiration came from (you can hear her smile), it just came. I joke at my live shows that I started this song in a Home Depot parking lot and my only thought about that is there are a lot of angry men at Home Depot (she laughs), who thought drywall was a good idea (she is still laughing). It is kind of funny that is where I wrote it and I hate Home Depot. I was in a parking lot at Home Depot and I just started writing it on the road and in the parking lot and I got back later that night and I took a bath and I started singing some more in the bath. Then I forgot about it. I forgot that I had written this song. I recorded it on my iPhone, which is what I do when I write and I brought Scott all the originals for the album. He rejected a few that I thought were good and there is one that I stand by until this day, but I was that's fine. I had to go back to the drawing board and see if I could pull out another original and I listened to songs on my iPhone. I had totally forgotten about this song. I love this song. I got together with a friend of mine and who is better on guitar than I am and we worked it out. It is pretty dark, but I like it (she laughs).
For me a song takes on a storyline and I become the character in the song. I have always been like that since I have been writing. Once I grab onto an idea then I just lock into it and I become that person, as I sing in the first person about the story. For me this started with "It's Hard To Love An Angry Man," and I don't know why I thought about that, but I did. My husband is not an angry guy, but I have known angry men. I have worked for CEOs in my past life and I have been around them (light laughter) and they're not fun. I imagine it would be really hard to love one. I think it ended up being a song about someone being caught and just being empowered enough to make the choice that they need to make, like I refuse to be treated this way and I don't want to live on a rollercoaster ride. I'm outta' here. The song ends with them being pulled back into the whole thing all over again. I think that happens a lot and I have seen it. I get it, but I think that is just the reality of some people's lives. I channeled that when I wrote the song," she explains.
While she was growing up Amy Black spent time in Huntsville and Birmingham, Alabama, as well as thirteen years in Missouri, so it seemed natural to ask if that southern groove or vibe comes easily to her.
"It does and I have no idea why. It definitely does. It took me a while to get here, but I had to do some things that I wasn't planning on doing that were organic and then just started opening up some doors for me. I don't mean doors in the industry, I just mean musically. Now that I am here (in Nashville), it feels incredibly natural. I feel like I am right where I should be," she says.
As for the original song, "The Blackest Cloud," which really showcases Black's ability to capture that mix of Memphis Soul and R&B, she says, "I went to Memphis last September when this was all starting. When I decide to do something I move very quickly and I went to Memphis in September and I rented an Airbnb for a week. I really haven't spent much time in Memphis, but from Nashville I am only three and one-half hours, but I have only lived here for two years, so it's not like I had a ton of access. I started going out and I toured the studios (in Memphis) and the different ones that I was thinking of working with. I went out for music every night and ate good food and I was writing.
Every morning I would get up, make a cup of coffee, get back into bed and just write. "The Blackest Cloud," was one of the first songs that I wrote when I was there. What was interesting about the song is it started with the horn line (she then vocalizes the horn line). I had that horn line running and then I wrote a chorus. I wrote the verses. That was cool for me, because it was the first time that I came into a studio and said here is the guitar and horn line for this. This is what I want.
I remember hearing Otis Redding and I think it was in the Stax documentary (that I heard that) Otis would usually have what he wanted the horns to play already worked out. He would be like hey this is what I want to do. I don't mean that in any way that I am comparing myself to him, but I think it was cool and it inspired me to realize I can contribute more than just the lyrics and the melody and communicating the feel that I want, I can have an impact on some important lines that the instruments are playing."
That provides us with a nice segue to Amy Black's cover of the Otis Redding song, "If I Could Reach Out (And Help Somebody)."
"I love it. Scott sent it to me and I had never heard it before. He sent to me the original version that Otis had recorded and I listened to it one time and I was yes, I want to do this song. It communicates how I feel and my religion if you will. I do believe that life is better when you look outside of yourself and you look for opportunities to give to other people. It is better to give than to receive. It is very easy to be selfish and self-focused and when I first moved to Nashville I was pretty down. I was living outside of the city and I wasn't really connected with what I considered to be my kind of people. I had moved from a creative little part of Boston and I was feeling very lonely, alone and isolated. I made a decision to start coming into Nashville, which at the time was fifteen minutes away when I was in the suburbs and I volunteered for this organization that I learned about when I was in Boston called Thistle Farms. They help women to be rehabilitated who have been in the sex trade. They make great products. It is a really cool organization. I started coming in a couple of times each week and working in shipping with the ladies who are graduates of this program. It did so much for my soul and it lifted me out of so much of the funk that I was in. I live in East Nashville now, which is my kind of place, but that was just a really hard time for me.
I think when Scott sent that song it really resonated with me, because I had such a specific experience seeing the difference that made and getting out, focusing on other people and serving them versus nursing my sadness. It gave me perspective and I think it works for everybody. It is the way to live. Audiences are very responsive to this song in most places. I have been to a couple of places where it was come on people do you believe in this or not? Most of the venues that I played this summer and I just did a twenty-seven date tour (the people) were exuberant after that song was over. I get everybody clapping and then at the end when the song is over we are all clapping for the song. They are clapping for me, but I think they are (also) clapping for the song and I am clapping for the song. It is a really nice moment. I usually go from that right into the Staples Singers' "Feels Good."
Two things happen with the cover of Bobby "Blue" Bland's "Further On Up The Road," first the listener gets another taste of just how good Amy Black's vocals are and secondly she shows that when needed she can inject a growl into her voice. The guitars are excellent, but the horns are what drive this song.
I listened to everything I could find of Bobby's and I am absolutely in love now with Bobby. I somehow had missed him and what a great discovery. I think that I heard "Goin' Down Slow," a couple of years ago and I was who is this guy? I listened to everything I could find and I felt like I could do something with that song. His recording was pretty old and I wanted to do that one over again. I wanted to hear the horns a little more clearly, because it is such a good horn song. It is a killer horn song and I felt that we could do it justice. I don't want to do something over again if I don't feel that I can bring something new to it or make it worthwhile to do and I just felt like I could (with this song).
That was the hardest song for me to sing in the studio. I thought it was going to be easy, but it wasn't. It is a mix vocally, you don't just power it. You really have to have this balance. I had to sing it through a few times, to really find my place. We ended up adding piano to it, which we didn't have originally. I was able to lock in with the piano and then make it more my own at that point. I want to be me and bring what I can new to it, but with absolute respect for the people who went before me and who made it what it is. I am not trying to compete with them at all," she says.
Amy Black has come a long way from the first band of her own that she fronted, Amy Black and the Red Clay Rascals. Her album Memphis is well worth you shelling out for and telling your friends about it too. If you do not live in Memphis and cannot afford the time or the money to go there right now, this record brings the sounds of Memphis to you.
You can catch Amy Black at Americanafest in Nashville on September 15th when she is performing as a showcase artist. She will be performing with an eight piece band. On November 1st she will be appearing on Music City Roots, which is broadcast nationally from Nashville. She also has her designs on performing in Europe and Australia.
Please visit the website for Amy Black
#AmyBlack #RivetingRiffsMagazine #AmyBlackMemphis #LeroyFlickHodges #HowardGrimes #AmyBlackSingerandSongwriter
This interview by Joe Montague published August 29h, 2017 is protected by copyright © and is the property of Riveting Riffs Magazine All Rights Reserved. All photos are the the property of Amy Black
unless otherwise noted
and all are
protected by copyright © All Rights Reserved.
This interview may not be reproduced in print or on the internet or through any other means without the written permission of Riveting Riffs Magazine, All Rights Reserved