It All Goes Up is the title of Beth Bombara's new album that will be released this week (August 4) on Black Mesa Records, and Riveting Riffs Magazine gives two thumbs up to a fabulous collection of songs, that once again demonstrate Bombara's superb musicianship and delicious vocals.
Confessing that she is really excited about this record she says, "We were sort of coming out of COVID and we were getting back to normal. When I wrote "Lonely Walls," I was reflecting on my feelings and the past year or so.
It started out as me reflecting on the pandemic, but I really wanted it to be more open than that."
The lyrics are open enough to interpretation that the listener might find themselves thinking about a relationship or perhaps a difficult time in their lives. It may also be as easy to interpret them as that time during the pandemic that separated so many from the ones they loved, whether they be romantic relationships or familial.
Beth Bombara goes on to say, that it (the song), "morphed into this longing for one person."
The melody meanders, an easy tempo, that sets the mood for more reflections than missives.
She says about the fourth track, "Get On," is a mixture of being about procrastination, someone who is afraid to move ahead and just finds it easier to make excuses for not moving forward.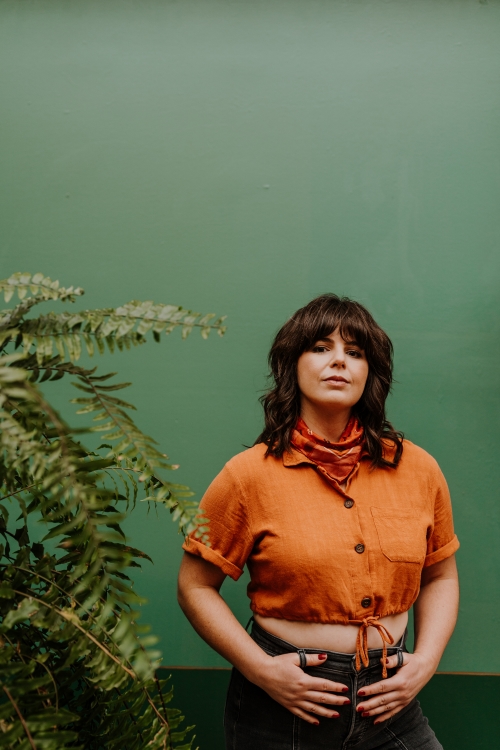 "When I was writing this one, I was writing it to myself (she laughs lightly). It was a reminder for me to not worry about what is in the past and to just keep my head forward and to keep going. That's what matters. I tend to get stuck in procrastination and overthinking what I should have done, but that is all in the past. When I was writing this (song) I was giving myself advice," she says.
Eric Henry on steel guitar joins the band for "Get On," and Beth Bombara explains why, "I was thinking about the sonic textures. For one I think the pedal steel is a beautiful instrument and it has that quality that is wistful or longing and I really thought that would add to the meaning of the song.
My good friend Karl Kling produced this song and when I sent the demo to him, it just had drums, bass and guitar. We talked about textures that I was thinking about and we threw out some ideas. I was thinking in my head that pedal steel would be great and I didn't even say that to Karl, but he said, what about pedal steel? I said that is exactly what I was thinking. He is friends with Eric, so he had Eric lay down some pedal steel on it."
Another song in which Beth Bombara gives herself some advice is "Moment," and she explains why, "This is another song to remind me that life goes by really fast. The older we get life moves faster and faster. It is a reminder for me to just slow down a little bit. We don't always have to go, go, go. Experiencing that forced slow down during lockdown times was also a good reminder that we can take a breath and sometimes it is really good to do that."
Beth why this title, It All Goes Up?
"Titling an album is always hard for me, because it is just easy to pick a title track, but when I was thinking about how to describe the album in a title, I kept coming back to this lyric line, in the song "Electricity." I thought "Electricity," (eighth song on the album), summed up for me what I felt the album was about. Compared to past records of mine it definitely has a more positive theme and even sonically, so I wanted to capture that. It is about the past is what it is, but things can only get better from here," she explains.
If we had to describe the third song on the record, "Everything I Wanted," the verses are mid-tempo that builds to a quick moving crescendo for the chorus. This is a good place to pause and talk about the fabulous playing of Kit Harmon (bass guitar, synth and percussion), Sam Golden (electric guitar), drummer Mark Schurk, Samuel Gregg makes an appearance on the song "Moment," playing pedal steel guitar and electric guitar, Karl Kling (12 string guitar on "Get On"), John Calvin Abney joins the band playing electric guitar and Rhodes piano for the song "Fade." We left Beth Bombara until last, because she deserves a sentence all her own, as she plays electric, Classical and acoustic guitars, keys and of course she is the singer.
As for her first instrument, Beth Bombara recalls, "The first instrument that I started playing was the piano. I think it was one of those things that as a parent you want your kid to be well-rounded. We had a piano at the house. My parents asked if I would like to play the piano and I said yes that sounds like fun. That was my jumping off point to learning other instruments.
I liked singing, but I never (thought) I wanted to sing in front of other people. That didn't come for me until much later when I felt comfortable doing that. I feel like finally now I am the most comfortable I have ever been with singing."
"Everything I Wanted," is a songwriter's song, as it gives the listener a peek behind the curtain about the life of a songwriter. It is also a song with an upbeat feeling, despite some of the true-life hard times described. Listening to Beth Bombara's vocals on the chorus reminds one of the early days of Fleetwood Mac and the vocals of Stevie Nicks and Christine McVie. That is not an exaggeration but tells you just how good Bombara's vocals truly are.
"It (the song) is me thinking about where do we get our ideas of what we need? What is happiness? What is success? The things that we have been told are (these things), maybe aren't necessarily true. I have realized in the past few years that I don't need very much to be happy. It is also pushing against the idea that the grass is always greener on the other side. While that idea is alluring to think about sometimes, it is not necessarily true all of the time.
It is really interesting when you take away some of those things that we are used to we don't really miss them. I have experienced that in the past few years. Things that I thought I really needed it turned out I didn't really miss that," she says.
We were curious about the songwriting process between Kit Harmon and Beth Bombara and especially since this song, plus three others were written together.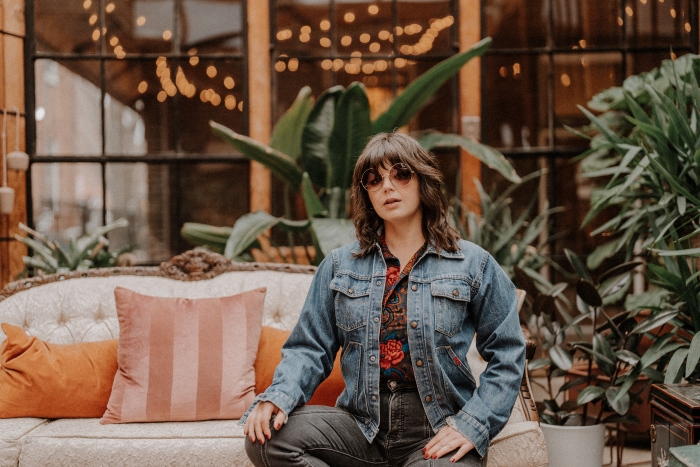 Beth Bombara takes it from here, "I generally will have most of the song finished. I know I may not be happy with the chords or the arrangement or some of the lyrics and I will take it to Kit and I will say how would you finish this song? Do you have any ideas to help get it into a final state? That is what happened with this song. I had lyrics written, and they were okay, but I thought they could be better. I felt the music on the chorus, just wasn't hitting right. He helped me finish the form of the song. This one stumped us for a while. We recorded three different demos of it and I said no it's not quite right.
One night we were sitting in the living room and I grabbed my guitar and said what if on the chorus you just hang on the one note? He grabbed his bass and instantly we said, that's it! That's what is missing (she laughs lightly). That is a good description of how our (songwriting) process."
Continuing she says, "Kit has been playing with me forever and that is how we met in 2004. We have been making music in various capacities since then. Now we are married (you can hear her smile), so he will probably always be a collaborator."
The slow-tempo "Curious and Free," meets at the junction of Americana and Folk Rock with strings arrangements by Sam Golden who plays fiddle, viola and cello.
"Kit recorded all of the percussion on "Curious and Free." I knew I wanted strings on it and I wanted percussion, but I thought it might be too much. He said I have some ideas, so I am going to track percussion. He played for me what he had tracked and I said yes, that fits and it brings it to a whole other level," she says.
From a songwriting perspective "What You Wanna Hear," think Joni Mitchell, think Gordon Lightfoot, the melody is easygoing, the word pictures are vivid and the Classical guitar playing by Beth Bombara is reminiscent of shades of Bucky Pizzarelli meets Liona Boyd.
"That song came out of the period of time when I hadn't finished writing any songs in a while. I said I am just not feeling it and I need to do something to break out of this. I wouldn't call it writer's block. I was just focusing on other things in life. I wanted to get back to writing, so I challenged myself to write one song a week. What that meant was I would have enough of a song, a verse and a chorus or two verses and a finished chorus and a melody. I would make a video of myself and I would send it to my patrons on Patreon. That was the way to keep moving forward creatively with songwriting, while also getting in this space when I wasn't overthinking things and just sitting down and seeing what comes out.
When I wrote "What You Wanna Hear," it was a week when I was going to let whatever was going to come out, come out, editing it without thinking this is a dumb thing to write a song about. I find when I am writing lyrics, I get in my own way. I like just being still with the guitar and letting something come out, without a preconceived idea. I sat down with a Classical guitar and I started playing chords and a lot of those words just came out. While I was playing the chords, I had a notepad out and I would write down the first things that came to mind. The music brought out this poetry and the lyric lines. (she laughs) It is strange.
That is my favorite way to write a song. It sounds silly, but there is that element in songwriting where if you hit it right and all of the stars align it just sort of comes out of you in this way that is hard to describe."
Please visit the website for Beth Bombara here and you can follow her on Instagram.
Photos by Virginia Harold, all rights reserved and protected by copyright ©
#BethBombaraMusic #BethBombaraInterview #RivetingRiffs #RivetingRiffsMagazine #EntrevistaMusica #MusicInterview
This interview by Joe Montague published July 29th, 2023 is protected by copyright © and is the property of Riveting Riffs Magazine All Rights Reserved. All photos are the the property
of Beth Bombara
unless otherwise noted and
all are
protected by copyright © All Rights Reserved.
This interview may not be reproduced in print or on the internet or through any other means without the written permission of Riveting Riffs Magazine.