Carolyn Striho Is Leading Us To The Promised Land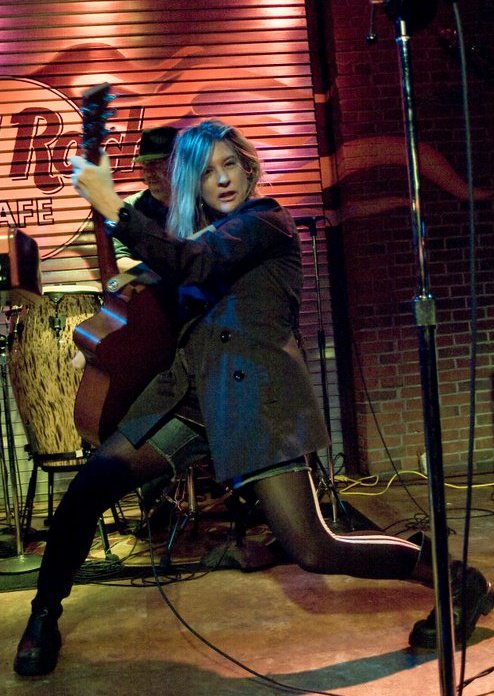 "I love music and I love performing. It is communication. It is immediate and you feel that from the audience and when people like your music, just the reaction makes you feel alive. Part of being alive is creating and communicating. It is very important to me," says Detroit singer, songwriter and musician Carolyn Striho.
The Detroit native has been the recipient of several Detroit Music Awards including the one that she covets most, her 2010 win for Best Rock Album of the Year acknowledging her musical excellence for the album Honesty. The title song provides an accurate snapshot of Striho's eclectic career as the tune opens with a languid slide guitar, turns very Punk like and at a couple of junctures slows down to a pretty Pop vocal.
"In some of the originals that we do (for live performances) I use pieces, like in the middle of "Honesty," we throw in Patti Smith's "Gloria," (written and also recorded by Van Morrison) and it familiarizes people (with our music). I don't know how this all started to happen, but it is pretty cool. Doing other people's music in the middle of an original is really fun to do and it invites people in. I like to do "Gimme Shelter," (Rolling Stones) in the middle of a big organ breakdown or "All Along The Watchtower," (Jimi Hendrix) and people like that," she says, providing further evidence of the eclectic nature of her music.
Carolyn Striho who has been nominated for more than thirty Detroit Music Awards since 2006 demonstrates her diverse nature on the album Honesty with the song "Sing It To Me," a tune that has Latin overtones and features some beautiful guitar playing by Scott Dailey, while Rayse Biggs blows a good trumpet and percussionist Ron Wolf is solid.
"I was thinking about Quentin Tarantino a little bit and "Sing It To Me," took on another worldly feel to it. Honesty (the album) had some straight Rock moments, but when people listened to it more and more they really liked "Sing It To Me." It may have brought in people who didn't want something so in your face and who wanted something different.
(Winning) Outstanding Rock Album of the Year in 2010, we didn't expect that. There are so many good bands in Detroit. There are so many Rock bands and there are so many people who are struggling to get their stuff heard and done. That was really awesome and it was great. I think I have gotten five of those little statue guys (the award is a mounted musical note). I have had a ton of nominations and just the fact that people pay attention to you. That's not a popularity thing. The people in the industry vote. They model it after the Grammys. Of course it is not as big as the Grammy's, but it is still a great thing. For an in independent artist to get that award, it just shows your will. This is a hard life otherwise everybody would be doing it. Being a musician is one thing and the whole other (business) side that would be it. That is when people say I just can't do it," says Striho.
One of the songs from Honesty that makes you sit up and listen and ask 'Who is this woman with the edgy, seductive voice?' is the song "Circles," which is powered by heavy electric bass and stellar guitar, again courtesy of Scott Dailey.
The new record, yes there is or we should say will soon be a new release, possibly split into two EPs, features an incredible new song "Promised Land," and the companion music video opens with images of Striho fading in and out and the only sound we hear is that of a sitar. The mood is mystical and for about the first forty seconds there are not any vocals. The scene changes, the beads and the mysticism have vanished and Striho's hand is seen writing in a journal, as she chronicles a struggle that seems difficult and painful, although there is not a hint as to what it might be about. Her vocals are backed by constant percussion, courtesy of Ron Wolf and the setting is either a warehouse or a loft badly in need of being refurbished. The tempo becomes more frenetic as the video revolves around images of Striho and Dailey, who by the way got married in 2012, sometimes we see them both playing guitars and sometimes Striho implores Dailey to take her home. Violinist Bonnie Kaye and bassist Dave Dion complete the musicians who play on "Promised Land."
"(The song) "Promised Land," is about somebody trying to get out of their sadness and to go to another place. It is in your face Rock. It is a poem that starts it. In the video she is trying to find another way to be out of her misery and to get to the Promised Land, which could mean a lot of things. It could mean a new life, it could mean going to the Promised Land after death. It could be something beautiful," explains Striho.
While winning Detroit Music Awards sends a clear message to Carolyn Striho that the music industry recognizes her creative genius and abilities as an artist, it was not the first time that she has been in the spotlight. She caught the ears of music fans in a big way in the 1980s and 1990s fronting her band Detroit Energy Asylum and most of those musicians eventually became the core of the band Was Not Was, led by Don Was.
When she started to emerge from her grief due to the death of her husband Fred "Sonic" Smith in 1994, Patti Smith returned to New York and got her band together, while Carolyn Striho stayed in Detroit and released the more Jazz oriented record Secrets In Space in the year 2000. The album featured David McMurray (Kid Rock) on saxophone and Luis Resto (Eminem) on keyboards, at the time both of whom were members of Striho's band.
"David did some of his original songs on saxophone and Luis did some of his originals and I did some Motown songs like "Reach Out," which Patti Smith sang backup on. We didn't do it like the Four Tops version, we did it small. We also did "I'll Be Around." That record is more moody and it was hard to market in the eighties and into the nineties, as there was a lot of Grunge. Secrets In Space is still a classic to me. I would like to re-release it. I would like to re-release everything really," she says, realizing that there are fans that are now just discovering her music and may not be familiar with her earlier albums.
In 2005, Carolyn Striho reunited with Patti Smith for the London Meltdown, which gave Striho access to an entirely new fan base.
Carolyn Striho played with some of the musicians from Sponge (gold record for their song "Rotting Pinata"), in addition to her solo pursuits, before reuniting with Patti Smith at the London Meltdown. She also shared the stage with Steve Earle and Yoko Ono.
"After I played in England with Patti Smith in 2005, I went back to Italy (2006) and to England (2006) with my band and then in November 2011 we were playing in Rome again. We are hoping to go back to Italy and then back to England again this summer. I am still waiting to hear about that. It is a lot to put together, but we get such a great response over in Europe. I played in Japan for two months. The people just love music.
There are some familiar songs that we did like Nina Simone (songs). We did a mix of standards that were kind of Jazz and Blues, but then we did all of our own originals. I am not even saying that they knew the other songs, but whatever it was, we always got a standing ovation. They just love the music and they understand. They feel," says Striho.
We will play something that we like to play too and that the audience will like. Patti used to do that. A lot of great original artists will throw in these awesome covers. Just because you are an original group doesn't mean that you will never, ever touch some other type of music or something that people will know. We do "Downtown," by Petula Clark," she says and we might add that Carolyn Striho's vocals really shine on "Downtown."
Looking ahead, Carolyn Striho says, "I want to be able to finish the record and to also keep writing. I want to keep writing this book that I have been working on. I started to write about my music life and about growing up in Detroit. It has to be really focused, because it could be quite involved. I would like to do another record and I would like to do this (European) tour this summer. I know it is not easy, but I love music and I love performing. "
Growing up in Detroit and inspired by "Iggy" Pop and The Stooges, as well as Suzi Quatro, it is now Carolyn Striho's turn to inspire other young artists and it would appear that is just what she is doing through creating eclectic and at times avant-garde musical styles that keep pushing the boundaries further out.
"When I first saw David Bowie on a late night music video or something I thought Oh My God, I want to do this. There was Janis Joplin, but there weren't a lot of women in Rock. I didn't think about that. I just thought it would be great. I remember hearing Suzi Quatro and I was still pretty young then, but that is what I wanted to do. I was already writing. It is just something that I did and I don't even know how it all started," she says.
She may not recall how it all started, but music fans are grateful that it did, for we are that much richer for having a truly creative inspiration like Carolyn Striho in our midst.
Please visit the Carolyn Striho website.
Interviewed by Joe Montague - January 2013 Return to Our Front Page
This interview is protected by copyright © and may not be reproduced in print or on the internet or through any other means without the written permission of Riveting Riffs Magazine, All Rights Reserved