What happens when art meets the clothing design world? Well in the case of Nazim Nazim (first name and last name the same) and Celeste Yarnall, actress turned entrepreneur the result is wearable art in the form of the Art of Wellness collection and the Celeste Yarnall Curated Wearable Art Collection.
"Almost from the moment that I met Nazim and fell in love with his art and as our relationship progressed and we fell in love with each other, I kept thinking how magnificent his paintings would be if we could translate them to scarves, kimono style sheer wraps and especially jewelry. You know what they say, be careful what you wish for, because if you envision it, it is going to happen. The opportunity to do this kind of design work together just fell out of the heavens. I am thrilled that my dream has come to fruition," says Celeste Yarnall.
Her husband and partner in this enterprise, Nazim Nazim contributes, "As to the inspiration behind the designs, like Celeste said it is very much based on a vision that she had and the fact that she could see in my work the potential to create a unique fashion style and fashion sense. It was very much born out of our collaborative view of the world."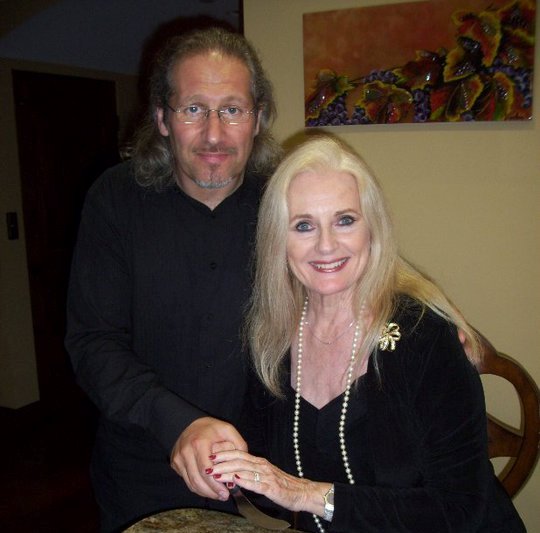 Celeste joins in, "As an actress I always had the ability to see what the camera sees. I have the ability to see how people see me and I can see how I see them. When I look at one of Nazim's paintings and sometimes they come from an idea that I've had, I might say darling what about this? He will immediately get his sketch pad and he will create something and I will say wow that is exactly what I had in my head. There is often a little mental telepathy going on there, when he can express in pen and ink what I am seeing. If it is a collaborative idea, I already have an idea or two how I will lay it out."
Celeste and Nazim collaborate with VIDA a global manufacturer that provides artists who want to transition their art to clothing and accessories, with a means to do so and the Golden Globe Awards invited VIDA to showcase their designers providing further exposure for them.
What do Nazim and Celeste have in their collection?
"(We have) 100% vegan long scarves, which are delicious. You can wrap them and you can do head wraps. You can wear them in the winter, as comfortably as you can wear them in the summer. We have cashmere and we have 100% silk scarves. We have tops and tees, tote bags and now we have throw pillows.
We do the design and then VIDA does the manufacturing and each piece is custom made to order. It takes anywhere from two to eight weeks, depending on which piece of the art is selected. They handle that aspect for us and VIDA selects the fabrics. They work off our design. The image is transferred digitally to the garments," says Celeste.
Continuing Celeste says, "(Our clothing) appeals to a variety of people, both men and women and it is not gender specific. It is beautiful, colorful, has a bit of whimsy, a bit of nostalgia, a spiritual overtone of oneness. There is a powerful sense of empowering women in the arts. We keep our prices on our website at the wholesale level to keep them affordable globally. It also gives retailers the option to purchase at those prices.
The scarves are really a frame for the face. They are either worn on the head as a head wrap or when it is worn around the neck it becomes like a frame. For a woman it is almost like wearing blush, because depending on the color that you select it just gives you a glow. The 100% vegan silk is so soft that you really don't want to take them off.
Silk of course is spun by silk worms and modal comes from beech tree fibers. It is a completely organic, vegetable, plant based fabric or technology. We have cashmere and modal, so we have several choices that people can make from our scarves collection."
Embarking on creative endeavors is not new to either of Celeste Yarnall or Nazim Nazim and in fact it is their collective past experiences that has led them to the creation of this fashion line.
We wanted to know when Celeste's interest in acting first began.
"I kind of popped out of the womb wanting to entertain people. I would sing and dance around the house in my Doctor Denton's (a one piece pajama for children). (My mother) enrolled me at a very early age in a dancing school for ballet and that led ultimately to modern Jazz and to singing lessons, (as well as) acting lessons. It is just really what I wanted to do. It may have been a hangover from a past life. I wanted to entertain people. Then I was really bitten by the bug of wanting to learn and wanting to write and all at a very, very young age.
I was directed into the entertainment industry, because my parents wanted me to follow my dream," she says.
Celeste Yarnall was first discovered, while taking a shortcut through General Services Studios in Hollywood, while on her way to do a commercial at another production company property. She said she drew her fair share of catcalls and whistles and then Ozzie Nelson of the Ozzie and Harriet Show emerged from a bungalow and to make a long story short, noticing the attention that she was receiving he offered her a small part on the television show.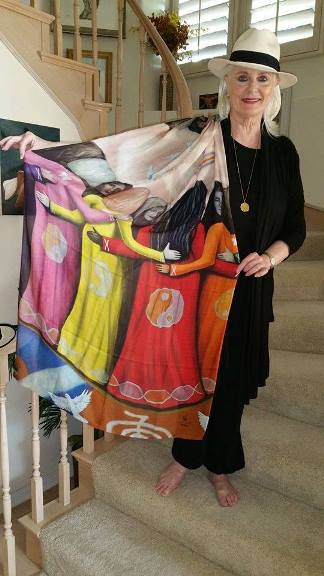 She says, "I almost fainted and he said come on in and let me introduce you to our group here. I said Mr. Nelson I am not a member of the union, I am not a member of SAG (Screen Actors Guild) yet. I am just out of high school. He said not to worry; we will take care of all of that for you. He repeated once again, if you can stop traffic by walking through this lot you need to be on our show. Lo and behold he sponsored me into the Screen Actors Guild and he gave me two lines on Ozzie and Harriet. My lines were, 'You coming with us Roberta?' She said no and I said, 'Okay, see you later.'
I went on to the commercial audition and I booked the TV commercial, the print ads and the point of purchase. I had a double win that day and it was my big break. That was my Lana Turner moment of sitting at the fountain at Schwab's Drugstore that helped launch my career (Editor's note: Despite the persistence of the legend, Lana Turner was actually discovered at the Top Hat Café by William R. Wilkerson, publisher of the Hollywood Reporter). I like to say when preparation meets a whole lot of luck, doors open for you. Holding the vision of what you want to become and what you want to have happen in your life is terribly important too. I can't dismiss that there was a little guardian angel riding with me that day.
I was born and raised within a stone's throw of Hollywood. I guess I just had a little luck going for me and I had a vision of how I wanted to look. My young girl's bibles were Seventeen magazine, Vogue, Harpers Bazar, Town & Country Magazine and the other movie stars and the models of the time. These were my idols. Jacqueline Kennedy was too."
As far as highlights of Celeste Yarnall's acting career go, although there are many, two rise to the top, "I have to say Star Trek, although I would never have dreamed at the time that Star Trek would become this global vision of a world, a galaxy and of a multiverse that we would all like to be a part of. At the time I had no idea that I would be appearing fifty years later in Italy with Bill Shatner for the fiftieth anniversary or in Las Vegas with practically the entire living cast of all the Star Trek franchises, because I had never even seen the show when I was asked to be part of it. It was a very pleasurable and wonderful experience, especially working with Bill Shatner. He was the glue that held everything together. He kept the spirit on the set up and he was funny. He was charismatic, sexy, charming, fun, personable, intelligent and interested in you.
A very close second or a tie would be co-starring with Elvis in Live A Little, Love A Little. Other wonderful memories would be the two episodes that I did of Hogan's Heroes and that was a great experience, (as well as) guest starring on Bonanza. I co-starred on Mannix with Mike Connors. He was a delight to work with. I have quite a few favorites," she says.
As for Nazim he says, "I am a pure Londoner, as far as being part of that wonderful world capital. I was very lucky to have been born and raised in London. The wonder of having been a part of that city has never left me. What London means to me is quite powerful. It is ongoing and it is forever a part of my fabric. When you are born into a world capital it is a fusion of all of the world's cultures. You can't help but be influenced by that. Wherever you go in the world you have a reference. For me that is the source of my evolution. I am very blessed by that."
He also adds that his passion for art "was within me since I was a child. It was something that I kept on doing from a very young age. I would draw and paint all of the time. I went into art education and into art school. I pursued this very precarious career path. As you know artists often have many obstacles in their lives and you have to persevere and endure the obstacles.
There is nothing more profound for us as creative beings than to be engaged in a process where there are infinite possibilities to quote Emily Dickinson, the great poet. To really be a part of this reality and to be truly creative is to be in a profoundly blissful state of ecstasy that we as human beings can tap into in terms of our own sense of being."
Celeste has authored two books concerning taking a holistic approach to caring for your dog (one was co-authored with Dr. Jean Hofve) and a similar book for cats. Celeste and Nazim were also involved in the production of the film Femme Women Healing the World, for which Sharon Stone served as the Executive Producer. Celeste was one of many women interviewed for this film. There is also a new jewelry line in collaboration with VIDA.
Please visit the Celeste Yarnall website to learn more or you can visit the VIDA page for their wearable art.
This interview by Joe Montague published March 19, 2017 and is protected by copyright © and is the property of Riveting Riffs Magazine All Rights Reserved. All photos are the the property of Celeste Yarnall and Nazim Nazim unless otherwise indicated and all are
protected by copyright © All Rights Reserved.
This interview may not be reproduced in print or on the internet or through any other means without the written permission of Riveting Riffs Magazine, All Rights Reserved