Country music singer and songwriter Dakota Danielle who grew up in the small town of Teutopolis, in southern Illinois blends the heartfelt lyrics of her original songs with good vocals and drives her tunes with her guitar playing. Her six songs EP opens with "When It Rains," is it a metaphor for when difficult times come along. It would have been easy to default to cheesy clichés, but instead what Dakota Danielle created is a song that uses the imagery of rainstorms and individual raindrops to depict individual trials and being deluged by them and barely being able to keep one's head above water.
"I came up with the melody first and then I like the saying when it rains it pours. It was something that has happened to me before in my life, including the last year when I was trying to get my EP together. I wrote a song about when it rains it pours, as when a lot of bad things hit you and you have to stay strong to overcome that. People enjoy the melody and they relate to the (words)," says Danielle when talking about the song.
Dakota Danielle's entry to the Country music scene is timely, unlike her entry into life, which was premature, very premature.
"I am an only child and I was born one pound and eleven ounces. I was a preemie baby. I was born September 7 th and I was supposed to be born in December. I was in the incubator until Christmastime and then I got to come home as a Christmas present," she says.
As for Dakota Danielle's musical influences she says the were almost non-existent in her immediate family, "My mom used to play guitar a little bit in college, but other than that music is really not their thing. Both my parents are really creative. My mom with art, but music wise I had a great grandpa who was always very musical and kind. Other than that I have aunts who can sing in the choir and stuff like that.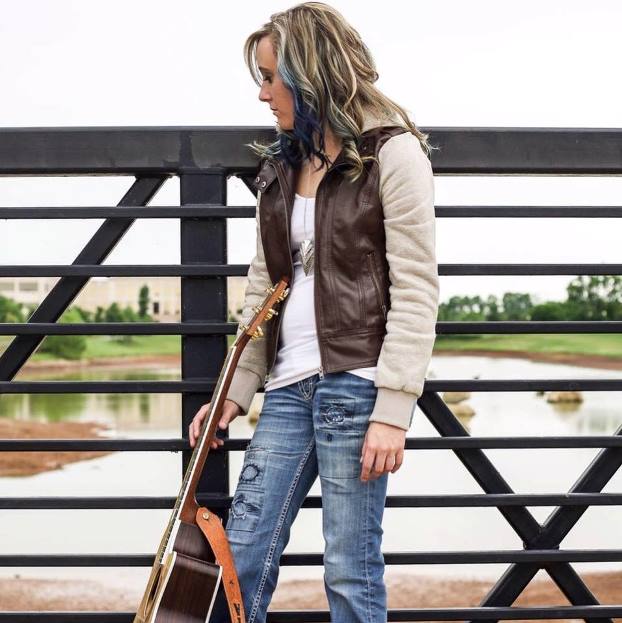 I picked up music really late. I took up piano when I was seven and I took that for a couple of years. Tennis is the big thing that runs in my family too and I played tennis all the way up to high school. I was at a point in my life when I needed a change, so I randomly decided to pick up the guitar. With the guitar you have to build up those callouses and I was really determined to be able to play chords on the guitar when I first took lessons with my high school band teacher. I picked it up pretty fast and I fell in love with it. That's how I started singing and writing songs. Ever since then I have just been doing that.
When I first started singing and playing the guitar I would lock myself into a room, because I didn't even want my parents to hear me," says Danielle.
After high school, "I found out that (University of Southern Illinois) Carbondale had a music business program (and she enrolled). I just kept getting more and more into music. The year that I was supposed to graduate from Carbondale I decided to go to Middle Tennessee State and to (enter) into their music business program and also to learn more about songwriting. It has been a crazy journey of how everything has slowly fallen into place and how I got here," she says.
For those who think the song "I Need To Get Away," was written about wanting to escape from a small town just to get to a bigger city you are wrong, because there is more of a backstory than that.
Dakota Danielle talks about the song, "I am sure others in small towns know what it is like to breakup with someone. I was thinking about what I went through and I know and it is really hard not to see them around if you are in a small town. Sometimes you get that feeling when you just need to get away, so you can have that distance and you can heal. I am not going to mention any names," she giggles.
"I Need To Get Away," the second song on the EP comes out hitting hard it is a song that it is driven by strong guitar riffs and booming drums. Danielle shows us a side of her vocals that we do not hear in the other songs as there is a razor sharp edge and that is a good thing. Although, there are only six songs on her debut EP we hear enough from this young artist to suggest she is at the beginning of what should be a very long and fruitful career.
When asked if "I Need To Get Away," is the type of song that people start moving to at her gigs she says, "Yeah, you're right, whenever I play this song and I look out into the crowd I can see people moving with it. That makes me happy. Every time I play this out live I will see people nodding their heads to this one and tapping their foot along to it. I am sure they can relate to it too."
Family is a common thread through some of Dakota Danielle's songs, most notably "Church Pew," and "Just One More Memory."
She talks about that, "I am pretty well best friends with my mom and dad. My dad's side is pretty big. I am the twenty-third grandchild on my dad's side and on my mom's side it is smaller. I have a lot of cousins to make up for no brothers and sisters."
"I rewrote "Church Pew," so many times and it was at the point that I hated it. It was never at the point where the song was at the point where (I thought) this is it. Finally, I got there and I decided to stick with this (version) and I liked it. It all started out when I was in mass in my hometown one day and I saw this older couple in the church. It sparked the title "Church Pew," and I thought that's different. That would be cool. I wrote it about an older couple in the church pew and me wanting a love like that. It slowly grew into me writing about my grandparents and how I would go to church with them and how I would see how much love they had for each other. I wanted to have a love exactly like their love even if one of them passes away they still feel them there and I still feel the love that is so strong. This was a special song for me to write, because both of those grandparents have passed away now. They both passed away within the year that I was putting this EP out. It was a special one for me to write.
The song "Just One More Memory," started with a melody in my head and I had the title and I thought I can write a good song. I wrote about my grandma who I was really close to and who passed away, but the story talks more about a little girl, because I didn't want to say in the song exactly who it was about. That let people visualize whoever they thought and who were possibly close to them and that they wanted one more memory with. For me it was my grandma. I was really close to her and I feel that when someone passes away you cling to the pictures that you have of them."
"Church Pew," is the most beautiful song on this album and given the inspiration behind the song it is not surprising that it is the one which Dakota Danielle sings the best. When she sings, "Someday in a church pew / I'll be like them too," you can hear the love in her voice and her phrasing is heartfelt." If you need just one reason to check out Dakota Danielle's music this song would be it.
That theme of family was even evidenced when Dakota Danielle first starting writing her own songs.
"The very first song that I wrote was about my aunt who passed away when I was young. I was really close to her and we lived on the same street. I don't remember her too much, because I was so young. I spent a lot of time with her from what my parents told me. I wrote the song when I was in high school and it was about how I have this feeling that I was close to her. I played it for my family for the first time at Christmas and everybody was bawling. The song is called "Marlene," because that was her name," she says.
When I played "Marlene," for the family and I saw the reactions on their faces it meant a lot to me. I created this piece of art and I created this story and then to see their expressions that is when it made me love doing that even more. After that I got brave enough to play for some of my friends and I tried out for the Effingham County State Fair talent show. I got second place on that and that built up my confidence."
Dakota Danielle has been in Nashville now for three years and she says, "Once I decided to do the EP I was really focused on finding my sound and making sure that the songs that I wrote reflected who I am as an artist. That's when all the ideas started flowing and when all of the ideas came into place."
Out of that focused songwriting emerged the hard hitting song, "The Key," once again driven by guitars and drums, with edgy vocals. It is about looking for a place or perhaps a space to which one can escape when you just need a break from life or perhaps things get a bit overwhelming and Danielle sings, "Music is the key," and that is where as she says, "..music can be an escape from your bad day for three minutes."
The EP closes out with the quick paced "Who I Wanna Be," and it is about making a difference in our world and making a difference in the lives of other people.
"I wrote "Who I Wanna Be," as a final little reminder to myself. When I first started writing it I thought oh my gosh people are going to think this is my actual personality. I wrote it as a general thing how all of us can forget that there are other people in the world who are experiencing the same things as us and I feel like we sometimes forget to say thank you more and to let people who are close to us know that we love them. It is just because we get so caught up in what we are doing. I wrote this as a reminder to myself to make sure I do look at the world differently and I try to help the world at my feet. I tell people that I am close to that I love them as much as I can and I enjoy life in the moment, as much as I can, instead of thinking about the future, so I don't miss out on what is going on in my life right now," says Dakota Danielle.
Make sure you visit the website for Dakota Danielle and listen to her music. When you realize how good she is, make sure you purchase her music. If you want to continue to listen to really good music created by really good artists then we have to support them folks.
#DakotaDanielle #DakotaDanielleCountryMusic #rivetingriffs #rivetingriffsmagazine
This interview by Joe Montague published October 15, 2017 is protected by copyright © and is the property of Riveting Riffs Magazine All Rights Reserved. All photos are the the property of Dakota Danielle
unless otherwise noted
and all are
protected by copyright © All Rights Reserved.
This interview may not be reproduced in print or on the internet or through any other means without the written permission of Riveting Riffs Magazine, All Rights Reserved