For someone who never planned on a career as a celebrity makeup artist, Margret Avery has done a good job of becoming one of America's most sought after artists. A very small sample of her clients has included, Christy Turlington, Cindy Crawford, Barbra Streisand, Isabella Rossellini, Annette Benning and Naomi Campbell. Margret Avery has worked with some extraordinary photographers including, Helmut Newton, Denis Piel, Herb Ritts, Eric Boman and Irving Penn, to name but a few. She has worked with major brands such as, L'Oreal, Max Factor and Revlon.
She says, "I never thought of having a career as a makeup artist first and foremost. It never entered my mind. I came to New York City from Ohio to go to college. I went to Parsons School of Design and my major was fashion design.
I came from a lower middle class family in Ohio and there wasn't any money to put any of us six kids through college, so I had to put myself through college. I had a partial scholarship the first year and then full scholarships onward. I had to work a lot and at one point I had three part-time jobs with a full load of school. At one of the part-time jobs I met two guys who were aspiring photographers and they wanted to keep taking my picture. I felt so free in New York and being able to have this creative expression. Studying fashion design, I wore different wigs and makeup and clothes every day and it was like a game to me. It was a lot of fun. That is why they wanted to take my picture.
I however, am not comfortable with that and I didn't really enjoy it, so I would start to grab fellow classmates and I would take them and I would transform them. We had all of these pictures that we had finished together and a fellow classmate suggested that I take the pictures and I go to a magazine and show them what I could do, because I am actually really good as a makeup artist.
I had never thought about that, so I thought okay I will do that. I needed work. I needed yet another job during the summer, so, I was happy to go anywhere and I went to a magazine and I showed them the pictures. They hired me on the spot. I worked for the summer breaks from college as a makeup artist.
When I finished college I had two portfolios, I had a portfolio as a designer and one as a makeup artist. I just didn't know what to do, because I wasn't feeling one way or the other really. I was very tired, as you can only imagine. I kept thinking about being a designer and sitting in a fluorescently lit room and trying to be creative that was very difficult for me to even think about. It would be like sitting on my hands after having had a taste of working as a makeup artist and getting on a plane and traveling, while doing different assignments. Having this freedom of just being out in the world was very appealing. I ended up getting a job at a hair salon as a makeup artist and I just took it. I thought I am just going to take it and see what happens.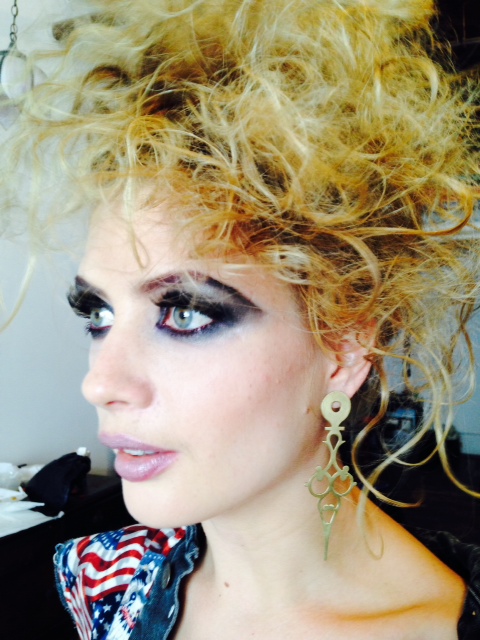 In that position I ended up meeting a lot of people like Grace Jones, one of the names that pop up immediately. I worked with Grace Jones who is very eccentric and a lot of fun and she has a big heart. I just enjoyed working with her. I did body painting on her and I painted her face like crazy. I did a bunch of photographs.
The owner of the salon Andre would often ask me to do photoshoots with him and Dwayne Michaels a great photographer. We had to get up early in the wee hours of the morning and meet him somewhere at five am. I was like okay (reminiscing in a dubious voice at the time of day) and I said sure I will do it. It just kept snowballing and rolling in it and rolling in it. It took on a life of its own and it was nothing that I ever aspired to. It is nothing I ever thought about doing nor is it anything I ever thought of doing for my life. It just came out of circumstances and survival. I just kept going with it. I didn't have an agent for a long time initially and then I did get an agent. My very first agent represented Helmut Newton, Herb Ritts and Denis Piel and all of these great photographers and I worked with all of them. I ended up with all of these great pictures. It started to transform my life and all I could do was to hold on and to go for the ride. It was here we go. I got to travel a lot and to meet so many interesting people. That is how it ended up starting and growing for me without any preconceived idea on my part at all.
When I was out on a photoshoot I would ask (others) how they got into this business and everyone had a story about how they fell into it. It is not like they were studying and they were aspiring to be…it just fell somehow (she laughs lightly) into it or someone suggested it or they were introduced to someone who brought them in. That's life just giving in a bit and surrendering to where it takes you.
It became a career that I hadn't planned on. Absolutely. There it was and I wasn't going to stop it. There are so many great opportunities and there are so many amazing people that I was meeting (through) magazines that I was working for and in high profile situations, why would I not want to do this? Of course I wanted this experience and when one would end another would begin. It was surreal. I barely had a chance to catch my breath. I have so many great memories and a lot of beautiful pictures to share, because of that.
I have discovered how hard the people work who are very, very successful. Not everyone was born with silver dollars in their mouths and just spinning it and spinning it and weaving it into more money. The people that I have met are very dedicated and very driven. They have visions of their next step? I found that very inspiring and I guess that has affected me very deeply, because I also feel that way. I also feel very driven and I feel very inspired on a daily basis to constantly and continually create and to find new ways of expressing myself. For that I am very grateful.
I have had a lot of amazing adventures. I met a lot of amazing people and I worked with the best photographers ever in the world. There you have it. I am still in it shockingly."
Avery relates one of those adventures from a time when she was working with photographer Rico Pullman, "Rico Pullman and I worked with on a photoshoot in Denver, Colorado for Harper's Bazaar. He wanted to shoot winter coats and clothes and everything on a mountaintop and we needed a helicopter to get us to the top of this mountain. They kept saying to us the weather is not going to be so great, there is a storm coming (she repeats it for emphasis) and he said I don't care, we'll get up there now, take the pictures and then we will get back down.
By the time they got the entire crew, because you can only take so many people in a helicopter, two people, two people, two people and by the time we got to the top of the mountain the big clouds started coming in with the storm. The next thing we know we heard the chopper coming back up the mountain (she does the sound effects of the helicopter and does them quite well!) and landing on the mountain. (The pilot) said you guys have to get off of here now! Rico and his assistant left first, because they had all of the camera equipment and the stuff that needed to be safe. The (helicopter) took them down and came back up and who was left? There was the model, myself, a female hairdresser and the female editor. It was all women and we tried to get all of us into the helicopter.
I will never forget that the magazine editor was willing to be strapped physically to the side of the helicopter just to be airlifted down, because we were starting to be so scared. The storm was coming in big time and we were hiding in a crater that we found on top of this mountain with the tarp held over us. We didn't know if lightening was going to start. We didn't know anything. It was very scary and very dark. God bless this man who knew how to manage this helicopter. It was very dangerous for a helicopter to do this. He came up. We tried, but the helicopter wouldn't keep her strapped, so she jumped off the helicopter and she just said, go, go, go. He took us straight down to the road and then he went straight back up to get her, so he could bring her to safety and he did it.
I remember I was with the hairdresser Gaby Speckbacher and she and I are still dear friends and she now lives in Germany. There we were on the street. We had some of our equipment with us. We didn't have any ID or anything and no money, because who would have thought that this would happen. We had to thumb a ride back to the hotel (she laughs). We were lucky, because there was a little mini bus that stopped and pulled over. It was a family that was on vacation. They were so excited that we were on a photoshoot. They were just beside themselves. They took us back to our hotel, so we got there in time for dinner. Oh what a day."
Margret Avery says she did a lot of work in particular with photographers Denis Piel and David Seidner. With Piel they traveled a lot and they did quite a bit of work for American Vogue.
She recalls, "Some of the days were very grueling, but in the end we got these great pictures and everyone could take a big sigh of relief at the end of the day, we did it we got through it. With David Seidner he was very particular in his vision. He was greatly inspired by painters like John Singer Sargent. When he came to the studio he would create a huge storyboard with all of these pictures and of all of these painters whom he loved. He wanted to recreate a lighting situation, as a photographer that would complement the light that was in every painting. It was very difficult to do and sometimes it would take him up to four days to get the lighting right. That was a big expense for any magazine to do that at that time."
She makes the point that every photoshoot for every magazine is a collaborative effort and it is important for the makeup artist and hairstylist to listen very carefully to what the photographer wants.
In one particular photo session with David Seidner what he needed was quite extraordinary and Margret Avery describes why and how she was up to the task, "He needed me to make every single person man or woman look like they had never been in the sun. I was okay, alright, I'll do it. I didn't know how I was going to do it, but I said yes, sure. I found a way to mix almost a clown white makeup. (I took) this lavender oil that I made and sort of a natural, medium shade of foundation and I mixed it altogether, so it was really, really, really thin. I had to put it on someone's skin and on their ears, neck, everywhere, hands, so it couldn't look anywhere on their body like they had been in the sun. It didn't look great to the naked eye, but between the lighting and this makeup all of them looked like their skin was very, very creamy. That was the end result and we got it. That was the point. It wasn't HD like we have in the present day when you can see every wrinkle and every pore and it worked. He had very specific instructions for the hairdresser and how the hair needed to be worn in place and everything. I had to come up with a way to make the lips look stained. He was very specific about what he wanted. He worked very closely with me and with the hairdresser for every photograph."
Continuing to talk about her work with David Seidner she says, "In the end we did a lot of pictures for the Sunday New York Times Magazine and in Vanity Fair. I was part of a team when he won the Alfred Eisenstaedt Award for portraiture photography in Vanity Fair. We replicated photos that looked like John Singer Sargent paintings.
I was very touched when he got up to accept the award and he thanked all of us and his team. He mentioned us all by name. That was very rewarding and comforting, because it is a team effort. When you work on a project like that no one really gets all the work and the hours that are behind a photograph like that. It is not a quick selfie, like in the present day. It's work.
People understand it (collaborating) in the film world. You think about the film world and how the crew behind a film has to work so hard and they are in horrible conditions and guess what, it is the same in print."
Where does Margret Avery find the reward or the personal satisfaction in makeup artistry?
"When I make people feel great about themselves and make them look in a way that they hadn't thought about. Recently I worked with a young French painter who has the most amazing hair. She is young and beautiful and she doesn't wear makeup, except for lipstick. We were taking her photograph, so we had to do a few things and I taught her along the way what I had done. It was very rewarding, because she wanted to know everything and she wanted to learn. It made her feel great and better about herself. She learned what to do when I would not be around to help her out when she has a night out or an opening as an artist. I find that very rewarding when I can help someone out and make them feel a little more autonomous about how they can pull themselves together and when they feel that they are looking their best on a day to day basis," she says.
Avery gets really enthusiastic when the conversation moves into a discussion about skincare, "I am obsessed with skincare. I discuss it all of the time with my clients. When I teach a private lesson to someone about how to do their makeup they had better prepare for the first twenty minutes or so to be discussing their skincare and what they are doing. If your skin isn't well taken care of no amount of makeup is going to give you what you need or what you are looking for. I feel very sensitive to the fact that all women want to have great skin. All men want to have great skin. Men have been onboard now for quite a few years and I would say in the last twenty years it has developed more and more about (learning) the benefits of taking care of their skin and how much cleaner they look and feel. It makes a difference."
As for tips about caring for one's skin, she offers up this, "I would say be gentle. Everyone is so individual in their skincare needs that it is very hard to be too broad sometimes. There are broad regimens in how to care for your skin, but it is like having one size of a shoe that fits all. There are a lot of shoes and a lot of different sizes. Everybody has similarities in their skin, but they are all kind of different. I try to hone in on someone's specific (needs). For example let's suppose someone is suffering from an acne condition, there are a lot of great products out in the world that I can recommend for an acne condition. If it is cystic acne that's a different ball game. You may need a doctor. You may need some kind of medication or injections or something to help take care of that and to diminish the effects of it. That is why sometimes it is difficult to have one answer to fit all.
Having said all of that, I believe in treating the skin very gently. I grew up with very bad skin and I have acne rosacea now as an adult and no one would ever guess, because I learned that less is more. The less aggressive you are with your skin the better your skin looks. Most people have a tendency to be overaggressive, overscrub, overclean, overstimulate, overstimulate and when you overstimulate all sorts of things start to happen. Then you need a different kind of cream or a different kind of lotion or a different kind of doctor to take care of that. In fact, if you just let your skin breathe and live and be itself for a day or two and you don't do anything to it, it repairs itself. Then you just treat it very gently. I don't believe in using a lot of water on the skin to cleanse it."
If you are a man and reading this, Margret Avery also works with men, "I have worked with lots of men. Depending on the situation, as every job is different and a couple of celebrities that I have worked with in the print world have ended up hiring me to work with them when they have to be on the red carpet or they are being interviewed on television or whatever. I have done that for years for a couple of different clients."
All photos are the property of Margret Avery and are protected by copyright © All Rights Are Reserved Top Photo is of Margret Avery, Bottom Photo is a model demonstrating Margret Avery's makeup artistry. Return to Our Front Page
#margretavery #makeupartistry #celebritymakeupartistry #rivetingriffsmagazine
This interview by Joe Montague published August 14th, 2017 is protected by copyright © and is the property of Riveting Riffs Magazine All Rights Reserved.
This interview may not be reproduced in print or on the internet or through any other means without the written permission of Riveting Riffs Magazine, All Rights Reserved