Mark Christian, Merle Jagger, Landlords of the Cornfield, What's In A Name?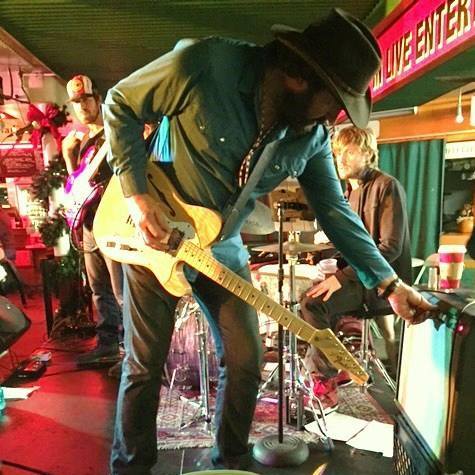 Take a little bit of Merle Travis, a touch of Buck Owens, mix in a Rock guitarist who played on a Berlin ("You Take My Breath Away") record and received an invitation to join the band, was a session player for Moon Martin, The Monkees, Robert Palmer and The Village People (also served as a songwriter) and you have a pretty highly regarded and eclectic guitarist. Los Angeles guitarist Mark Christian who is also a well-respected producer and sound engineer now has people whispering his name respectfully in Country Music circles as his band Merle Jagger causes ears to perk up with their original songs "Hillbilly No. 9," and "Ranch Party," as well as their cover of Earl Scruggs' "Randy Lynn Rag."
Mark Christian explains how the band's name was determined, "The Merle of Merle Jagger is actually Merle Travis. Merle Travis was in behind the calculated science of my band name. Merle Travis was the first Country guitar hero. He wrote "Smoke, Smoke, Smoke That Cigarette," and he wrote "Sixteen Tons." He was the Bruce Springsteen of the 40s. He played a Bigsby tremolo (guitar). He was playing with a thumb pick and he would pick the guitar like a banjo. He played all of the bass lines and the guitar lines together at the same time.
Chet Atkins admitted he got everything from Merle Travis. He basically stole his style. He applied it to what he was doing and then everybody else followed. Pretty much the whole Chet Atkins thumb picking thing was basically started by Merle Travis.
I figured I was a Rock guy trying to play Country. I figured the guitar hero of Merle Travis meets the bad boys of Rock and Roll, The Rolling Stones and I came up with Merle Jagger. There were some runner-up names like, Gringo Star. I also wanted to have a band name like Jethro Tull or Elvis Costello. I wasn't sure if people were going to get what I was doing. I wanted people to be intrigued by the band name and that would lead them to the music. The t-shirts sell really well. I was absolutely not going to do the Mark Christian Band. It was not going to happen."
To date Merle Jagger has released one album, but another is on the way. The current one, Rancho Los Angeles derives its name from the Country music scene in Los Angeles past and present. Yes you read that correctly. As Christian started preparing himself to transition into becoming a Country artist he noticed that a lot of the musicians he was studying were from Los Angeles.
"I realized the reason the Country music scene was here (in the past) was because people thought they were going to record a hit record and then get into a western. They thought they were going to be a cowboy singing star, like Will Rogers, Roy Rogers, Gene Autry and that is what was attracting people here at the time. When I was a little kid I remember there were western themes everywhere. We wore the snap shirts to church and we wore the snap shirts to school. We wore cowboy hats and we had Winchesters. We played cowboys and Indians and my parents had all the western movie soundtracks. It was a really big deal.
In the early millennium in Los Angeles a big Country scene was beginning to take over the town and I thought it is still the Wild West here. I researched and found out that in the late 1800s Orange County, the San Fernando Valley and Los Angeles County were pretty much owned by ranchers. There was Rancho Cucamonga, Rancho Burbank, Rancho Pico and I thought well since the Wild West is still here and everyone is still making Country music, how about Rancho Los Angeles? That is how I came up with the CD title. The title and the music are all tied in. The whole idea is tied into the Los Angeles music history.
The record did so well and it is still doing very well. You know the old saying, my record turned out to be "Dark Side of the Moon," well "Dark Side of the Moon," as you well know wound up in the Billboard Top 100 chart for something like thirty or forty years. My CD has not been in the Billboard Top 100 chart for thirty years, but unlike any of the CDs I have done, including the ones that had great big record deals, it still is carrying a lot of momentum. When people hear it for the first time they think it came out yesterday. I am still getting airplay and I am still getting gigs and we still play the same songs at our shows, not all of them," he says.
As a child, although Mark Christian's parents were not professionally employed in the music business, he was exposed to a wide variety of music at home. His father who had grown up as an orphan in Albany, New York and had played the tuba in street bands, during his own childhood, listened to Classical music and film soundtracks when his son was growing up.
Mark Christian remembers, "When I was a kid they had all that music from, How the West Was Won, Mary Poppins and all the classic films of our time from the sixties and the seventies. My mom was really into the Blues and she loved forties Swing music. Neither one of (my parents) were into Rock and Roll or Elvis Presley. They were into Johnny Cash, they loved Tom Jones, they loved Chet Atkins and my mom loved Roy Clark's singing.
My mom was trying to do something artistic with me as a child to get the ball rolling. The piano lessons failed, the flute lessons failed. At the time guitar was really big, so they bought me a guitar and immediately it soared into playing constantly every day. I soared past my guitar teachers and started playing Beatles' songs. One of the first riffs that I learned when I was ten years old was the "Paint It Black," intro on the guitar. They were worried that I was going to get too much Rock influence. At the time Rock music was not respected musically like Jazz and Classical was. It wasn't until the seventies that Rock music became very intricate with bands like Yes and Genesis. You had to be a really educated musician to be able to play that kind of music. Back in the late sixties there were the Monkees and the Beatles.
They bought me Chet Atkins records and Roy Clark records. They were trying to expose me to Country and Bluegrass. We would watch the Hee Haw TV show and my dad would say why don't you learn how to play like that?"
Mark Christian grew up forty miles south of Los Angeles in a town called Orange, which is adjacent to Disneyland and borders Bender to the north and the El Toro marine base to the south where his father was stationed as a marine. Christian says there were other influences that were just a byproduct of where he grew up, for instance, one of his neighbors was José Feliciano. Stars like Jackson Browne emerged from Orange County and Mark Christian recalls that the guitarist for Quiet Riot and the drummer from Autograph were both from the high school that he attended.
Living so close to Hollywood, Mark Christian says they would often go to see Larry Carlton perform, because they knew him from the hit records that he played on.
"Then we would see in the LA Times that he (Carlton) was doing a solo stint at Donte's in North Hollywood. We would drive up there and start hanging around with all of the session player people. We figured out really fast that if you looked at the back of all of the records back then the same characters kept showing up on records that were being recorded in Hollywood. That was an incentive to become more educated on your instrument, because there was a future for you.
I thought if I spend a couple of years in college studying music and if I learn how to read and study Jazz, I can go to Hollywood and get a real gig. That is what was happening back then. The music business was starting to dwindle and the session business (also) started to dwindle. I got into it at the end and I did a lot of spectacular gigs and I made a lot of money (on session work). It was the late seventies and we were aware that a lot of people were playing on the hit records. Back then you could see Yes and Deep Purple and you could see really gifted players laying it down hard. We wanted something that they had. We either wanted to be a Rock star, a Jazz star, a session player or some kind of significant force in the big party that was going on in Hollywood," he recalls.
A friend of mine had met the producer for Stevie Wonder's 1970s records and he said hey we are looking for young guys to back up a Country singer, so my friend called me up and he said, I think we have a real gig. Come on up. I went up there and I got an apartment and I started working with Bob Margouleff who had produced Stevie Wonder's Talking Book and who later produced Devo and some other big projects (Billy Preston, Jeff Beck, Depeche Mode, Joan Baez, and Stephen Stills). He is a pretty famous guy. He was instrumental in creating the polyphonic synthesizer in the seventies. He produced all the key songs for the Key Of Life. For the classic Stevie Wonder music he was the recording engineer and producer," says Christian.
That first gig in the studio led to Mark Christian appearing on records of numerous famous artists, including the ones mentioned at the beginning of this interview. He credits the band Berlin for steering him in the direction of '90s Grunge music (even though they were more New Wave), which led to Mark Christian forming the band The Big F. The Big F was immediately signed to a record deal and they released one album on Electra Records and two for Chrysalis Records. The band self-produced their music. When the Grunge music scene started to die, so did the agreements with the music labels. It was during this time that Mark Christian also gained a reputation as a pretty good producer.
"All of a sudden people started calling me up to produce (their music). I became a producer / musician with a goal to producing something that would get me back into a recording contract, because that was the ultimate reward. I got to play with Cher and I got to play with Steve Perry. There is a huge list. It was great to see how the other half lives, what kind of people they are, what kind of personalities they have and how they became successful," he says.
As the 1990s drew to a close, Mark Christian decided to focus on the Country music scene. He developed a friendship with some of the musicians in Dwight Yoakam's band through Christian hiring them to play on some of the albums he was producing.
"The Dwight Yoakam guys told me that if I wanted to play Country, I wouldn't be taken seriously coming from Rock music. That is not the case nowadays, as you see people crossing over Kid Rock and Steven Tyler, but back then it was still taboo. I started Merle Jagger to advertise myself as a Country musician. I also went back to studying and I studied all of the old classics. I reinvented my guitar playing.
"It is very challenging on the guitar to play like Chet Atkins or Jimmy Bryant or Don Rich. It is a real challenge still and everytime that I pick up the guitar. I marvel at the decision that I made to do this, because it is a chore. Every year there is another guy, a legendary Country guitar player that I have to study. The list goes on and you have to tear apart the Youtube videos and figure out what they are doing that you aren't doing and then move on to the next guy. That is really fantastic fuel for my band, because my band was primarily created on the premise of instrumental music and celebrating this music.
When I got into this music at the time Vince Gill was pretty big and the Dixie Chicks and George Strait, Alan Jackson and this music had a lot of amazing players. That is kind of moving away. You are not hearing this anymore. You are just hearing generic people making generic statements. For the last ten years the gap has not been as wide as it is now. There were people in the middle who crossed over. What is driving the music scene in LA and Austin is the anti-Nashville thing. The Outlaw Country thing is getting huge and bigger than I have ever seen it in the last ten years. I am starting to hear tracks come out of Nashville with programming, no drummers and no bass players, just programming. When are electric guitars, steel guitars and pedal guitars going to disappear? I am predicting in the next five to ten years the Nashville Pop thing will become its own entity and it will no longer even be considered as Country. The music of Waylon Jennings and Sturgill Simpson, Drive-by Truckers, Lucinda Williams are going to be the big selling tickets, because people really love Country music. The gatekeepers in Nashville have slowed that sound down and they are trading it in for something else. What is interesting about this is a lot of these people who drive these Indie Outlaw Country scenes are young people. You would think that people over the age of fifty are the only people who would be interested in George Jones, Buck Owens and Waylon Jennings. That's not true. It is the young people and that is what they are into. What I find fascinating is when I was young it was all about Led Zeppelin and The Who. Now young people don't even listen to Rock. It doesn't exist. They listen to Country.
You are going to see this blowup in the next five to ten years and you are going to see real Country come back as a mainstream art form. A lot of the people who are driving the Country scene in LA are in their twenties and that means the next generation that is coming up are going to be influenced by them. This is going to be going on for a long time," he says.
Towards the end of 2015 Merle Jagger will be releasing a new album titled, Landlords of the Cornfield.
You can visit the Merle Jagger website here. Return to our Front Page
This interview by Joe Montague published July 17th, 2015 is protected by copyright and is the property of Riveting Riffs Magazine © All Rights Reserved. All photos courtesy of Mark Christian and are
protected by copyright ©, All Rights Reserved
This review may not be reproduced in print or on the internet or through any other means without the written permission of Riveting Riffs Magazine, All Rights Reserved