What happens when you have a beautiful model, a daring stuntwoman and a fabulous actress and they all meet? Well when they are three different people, we are not sure and this story is not about three different people, because our guest at Riveting Riffs Magazine recently was Montse Muñoz and she is actively engaged in all three careers. Perhaps the story of how she received her first name is a good place to begin.
"My first name Montse comes from Montserrat, which is a really high mountain mountain range, and they are difficult to climb. My name comes from these mountains. I always asked my mom why she chose this name and she said, because you asked for this name when you were born. She said all of your life you wanted to climb, and you always looked for the difficult way to arrive at the top. You are doing it step by step and that is why you have this name," says Montse Muñoz.
She was born in the small city of Manresa, sixty-seven kilometers from Barcelona, located in Spain's autonomous region of Catalunya. Legend has it that St Ignatius of Loyola, while on his way back from Montserrat stopped in Maresa to pray and that for one year he lived in a cave not far from Maresa.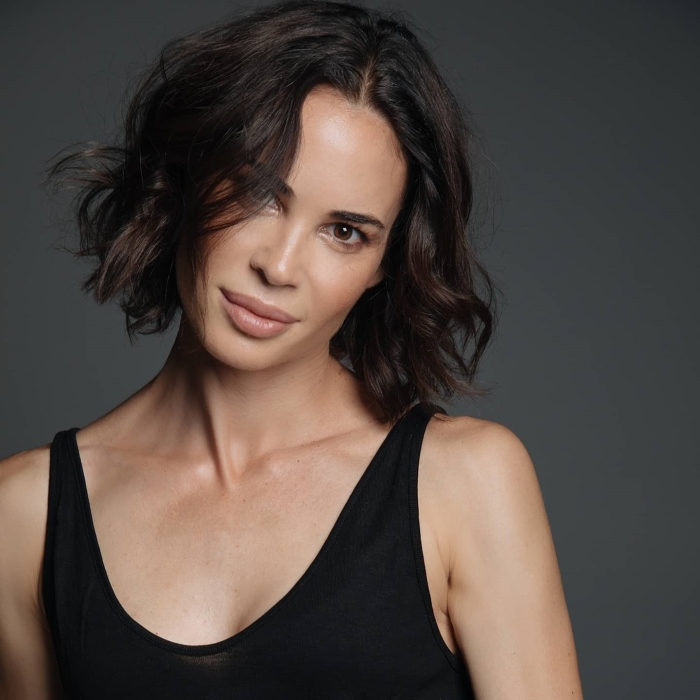 She was one of only two children in her family and her extended family on her maternal and paternal side was even smaller.
When asked if her creativity is something naturally flows from her family, she laughs lightly and says, "My mother is the only one in my family that is creative. When we were little kids, she prepared magical things, or she gave us surprises at Christmas and for our birthdays. She does amazing things for us. She makes everything by hand. I think my creative part comes from my mom. She has always been creative and open minded, and we needed things. My mother taught me how to do things by hand. She sews really well, and she paints.
I remember when I had to learn things for school and some things I wasn't able to remember my mother would tell me if you think about this word and you (associate it) with that word you will remember it. It worked.
My father is a mechanic, my brother is an electonric engineer and my mother works in the office with my father."
Let us take a step back for a moment in our conversation and remember that Montse Muñoz's name represents the tallest and most difficult mountain range in Spain to climb and her mother's words about her not taking the easy way, even as a child, but always taking a step forward. Listen, as Montse Muñoz describes juggling the various aspects of her three distinct careers.
Right now, I'm involved with four different projects as an actress and stunt, one film and three series, some of them for "Netflix." Also, as an actress, I am starting to prepare for two projects that will go to film festivals and I am working on a theater project as well, but we had to stop, because of the current circumstances (COVID). As a model, I have different shootings scheduled also.
Sometimes it is hard, because all of my professions are mixed and in my case one day I might be (filming) a car accident for stunts and the next day I may have a shooting as a model. I have to be careful. As a stunt double, I am strong. My body is strong, but as a model I need to be thinner. When everything is mixed and I am modeling I sometimes think oh shit, I have too much muscle today, because I was training to jump. Tomorrow I have a model shooting and I need to be thin and delicate. As an actress I need to be another way. Sometimes it is a mess.
I need to put the image in my mind, and it is like I am looking in the mirror in Intution (a film in which she acted). I say okay, now I am a stunt person and I have to do an accident. I have to jump fifty meters. Then I have a rehearsal for theater and my role is as a young woman with a three-month old child and my character's life is (a mess). My character is poor. After that I am (shooting) as a model and I have to feel that I am the best.
The truth is that when I'm working as a model, I'm working as if I was a character, especially when I have to convey sensuality, because I'm quite shy in this aspect. Always I create images in my mind to feel like a character, so I can give to the photographer the proper mood. As an actress there are other ways of doing things.
Sometimes I think oh my god, I am Montse and I am going to do yoga and put my fingers on the floor."
Let's go back for a minute to where it all started.
She recalls, "My interest in creative arts started when I was about nine years old. I was in primary school and they created an after-school group with acting classes. I asked my mom if I could do it and she said of course. If you want to do this, just do it. The class involved creating a play and then presenting it. I was really excited and happy. When the director decided to cast the play, he said the only male character in the play would be me. I talked to my mom and I said I don't want to be this character, because I have to be like a boy and I wanted to be like a girl, while doing theater. My mom is really clever, and she read the play, before she told me Montse don't you realize that you are the main character in the play? You have to seize that. They have seen something in you during the rehearsals that has led them to give you this character. You have to practice a lot and study a lot. Enjoy it, because you are going to be on the stage all of the time and that is what you love the most.
I did exactly what my mom told me and when we presented the play and after the play ended everyone asked who the girl was who was the male character, because she acted so well. I could see in that moment how people received me and my acting.
Now it is different, but when you are younger you do not realize that everybody has an ego. If somebody tells you that someone doesn't have an ego they are lying. If you have to do an exam and study a lot and then you do well, you feel good about yourself. This is what I feel when I am acting. When you see how (the audience) feels and the emotions that you gave to them, it is like you are delivering yourself to them through your acting. When you do an exam and you get a 9 or 10 out of zero to ten you feel really good about yourself and for me that is the same feeling when I have finished acting (and people respond positively).
I started modeling and then acting and the stunts came later. That was the order. I was studying for a career, because my parents are really practical and they told me it would be better to have a career first, before I did acting, so I could support myself. I didn't know what to study in that moment, because I just wanted to be an actress.
I asked my mom why she didn't let me be an actress when I was really young, like when I was fourteen. I did not start seriously acting until I was twenty-three. She said Montse when you were very young you always enjoyed everything and every day you wanted to be something and somebody different. She said one day you told me you wanted to be a hairdresser and another day you told me you wanted to be an actress. I didn't know what to do, because I wanted the best for you. Now I understand why she was worried, because every day I wanted to do something different. In the end I decided to study tourism, because I like people.
I finished with my career in tourism and I enjoyed it a lot, but then I started to study acting in Barcelona. I got my own flat and I needed money for that and for the acting classes. A lot of people told me I could go to an agency and start modeling. My profile would be really good they said. I started to do castings, commercials and shootings, really quickly. In fact, I am still working with the same modeling agency and I have been with them for seventeen years.
At the same time, I started to take more acting classes and worked on small projects. I also decided that I would like to work as an actress and do action at the same time. I looked for a place to train for doing stunts, because I wanted to do my own action. I was looking for a place to train as a stuntperson and I found Inextremis stunt club. Three years ago, I started to work as a stuntperson.
When I double for someone who is a character, sometimes it is difficult, because I do not have the story behind this character. I have to see the movements and I need to see how to move, like the actress moves. If the character is clumsy then if I am driving, I also need to have the same kind of movement."
Whether it is an accurate perception or not, most people at least think they know a bit about what the life of an actress is like or that of a model, but how many people even have the most vague notion of what the life of a stuntwoman is like?
"When I work with specific actions that I do not often use, I have to train specifically for them. If I do not have projects that I am working on, I will do (more) training for jumping, choreographing stunts, acrobatic jumps, fallind down stairs and sometimes car accidents. As a stunt person, even if I do not have a project, I need to train. I do special training at the stunt club, several days per week. And I also practice yoga almost every day to stretch my body and to be conscience about it because the stunt training is usually high impact. For example, right now, I'm working on a series and I have to work most of the time in water. I need to do an action six meters deep and I have specific training in a swimming pool practicing (holding my breath) and diving with my stunt coordinators," says Montse Muñoz.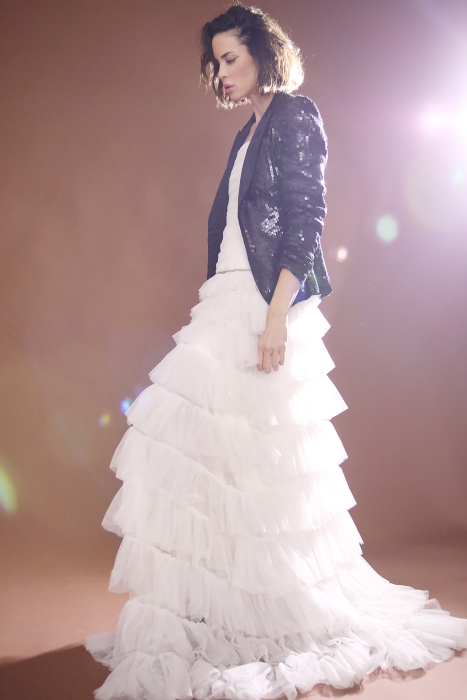 Some of Montse Muñoz's action, skills and reactions, while she performs her stunts come to her instinctively and she explains why, "Oh for example, I am very concious of my body. When I was five years old, I wanted to do something. I was really active. When I was a child my mom had me take gymnastic classes. They thought I could (compete) as a gymnast and I did that from five years old until I was thirteen. I injured my shoulder and so I had to stop for one year. When I wanted to come back it was almost impossible, because when I was measured, I was 168 centimeters (five feet, six inches), but when I was a gymnast I was 145 centimeters (four feet, nine inches). My body would not have been able to do the same things in the competitions, so I had to give up.
That is why as a stunt person I already have some skills in my body. Of course, I have to work (at it), but when I fall down my body (instinctively) knows how to fall in a better way. There are things that I have to train in that I have never practiced before, like car accidents. Yesterday when I was shooting, I was in a car on a street and another car crashed into me and it rolled over the car and I had to fall down to the floor. I had to learn how to do car accidents and it is one of the things I really like (you can hear the smile in her voice). Nobody likes to do it, because it is really dangerous. You are crashing against a machine. You totally depend on your partner who is driving the other car. He needs to have the right velocity for the crash, so I don't get hurt. There is an adrenaline (rush), but you do suffer little injuries. If you move your feet in the wrong way you can get hurt. Then you have to stop for one or two weeks. Sometimes you get injured in the training, but you continue and then by the end you feel even worse. I am trying to be more careful with my body, while training."
We wondered if the thought of a serious injury enters her mind.
"Yes, I worry about suffering a serious injury, mainly for my personal health and because I'm an actress above all, plus I'm still modeling. I have never suffered a serious injury, I'm lucky, but we always work consciously and responsibly. If we see some risk, we stop and think of another way to solve and do the action. If we don't do that, I could suffer a serious injury.
I always have a coordinator when I am doing stunts. He knows me really well and he follows my training. He will explain to me how the action will be performed. For instance, yesterday the car was going down and it was not at the same height and I had never done the stunt in that way. The car was always at a different height and yesterday it was lower. I had to jump in a way I had not tried before. The road was uneven. I asked my coordinator do I jump more or less? He said I had to jump a little more, but he said the fall is easier, because the car is going down and it will make you roll more. He told me to look in that direction. Then he explained to me that I had not trained to do the action under these circumstances, it was different. We did some training, before we did it for the cameras and we did it at low velocity, so we could do it really well before the cameras. It is well coordinated with the other person driving the car. When he sees that I am jumping he needs to stop in that moment. If we do not have this precision, it can hurt my legs," she says.
Montse Muñoz continues to provide us with more insight into the life and career of a stunt professional, "As an actress I really have to learn the script and it is the same with the stunts. There are some stunt people who are much better than me, but they are not able to act, so when you see me you go wow. With me it is more impressive. Why is that? It is because the first fifty percent with me is acting and the other fifty percent is technical. Stunt people are usually more rigid, and they cannot show the fifty percent with the face.
When we are doing action, we can be a character doing the action or we can dub other actors. Most of the time, we are doubling the main roles. To dub the main roles, you need to have a similar profile, height, measurements and hair color and length. That is why sometimes they put us in wigs or give us hair extensions. The face is not important, because in this case because you never can show it. We manage to do the actions from a good camera angle, from a good profile angle. The actions are usually fast and then they edit it, so you do not perceive the difference between the actress and the stunt double.
You dress the same as the actress, with the same hair color and hairstyle and trying to move like the actress. At the same time, we train for the action, before filming to be sure about everything.
I do not want to forget why I am a stunt person. I started as a stunt, because it compliments my profession as an actress. I want to do my stunts (when I am an actress) if I can, but the directors will decide that. There is however a risk, because if I am an actress and I am doing the stunts, but I am injured the film has to stop. That is why they sometimes do not want the actor or actress to do the stunts.
Now I am working on my acting. I always felt insecure, because I didn't feel I was good. Now, because I work hard, I think I am good. I am not a method actress. I need to feel and to live things and when I am not worried about anything (concerning) the text or what my director or other people are going to think. I enjoy it and I think I am a good actress. I want to improve and film different scenes with more text and more types of characters."
We talked about the importance of making sure young children understand not to try and replicate the stunts they see performed in films, in series and on televison programs.
She says, "I think, today, there is enough information about the action scenes. You have documentaries where they show you how they shoot the action. Also, you can see in the end credits that there are stunts working on a film or in a series.
However, as a parent, I'd tell my child that they cannot try to do any action because they could be seriously injured and say you need to have proper training to prepare for these stunts.
I think it is a communication thing, just like when you say don't put your finger here, because the water is boiling, and you will get burned. I think it is the same thing. I think parents should talk to their children about (action scenes) and teach their children to ask questions about the credits, such as what are stunts? What does that mean?
It is the same thing with actors and actresses, when you see an incredible body, a lot of people don't know that a lot of them are doubled when their bodies are naked. Sometimes for instance you might think you are looking at the body of (a famous actress), but it is not really her body, it is that of a double. For some actresses they may not want to show their bodies naked, even though they have a nice body or maybe they want to correct something (on screen). If people think you have a more beautiful body, you (sometimes) become better known. It is a stupid thing, but that is the way it is. You may see another actress who is beautiful and then you see her doing the action. You want to think that it is her doing the stunts. You may want to think (a certain actress) has long legs, so they (the filmmakers) show us what we want to see."
As for her acting Montse Muñoz says, "The role I enjoy the most, was that of a transvestite set in the 1980s in an Italian series. I enjoyed it because it was a challenge for me, I had to work on my voice, I learned to move in a different way, my physical appearance changee with my makeup and hair. They bandaged my chest and accentuated my features. It was a challenge for me, because it was not how I am used to preparing for a role. In fact, one day a person entered the film set and asked what is a transvestite doing here? On that day I thought, okay, I have achieved it. I already have the character. It was nice to feel like this. I think it was the most interesting character or most different role that I have done.
For me all the roles are a challenge because I have to give them a new life and a new identity; how they smell, which kind of music they like and where they come from, so I can understand the (character). Each one is different."
The film Intuition written and driected by Danielle Lurie and in which Montse Muñoz had the leading role received high praise from juries at film festivals and from film critics. The connection with Danielle Lurie came through another executive producer and director Amanda de Luis. Lurie was looking for a Spanish actress for a film she was shooting in Barcelon and de Luis recommended Montse Muñoz.
Following a telephone conversation, the two agreed to meet and when Danielle Lurie explained the film project to her, Montse Muñoz says, "It sounded craxy and exciting to me."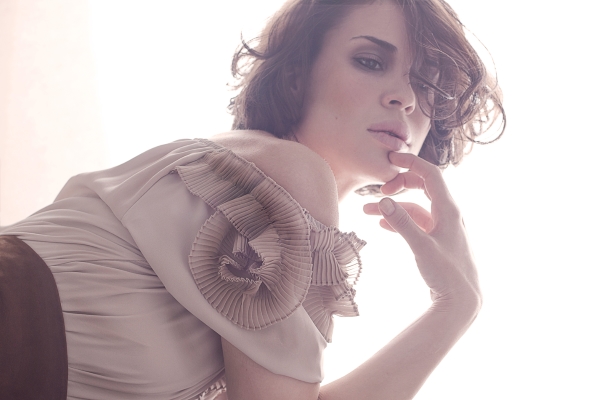 The film came with its own unique challenges, because Danielle Lurie did not speak any Spanish, so although Montse Muñoz's dialogue was completely in Spanish, she had to prepare for the film by reading the English script. There were not a lot of financial or other resources available to make the film and it was a very organic process.
When I was working with Danielle, sometimes I was worried about my acting because everything was going so fast and the dynamic was so different. She was silent and thinking, so I would ask her if my performance was good and if not, I could improve in several areas. She always answered me smiling, 'Montse, you're perfect, you are amazing and it's just me. I'm thinking about technical issues.'
When I saw Intuition, for the first time, I was freaked out with the result. Danielle did an incredible job considering the conditions with which we worked. We had few resources, just love, passion and enthusiasm. For me the result was magical, and the shooting was as well. She is amazing to work with and she gives you lot of strength. Danielle makes you feel really comfortable. You don't think about the result because you are so involved all of the time.
It was a nice way to give a message to society to grow emotionally and in a healthy way.
The day our film was posted on Vimeo, it had many views in a short time. We also won in several film festivals in America. That made me happy, because it was a project that touched my heart. I liked the result."
Whether you are a young actor, actress, model or an aspiring stunt professional, you would be wise to listen carefully to Montse Muñoz's words, as our conversation was winding down. You will be hard pressed to find a better role model, both for your career and as personal mentor.
What I learned the most about modeling is to have the ego in the right place because you meet lot of people that are incredible in all senses and, in the casts, they choose you for several reasons and depending on the circumstances. They may want a girl because she is blonde or another, because she is dark or for your mouth. They can see something different about you and that is why they choose you, but they do not always choose you. In modeling you are like a playing card and that is why you have to work on your ego. It is really important as a model to enjoy what you are doing.
As an actress, I have learned lot of things that made me grow emotionally. One of them, is that although they may not (choose you many times), you persist, and you work hard because it is a passion. It is what you really love. You learn to be prepared in case an opportunity comes, and for this reason, you can't stop. Every day you learn, and you improve as an actress if you work at it. I learned to be like an ant and work constantly. Being consistent is really important.
You also learn to work in a team. Everything goes well when every part of the puzzle works well. Is really important to work together, and this means that you need to be open to learn, to hear, to be flexible and to be humble. I have learned a lot of things that have helped me to grow. You learn that your lifeguard is your team, your coordinators and your partners, because you always depend on them.
Being a stunt professional, I have learned to take the minimum risk when I am working. I must be really aware of my capabilities and also train a lot, so I do not lose the technique and so I can improve at the same time.
One day, one of my teachers, who is also my mentor, and who had previously been hard and strong with me, said Montse, now you are better than you were two years ago. You have on your shoulders the weight of your experience and of your life. The more experience you have in life, the more points of view you can have about a character and how you can express that character. You have more material to show and to give.
In the end we are what we build. This career is hard (acting), but it is beautiful at the same time, because if you work and you are ready when a project appears you enjoy it a lot. For me this career is a long-distance race and with years of experience you do better and better. That is why I enjoy my work as an actress and why I always want to work as an actress.
We work for our whole lives, so for me the best thing is to work at what we are passionate about.
Photo Credits: Top Photo: David Sagasta, Second Photo: Marina Castells, Third and Fourth Photos: Manuel Granados. All photos are protected by copyright ©
This interview by Joe Montague published November 30th, 2020 is protected by copyright © and is the property of Riveting Riffs Magazine All Rights Reserved. All photos are the the property of
Montse Muñoz unless otherwise noted and
all are
protected by copyright © All Rights Reserved.
This interview may not be reproduced in print or on the internet or through any other means without the written permission of Riveting Riffs Magazine.