"He was a dashing pig," says New York City actress and singer Sarah Rice, recalling her first role as a child when she played the girlfriend of the brick house builder in a stage production of The Three Little Pigs.
Sarah Rice would later take a more substantial step to stardom when she left the Phoenix – Tempe, Arizona area as a young woman, straight out of college, in the mid-1970s.
"I was going to school at Arizona State when I won a singing contest. The Phoenix Musical Theater had run a contest and I won first prize, which was $400. They would not give me the money until I left town, because they wanted me to use it for a career. They paid for my ticket one way and I came to New York City with $200 and two cats," she recalls.
That bold step launched a career in which she has demonstrated excellence at her craft, as well as versatility. Ms. Rice was cast as The Girl in the Broadway production of the Fantasticks and she was the original Johanna when Sweeney Todd: The Demon Barber of Fleet Street opened on Broadway in 1979, which also starred Len Cariou and Angela Lansbury. The musical would go on to claim eight Tony Awards and nine Drama Desk Awards. Sarah Rice has performed as an Opera soloist on some of the most prestigious stages worldwide and in 2011 she took her music in a decidedly different direction with her Screen Gems Songs of Old Hollywood, winning both a Bistro Award and MAC Award for her cabaret show. Ms. Rice's accomplishments are too numerous to note in this space, but to give the reader a small sampling of her career, consider this; she won a Theatre World Award for her role in Sweeney Todd and a Grammy Award for the Original Cast Recording of Sweeney Todd. Among the many leading soprano roles Ms. Rice has been; Marie in Daughter of the Regiment, Cunegonde in Candide, Mabel in Pirates of Penzance, Maria in West Side Story, Magnolia in Showboat and Christine Daae in Phantom of the Opera. Her dramatic roles include numerous Shakespearean productions. She portrayed Jenny Lind in both an acting and singing role for HBO's P.T. Barnum and His Human Oddities docu-drama and was cast as Maude Arthur in the PBS series The Best of Families. She has recorded five albums, including Jerome Kern Revisited.
"When you don't know what you can't do, you trust that everything is going to be okay," she says, "I moved (to New York) with my friend JoAnn Yeo (now Yeoman). She is a choreographer (and director / producer) and we became roommates. It wasn't like I was here by myself and she had been to New York before. She knew how to live here safely. In Arizona you have eye contact with people on the street and she taught me that in New York you have to walk like you are going somewhere. You just walk like you know where you are going. It's not so bad anymore, but this was a long time ago," she says.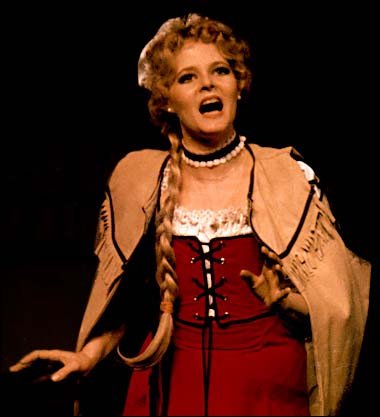 Sarah Rice's first role after arriving in New York City was with a smaller theater company in Hang On To Your Ribbons. "It was a musical version of The Misers and I walked in and I sang a Mozart aria. The director thought that was hysterically adorable and I got cast as Marianne, the fiancé of the young man in the show. It is based on Moliere's The Miser. It is about a miser who hates everybody and his son and daughter are trying to trick him out of his money. The miser wants to keep everything, so it is a farce."
The role in Hang On To Your Ribbons opened the door for Sarah Rice to take on even a bigger role. "The role in The Fantasticks came directly from The Miser (Hang On To Your Ribbons), because the girl that was playing the daughter of the miser was taking a hiatus from doing The Fantasticks. She was doing The Fantasticks and she said oh you should go and audition for it, because I am going to be leaving soon. I did and when she left, I got the job. I was in it for two years to start and then I was in it off and on for another four," says Ms. Rice.
She considers The Fantasticks to be her first big break, "because it was like a dream come true to me to get into the original company of The Fantasticks and to work with Tom Jones (lyrics) and Harvey Schmidt (music). That was major and of course Sweeney was major too, working with Stephen Sondheim, Harold Prince and all of those people. That also was a dream that came true. The agent that my manager introduced me to was the one who set me up for Sweeney. I had five callbacks and I sang every aria that I could think of and it was down to me and Betsy Joslyn. I found out that half were divided between me and half with her. Years later I was told that when I had sung the song "Steal Me Sweet Thief," which is a Menotti aria about a woman begging this thief to steal her, before time steals her youth or death comes, that it made the producer cry, so she said they had to hire me. For the final callback they had these 17 year old models and we had to go out and stand with them. While Betsy and I were waiting to hear, they came up to her and they told her they were offering her the understudy, so I thought that was it for me and that I was out. I thought they wanted these beautiful seventeen year olds. I was nineteen, but at that point seventeen seemed so young. I thought that I was gone and then the casting director came up and said, 'You got it,' and I almost fell down."
Sarah Rice's memories of opening night for Sweeney Todd, "I was just thinking to get through it. It was so overwhelming, exciting and it felt like a dream."
While comparing her roles in The Fantasticks and Sweeney Todd: The Demon Barber of Fleet Street, Sarah Rice says The Fantasticks holds a special place for her, "because of the emotional journey that the part goes through. It is one of the best written roles that exist for a young girl. Johanna (in Sweeney Todd) was a little frustrating, because you had to make up your own thing as to how you got from A to B. It was pared down so much that you had to make it up to get to the next place, whereas with The Fantasticks it is kind of all out there for you."
As for the roles that she is attracted to Ms. Rice says, (The role) has to speak to me through my own prism. In other words I have to understand what the character is about. I don't have to live a parallel life to it, but I have to understand it. I have auditioned for things where I can't get a handle on something and I can't make it work, but if the character has a point of view or something that I understand and I feel that I can express my own prism, that is what draws me to certain roles. If I can get it and I can express what that character is going through. If I don't love a role, I can't do it. If it doesn't speak to me and it isn't something that I absolutely love I won't do it."
As for what lies ahead for Sarah Rice, she is trying to put the financial pieces of the puzzle in place, so she can record her Screen Gems Songs of Old Hollywood. She says she would likely not have been happy with the results of a live recording, because there are too many variables in terms of ambient noise and production quality. In April and in May she is also appearing in the New Jersey stage production History / Herstory which you can learn more about here . The musical is being directed by her lifelong friend JoAnn Yeoman.
"It is about how people can look at the same thing and see something completely different. It is interesting how men and women see things differently. It comes from fairytales and fables and all of that stuff. It is how we see ourselves in the world, because of these stories and how we act accordingly. It really messes us up. It has been interesting exploring this musically. We do the two fairytales from A Little Night Music. She sees it as a story of a princess who gets to marry all three suitors and the young man sees it as a knight who has to go and slay a dragon. We are using the International and the American Songbook and we also have some music by Nancy White, who is from Toronto.
You can learn more about Sarah Rice by visiting her website.
Photos of Sarah Rice are the property of Sarah Rice and they
are protected by copyright © All Rights Reserved.
This interview by Joe Montague published February 2011 is protected by copyright © and is the property of Riveting Riffs Magazine All Rights Reserved.
This interview may not be reproduced in print or on the internet or through any other means without the written permission of Riveting Riffs Magazine, All Rights Reserved