Tomorrowland - George Clooney Stars But Raffey Cassidy Steals The Show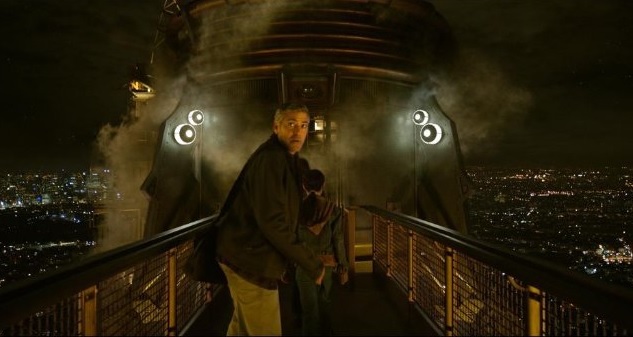 Director Brad Bird in his comments about his new feature film Tomorrowland says, "It is about the journey not the destination," and that is a very apt way to perceive this film that boasts a tremendous screenplay and storyline crafted by Brad Bird (The Incredibles), Damon Lindelof and Jeff Jensen. The movie starts off with a dialogue between George Clooney's character Frank Walker (as an adult) and Casey Newton portrayed by American actress Britt Robertson. It is a conversation that takes place in the here and now or is it in the future? It is a film that compels us to take a look at decisions and choices made in the past that guide our present lives and that dictate future outcomes.
This movie has a little of everything in it. There is action, drama, humor, some great special effects and there is a hint of romance, but not in a way that you would expect. Most of all there are outstanding acting performances of course by Clooney, certainly by Robertson, but also from thirteen year old British actress Raffey Cassidy as Athena the common thread between Frank Walker and Casey Newton. Child actor Pierce Gagnon also puts in a solid performance, as Casey's brother Nate Newton. Hugh Laurie appears as David Nix, but his acting is somewhat limited by the narrow emotional scope of his character and we will leave it at that, so we do not spoil the plot. Amazingly enough Raffey Cassidy is rumored to have performed a number of her own stunts (as revealed in a studio interview with Robertson) and during her own interview Cassidy talks about taking martial arts lessons and gymnastic lessons to prepare for her part in this film. Audiences are going to fall in love with the charming Raffey Cassidy and who the young actress is when she is not in front of the cameras seems equally as charming. Tim McGraw appears as Eddie Newton, the father of Casey and Nate.
This is a Disney film, so I suppose bearing that in mind one needs to take executive producer Jeff Jensen's comments with a grain of salt when he talks about the other dimensional city Tomorrowland embodying the hope and values of the late Walt Disney in terms of it representing what can happen when everyone dreams and works together and comes together creatively to develop a better world. Tomorrowland of course also refers to one of the attractions in Disney World. Leaving aside the obvious commercial break for his employer, Jensen's description however, does provide an accurate description of how Tomorrowland at least started out. Without giving away too much, Athena and the young Frank Walker both resided at one time in Tomorrowland, but both were also exiled and forbidden to pass through the entry portal to the city that resides in another dimension.
Casey Newton, Frank Walker and Athena are out to save the world, but which world are they saving? If we told you we would be ruining the film and if we told you what they are saving it from that too would be a spoiler.
Maybe Jeff Jensen is not wrong afterall in saying this would be a film that Walt Disney would have liked. Afterall it was Walt Disney who inspired our imaginations and our dreams.
Go see Tomorrowland and if you have children take them with you.
This review by Joe Montague published May 23rd, 2015 is protected by copyright and is the property of Riveting Riffs Magazine © All Rights Reserved. Photo courtesy of Walt Disney Studios Motion Pictures is
protected by copyright ©, All Rights Reserved
This interview may not be reproduced in print or on the internet or through any other means without the written permission of Riveting Riffs Magazine, All Rights Reserved