The feature film Solver will be in theaters early in 2018, which means once again one of Riveting Riffs Magazine's favorite actresses Kerry Knuppe will also be on the big screen. Knuppe is one of the most versatile and gifted actresses in film today with other film credits including a major role in Like A Country Song and Nicole Conn's A Perfect Ending, where she played the daughter of Barbara Niven's and the late John Heard's characters.
"Solver was a really fun project that we did and we filmed it in upstate New York. It is a mystery adventure and it has Antonio Jaramillo who was in Shades of Blue and me. He played the bad guy and he was really fun to work with. The people that we worked with were so wonderful. It was so fun to be in a small town where they were appreciative of us being there. It was a different feeling.
It is a fun story and a "what's going" on mystery kind of a thing. It was a really fun project," says Knuppe.
Solver directed by Xandy Smith and also starring John Ruby and Jesiree Dizon, also had some interesting moments before filming began.
Kerry Knuppe shares one of those moments, while laughing, "When I was cast they said you have a week to prepare and I said I would like to come out a couple of days before we start shooting and shadow a mechanic (her character is a mechanic), so they said that was fine. They spoke to the person who owned the mechanic shop where we were going to be filming and he also said that would be fine. He was really great and he showed me how to change the oil and all of that kind of stuff. I was fiddling around with what he had been showing me on this car and a customer came and he asked the owner if he had a new assistant. He said no, no there is a film they are going to be shooting and she is here to shadow me for the day. (The customer) called me over and he said he tells me you are an actress from LA. Then he said you guys are full of it. Then the guy said, no (way). I thought you really wanted to be a mechanic and I thought it was cool that a girl wanted to be a mechanic. I said (she is still laughing) well I play one. They were all really great people.
I got a really nice email from one of the guys who had put some money into the film and he said I really liked your acting and I really believed that you were a mechanic. That is the best compliment that you can get as an actor that somebody believed you knew something and that you weren't just saying your lines."
If the trailer is any indication, Solver written and produced by Jack Kelley and billed as a mystery adventure for all ages, should be a box office success.
Kerry Knuppe grew up on her parents' ranch on the Red Shirt Reservation (Pine Ridge) and the ranch was used as the location to shoot a couple of films, which influenced Knuppe's career choice.
"There was a movie called Crazy Horse and that was when I was first introduced to the idea that I could be an actor for a (career). I was twelve (at the time). We got to watch a lot of the filming that took place on my parents' ranch and at a neighbor's place. We were invited to watch the actors and to watch some of the filming. We got to eat with them too and I just thought it was the greatest thing that could happen. It registered with me that this was their careers and they were getting paid to do it. That was when it really started to resonate with me. I remember you would go over the ridge and there were all of the teepees that they had recreated and all of the actors had these costumes on. It was just this idea that you could recreate something and you didn't have to use your imagination as much as you do when you are a kid, but you could really recreate these stories and live in this moment that is no longer, that isn't in the present day. I thought that was very exciting and what I wanted to do. I remember being able to see all of the costumes and being transported to another place.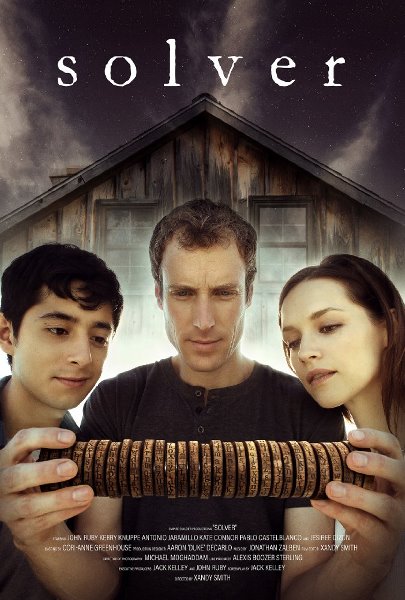 Later on there was another film called Hidalgo with Viggo Mortensen (2004). At the time I was a freshman in college and when I came back they were wrapping things up. I thought this is what I really want to do, so the next semester I changed what I was majoring in to theater. I got more involved with theater productions that were going on in the school. I didn't go back the next semester, but I went back to Denver and I started taking acting classes, voice lessons and improv. I got an agent and I started auditioning. From then on it's just what I've done," she says.
In addition to the films that were shot on her parents' ranch Kerry Knuppe harbored a desire to live in a city and she sheds some light on why that was the case.
"The school that I (attended) from kindergarten to seventh grade was a two room school house and there were two people in my class. We moved because my older sister had reached eighth grade and the school only went to the eighth grade. My mom got a house in town and we went to school there. This whole time I wanted to have more of a city life even though the small town seemed to me to be very big at the time.
I went to college in Brookings (South Dakota) and it was a little bigger, but it wasn't enough and then I really convinced my parents that I needed to go to Denver to pursue the arts. That was when I realized that Denver had a much bigger theater program and I would have much more access to theater, to dance and to voice.
LA was in my mind, but I still wasn't sure if I could do it and I didn't want to go to LA without any kind of an idea of what it was like to live in a city. Denver was when I got used to things like parking (she laughs), which seems so silly, but it blew my mind when I realized you had to pay to park somewhere. Locking things, you don't even realize in going from a small town (to a city). That was the biggest culture shock or city shock from Brookings to Denver and that was a hard transition. From Denver to LA wasn't so bad, because Denver is a pretty big city. It was big enough that you get used to things like traffic. I remember taking the bus to class, because I was afraid to drive.
I had a very strong need for the arts and I think that is what drove me to the city. From then on it evolved to which art I wanted to take to the full extension (and making it) a career."
It seems safe to say that Kerry Knuppe grew up in somewhat of a sheltered environment, at least from the perspective of not knowing what a big city was all about, so it prompted us to ask her what her parents were thinking, while she was going through all of these changes in her life.
She says, "There were four of us kids and my mom and dad were always active in our lives, but they never said you have to do this or anything. All of the creative and artistic characteristics went straight to me. None of the other kids are artistic at all. They appreciate art, but none of them are (artistic). I think my parents were very confused with me, because I felt so strongly about it.
I did all of the research that I could. I found a place to stay in Denver and I made the big transition into Denver. I made sure that I had a place to stay and that I could afford the tuition. I really did a lot of research, so there wasn't too much that my mom could argue. She did take me to Denver and she made sure the housing was a safe place. We looked at the school together and we went to the art museum. It became one of my favorite days with my mom. When you have four kids and we are all within four years, (plus) I am a middle child, so you never feel that you really get one parent's attention. It is always shared. I remember that being a really special day, because it was just my mom and me and we got to go out for tea, we got to go out for lunch and we got to go to the art museum. She said okay, this is what you want to do.
I really loved Denver and I ate up everything that Denver had. I did voice lessons, acting lessons and dance lessons. I was really big with swing dancing. Those were just little things that you could do to keep going and keep being interested in the arts. It is swing dancing as in the thirties and forties big bands. I really got into Jazz in Denver, as an interest not (thinking about) it career wise. It helped, because it made me work on my voice. Dancing is also a great tool to have and being familiar with your body and how it moves and stuff. I just love that time period and their music. When I came to LA I had that. It is a small community, so you are able to meet people and the city doesn't seem so overwhelming. It is a little thing that helps you to meet people with whom you have a shared interest.
(We talk about how it could potentially open up other roles) You have to keep on those things. It will come back to you, but when you audition a lot of times you have a day or two to prepare, so you have to be somewhat prepared for anything."
The conversation segues back to her film roles and this time to her character Becca in the 2014 movie Like a Country Song.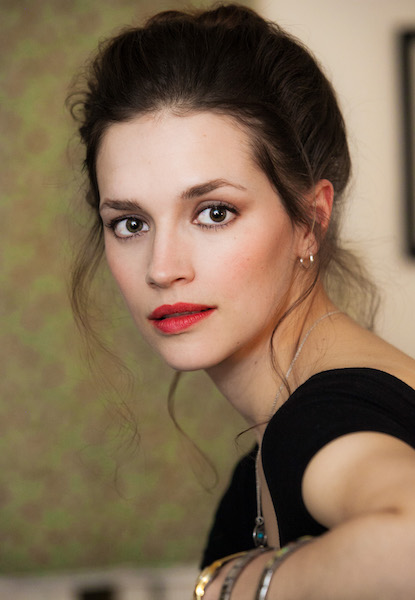 "I always feel like those are the most comfortable characters for me, because they are very close to me. I would like to do even more of those kinds, because I think they are just great people in those towns. I love those kinds of people, both the characters and where we filmed in Tennessee. It is a slower pace of life versus LA living.
When I do go home or I am fortunate to film something like this it is a good feeling and it is very nostalgic. It is very comforting and it is not too much of a stretch for my imagination. Could I be this kind of a person? Yeah, I could be this kind of a person. It is effortless to go into that headspace," says Knuppe.
It seemed to make sense to ask Kerry Knuppe about whether or not Country music played a role in her life given the role that she had as Becca.
Knuppe says when she was growing up she listened to, "A lot of Country and my dad listened to the Oldies a bit. Again, it was very odd, because they weren't big music people. We really lived in the middle of nowhere. When I say the middle of nowhere it is thirty miles east of the middle of nowhere (she laughs). It is way, way out there. We didn't have very good reception and we didn't have the equipment to play much music, so it was always kind of a mystery to me as far as other kinds of music."
As for her role in Like a Country Song and the film she says, "Like a Country Song takes place in Nashville. It is about a young Country musician played by Joe Smallbone who is a pretty big Christian singer and he is quite well-known in the Christian community's music. He played the lead in that. He is a Country music musician who is living the high life, but he is going down quickly. He is very popular, but he drinks a lot and he gets into fights. His mother is a single mother and she discovers that his real father (played by Billy Ray Cyrus as Bo Reeson) who had left has come back home to try and make amends. He had been an alcoholic also. Joel's character (Jake Reeson) does not want to have anything to do with this, Joel's character. I play an ex of Joel's character and I help him to realize there are other things in life (besides) big parties, stardom and being famous. He has a good idea of what else is out there. This is a film about finding a greater truth about yourself. It doesn't have to be all fast cars and Rock and Roll, but there is also appreciation of the smaller things."
There was also a second film that was released in 2014 in which Kerry Knuppe appeared.
"Martin's Pink Pickle was filmed in Vancouver. That was a great film and one that I really enjoyed. It was very slow paced in many ways, but that is the director's style. The whole premise of it is I have an affair with my husband's friend and I (decide) that I am going to go have an abortion in the city, because we are in a small town, Hope, Canada. We are going into Vancouver to get it taken care of and the guy I had an affair with comes with me. We miss the appointment and we are forced to stay in Vancouver for an extra night. We realize that we like each other and the film goes on and you aren't really sure what happens in the end. There were things going on in my character's life that made me make the choices that I did and things in his life that caused him to make the things in his life that he did. We slowly figure them out," Knuppe explains.
We would be remiss in not mentioning Kerry Knuppe's role in the 2012 Nicole Conn film A Perfect Ending and her excellent performance. Once again it demonstrates her versatility as an actress. For those who are not familiar with the movie a brief synopsis of the film is Barbara Niven's character Rebecca Westridge who is in a loveless marriage with John Heard's character Mason Westridge goes looking outside of the marriage for attention and she does so on a dare from friends. She falls in love with another woman named Paris played by Jessica Clark. Kerry Knuppe is Jessica Westridge the daughter of Rebecca and Mason.
Knuppe talks about the film, "What drew me to the role was at the time it was a unique film and it was such a different story than I had ever read before. I thought it was interesting and for my role I was attracted to this extremely wealthy family. I found that lifestyle interesting. What are the problems that these people could possibly have, because they had everything? They do and there are lots of problems that they can have. It is also quite dramatic. There were a lot of good scenes that I knew would be challenging. There was also the chance to work with Barbara Niven and John Heard who played my father. That was really cool to be able to work with him. One of the things that I struggled with was not being able to understand why my mother wouldn't have left him after what he did to me. I talked to Nicole about it and we would rehearse and I remember going on set and thinking I just don't get this, until I met John and I had a scene with him. Then it all made sense and sometimes you just have to trust that and the other actor will make you understand why your mother wouldn't leave this man and why you are put into the situation that you are. Why didn't I rebel against it?
John Heard was really something to work with, because it is really fascinating when somebody can say these words when you are not really sure that you believe someone would say it and then they make them sound totally legit. It was really fun to work with him and I am glad that I had the chance."
Although, the independent film The Black That Follows never had a theatrical release, the futuristic and often moody film was one that Kerry Knuppe says really challenged her.
"It was the most challenging film (so far) that I had to do. I played one woman who lives in three different worlds, so we really had to work. We rehearsed a lot. How can we make these three different people, one is the voice, the accents or where you speak from your voice. The other was movement. How do you have a different walk? I was really paying attention to how people walked and what shift really makes somebody different than another person when they do something as simple as walk? We both did a lot of observing of things and trying of things and there was clothing. There were all of these things that went into making three different worlds.
Pretty well in each different world I have a mental breakdown. We shot it quite fast. I think it was three weeks. Every day I was going to set and preparing to have a mental breakdown (her character) or very high emotion. In a normal story you have the beginning, the climax and the ending whereas this was just the climax of each story. It was the first time that I said whoa. Acting reaches these other levels and your body doesn't quite understand that you are faking it. With take after take and you are crying and crying and your body is saying whoa, something is wrong. You need to stop doing this. It is like a survival technique. It was the first time that I realized that I had completely tricked my body into thinking that I was having a breakdown and it did take a while to recover from that one. It was a very intense film," she says.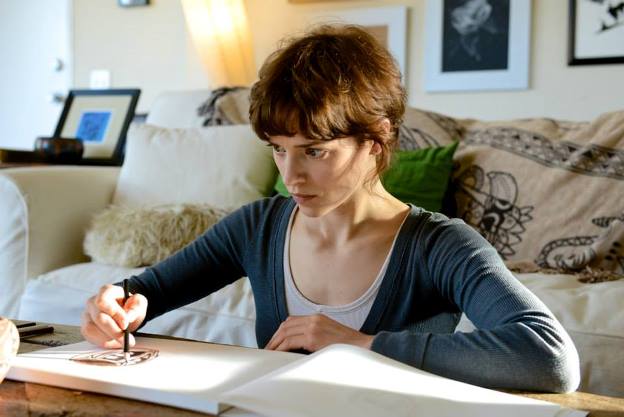 Kerry Knuppe's most recent film the 2017 Time Is A Place, still to be released, sounds like an intriguing short film.
"That is a really cool film that I did with a really talented director named Tim Nackashi. I think he is going to push it as a feature film and I hope that he does, because he has a fascinating mind. My character (Kathy) works all night and she sleeps all day. It is set in the future when you can control your dreams and you can be more knowledgeable about what you dream.
She meets this guy while she is at work and he is in a coma. She falls in love with him and she starts incorporating him into her dreams. As the viewer you are confused as to which part is the dream. The guy wants to find her in real life, but he is in a coma, so he is not able to do so. He starts questioning that. All of a sudden she starts losing control over her own dreams. It plays with that different realm. It is a lot of fun and the director has really cool vision and he has a lot of great shots. In a dream world you can play with a lot of different things and he really did," she says.
If you were at the LA Shorts Fest in August of 2017 you may have seen Time Is A Place.
There are three things that keep Kerry Knuppe grounded, her marriage, her family (as in parents and siblings) and some of the actresses who inspire her. She tries to return to her roots in South Dakota when her busy schedule permits.
"The people who inspire me and who have the kind of career that I want have a really strong interest in what it is like to be somebody else. I always want to keep that in mind, so I am not doing it for the wrong reasons. One of those people is Meryl Streep. I have always loved her stuff, especially in the eighties. There weren't as many close-ups, so you could enjoy a lot of her acting. I think some of her best work was done in those films from the eighties. I have always really liked how she is a chameleon and how she has been able to change these little small nuances to make her a very different person, very believable and not overdone. One of her influences was Betty Davis.
I have done a lot of research and I have watched a lot of Betty Davis who I think is fantastic too. There is again there is (this sense of her being grounded) and this strength and it emanates on the screen from Betty Davis. She is able to do a lot with her voice, with her walk, with her power and with whatever character she is creating. She was also a very big reason why we have a union and that we have some rights and protection as actors. She was very active in getting the Screen Actors Guild more developed and having residuals (for actors).
I also really like Marlene Dietrich and I think she is a great entertainer. She was really big in the thirties. She was a great entertainer. In the Blue Angel I think she was wonderful. Later in her career she traveled and sang songs. She was this totally unique individual.
I have always liked Kate Winslet. I just love her. Every time that she acts I totally believe her and she is one of those people who is just a very honest actor. She also has a life other than acting and I think it shows in her acting. I think those are the best people to put into parts, because they already have so much background and their look brings you in. I really like her," she says and adds that Nicole Kidman is another favorite.
Kerry Knuppe was married in August of 2016 and she was still gushing when talking about her husband Adam Harrison during our interview.
"I was married last year (August 2016). I just think he is wonderful. Adam is so supportive of what I do and he always encourages me with what I do and to work hard and to be involved in things. It is really important to have someone who encourages you, because it takes a lot of time for rehearsals and filming and you really have to have a good relationship with someone who understands. That is what I really love about him is that Adam really took the time to understand what it is like to be an actor. We are auditioning constantly and we don't have a (set) schedule as it is up and down. The times when you are not booking are also hard, to keep yourself interested and to have someone who's like yeah, keep going. It keeps you loving what you do and it keeps you reminding you why you are doing it and for what reasons. It also brings a whole new level of what it means to be loved and what it means to love somebody. Those are very important things for an actor, because those are things that if you don't have them you can't fake them. I think it really shows when you don't know what love is. I think that is the biggest thing in any story. Love is usually some aspect of any story in one way or another," says Knuppe.
Please take time to visit the Kerry Knuppe website and remember to watch for Time Is A Place in film festivals and make sure you purchase a ticket to see Solver in 2018, because this is an electric movie.
Top Photo and Second Photo by Laura Burke Photography, protected by copyright © All Rights Reserved
#KerryKnuppe #KerryKnuppeActress #KerryKnuppeSolver #rivetingriffs #rivetingriffsmagazine
This interview by Joe Montague published October 22, 2017 is protected by copyright © and is the property of Riveting Riffs Magazine All Rights Reserved. All photos are the the property of Kerry Knuppe
unless otherwise noted
and all are
protected by copyright © All Rights Reserved.
This interview may not be reproduced in print or on the internet or through any other means without the written permission of Riveting Riffs Magazine, All Rights Reserved