German Actress Marina Welsch

A.R. Gurney's play Love Letters was presented in Solingen, Germany during the spring of 2016 and it starred German actors Marina Welsch and Michael Lesch, with Lesch also directing the play. The play originally was staged Off Broadway in New York City and starred Kathleen Turner and John Rubinstein in 1989 and Love Letters was a finalist for the Pulitzer Prize for Drama. The story is told through letters that were written by the characters, Andrew Makepeace Ladd III and Melissa Gardner to each other throughout their lives. The response for tickets was so great that an additional performance was added at Theater Kammerspielchen and Welsch and Lesch also have plans to present Love Letters in several other German cities during the autumn of 2016.
Just prior to the opening of the play in Solingen, the warm and thoughtful Marina Welsch took a few minutes to sit down with Riveting Riffs Magazine to discuss the play, the art gallery that she owns and her life and career.
As for staging Love Letters in Germany, Welsch explains, "It was my idea. Christina, Michael's wife, was my former acting agent years ago and at the time he was still very busy doing TV serials. He is quite well-known in Germany. When I changed my agency and I lost track of Christina, but when I opened my gallery in September (2015), she went there and meanwhile Michael had returned to Solingen, which was his family's home years ago. Christina and I talked about what Michael was doing and what I was doing. I always
Dina Morrone - The Italian In Me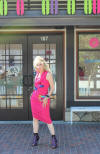 Actress Dina Morrone has appeared in feature films both on screen and off as a voice artist and she has also appeared in a whole host of commercials. The Canadian / Italian actress who has called Los Angeles home for many years now is likely the voice that you heard at numerous high profile awards shows, as she introduced the celebrities walking out on stage.
With all those options exercised in Canada, Italy and America, Dina Morrone says, "My love and my passion would be for me to only write plays and to be a solo performer, whether it be through the acting of my work or the reading of my pieces on stage."
Despite the fact that there was a period in Morrone's life when she was in denial of being the daughter of an Italian immigrant family, it was her embracing of her Italian heritage, in addition to the coaxing of a few friends and acquaintances that resulted in one of her most successful theatrical achievements, her self-produced play The Italian In Me.
Her one woman play prompted renowned Canadian film director Norman Jewison to say, "Not since Moonstruck have I seen such Italian wit, humor and charm."
American actor and producer Maray Ayres describes Dina Morrone's performance in The Italian In Me this way, ""Every now and then talent and beauty walk hand in hand."
Sally Stevens Interview

We would be here all day if we attempted to list every one of the musical accomplishments during Sally Stevens' career, but throughout the course of our recent conversation with Sally and in the account of that interview which you will read here, we will attempt to give the reader a glimpse into the career of one of America's and the music industry's most successful people, during this two-part interview.
Sally Stevens has performed and recorded as a solo singer, a session singer, she has scored feature films and she has worked as a vocal contractor, auditioning and hiring the singers and choir members who appear on major films and her film work as relates to music now encompasses more than 600 films, including Academy Award winners and nominated movies. Here are just a few of the films that Sally Stevens has worked on, Tomorrowland, Butch Cassidy and the Sundance Kid, The Secret of NIMH, Dr. Zivahgo, The Sound of Music, Bridge of Spies and Jurassic World.
She toured and recorded with Burt Bacharach and she lent her voice to the records of, Frank Sinatra, Andy Williams, Country Joe and the Fish, Neil Diamond, Michael Bublé, Percy Faith and Sonny and Cher to name just a few of the iconic artists with whom she has worked.
Sally Stevens grew up in Los Angeles and in Tujunga located in the Greater Los Angeles Area.