Kerry Knuppe - Interview

The feature film Solver will be in theaters early in 2018, which means once again one of Riveting Riffs Magazine's favorite actresses Kerry Knuppe will also be on the big screen. Knuppe is one of the most versatile and gifted actresses in film today with other film credits including a major role in Like A Country Song and Nicole Conn's A Perfect Ending, where she played the daughter of Barbara Niven's and the late John Heard's characters.
"Solver was a really fun project that we did and we filmed it in upstate New York. It is a mystery adventure and it has Antonio Jaramillo who was in Shades of Blue and me. He played the bad guy and he was really fun to work with. The people that we worked with were so wonderful. It was so fun to be in a small town where they were appreciative of us being there. It was a different feeling.
It is a fun story and a "what's going" on mystery kind of a thing. It was a really fun project," says Knuppe.
Solver directed by Xandy Smith and also starring John Ruby and Jesiree Dizon, also had some interesting moments before filming began.
Kerry Knuppe shares one of those moments, while laughing, "When I was cast they said you have a week to prepare

Read More
Interview with Imogen Tear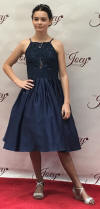 Actress Imogen Tear just turned fourteen years old and she has already won several awards and when you are in a conversation with her she sounds like she has been at this for years. In fact, she has been acting for years, not many years, but the past five years. Throughout the conversatino you are also reminded of something else that she is a teenager and she still sees the world through the eyes of a teenager and in a very positive way. She defaults to superlatives when describing the people who are her friends and while talking with enthusiasm about the television and movie sets on which she has worked. She also does something else that immediately stands out and that is that she expresses gratitude often for the opportunities that she has been given, for her family and for other actors who have helped her along the way.
She talks about winning the Young Entertainer's Award for best actress in a television series (awarded to those between the ages of five and twenty-one). Recently, she also won a Joey Award for Best Lead Actress in a television role (an award, which is also given to youth actors).
"I won the award for my role as Hattie in When Calls the Heart and it was an incredible experience. It was my first time
Actress Charlene Tilton

I had a lot of days with really dark times and that were really challenging. There were times when I didn't want to get out of bed. Things had happened, but I have also had some really blessed days and some really good days. Even on the darkest and most challenging days the one thing that I will say is life is exciting no matter what it brings," says film, television and stage actress and playwright Charlene Tilton.
Charlene Tilton did not have time to be bored in (2017), even if that was in her nature, as she co-starred with Lauren Aliana in the movie Road Less Traveled, as an eccentric wine making aunt, had another major role in Second Chance Christmas, as the meddling mother of Katrina Begin's character Caroline who is dealing with amnesia and she appears in the drama Vengeance: A Love Story with Nicholas Cage and Anna Hutchinson, as the mother of two meth addicts and a drug dealers. In the latter role she says some of her own friends did not recognize her when they saw the film. She appeared on the revived Battle of the Network Stars and she wrote the script for a one woman play Tammy Faye Tweets. At the beginning of 2017 Charlene Tilton starred in the stage production of Driving Miss Daisy. Along the way there was a stop in October of 2017 to speak at Voices for the Voiceless: Stars for Foster Kids, hosted by Seth Rudetsky in New York City, just one of several charitable causes that Ms. Tilton is involved with.
Charlene Tilton talks about
Interview with the Cast of Solver

The feature suspense filled PG rated film Solver opens in theaters across America on January 29 and simultaneously is being released on the digital streaming services of Amazon and iTunes. There is not a single weak actor in this film from the local Sheriff Riley (played by Timothy Brennen) to the lead actors Kerry Knuppe as Alex Derringer and John Ruby who plays Luke Williams. The two other protagonists are Jesiree Dizon who makes a spectacular major film debut portraying Nadine Simms and Antonio Jaramillo as badass Demien LeBlanc who will give you nightmares, while your eyes are still wide open.
Solver is the brainchild of actor / producer John Ruby and producer / screenwriter Jack Kelley who crafted a mystery that is chalk full of clues that easily engage the filmgoer, has as an underlying element a budding romance between Luke and Alex and even serves up amateur sleuth Diego Gonzalez played by Pablo Castelblanco. Luke Williams works in the corporate world of the big city and his grandfather with whom he was very close passes away, taking Luke back to his roots in small town America. What begins as a trip to tidy up his grandfather's affairs and to take care of funeral arrangements, becomes the catalyst for a high stakes adventure.
John Ruby talks about why he thinks Solver will appeal to audiences, "What is really fun and exciting about this film is it is a mystery adventure where you have certain pieces of the puzzle, but you don't have all of the pieces until the end. What I enjoy about that and I think what people will enjoy is you are putting the pieces together, as the protagonist Luke is putting it together. Sometimes
Sally Stevens Interview

We would be here all day if we attempted to list every one of the musical accomplishments during Sally Stevens' career, but throughout the course of our recent conversation with Sally and in the account of that interview which you will read here, we will attempt to give the reader a glimpse into the career of one of America's and the music industry's most successful people, during this two-part interview.
Sally Stevens has performed and recorded as a solo singer, a session singer, she has scored feature films and she has worked as a vocal contractor, auditioning and hiring the singers and choir members who appear on major films and her film work as relates to music now encompasses more than 600 films, including Academy Award winners and nominated movies. Here are just a few of the films that Sally Stevens has worked on, Tomorrowland, Butch Cassidy and the Sundance Kid, The Secret of NIMH, Dr. Zivahgo, The Sound of Music, Bridge of Spies and Jurassic World.
She toured and recorded with Burt Bacharach and she lent her voice to the records of, Frank Sinatra, Andy Williams, Country Joe and the Fish, Neil Diamond, Michael Bublé, Percy Faith and Sonny and Cher to name just a few of the iconic artists with whom she has worked.
Sally Stevens grew up in Los Angeles and in Tujunga located in the Greater Los Angeles Area.

Read More
Hallmark Movies - An Editorial

Now that Christmas is over I thought I would take a few moments to talk about Hallmark Christmas movies and more generally the programming that exists on the Hallmark Channel and on Hallmark Movies & Mysteries Channel.
Even though the Christmas movies follow a certain pattern, you can predict what is going to happen and you know there is a happy ending, for a lot of people that is important. Not everybody has a nice neat Christmas or someone to share it with and we live in a world where too often both in love and other matters there are not happy endings. While we realize that Hallmark movies may not be everybody's cup of tea, for some people they do offer hope, they bring comfort and they remind us that home is where our hearts are and love is with whom our hearts belong.
The themes of romance, family, reconciliation, finding or restoring the good in people and the absence of violence are consistent throughout Hallmark / Crown Media (the parent company) programming whether it is the series When Calls The Heart, now in its fifth season or the Good Witch another Hallmark production, Chesapeake Shores or movie sequels such as the Gourmet Detective or Murder She Baked. Yes some might also say that there is an underlying theme of Christian values in the programming, not overt, not pushy, but it is there, however this piece is not about religion today, it is about why the Hallmark brand continues to grow in market share.
The actors, actresses and executives of Hallmark have taken the experience one step further for "hearties" their devoted followers, because they interact with the viewers