Ana Muñozo - Costume Designer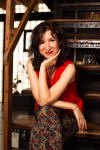 Costume designer Ana Muñozo has designed for productions in theater and film, in both Barcelona, Spain and in New York City. She has lectured at Fordham University in the United States and UNED University in Spain. Although, she is a designer, you discover while in conversation with her that she is part costume designer, with a bit of director, a dash of screenwriter and with an affinity for actors and actresses.
Ana Muñozo studied fashion design and in fact spent four years at the beginning of her career in the industry and established a fashion brand with some colleagues.
"On white fabric we hand painted the prints ourselves and we made a color chart for every season.
We designed accessories such as ties, fans, umbrellas, scarves and dresses. Actually, the original idea were nightshirts, I remember when I showed them to a client, she told me that she saw them as dresses and I said, "as long as you sell it, I don't care if they wear it to dinner or to dream." We did everything ourselves, the boxes, the labels, they were exclusive and on the label the client could see the number of the series. (There might be) a series of fifteen and you bought number four, therefore you knew that there were only fifteen of that model. We did fashion shows in different places like the international "fashion cafe" and we also participated in some collective exhibitions.
Akash Sherman - Film Interview

Some people when you encounter them you just get this sense they are standing on the precipice of greatness. It has not quite arrived yet, but all the signs are there, your artform, whatever it may be and in this case with Canadian screenwriter and director Akash Sherman it is his internationally and critically acclaimed film. You have significant peers, who only seems like yesterday were not your peers, seeking you out for collaborations and you have two television and film stars who heap praise upon you after working with you.
As much as the entertainment industry is filled with stories of successful performing artists who grew up in places like Los Angeles, New York City and Nashville, there are an equal number of fabulous stories of artists who grew up in obscure places, not obscure, because they were unimportant, but more because one does not think of those towns, cities and villages, as an incubator for creatives. Edmonton, Alberta, Canada is one of those cities and this writer says that with warmth and sincerity, as it is still the city considered to be my hometown, even though I was born in Toronto.
Akash Sherman, whose father and sister are both doctors and whose mother is a pharmacist, one might have assumed would have been headed for more of an academic career, in a cold, northern city, far removed from Canada's two Hollywood North cities, Vancouver and Toronto and where minus thirty and minus forty degrees Celsius temperatures keep
Sierra Rein - Actress / Singer
These are heady days for actress and singer Sierra Rein, she has now returned to what she enjoys doing most in life, performing on stage and in front of a camera, after two years of much of the arts world being put on an involuntary pause due to COVID. She has two podcasts on the go, a short film in post-production, appears in two episodes of a series to be broadcast and streamed on FX on Hulu this fall and she has several exciting music gigs coming up. Believe or not that is just barely scratching the surface.
Sierra Rein (pronounced Rhine as in rhinestones) talks about her role in the Hulu series Fleishman is in Trouble, "It came out of the blue. It was January of this year and my agent who hadn't really talked to me for a while said hey can you put yourself on tape for this TV show? I didn't really know much about the project, so I did a tiny bit of Googling. I was like oh, okay there is this character Cherry who is in the book Fleishman is in Trouble, but there wasn't very much about her. I had my husband do the other dialogue and I shot the scene and sent it in. This was when we were in lockdown a little bit (New York City). We were slowing emerging and putting our toes back into the river of humanity of this year.
In mid-February I got an email that said, you are booked. I called my husband and I said you know that one minute scene that you shot with me, I am going to do a scene with Claire Danes and Jesse Eisenberg. It was one of those surreal moments. I was surprised they didn't have a callback. I think it was one of those (times) when they see who the person is and think yep that's the character. That's great, because