Kerry Knuppe - Interview

The feature film Solver will be in theaters early in 2018, which means once again one of Riveting Riffs Magazine's favorite actresses Kerry Knuppe will also be on the big screen. Knuppe is one of the most versatile and gifted actresses in film today with other film credits including a major role in Like A Country Song and Nicole Conn's A Perfect Ending, where she played the daughter of Barbara Niven's and the late John Heard's characters.
"Solver was a really fun project that we did and we filmed it in upstate New York. It is a mystery adventure and it has Antonio Jaramillo who was in Shades of Blue and me. He played the bad guy and he was really fun to work with. The people that we worked with were so wonderful. It was so fun to be in a small town where they were appreciative of us being there. It was a different feeling.
It is a fun story and a "what's going" on mystery kind of a thing. It was a really fun project," says Knuppe.
Solver directed by Xandy Smith and also starring John Ruby and Jesiree Dizon, also had some interesting moments before filming began.
Kerry Knuppe shares one of those moments, while laughing, "When I was cast they said you have a week to prepare and I said I would like to come out a couple of days before we start shooting and shadow a mechanic (her character is a mechanic), so they said
Actress Barbara Niven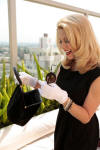 Barbara Niven is a lot of things, but if you were to ask her, she would probably tell you that what she is most proud of is being a mother and a grandmother. She waves that flag proudly and so she should. Barbara Niven, the actress has appeared in more than one hundred feature films and made for television movies. Her roles have been as diverse as currently starring as Megan O'Brien on the Hallmark Channel's wildly popular Chesapeake Shores, where she is the prodigal mother who returns home to her five adult children and her ex Mick O'Brien or in her role as Delores Swensen, mother to amateur sleuth Hannah Swensen played by Alison Sweeney in the Murder, She Baked mystery movies, also Hallmark productions and the middle-aged Rebecca Westridge in Nicole Conn's A Perfect Ending with the late John Heard and Jessica Clark, a story in which her character is trapped in a loveless marriage and she falls in love with another woman.
While there is a part of every actor invested in every role that they play or at least there should be if that role is to be performed well, not every moviegoer or fan who sits in front of their television sets on a Saturday or Sunday night gets an opportunity to discover who the real person is behind the character. We invite you to spend a few minutes with us as we chat with an incredible woman, who seems to find the perfect balance between strength and kindness, while not being afraid to lend her voice to causes she truly is passionate about such as, animal rights, anti-bullying, human rights and helping others to realize their dreams. As Barbara Niven so often likes to say, "Don't stop five minutes before the miracle happens."
Rebecca Staab - Film & TV Actress

Film and television actress Rebecca Staab recently talked to Riveting Riffs Magazine from her home in California. The former supermodel who was born in Kansas and who grew up in Grand Island and Omaha, Nebraska discussed a wide range of topics from one of her passions, rescuing dogs, to her partner in life William, to touching upon her love for home renovations, which she warned this writer would easily comprise an entirely different interview, to talking about how she enjoyed an illustrious modeling career and currently is one of the film and television industry's most respected actresses, careers that this former straight A high school student never had her heart set on. In this the first part of a two-part interview with Rebecca Staab she talks about her childhood and later her modeling career. It is our hope that our readers will get a sense for this funny, determined, down to earth, brilliant and engaging woman who recently starred in the ABC television miniseries Somewhere Between, as Colleen DeKizer, was Elizabeth Barrington in the television show Port Charles, is currently shooting the pilot for the television series Manopause, appears as Camille Richfield in the 2017 film Coming Home for Christmas and who has appeared in a plethora of films and television shows, some of which are still in various stages of production.
"I was born in Kansas, but we moved to Omaha when I was seven. I just have an older sister and a younger brother. My sister is one and one-half years older than me, but my brother is nine and one-half years younger. There were two childhoods in a way. There were a few years when there was just my sister and then my brother was born when I was in the fourth grade and that was like