French Actress Sandra Leclercq

Sandra Leclercq is an actress, playwright and screenwriter from France, with a green card for the United States and she had a puppet flirt with her recently, she designed a support chair to enable a young man with disabilities to compete in an Iron Man competition and she has travelled back in time from a women's dominated society, 1,000 years into the future. Just to round things out she also used to be a tennis coach. Recently, Sandra Leclercq was our guest at Riveting Riffs Magazine, and we have become big fans of this delightful and fun lady.
We asked her how it felt to have a puppet flirt with her, "It felt really good!" she says laughing.
We were of course talking about her voiceover work for a French advertisement for Spotify and Sandra Leclercq was the voice for the female puppet.
I really love it (voiceover). It is really interesting. Even when I audition for animated movies or things like that, I like to have the picture of the character and to see what the animated version looks like. If it is an animal what kind of animal is it? Even when you are just using your voice, you are still acting. I think if it is TV, theater or voiceover in my opinion it is still the same, it is acting.
I did an audition before, but this was the first time that I recorded something that I booked.
Actor German Torres

Actor and singer German Torres who in recent years starred in some impressive musicals in Spain, Beauty and the Beast and 24 horas en la vida una mujer (24 Hours in the Life of a Woman) and in 2013 he received the award for Best Supporting Actor from the La Unión de Actores (the equivalent of the American Screen Actors Guild), for his role in Anton Chekhov's Ivanov, was our guest recently at Riveting Riffs Magazine to talk about his career in theater, film and television, both as an actor and a producer.
At the time we spoke, 24 horas en la vida de una mujer, produced by highly acclaimed actress Silvia Marsó, who also starred in the musical with Felipe Ansola had just returned to the stage at Teatro Galileo in Madrid, after an absence of nine months due to the COVID-19 pandemic. We asked German Torres what that experience was like.
He said, "It was fantastic, after the world stopped, returning to the stage is a miracle. The theater has maximum security and culture is safe now in Madrid. We are allowed to have fifty-five percent (of capacity) for the audience now. In other communities only thirty people are allowed.
We had forgotten, just a little about the energy of the stage, because it had been so long
Actor Miquel Garcia Borda

Recently, Miquel Garcia Borda, an actor, director, producer, and writer who splits his time between Barcelona and Madrid was our guest at Riveting Riffs Magazine. You have seen him TV 3 the Catalan television station in series such as If I Hadn't Met You and in the Vancouver Media / Atres Media production of the popular television, now Netflix series Money Heist, which first aired on Antena 3 in Spain. You can also catch him in the current production Hache, also on Netflix. He is directing, producing, and starring in the feature film Pregunta Por Mí Mañana opposite actress Paula Moncada. Earlier in his career he also directed music videos for two better known Spanish bands, Sol Lagarto and Pastora, as well as two other films.
We quickly learned about Miquel Garcia Borda even prior to the interview that is he is a very gracious man, who does not take his opportunities and accomplishments for granted, who seems to understand that who he is as an artist is the sum of his life experiences and the people from whom he has learned along the way.
"When I was in college and I was nineteen we were doing a play The Philanderer by George Bernard Shaw and I was playing the main character. The instructor, Juame Melendres said to me are you allowed to go out at night? You are too young to do that. (He laughs) I said I get it. I will try harder. You must have lived. You have to live a lot to use it for your characters," says
Liisa Evastina - Actress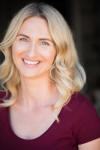 Liisa Evastina is a brilliant actress, screenwriter and aspiring producer / director with her own film development company, Scarlet Studios and she has worked in her homeland of Finland, England, Malta, Spain and she spent nine years studying and working as an actress in the United States where she had a recurring role in the television series NCIS / NCIS Los Angles, was featured in the film 13 Hours, as well as the HBO production 12 Miles of Bad Road and she was a series regular on Rock, Paper, Scissors and Uncut. Liisa Evastina's film and television credits are much more extensive than that, but that gives you an idea of well-respected this multilingual (Finnish, English, German) blue-eyed blonde, five-foot seven-inch actress is, and oh did we happen to mention that she is trained in the martial art, Hapkido and performs her own fight scenes?
Recently with her dog Scarlet looking on and providing encouragement and her cat Oscar offering sage advice Liisa Evastina sat down with Riveting Riffs Magazine to talk about her career and her very interesting life. One immediately becomes aware of her great sense of humor, which ranges from subtle to larger than life (in a good way), laughter, which comes easily to her and her gift for making others feel at ease. Although, at the time of our conversation she was speaking with us from her home in one of the world's northern most countries, Finland, she was already in the midst of planning her move to Barcelona, Spain, while she awaits her visa approval, so she can live in Canada.
She was born Vivienne Liisa Evastina Mannerkoski and that would have been a lot to
Actress - Kika Child

Recently Riveting Riffs Magazine sat down with Colombian film, television and theater actress Kika Child, very popular in Colombia, but who for the last (never ask a woman her age!) has made New York City her home. To describe Kika Child as a peaceful human rights activist would be more than accurate. Throughout the COVID-19 pandemic and during the unrest that has enveloped much of the United States she has been translating the Governor's and the mayor's press conferences from English into Spanish.
Kika Child, we should point out, in addition to being a wonderful actress is also a trained translator.
"When the pandemic hit in March I was already working in the courts, with attorneys, physicians, within the medical and entertainment (fields). Mostly though, I was focused on writing my television series. I also was cast to star in a play in Washington, but when the pandemic hit everyone stopped working and the courts closed.
I couldn't travel to Colombia to go and be of service, which is what I wanted to do. I wanted to be there for my parents. Colombia has stricter rules right now than the U.S., but they don't have the financial help that people in the U.S. receive.
Because I stayed in New York I was wondering what to do with my life. Everyone was hit with shock and (experienced) trauma. I was praying and meditating, asking what should I do with
Actress Ana Cerdeiriña

Actress from Madrid, Spain has been a lot of things when she first took up acting. She was a mosquito, a bird, the sun, and a tree, but as her career progressed, she was cast in juicer roles, such as, a nun who sold aphrodisiac candies, and a psychopath. One gets the sense the role she enjoys the most is being the mother to her daughter. Ana Cerdeiriña has been in drama series such as Si No Thagues Conegut, sitcoms like Gym Tony (2015) and her most recent role in the television series Los Hombres de Paco Reboot.
Life began for Ana Cerdeiriña, "in Salamanca, a little town in Castile y León. It is a big area in the northwest of Spain, but not as far north as Galicia. It is a university city with students from all over the world. I have a small family, my father, my mother, my sister, and me. The center of my life is my father, my mother, my sister and now my daughter. My mother is a nurse, my father is a doctor, and my sister works as a hospital administrator. My father and mother split up when I was twelve years old, and I went to live in Madrid with my mother and my sister. I have lived in Madrid for thirty years.
When I was a child and I wanted to become an actress, my mother and father thought that was bad news. They wanted me to study for a different career. In Spain when you are fourteen and sixteen years old and if you say you want to be an actress, it is not beautiful news, because it is so difficult to be an actor or an actress here. Our country has a lot of good things, but the arts and acting or creative (careers) are difficult.
If my daughter came home and said