Jim Cliffe and Donovan's Echo

"I think déjà vu is something that we have all experienced in one form or another and a lot of things can bring it to fruition. I certainly am not suggesting that it has any specific meaning or that it is connected to past lives or past experiences, but in any case it is something that I have felt many times in my life. It is always an interesting phenomenon when it happens, particularly if you are in a place or a situation where you have never been and something just washes over you that feels extremely familiar, like you have done this before. I thought of my experience and something went off in my head afterwards saying it might be an interesting idea to explore," says director Jim Cliffe who collaborated with his wife Melodie Krieger to write the screenplay for the feature film Donovan's Echo.
The supernatural thriller stars Danny Glover in the lead role as Donovan Matheson, Bruce Greenwood as Finnley, Natasha Calis as Maggie and Sonja Bennett as Maggie's mother Sarah and it was filmed in 2010, was in postproduction for much of 2011 and had a limited release in Canadian cinemas during February of 2012. In May of 2013 the film was released through digital stores, as well as on DVD and Blu-ray.
"I love genre films. I love sci-fi and things that really stretch our imagination. Those are things that I like to explore,
Actress Mara New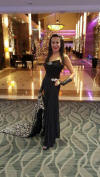 Mara New has accomplished much during her lifetime and in a lot of areas that those of you are reading this may not even know about. You may recognize the name Mara New as a Los Angeles film, stage and television actress or you may know her for the philanthropic work that she has done over the years. Throughout her lifetime she has been a model, was the driving force behind a 2004 fashion show in Los Angeles that highlighted the clothing of emerging, but not yet well-known fashion designers. She was a member of the dance ensemble at the Roger Hazel American Dance and Musical Theater Company in Australia. Mara New is also fluent in Italian, English, French and Spanish. In collaboration with her husband Ron New, Mara produced an album for highly respected Blues and Jazz singer Barbara Morrison, as well as the husband and wife team were the executive producers of a musical about the life of Blues singer Big "Mama" Thornton that was staged at the Stella Adler Theater in Hollywood. In 2004 Ms. New was also the recipient of an award that acknowledged her as being one of the most influential women in the city of Los Angeles.
The pretty and personable Italian actress born Mara Beltrami in Milan, Italy spent some of her teenage years in France and later moved to Australia, before she moved to Canada for five years, during which time she also hosted a radio show.

Read More
Interview with Beverly Leech Part I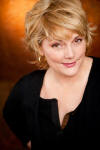 "At the root of everything that I do is passion for my profession. I am a real lifer," actress Beverly Leech laughs and continues, "All of my friends refer to me as a lifer. You would have to pry it from my cold dead fingers. I am I am very passionate about my craft, my profession and the business. I always try to present a very streamlined and professional approach. In addition, to the mail service (she laughs referencing the attempt to mail this writer her book) there are other things that have deteriorated with time. The business has morphed and it has changed so much the past few years that I can see young actors really struggling. What inspired me to write the book is my own sense of passion. My mother died recently and I was her caretaker for a number of years off and on. Writing a book had always been on my bucket list of things that I wanted to do before I died, so when my mother finally passed I had to take a very clear look at myself and say it's time to honor yourself with these things that you always wanted to do," she says, talking about her book Actor Muscle A Professional Guide to the Business of Acting.
Beverly Leech has an impressive stage and television acting resume having appeared as Alaura Kingsley in the Broadway production of City of Angels, as well as being cast in numerous plum roles at award winning regional theaters. A small and we emphasize small sampling of Ms. Leech's vast television experience includes
Jean Harlow - A Book Review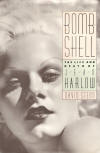 Bombshell The Life and Death of Jean Harlow, a biography by David Stenn and published by Doubleday in 1993 is a must read for any true fan or history buff when it comes to the early days of the film industry. Stenn who is also the author of the book Clara Bow: Runnin' Wild crafted a masterpiece that is well balanced, insightful and portrays Jean Harlow in a humane way.
David Stenn whose writing credits include Hill Street Blues, 21 Jump Street and Beverly Hills, 90210, conducted interviews with many of the people who knew Jean Harlow personally, including one of her closest friends Barbara Brown, a member of what Jean Harlow referred to as "my gang." Others included Irene Mayer Selznick, the wife of film producer David O Selznick (Gone With The Wind) and daughter of Louis B. Mayer the MGM movie mogul, countless interviews were conducted with the children and other family members of those close to Jean Harlow, including the family of her ex-husband Paul Bern whose death remains a mystery. The author also spent a copious amount of time exploring legal and medical documents to which he was given unrestricted access.
The prologue sets the scene at Jean Harlow's deathbed and immediately raises a number of serious questions about how a beautiful 26 year old woman, adored by fans and viewed as sex siren and goddess and loved by friends and co-workers
Interview - Director Tommy Reid

Director and producer Tommy Reid who produced the film Kill The Irishman starring Val Kilmer and Christopher Walken, a movie that depicted the life and crimes of Irish American mobster Danny Greene, has the makings of a new blockbuster film based on the life of another criminal, but this time one with a much more passive history bank burglar Phil Christopher. The groundwork has already been laid and the research has been completed in the form of Reid's documentary film $uperthief, which culminates with the 1972 record setting burglary of the United California Bank in Orange County, California. Although, the film chronicles Phil Christopher's life before and after the burglary, the suspense builds with the heist and well we do not want to spoil this for you, even if it is a documentary film, so we will let you guess at the ending. The film is narrated by John DiMaggio, Tommy Reid's business partner and the voice of Bender from television's Futurama.
Revealing that it was definitely his goal to turn this enterprise into a feature film project, Tommy Reid says, "For me doing a documentary is fantastic research to understand the material better and to get more insight into the characters. It helps you that much more when you go to talk to any actor, about what you are trying to portray. We already have the script (for the feature film) written and it has been adapted from the documentary. The guys who wrote it are very hot writers right now and they write the TV show The Blacklist, which is coming out this fall (premiers September 23, 2013)
Falling Is A Must See Film

Can ten young actors write their own film script and then have all ten of those scripts woven together into one cohesive film? Director and screenwriter Michael Zelniker thought so. He asked ten young actors to write individual short scripts with the intention that they would be filmed, so the actors would have a calling card to show to agents and casting directors.
It turns out he was right, because in August (2012) the film Falling won Indie Fest USA International Film Festival's Best of the Festival Award.
As we considered the structure of the class, a question came to me. Would it be possible to weave together the ten self-contained, independent short film scripts into a feature length story? So, the idea for this larger experiment was conceived from the outset. What excited me about the experiment was I knew we would be exploring an entirely novel form of storytelling. As doable as the short films were, the prospect of emerging a feature film from this process was much less certain. I knew that we would never sacrifice the integrity of any individual story in order to create or find connective tissue /overlapping moments between the stories," says Zelniker
.
We know what you are thinking and we thought that too. This is going to turn out horribly disjointed, artsy perhaps, certainly novel, but not cohesive. Guess what we were wrong and so are you. Zelniker and Celeste Chute, Sharon Elliott,