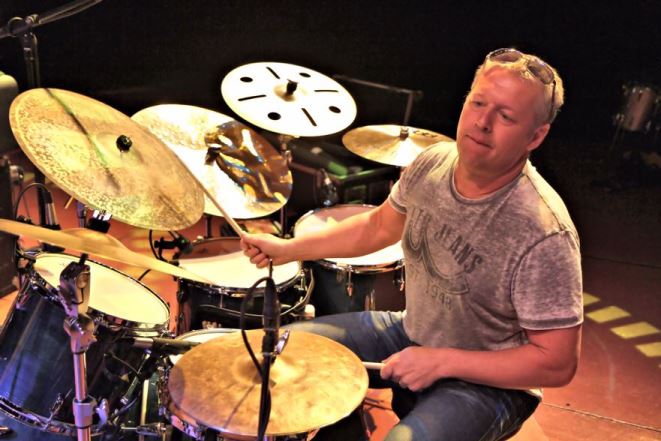 Earlier this year Swedish drummer Rasmus Kihlberg who has played and / or recorded with artists such as Tom Jones, Charlotte Church, Bill Champlin, The Cardigans, Björn Skifs, Japanese singer and actress Tomoyo Harada and Joseph Williams of Toto, had a very busy tour schedule.
Talking about this year's tour Rasmus Kihlberg says, "I played with Nils Landgren. He is a Swedish trombone player and singer and with my wife Viktoria Tolstoy who is a singer. (There was also) a piano player, a bass player and the Frankfurt Philharmonic Orchestra, but not the strings, only the woodwinds and the horn players. The arrangements for that tour were made by Vince Mendoza and we played only Leonard Bernstein music, all the famous hits and also the non-famous. It was a fantastic tour and we had thirteen or fourteen concerts in a month and only in Germany. There was a full house in every place and standing ovations. Nils and Viktoria sang this music so well. Sometimes they would sing duets, sometimes she would sing one song and (other times) he would sing one. Sitting in the middle of this orchestra with my drums was also a dream come true, because I love all of the things that come from Vince's pencil (and that has been) since the first time I heard Vince's arrangement of Joni Mitchell's Both Sides Now (the album). It has been a huge experience and also a fantastic tour to be able to play enormously beautiful arrangements. It was fantastic."
That tour came on the heels of a very ambitious tour schedule for Kihlberg's wife, the accomplished and highly respected singer, Viktoria Tolstoy, whose own tour embraced several months in the fall of 2015 and the early part of 2016, with breaks to return home to be with her family. We wondered how two artists with splendid careers and whose relationship and family means so much to them are able to balance their lives and schedules, especially when they have two young children and two teenagers. Rasmus Kihlberg provided these insights.
"It's hard, but we put some kind of a system around it. When you get an (invitation) to perform even if it is only Viktoria or only me or if it is for us together, we have a procedure that is really important. First we check to see if we can have a nanny or a babysitter during that time. Secondly, are we available (to perform)? Number three is all of the logistics for the kids, is that also taken care of, before we can say yes to that gig. There's a lot more logistics and planning around the job today, but it works. We put in a good system.
We recorded a new album with Viktoria in April in Göteborg and we were away from the family and the house for four days to work in Göteborg, but we took care of it. My mother came here and stayed for some days and then the nanny took over. It worked out. We would do everything in the world to work together and just to make it happen.
Also, if it is during the summertime and there is no school for the kids, we always take them, because they love coming with us when we do gigs and to hang backstage, to sleep in hotels and be on airplanes. They love it. All of our kids are used to it, because they were born into this and they know my father is a drummer and my mother is a singer. It is nothing that is strange to them. It is really normal to them," he says.
An artist's tour schedule also presents other challenges, for some it is ensuring that your instruments arrive safely at the various destinations and for others it is securing the proper type of instruments when you arrive in the city where you are going to perform. Part of that challenge has now been overcome for Rasmus Kihlberg with two major endorsements, one from drum manufacturer TAMA and the other from the company that makes his cymbals MEINL.
"When I travel so much it is really, really important, because I know what kind of drums I will get when I travel from my hometown to Germany (as one example), because they have exactly the sizes and the brand that I want to have. I couldn't do that before (I had the endorsement) and I had to say just a couple of brands and if you have that it is good. Before I got TAMA endorsed I put up five or six different kinds of drums, just so I could get some good drums. Now I get exactly what I want and I know how it will sound when I get there.
I always travel with my cymbals, so I have them with me. Every cymbal is different and I want to use my own. They are handpicked. This company makes a lot of cymbals that are one kind of cymbal and they make thousands of them. Even if you are a (music) nerd, you can't hear the difference, but if you are a drummer you can hear and feel the difference between one ride cymbal and exactly the same ride cymbal. It is about the weight or something. If you get a handpicked cymbal and you start to play with it you want to stick with it for a while. That particular ride cymbal is something that you want to play in every environment. Before I was endorsed when I went to New York I would go to pawn shops and check out if there were some good vintage cymbals. A lot of my cymbals were bought in New York, I always used them and I always traveled with them. Now I have MEINL and I could do exactly the same thing as I do with the drums. I could say exactly what I want and they will ship them there and it will sound okay, but it is not exactly the cymbals that I handpicked when I was in the factory. Maybe it is a relationship, love at first sight and then you can't let go. I don't know (he laughs), maybe," he says, while noting that he now travels with his MEINL cymbals.
Rasmus Kihlberg was born in the tiny fishing village called Simrishamn, on the southeast coast of Sweden. The total population is about four or five thousand people and it is located on the opposite coast from where he lives today, in Malmo, Sweden's third largest city located not far from the Danish border.
"My family was not a musical family. I am the only boy out of four children. I had three sisters, one younger and two older and everybody played the piano. I started playing the piano when I was six. When my sisters were in book number one in piano school I was on book number three, even though they were older than me. I really got a grip of it and learned it really fast. I had a fantastic piano teacher who was playing bar piano in Malmo. He taught me Jazz really early and the Classical music. He also taught me Blues harmonies and all of that stuff really early. I was playing piano all of the way until I moved to Malmo, but when I went to high school (in Simrishamn) I could choose a second instrument.
There was no orchestra in Simrishamn where I lived and that I could play with except for the marching band and you can't play the piano in a marching band, so I had to go for something else, so I started playing the bass drum in the marching band. Then I went to the cymbals and later I played the snare drum. We also had some concerts when we were not marching. Then there was a drum set (to play).
A friend of mine who was two years older (than me) was the drummer in Simrishamn and I really looked up to him. I got a lot of interesting ideas from him. I thought it looked so easy and so I tried it. It had felt safe to play the piano, but drums were fun!" he says.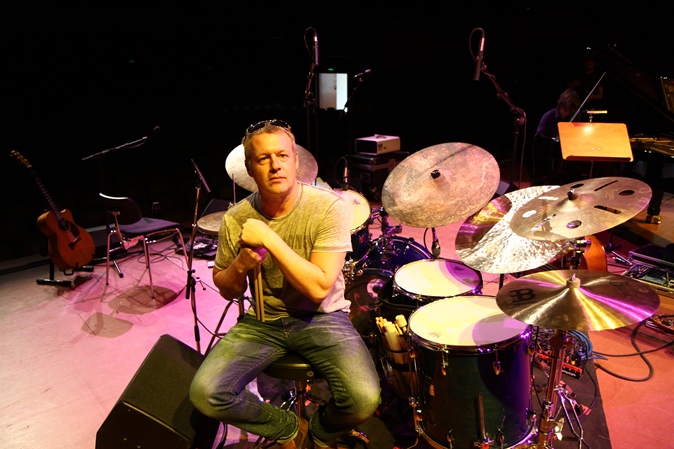 The main thing happening in Simrishamn was piano and I bought a Fender Rhodes and I bought a Roland Juno 6 synthesizer. We had a band with this drummer who played in the marching band and we called it the Funk Group. We played Spyro Gyra and the Brecker Brothers' Heavy Metal Bebop. We had three horn players and we tried to do our best. I learned a lot and I was really into Jazz and Funk keyboard playing at that time. I listened a lot to George Duke, because George Duke always had good drummers with him. There is one album with George Duke that is really, really important for me and that is Guardian of the Light. I got the world of drums and I got the world of keyboards. That album definitely delivered one hundred percent right to my heart and to my soul. There were good drums by John Robinson and really good keyboard playing from George Duke. That record had a big, big influence on me. The first number on the first side of the vinyl record, "Overture," knocked me out. It was good inspiration.
When I was about fifteen I sold my Fender Rhodes. It wasn't in good shape, nobody in my hometown could repair it and it didn't sound good. I changed the Rhodes to a drum set. As a keyboard player I always ended up in some rehearsal with a Funk group and I would sit and fool around with the drums after the rehearsal when everybody wanted to go home.
My first drum set was a Maxwin by Pearl and it didn't hold for so long, because it was in very bad shape. I changed it to a Rabbit and I have never seen a drum set like this Rabbit set since then. It had the same logo as the Playboy logo. I don't think that drum (set) has ever existed or it was somebody who just put something together and made it. They sounded really, really good. It was the Evans oil skins on them like two layers of oil and they had a super Steve Gadd sound. I was really happy with those drums. They were just fun to play. I played along to a lot of records. I played all day and all night.
I had lessons and homework to do for the piano. I did that for one day and the rest of the days during the week I sat behind the drums. There wasn't a teacher in Simrishamn who could teach me to play drums. I thought to play along with records was the best thing for me to learn. Listen and learn. Why do I feel that (this drummer) is playing so well? How does he make it sound so good? Is it in his wrists or is it in his approach to the drums. I really tried to figure that out in the early stages," says Kihlberg.
When he was seventeen years old Kihlberg moved one hundred miles to the east to Malmo located in the region known as Skåne and he explains why.
"In Simrishamn you couldn't study music at all. You could only be a fisherman or you could only work for the coast guard. You could work for anything, but music or as a performer. I had to move to get my education and in Sweden we say gymnasium. I think it is high school (in North America). We go from grade one to grade nine and then we go to gymnasium, which is the higher school. When you are about sixteen or seventeen you start high school in Sweden. I started in high school in Simrishamn and just learning languages. I went for one or two years and then I moved to Malmo and I started studying music in high school."
While still attending gymnasium (high school) Kihlberg played in some ensembles in school. In one of them he played piano and in the other one he was the drummer.
"They couldn't find anyone (to play) drums. That's where I really got into it for the first time and I realized maybe this should be the instrument of the future," he says.
We had some bands outside of school and one of my first professional gigs was with a Reggae band from Malmo called Root Mos (pronounced Root Moose). Mos is mashed potato in Swedish. (He played drums in the band). That was '85 to '86 that I played with the Reggae band. Then the singer in the band got caught in some strange things. He went to Jamaica and he didn't really come back. He got stuck in London and got put into jail. He was messing around with smuggling. The band ended up not doing anything.
Then I started playing with other bands. When I moved here to Malmo from a small town it was a huge world that opened, because there were so many places to play and so many people to play with. At the time when I moved to Malmo there were a lot of musicians here that were playing Jazz. I call it serious Jazz. It was so serious that you can hardly get it (he laughs). I was more into playing Pop, Fusion, Funk, Soul, R&B and more the West Coast music. There were a lot of musicians here in Malmo playing that, so I got a lot of gigs the first year that I lived here, because they didn't have a drummer who could play Jazz, the West Coast and Pop Rock," says Kihlberg.
Rasmus Kihlberg who also has a Master's Degree in Fine Arts, which he obtained after finishing high school, tells an interesting story about his audition for university.
"When I finished high school, I finished up on piano and the last year before university you are supposed to do a test to be allowed to start at the university. My ensemble teacher at that time asked what instrument I was going to choose (for my audition) at the university. I said piano, because that was mostly my routine. I studied one year on drums with a teacher, so no. I will go for the piano I said and he said no you don't go for the piano you go for the drums. He was also a teacher in Malmo at the university. Two weeks before the audition when I was supposed to play three songs in front of a jury for the university I changed my repertoire. I started to prepare myself for playing drums instead. Two weeks later I did my audition and I became number one out of forty drummers who auditioned. I joined the university when I was nineteen and I was on drums. It is a teacher's education, so you get drums, improvisation and ensemble teacher, which is my profession, but I never teach today (at a school). I have some students (privately)."
Kihlberg says teaching more is something that he would like to try in the future, "because every time I have a student I have, we have an expression in Sweden, I have 'meat on my legs,' but you don't say that you say I have a lot of experience during the year. I have collected a lot of input from different artists that I have been playing with. I think I have a lot to give, but right now it is not an option, because there is no time for it."
About 1986 Rasmus Kihlberg became part of the band Enorma Groove, comprised of himself, highly respected musician, singer and songwriter Stefan Gunnarsson, Johan Granström and Per Rusträsk Johansson. In addition to creating and playing some stellar music, the band also had some fun.
Kihlberg tells the story of the song "Lap Rap," as he tries hard to contain his laughter, "We made that song in my apartment, with Johan Granström the bass player and Per Rusträsk Johansson the saxophone player. Stefan and I were hanging out in my apartment in Malmo and we did a background on sequencers and drum machines. Then Johan always wanted to do the Joik. The Joik is from way up north in Sweden where the Laplanders (the Sami) are living. They have a different language than Swedish. They have their own language and when they sing they call it Joik (he then does what some cultures would refer to as yodeling). I think it is from some heritage north of Sweden or the Vikings. We were fooling around with this joiking and the lyrics and we had a great time. We had so much fun. Stefan was sitting and laughing and playing his ass off on the keyboard and programming on the drum machines. We didn't do anything without it. It is just us four who have the recordings on that one I think. (He is laughing) "Lap Rap."
Enorma Groove was the first really fantastic band that I played with and when I could compare myself to other musicians like Stefan. We spoke the same language and we had the same ideas. We had the same ideas about musicality and everything. It just clicked and we did some fantastic concerts. In '86 or '87 we had a fantastic concert in Boden. It is the little town where Stefan lives. That was the first gig that I had with Enorma Groove, because there had been some drummers before me in Enorma Groove, but the first gig that I did was at the Boden Jazz Festival.
I played four or five years with Enorma Groove. Stefan moved to Stockholm. Then Stefan did his solo album and he contacted me directly. He said you have to play on my solo album."
Enorma Groove eventually disbanded when Granström also relocated to Stockholm.
Continuing he says, "During that time, Johan, Per and I were playing in a big band here in Malmo, called Monday Night Big Band. It is the exact same idea as the Village Vanguard Jazz Orchestra, who played for fifty years at the Village Vanguard in New York, every Monday night. We started a Malmo edition of the Monday Night Big Band, like a Thad Jones and Mel Lewis kind of thing. There were a lot of people. We wanted to play live in a club every Monday. We talked to a guy who helped us out with this and his name was Jörgen Nilsson. He had played with a European edition of Thad Jones big band called Eclipse and it was based in Copenhagen. He was the second tenor saxophonist in that big band and he was a good friend of Thad Jones who died in '86. He had a lot of arrangements that he bought from Thad or that he got from Thad and even handwritten original arrangements just popped up in his mail. It was totally insane."
A member of the Vanguard Village Jazz Orchestra, Ed Neumeister was a guest of our big band and he said wow you have this arrangement? Even we do not have this arrangement. It is an original Thad Jones arrangement and you have this in Malmo. I played every Monday for eleven years in that big band and it was mostly the repertoire from Thad Jones and Mel Lewis.
About '88 or '89 when I started playing a lot in the big band I checked out Mel Lewis. I started to collect all of the records that I could find of Mel Lewis, not only the Thad Jones / Mel Lewis big band, but also all of the West Coast Jazz that he played on in the early and mid-sixties with guys like Marty Paich, Art Pepper and The Concert Jazz Band with Gerry Mulligan, (as well as) the Terry Gibbs Big Band. I really got into this and I studied really hard for the big band. Every Monday I could practice this live in front of an audience. It was fantastic. It was the best school that I had. (You can hear the enthusiasm in his voice.)
I always prioritize the groove in front of all of the technical stuff. If it doesn't swing, if it doesn't groove, I'm not interested. If I can hear something that really grooves and is really in the pocket, I love it. That's what touches me really. That is the most important thing. Mel Lewis was the drummer for that style in big band and swing and he played so easy that he made it easy for his band members in the big band. I realized this is how you do it, to make it easy for the band and to play easy. That was amazing for me to do those eleven years every Monday. That was the best education that I could get. That is why now and then I get calls from people who want me to come and guest with their big band. They feel like my playing is very (similar) to Mel Lewis.
I was once called up by the lead trombone and saxophone player from the Village Vanguard Jazz Orchestra. They were supposed to do an interpretation course up in the north, the Norrbotten Big Band in Luleå. They wanted to have a drummer who could sound like Mel Lewis. I went up there and we played their repertoire from the Village Vanguard Jazz Orchestra. I could do (the songs) in my sleep. It was a fantastic week with those three guys, because they also gave me so much credit. They were so happy to know that there was some guy in Sweden who really took all of the Mel Lewis music (and sounded like him). Those eleven years (playing big band music) meant something good to me."
While he was still playing with the big band Rasmus Kihlberg landed a permanent position as a session musician for the renowned Tambourine Studios in Malmo.
He recalls, "At that time Tambourine Studios was not as famous (as it is today). This was maybe '94 or '95 and the producer was Tore Johansson who produced The Cardigans Franz Ferdinand, Tom Jones and so many more. I think he produced the first two albums for Franz Ferdinand. He called me up and he said do you want to have a monthly salary and just come and work for me. That was like a dream come true. I was listening to those guys over in the U.S.A. like Steve Gadd, Bill Robinson and Vinnie Colaiuta, who played on all of these records that I loved to hear. I thought that is a dream, just to have a gig like that and to go to the studio and to do music and recordings all day. I got a nine to five firm job. I went there at nine o'clock in the morning and I did takes all day. This was mostly on Japanese Pop albums. All the Japanese Pop artists wanted to make records with Tore Johansson, because they heard The Cardigans in Japan. Japan was a big hit in the beginning for The Cardigans.
During that six or seven years I did maybe 100 or 150 records with Tore as a producer. Most of the records were released only in Japan. I was touring in Japan a lot at the end of the nineties as well. I got to play with all of the Japanese artists. I played with Japanese actor and singer Tomoyo Harada and I played on her first three albums. I did a month long tour in '96 with Tomoyo and it was in huge places. The people loved her. It was in the same era as when The Cardigans got big in the world. I think it was about the time when Lovefool got released. Tore was actually on the first tour with me and he has never done that before or since then. He played bass on the first tour."
In addition to his performances and the private lessons that he teaches, Rasmus Kihlberg also offers a service called Live Drums On Web where other artists can send him MP3s with their music and if they are able to, provide him with a sketch of some drum programming or loops. He will then add real live recorded drums in a multi-track, eleven channel format.
"I will send it back to them and they can paste it into their music and they can do whatever they want with it. That is a service that I have been (providing) since 2006. It was Tore Johansson who said shouldn't you do something like this, just to offer people everywhere your drums. At that time the internet still wasn't that fast, so I always sent by postal service DVDs with files on it. Now with the internet being so fast, you can really work with people, I just worked with Jay Graydon and Randy Goodrum from JaR (the band).
I call myself a rhythmic chameleon, because if I play with one particular orchestra or band I turn into a drummer for that position, for that time, in that bar, in that measure, in that space, for that moment and even if it is a Jazz gig and I play on bigger drums like a twenty-two inch bass drum, twelve inch toms and sixteen inch toms, I learn to apply myself into that environment. You can't play Pop or Rock and Roll like when you do a Jazz gig with those drums. That's something that you have to learn and maybe I put some extra effort into learning that, because I love to change shape into different styles of music and for different bands that I play with. I see myself as a rhythmic chameleon.
A lot of people who play with me say that they can hear that I was a piano player in the beginning, because I am really in the music and not on top of the music. I have some students that play drums and have always played drums and not any other tone of instrument. When they play with other musicians you can sometimes hear that they are not really into the music, they are more into the drum pattern 1B and not listening so much with their ears. One of my biggest trademarks is that I listen a lot when I play drums to what the other tonal instruments are doing when I play. I can thank the guy who started teaching me piano, the bar piano player, because he made something for me that is still there.
Seeds were planted long ago, in a tiny fishing village named Simrishamn in southern Sweden, a family who believed that their children should take piano lessons, a piano teacher who did not stick to the regular curriculum, but instead offered him a taste of music, beyond his lesson book, a boy who was fascinated with drums and selected them as his second instrument in gymnasium (high school) and a young man who was encouraged by a university professor to choose drums as the instrument to audition with for his university entrance audition. Those seeds grew in Rasmus Kihlberg and today he is one of Sweden's most well respected musicians.
You can visit the website for Rasmus Kihlberg here.
This interview by Joe Montague published May 15th, 2016 is protected by copyright and is the property of Riveting Riffs Magazine © All Rights Reserved. All photos the exclusive property of Rasmus Kihlberg and are protected
by copyright ©, All Rights Reserved
This inteview may not be reproduced in print or on the internet or through any other means without the written permission of Riveting Riffs Magazine, All Rights Reserved, protected by copyright ©