Imagine living in a country where you become a microbiologist and when you graduated you were at the top of the class and began a career as a university professor and you performed music on the side, as a hobby. You were probably thinking at the time even though you enjoyed being a singer what was the point, considering a broken guitar string was a tragedy, as there were not any places to buy more guitar strings and if a piece of your equipment failed well good luck on replacing that. Combine that with the challenges you faced with forging a music career in Cuba and no it made much more sense to keep teaching at the University of Havana and one certainly would never have imagined then moving to the United States to pursue a music career. It sounds like quite the adventure or someone has an active imagination, except these are the real life adventures of Sweet Lizzy Project.
Lisset Díaz is the lead singer for the Cuban band Sweet Lizzy Project a group that plays a mixture of Rock, Pop and Americana music and they do all of it well. The electric guitar work by Miguel Comas is stunning and echoes Eric Clapton in the days of Cream (with Jack Bruce and Ginger Baker) and as another musician suggested to us there are also shades of David Gilmour (Pink Floyd) in his playing. The rest of the musicians Angel Luis Millet (drums and percussion), bass player Alejandro González, Wilfred Gatell on synthesizer, Lenard Delgado the other electric guitarist (as well as acoustic and backing vocals) and cellist Yanet Moreira are all fabulous. Comas, also provides background vocals. Although, the music is considerably different, Sweet Lizzy Project may be the best band to emerge with Cuban roots since Gloria Estefan and the Miami Sound Machine.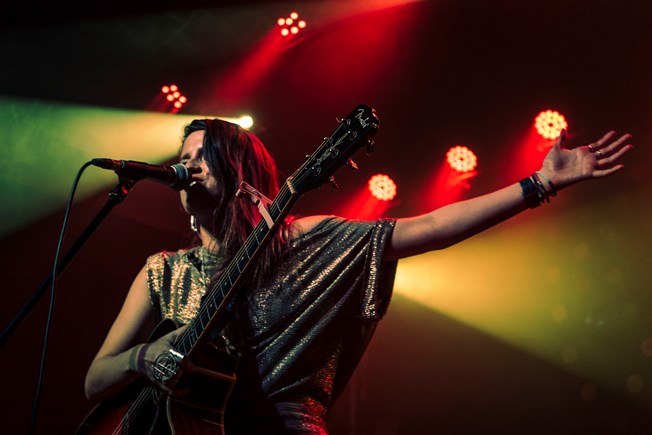 On February 21st (2020) Sweet Lizzy Project released their second album and first in America, titled Technicolor and the songs range from the beautiful and inspirational "The Flower's In the Seed," recorded in collaboration with Raul Malo and The Mavericks who sponsored their visas, the incredibly dynamic title song "Technicolor," and the Pop English cover of Enrique Iglesias' "Súbeme La Radio," with a completely new arrangement and rhythm. The latter became a hit in Cuba when it was previously recorded there.
Lisset Díaz joined Riveting Riffs Magazine recently to talk about the new album, "The song "The Flower's In the Seed," was written by John Goodwin and Kostas Lazaride and they are amazing songwriters. Raul (Malo) had this song on his computer for years and no one ever played it or recorded it. One night he called me in and said hey you guys should give a listen and see if you want to play this song. He didn't think that we would like it, because it was different from the music that we were doing. From the moment that I listened to the song I loved it. It was perfect, because it was a message.
The song is about love and bridges and there is such a positive energy to it. We created our own version of the song and then when Raul listened to it again he said we need to do this song together with The Mavericks. He said we need to have this song on the record Technicolor. We went to BlackBird Studios and we recorded this song with The Mavericks and Sweet Lizzy (Project).
That was the first time that we recorded in a real studio. It was not just any studio, but BlackBird Studio, which is one of the best studios in the world. We couldn't believe it and we were all so excited and happy. It was literally a dream come true. It was also the first time that all of us played together for a recording session. We never could do that in Cuba, because the place that we had for recording was a little apartment, so it was impossible for all of us to be in the same room and recording at the same time. We had cameras all over the place and when I saw the footage from the video on that day it was incredible. You could tell how happy everyone was from the videos, so we decided to use that footage for this song (click here to watch the video). I don't think we could come up with a better idea for something that would show what happened here and what the song was about. We were two bands from different countries with different backgrounds, with totally different histories and we are here playing together. This means a lot and our faces say so. We should use this and that is how the video was created by Wilfredo Gatell our keyboard player and Miguel Comas our guitarist. They did such an amazing job and I really like the video. The reason I like it is every time that I see it I remember what happened. I remember the way that I felt and it feels so good. That's the story of "The Flower's In the Seed."
Lisset Díaz talks a little bit more about recording in BlackBird Studios, "It was so easy. We are not used to things being easy. In Cuba everything was hard for us, so when we got to BlackBird it was like paradise. You don't have to worry about anything, because you have a team working for you and with you. Whatever you need they are going to be there to help you. It was perfect. In my case it was totally easy, because I just have to sing. I don't have to worry about the gear or if this guitar is better than that one. For me it is my voice."
Growing up in Cuba, Lisset Díaz describes herself as being "a very happy kid," who loved science, math and physics. She wanted to be a scientist.
"That is why I went to school to study biochemistry at the University of Havana. I graduated and then I taught at the university for three years. In the middle of that at some point I decided to start writing my own songs. They were for me and nobody was going to hear them, because I didn't want them to hear them. I didn't want to be an artist or a singer. I like art in general. I like drawing, I love singing, I love dancing, but it was kind of like a hobby. I thought I can do this for fun and then I can do a real job, which was being a scientist. That's my thing. Don't forget that! Then I started writing my songs and I met Miguel and when he listened to the songs he said we need to record these and we need to make an album out of these and I said no! We are not doing that, because what's the point?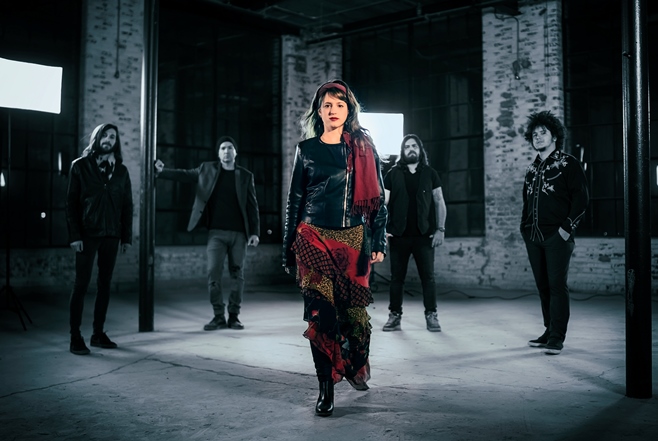 Finally we did it and he had some songs as well. We put an album together and once I tasted the process of making music I couldn't stop. It got more and more real and people started offering us jobs, like gigs. They asked if we could play here and here and we didn't even have a band. We put a band together and that is how Sweet Lizzy Project was created.
In Cuba it is not like here, if you are going to start a band you need to be approved by the music institutions in Cuba. Sometimes if you don't come from music school or you don't play traditional Cuban music and in Spanish it can be hard. It was hard for me at first to be able to start performing regularly with a band, because we decided we wanted to play Rock and Roll in English.
Eventually we made it and we have a huge following in Cuba. We have a lot of fans and friends. It was hard at first, but then it all worked out.
I couldn't keep up with both jobs. I was making music at night and playing all over the place, in clubs, bars and theaters and then in the mornings I had to wake up super early to go to the university. Eventually I had to choose and music won," she says.
The song "Technicolor," was written at a time when Sweet Lizzy Project was not allowed to perform in Cuba and it is one of the best Rock songs you will hear this year.
She says, "We were not allowed to play in Cuba, because of some stupid paperwork. We were stuck, so we decided to enclose ourselves in this very little, very tiny apartment and we wrote and recorded our songs. "Technicolor" was one of the songs.
Let me remind you that in Cuba you don't have music stores. If you want to buy simple things like a guitar string or drumsticks you can't. There aren't any Guitar Centers or any other music store, so it is really hard. (To get these things) you have to have friends and you have to have contacts, like oh I know this lady. I remember there was a lady and she has guitar strings. How does she get them? I don't know. Maybe she has a son or a daughter or another family member who can travel and then supply her with guitar strings. I don't know. It is basically the same thing with everything. That is how it works.
I remember we used to play at this really nice hotel every night. One night there was a group of Canadians there and they had so much fun and we became friends that night. We kept in touch and we are still in touch. One of the guys was so impressed with the drums that we had back then, because literally it was a piece of #$@. It was the ugliest thing you have ever seen in your life. It was different parts of different drum sets. It was different colors and it was terrible. It didn't sound so good either even though my drummer is really good. It was not his fault, it was just the instrument was really bad. The (Canadian friend) said I am going to give you guys a drum set. I am going to buy it for you in Canada and I am going to bring it to you. We thought ya' sure. A month later he was back in Cuba with a drum set. That is how incredible Canadians are. We love you guys. You are so nice and so generous."
We get back to talking about the song "Technicolor," and she says, "Yanet Moreira played the cello for this album. Some of the songs have cello. She came to the band later on, because for the songs that we were playing back then we thought it would be cool to have a cello player and she was great for the job.
I am very lucky, because Miguel Comas is one of the best guitar players in the world (she enthuses). I really think that (she laughs lightly). It is not just the technique, but he puts a lot of his soul (into it) when he plays and it helps that he wrote this song with me. He knows what we were trying to say and he came up with this (guitar) solo that was just perfect. It really takes a part of me every time that I listen to it. Miguel is a huge fan of Clapton and Hendrix," says Lisset Díaz.
Lisset Díaz gives us a peek into her own musical influences and those of her bandmates, "I love all kinds of music and it is not like oh this is not Rock and Roll or this is not Pop, so I am not going to do this. That is not the way that we think. I didn't come from a family of musicians, so it is not like I had a lot of musical influences when I was growing up. Also, my family was very, very poor, so there wasn't a lot of music around. I remember having an old Shakira cassette or something and that was it. I think it was her album Pies Descalzos (Shakira's third album) and I really loved it. It really inspired me and that is how I started singing. When I realized that I could sing I really liked it.
I have also always felt empowered by female singers like Celine Dion and I got to see her live at the Bridgestone Arena and it was amazing. It was the first time, so it was very special. I love Heart and last year it was a great experience for me and the Sweet Lizzy Project when we got to open two of their shows. It was part of the Love Alive Tour. I never thought I would meet them, talk to them and to see them perform live. The truth is even though I write most of the songs, we make music together and Miguel writes as well. He is the producer and the guitar player and he has his own influences. The same happens with the keyboard player or the drummer. We all have our own influences. When we are making music we all put our own souls into it. That is why one song can be more like this and another one may be more like that. I love that we are all different and it is cool and I love that the result is such a variety of songs. They are all different.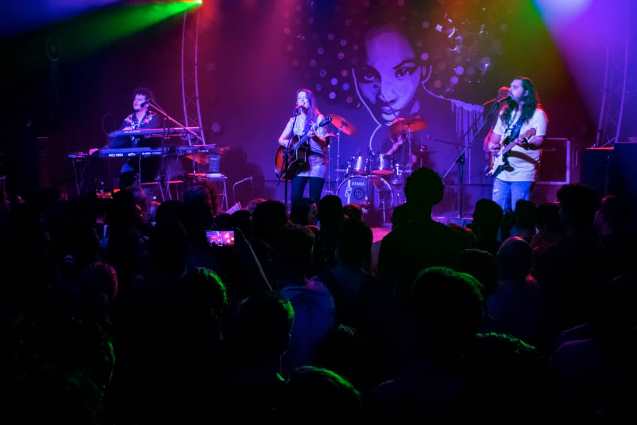 It is also what I like about Technicolor (the album). We have a first album that is called Heaven and it was more personal. It was more like my album. When I listen to (the new album) I don't get bored. I can listen to it over and over again, because each song is different and each song reminds me of a different moment of our lives. It has been a long journey from Cuba to Nashville. We have been working on this album for maybe three years. There is a lot of history there. That is something that I would like people to know and to appreciate. It's not just the music, but the history behind it and the history behind it is really the story of our lives. It was one of the toughest periods of our lives when we came to the United States."
Another one of the songs that appears on the album Technicolor and that was recorded in Havana, Cuba is the English cover of the Enrique Iglesias song "Súbeme La Radio," or in English "Turn Up the Radio." The song however, as we alluded earlier is a lot different than the original.
"There is a super funny story about "Turn Up the Radio." Descemer Bueno (one of the writers of the song) is Cuban. He is our friend and he saw us play live once. He said hey guys would you like to do an English version of the song "Súbeme La Radio." We said sure, but in my head I thought he was going to use whatever English version we came up with to record the song with another famous artist. I didn't think he was going to make us play the song.
Descemer Bueno is such a talented songwriter and he has been around forever. His work is huge and the fact that he was talking to us and asking us to do this was huge for us. When we sent the song back to him in English he was very happy about it. He told us we needed to make a video for the song, because if you do it I am going to post it on my social media and you will get a lot of followers. I said wait a minute I am not singing this song. This is not my song. It was definitely a huge opportunity. "Súbeme La Radio" was super popular and it was getting a lot of attention. It was a great opportunity for us even though it was not our song. We made a lot of changes, because we wanted to make it our own.
He said you need to give me a video for this. Imagine that! We didn't have a penny to make a video. This was on a Tuesday and we had to have the video by Sunday. We gathered a team. We need to do this, because we didn't want to let these people down or to disappoint Descemer. We need to deliver the video, but again we didn't have any money.
We looked for the cheapest place we could find. The place where we filmed the video used to be an amazing building for super wealthy people, before the revolution. Now it is almost completely destroyed. There are three families that still live there, but I think it is dangerous. It was dangerous for us to film there. It was so dirty and so crappy we thought this is perfect. It is going to look exotic (she giggles). If felt like we were looking for this on purpose.
The other thing was we didn't have any money to make this look pretty or cool or expensive, so (we thought) let's get creative. Let's add something extra to it, for example we did just one shot from the beginning to the end. That was hard, because we had to rehearse it and we had to do it over and over again. We had to wait for the perfect time of the day when the sun was in the perfect spot and the light was great. There were several details we had to take care of. The sound on the video was recorded there. This was not a studio version played on top of the video. Everything that you see and hear happened there. I think that was very cool, because it was not only a video, but it was a live session. It was hard too, because it was super, super hot and the computer was shutting down every five minutes. We had to be quick. It turned out great. By the end of the day when I saw the footage I thought oh my god this is perfect. This is the perfect video for this song.
We posted it on Wednesday of the next week after some editing and it was huge. We had a thousand views every day. That was big for us. Our YouTube channel was not that big and we didn't have a lot of subscribers, (but then) the numbers went up super-fast," she says.
What was the impact on the career of Lisset Díaz and Sweet Lizzy Project? It was huge in Cuba.
"There were a lot of people who definitely did not know about the band before and after that video came out the radio was playing "Turn Up the Radio," every day on all of the stations. It was on every channel on TV. We became famous all over the country thanks to that song," says Lisset Díaz.
So Lisset what were you thinking?
"(She laughs as she says) okay we just need to wait for the next song that Descemer and Enrique Iglesias write and then we will do an English version. That's perfect. I don't have to do anything (more laughter)," she says.
Once they got to Nashville (we will get to that, be patient), Sweet Lizzy Project revisited with sound engineer Niko Bolas some of the previously recorded songs.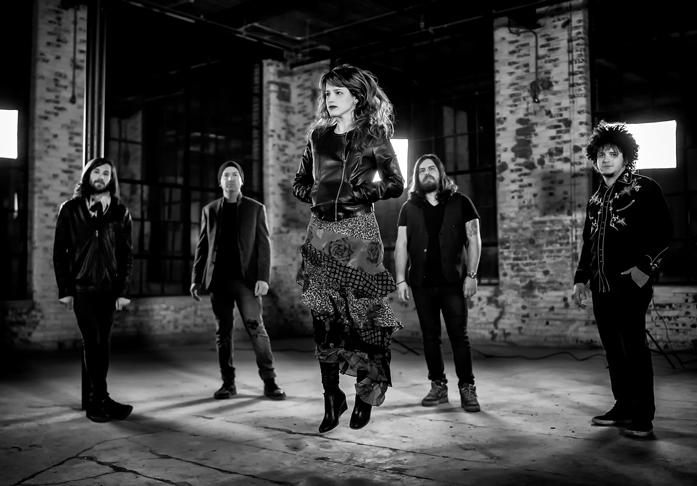 "When we first showed Niko the music he was talking with Miguel about the technical aspects of the music (and how it was originally recorded). He was so impressed and he wanted to know how he knew how to use those things. If you didn't have this how did you do that? He said we need to release this album the way it is right now. It is impressive and he thought the sound was very special. He respected the sound a lot and it meant the world to me.
We decided we wanted to change a few things. For example "The Flower's in the Seed," was not on the original album that we recorded in Cuba. There were some other tracks that we decided to include on the record later on.
On the fourth of July in 2018 Blackbird Studio was so cheap, because nobody was going to record there (on that day). We thought okay we are going in there and we are going to record as much as possible. It was like a toy store for kids. We didn't record the whole album, but we were able to record once again some of the stuff that we didn't think was perfect. Something I love about this album is it has the old sound from our little studio in Havana, but it also has the polished and amazing sound of BlackBird Studios. That is so awesome," she says.
We know you have been wondering all of this time what the connection is between Raul Malo and The Mavericks and Sweet Lizzy Project and how they ended up in America, so this is how it all went down.
"Two and one-half years ago PBS went to Cuba, because they wanted to film a special documentary called the Havana Time Machine. It was about the Cuban music scene, different artists and we were part of it. The Mavericks and Raul Malo were the hosts of the show. That is how we met. The first time we met we took him to the little apartment where we recorded. He freaked out. He said you record here? He was so sweet. He was so impressed, because we were doing so much with so little. He listened to the music and he loved it. Right away we felt that connection and he was so nice. He is part Cuban. Both of his parents are Cuban, so we also felt that connection, because of his roots.
He was starting a record label MonoMundo Recordings and he thought it would be great to sign a Cuban band. He said I will call you in a few weeks and we will set this up. It is all going to work out. Then he left the apartment and we thought we aren't going to see this dude again. It is not going to happen. We always think that, because there are a lot of people in the music industry that make promises and they are empty promises. We have always been focused on working hard. If something good happens or someone wants to help great, but we are not waiting for anybody or anything to happen. We are going to just do it ourselves and do it the best that we can. We thought we weren't going to see this dude again, because it is a huge band and it would take a lot of money and time to bring us to the States and make it work. He made it work. A month later he was calling and he sent several emails. He was touring and he was very busy. He said you guys should come over and see the place where we live. That was the first trip to the States for Miguel and me. We came here to make sure this guy was not a psychopath or something and that he was for real. That was the first time here in Nashville and we met all of the family. We met Niko Bolas. We went to BlackBird to see the place and it was amazing. We came back to Cuba with the idea of bringing the band back to the (United) States altogether.
That was the plan. We had our appointments to get our visas at the American embassy and two days before our interviews the embassy was closed by Trump's administration, so we just thought we have to stop and this is not going to happen. They said we can't receive you guys right now. Nobody really knew what was going to happen. What am I supposed to do now? Do I have to leave the country? It was like the end of our dream. I thought this is it. It was going to be really hard to go back to reality. Even though we were doing great in Cuba and especially after "Turn Up the Radio," that did not compare to the huge opportunity of being able to come to Nashville and to record a new album in Nashville. That was unbelievable.
(Eventually) our cases were reviewed and we got our visas to come (to the United States). That is how we made it, but it was literally a last minute thing. It was one of the most stressful situations I have had," she says.
Our conversation drifts back to the album once again and this time we talk about the song "Tu Libertad."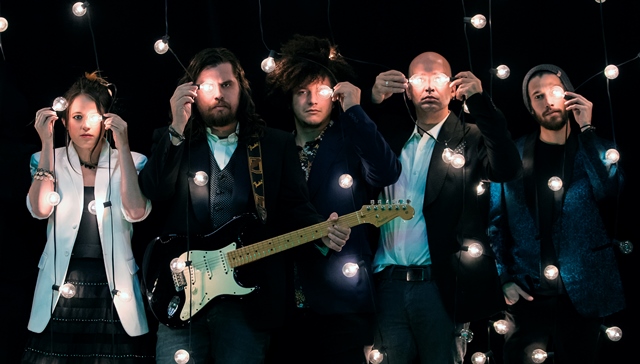 "This song was written by a Cuban friend (Reinier Aldana) and it was part of the first demo that Miguel and I did. It was on the very first album. He wrote this song after some kind of unhappy personal relationship. It was about the experience he had after breaking up with this person. To me when I listen to it I really feel (a sense of) freedom with every aspect of it, not only in a personal relationship. I love that the video we made shows that. It is about a person who is escaping from something. She is running, driving and swimming until she gets to a point when she can find a shelter. I am not going to tell you more, because you need to see the video (she teases mischievously).
"Tu Libertad," literally means "Your Freedom" in English. When you (listen) to the song it is very relaxing and it has a Brazilian sound. We really like the song and we can hardly wait to start performing it live," explains Lisset Díaz.
She talks about the last two years in America, "We have been to nineteen different states already, which is a lot. A lot of Americans haven't been to nineteen states. I think it is so cool, because this country is so big and every state is like its own country and it has its own special things. I really enjoy that.
We were here and making videos and working on the album, but we were not playing that much and we needed to play. We bought this old minivan, thank god. I hope it lasts a little bit longer. We went on the road everywhere. Wherever I could find a gig we would go there. Before we had a booking agent it was me all of the time writing emails to all of the venues in the state. I would do something like search music venues in Georgia. I had a list and I would send emails to all of them. If out of two hundred venues, two of them replied we could go and play there and that was perfect. That is what I did and that is what we did. That is how we started. Then we got a (booking agent) and we kept working and we went everywhere. Our agent is getting our schedule ready for this year right after our album release. It is looking great so far and I can't wait to be back on the road. This last three months has been kind of tough, because we had to prepare all of the videos for Technicolor (the album). Those videos took a lot of time. We are ready to hit the road again and get to know some new places."
The story of Lisset Díaz and the other members of Sweet Lizzy Band is so inspirational and we would be remiss if we did not also mention the help that they received from Raul Malo, his wife and The Mavericks. That being the case we asked Lisset Diaz what she would say to other about pursuing their dreams and this is what she told us.
"Giving up or quitting is not an option for me. This is what I love and there are a lot of problems, trouble, obstacles and tough situations that you just have to overcome, but at the end of the day it's worth it. It has been hard for us, because of the place that we came from. I see it like a blessing and it really is for me. When I think every day of where I come from, I appreciate every single day of the life I have right now, all the plans that we have and all of the things that we have done. I really appreciate it and I don't take anything for granted. It helps me to feel grateful, very thankful and very lucky.
My advice is don't give up. Keep going and be passionate about something and fight for it. Never forget the people who helped you to get to where you are right now."
On October 16, 2020 Sweet Lizzy Project will be hosting a virtual concert from their official Facebook page for the release of their new single "Sticky Situations." You can read our review of the song here.
You can follow Sweet Lizzy Project on their official Facebook page here. You can also visit the website for Sweet Lizzy Project where you can pre-order the new album Technicolor and order some pretty cool merchandise.
Photos by Karla Llanes
#SweetLizzyProject #Lisset Díaz SweetLizzyProjectNewAlbum #SweetLizzyProjectTechnicolor #RaulMaloTheMavericks #RivetingRiffs #RivetingRiffsMagazine
This interview by Joe Montague published February 8th,2020 is protected by copyright © and is the property of Riveting Riffs Magazine All Rights Reserved. All photos are the the property of
Sweet Lizzy Project unless otherwise noted and
all are
protected by copyright © All Rights Reserved.
This interview may not be reproduced in print or on the internet or through any other means without the written permission of Riveting Riffs Magazine, All Rights Reserved