Marcella Detroit (also known as) Marcy Levy is in her words "the thing that wouldn't go away." She says that half in jest and half seriously, as she has enjoyed an incredible career as a stunning vocalist, a good guitarist, one of the best songwriters on the planet and more recently she has added to her vast repertoire fashion designer.
For the sake of this interview we are going to toss accepted writing style out the window and dispense with referring to her by only her last name and default to Marcy or Marcella Detroit. After all when this writer asked at the beginning of the interview if she had a preference she said in a mock, snooty, upper class British accent "No you may only call me Marcella," before saying yes it was okay to call her Marcy, and for the record Marcy was in fact born in Detroit. This is the first part of a two-part interview with Marcella Detroit aka Marcy Levy.
Marcy toured as Marcella Detroit on two separate occasions with Eric Clapton and co-wrote several songs with him. She toured with Bob Seger, Leon Russell and was the co-founder of Shakespeares Sister (with no apostrophe) who stayed perched in the # 1 spot on the U.K. charts with their song "Stay," for eight consecutive weeks.
It is simply not possible to name all of the people with whom she has worked as a session singer, but we will name a few, Aretha Franklin, George Duke, Stanley Clarke, Al Jareau, Bette Midler, Burt Bacharach, Leiber and Stoller and Carole Bayer Sager. Her songs have been recorded by Chaka Khan, Belinda Carlisle, Al Jareau and Philip Bailey.
She also recorded the duet "Ain't Nothing Like the Real Thing," with Sir Elton John, as well as recording duets with artists such as Alice Cooper, Robin Gibb, Jimmy Ruffin and Johnny Lee.
Marcy grew up in Detroit, Michigan and her father loved to play his ukulele. They would also sing together. Singing was always a part of Marcy's life. In school she sang in school choruses, choirs, duets, trios, quartets and quintets from the time she was five years old.
"I can remember getting up in front of people in my classes and doing all of the talent shows. I just loved music and my father encouraged it and when he took me to see Fantasia I was just eight. I was awestruck with that movie. I loved the music and I loved Tchaikovsky. I loved all of the animation that went along with it. We saw it on the big screen when it came out.
When it was time to take up an instrument in school I picked up the violin and I played that for four years. I became frustrated with it. It really sounded bad, because I couldn't get a vibrato going and no matter what I tried, I just could not do it. I couldn't get the technique and I felt like my teacher wasn't really helping me with that. I just thought ehhh. I do (however) appreciate violin and cello. I love string instruments and I love guitars.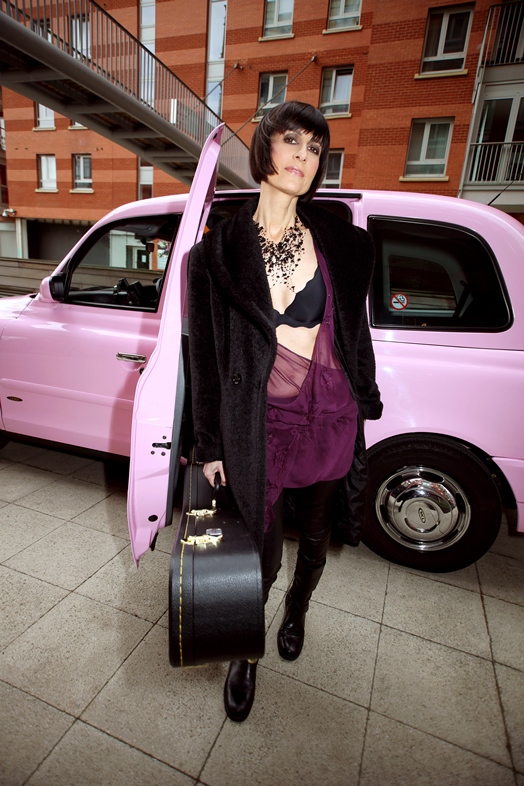 During that time my dad also taught me how to play the ukulele, so I got a ukulele songbook and I played. I figured out all of these chords and melodies and because I could read music I was able to figure out melodies for some really complex songs. One beautiful song was called "Poor Butterfly," which I believe Ella Fitzgerald did way back in the forties or something (Editor's note: also recorded by numerous other artists including Sarah Vaughan and first recorded in 1917 by Edna Brown aka Elsie Baker). It is a gorgeous song and I still love it to this day. My dad bought me a guitar when I was about eleven. It was a twelve-string and then he bought me an electric guitar when I was twelve, which was very cool. I couldn't believe that he bought me an electric guitar (she laughs lightly). I must have hounded him," she says, as we jokingly talk about how brave her father must have been to buy an electric guitar for his daughter who was on the verge of becoming a teenager.
Marcy continues, "I loved The Beatles so much that my parents gave me permission to go see them with another friend of mine named Marcy and we went to downtown Detroit to see them play. I was completely awestruck and if you would have told me that I would meet every single one of them except for John later on in my life I would have thought you were nuts. I would have thought no way that could never happen.
I have always loved music and I have always been drawn to it. I decided to make it my career when I was eighteen and I had just come out of a very physically abusive relationship. I always turned to my music for an emotional outlet. I remember singing in this park, because I was a big hippie back then. I was singing away and I realized how much comfort my music gave me. I remember looking at the sky and saying out loud, this is what I am going to do for the rest of my life. I just pinpointed my laser beam focus and that is what I did."
Marcella Detroit (Marcy) grew up in Detroit surrounded by Motown music, which was in its heyday and those influences were evident decades later when she released her 2013 album The Vehicle.
She talks about that, "That was a conscious decision. I wanted to get back to my roots and do something. Growing up in Detroit I was inundated with the Motown sound. It was all over the radio and my parents always had the radio playing in the house. At school in the cafeteria it would be blaring out with The Supremes and The Temptations and Aretha, although she wasn't signed to Motown I don't think (Editor's Note: Aretha Franklin was signed first to Columbia Records, then Atlantic Records and Arista Records). She is still my favorite singer of all time. I was really influenced by it and every time that I feel like what I am trying to do is sounding a little bit contrived I revisit my Blues or my Soul roots. I wanted to do an album that was more soulful and funkier. I love real funky music. I love old R&B, but current R&B sounds a little too slick to me. I like it raw. I like to revisit the raw stuff, like old James Brown and a multitude of other artists that I love."
The conversation segues back to the moment that Marcy knew she wanted to pursue a lifetime in music, "When I looked up at the sky and I said this is what I am going to do for the rest of my life I asked how am I going to do this? I used to listen to this really cool station in Detroit called WABX and they had a weekly or maybe it was daily ad thing and they said advertise here. I called and I said girl singer looking for Blues band. That is how it started.
I got a call from this band that was called The Bad Luck and Trouble Blues Band. That was my first experience playing with bands. I moved out of the house and I moved about 45 minutes away to Ann Arbor (Michigan). My parents were flipping out, because I was moving in with a bunch of guys. At the time I was not interested in guys at all, because I had come out of that abusive relationship. I was scared and I was petrified of men and in particular this man who beat the living crap out of me. I was just interested in music and I didn't have a lot of money. I was living on Twinkies and these guys were all macrobiotics, so it made for some interesting conversations (she laughs). We did gigs locally around the Detroit area.
Then I did Jesus Christ Superstar. I auditioned for the musical. It was a touring group that toured all over the Midwest for about nine months. I was the understudy for Mary, but damn that girl would never let me sing that part. One time she had the worst laryngitis and I was ahh and my mouth was watering (while) thinking, I'm going to get to do it tonight, but damn she eked out a voice. She was really good and I never got to do it. I had one big line (for her character) "See my hands through a mass of blood," (She sings the line). After that I got back into working with bands.
After Jesus Christ Superstar I joined this duo with this weird older guy and I was singing songs like "The Shadow of Your Smile," and all of these beautiful Burt Bacharach songs. We were playing in downtown Detroit at this really dodgy club. One night I was wearing this pink, high neck blouse and this crushed velvet cranberry long skirt. I am in the middle of a song when this weird guy comes in with a gun. The guy I was working with said get down, so I got down behind the bar. Luckily the guy never actually shot anyone, but it was really frightening. I stopped working with the guy, because I thought this probably wasn't going to get me anywhere. He was not very nice and he said oh you'll never do anything.
I started auditioning and I heard about this band called Radio King, which was a Soul band. Then was a band called Loki and I worked with this guy named Luke Smith who was a great R&B / Soul vocalist, who I invited to come and work with me when I was with Bog Seger, but I will get back to that in a minute.
I ended up working with the band Julia after a friend of mine told me about them and I went to an audition then they hired me. A great guy was leading the band and his name was Bill Mueller. They were a good bunch of guys and they did a lot of covers. Once in a while Bill would write a lot of stuff. The band was very good and they were very into The Beatles. That is why they were called Julia (after the song). I joined them and there was another girl who joined the band for a while and we sang backgrounds. We toured all over the Midwest, Michigan, Ohio, Wisconsin, Indiana (as well as) New York.
Because we were well-known and getting a lot of gigs we were asked to open for David Bowie at the Fisher Theater and I think it was '72. It was pre Bob Seger. I loved David Bowie. David Bowie was one of my idols, so I was completely awestruck. We did our set, Bill Mueller and I heard our beautiful song echoing through the Fisher Theatre. It was a gorgeous theater with incredible acoustics.
We were asked to leave the backstage when we finished our show, because David didn't want anyone backstage. I was okay that's a shame, because I really wanted to meet him. You know what, because I am such a rebel I snuck back there. I said I left something in the dressing room and they let me pass. I saw him in the dressing room and he was looking in the mirror. I was blown away. We went out front and we watched him. It was one of the highlights of my life.
Bob Seger's manager "Punch" Andrews was looking for a band for Bob and when he saw us (at a gig) he asked if we were interested. We were invited to jam with Bob and after that we were all hired."
Marcy talks about the Bob Seger days, "After we were picked up by Bob Seger we started touring all over the country. It was the first time that I had flown on a jet. We went down to Florida, stayed in a nice hotel and did gigs. I swam in the ocean for the first time and I nearly drown, even though I was a great singer, but thankfully I was saved. Anyway, I digress. We were touring all over the country.
About halfway through my stint with him (Seger) and I believe it was for about a year that I had worked for him he fired the rhythm section from Julia and he just kept Bill Mueller and me on. He hired all of these Jazz musicians and they were from Tulsa, Oklahoma. The drummer was named Jamie Oldaker, the keyboard player was named Dick Sims and they hired a congo player named Sergio Pastora. They were amazing musicians and they really changed the whole sound of Bob. What we had before was great and I loved the guys in Julia, but I guess Bob wanted something different.
I toured with Bob for another six months and I was a little fed up with it. One night I was not having a good day and I was feeling frustrated and so was my boyfriend who was on the road crew. We were stuck in a hotel and we weren't being paid, so I decided to leave. I left the band and I went back home to Detroit. About a month later the band from Tulsa that toured with Bob called me and said come to Tulsa and we will start a band of our own. That was the next step."
A new chapter was about to be written in the life and career of Marcella Detroit and she explains, "Leon Russell was one of my musical idols and I had pictures of him all over my bedroom. I had every one of his albums. I had album covers all over my room. My parents thought I was nuts. My mom would say what are all these album on your wall? I said mom I'm going to sing with him one day. She said oh yeah and she laughed. Every time that he came to Detroit I would go and see him. He was part of the Mad Dogs & Englishmen thing and I didn't (realize) that he was also part of The Wrecking Crew. All I knew was that he was this amazing artist and he was an incredible keyboard player. He brought this Gospel sound to what he did and he had these incredible background singers. Every time that I saw him I said I want to do that! I would go to every show that he did in Detroit and once I went to his hotel where he was staying. I waited for him to come in and I rode up the elevator with him (she laughs). I was like a groupie. I told him that later on, but he didn't remember me from that. I looked pretty strange. I was way ahead of my time and I was Goth. I had shaved eyebrows. What do they call that, emo? I was way ahead of my time compared to everybody else.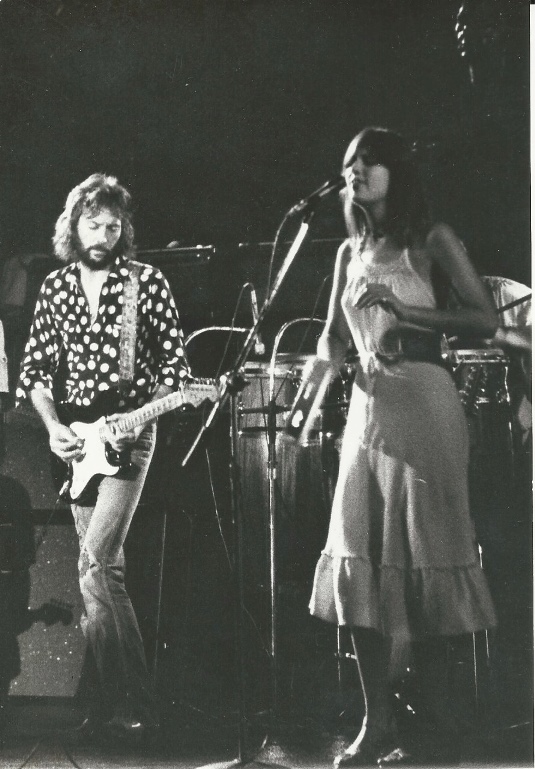 I moved to Tulsa in '73 and we had a great band. We were like the giant fish in the little pond. Tulsa was a hot bed of great music, Leon Russell, Shelter Records, J.J. Cale and you name it there was so much good music coming out of there. There was also Country music, but I wasn't interested in Country. My goal was I have to meet Leon and I have to sing with him. We would play and all of these people would come and sit in with us, J.J. and Leon when he found out about us he would come and play with us. Carl Radle who was with Derek and the Dominos with Eric Clapton heard about us and he came to check us out. When Eric was looking for a band after Derek and the Dominos, Carl said come and check these guys out.

When I was living in Tulsa, before we were discovered by Eric that is really when I started writing more (songs) and more and more, because I had this great band and I wrote new stuff, so they would be yeah, yeah, yeah that's great, let's play it. We would do a lot of my songs. We would do our covers and then we would do a set when we would do all of our original stuff. Sometimes Dick Sims the keyboard player and I would write stuff together. When I joined Eric I had more opportunities to write and on a bigger scale.

I was asked by Leon Russell to go on his next tour with him, but I was also involved in a relationship with him. I thought that I was madly in love with this man, but I was in love with his music and I was in love with him in my way. I went on the road with Leon and toured with him for nine months and Jaime Oldaker joined Eric's (Clapton) band instead.

Back in the day Leon would always have one girl as the solo singer and I got to do that (you can still hear the excitement in her voice). I was so beyond excited. My dream came true and I really believe that you can do what you really want to do. You just have to want it more than anything in the world. If you want anything in the world you just focus on that and you can make it happen. I did that and the tour ended nine months later and so did my relationship with him.

All the guys that I had been with in the band in Tulsa were working with Eric. After doing 461 Ocean Boulevard and they were about to do another record down in Jamaica, so they asked me to come down there to join them. I went and five days later I was asked to be in the band. I was in his band twice, the first time from 1974 to '78 and then again in '84 until '85. During that time Marcella Detroit also co-wrote several songs with Eric Clapton including the iconic "Lay Down Sally."

Marcy recalls how the song was written, "We were doing what would become the Slowhand album and Glyn Johns was the producer. We would go there every day and sometimes Eric would have a song already for us to record and sometimes he wouldn't and we would write one on the spot. One day he said to me Marcy I want to write a song called "Lay Down Sally." I love titles. Words have a rhythm to them and they evoke a melody for me. I immediately heard a melody and I picked up a guitar and I started playing. It was a different groove when we first wrote it. My idea was it was more of a Bo Diddley tune (She imitates the groove). We worked on it all day, but we had trouble writing the verse. George Terry, Eric and I were trying to hammer out a verse for it. We had a chorus idea pretty much, but when it came to the verse we were stuck. People got bored and the keyboard player left after five hours of working on it. All of a sudden Eric starts playing the iconic groove that it became on the record and Glyn said let's record it now! I got on the electric piano and everybody took their places and we recorded it. Eric said to me go back to your hotel room now and write the lyric. I was okay and I came back the next day with the lyric and we recorded it. I had to write the melody for the verse too, because we didn't have a melody, we only had a melody for the chorus. That was it."

As far as her songwriting process Marcy explains, "First of all I used to write with oh I've got a melody and I don't know where this is going to go. For me it is all about being inspired. Have an idea of what you want to talk about. Usually for me that's a title. It has to be about a subject that inspires me. It might not inspire somebody else, but it has to be something that I feel is very inspiring to me or I will run out of fuel to complete this little three minute masterpiece or whatever it might be. It has to be something that really inspires me. Somebody will say something or I will read something, I will hear something or I will see a movie and I will be inspired by it and then I will think of a title that relates to it. For me that is the most important thing to have a great concept and one that is fueled with massive inspiration. Make it personal. I don't write about what I don't know about anymore. It has to matter to me. It has to be honest. If it doesn't matter to me who in the hell else is going to want to hear it? I have more of a chance of it being relatable to others if it is honest and I believe it. If nobody else believes it why bother? I usually start with a title and then I create the chorus first, because that is the most difficult part of a song.

The chorus is the most important thing, every song and every book has a title and a concept. What am I trying to say? What is the message that I am trying to get across? Why am I interested in this message and why is it my mission to create that? Once I have that concept then I have to decide what the background of it is going to be. What kind of musical genre is it going to be? It just depends. Even if I write with other people I can get into their brain, but I still have to draw from my own personal experience. When I first started out I just made stuff up. I made stuff up and I drew from my own experience. It was not really personal, but I think it has to be personal. It can be personal no matter what you write about. I write about social injustices and things that affect me that are going on in the world. That shows up in my music a lot. I feel it is important, because everything has a concept no matter what, art, music, film, theater. Everything has a concept and that is what you are trying to convey. You are trying to share an emotion.

You can read part two of our interview with Marcella Detroit here. Return to Our Front Page

#Marcy Detroit #MarcyLevy #RivetingRiffsMagazine #rivetingriffs #LayDownSally

This interview by Joe Montague published October 4, 2017 is protected by copyright © and is the property of Riveting Riffs Magazine All Rights Reserved. All photos are the the property of Marcella Detroit

, unless otherwise noted

and all are

protected by copyright © All Rights Reserved.

This interview may not be reproduced in print or on the internet or through any other means without the written permission of Riveting Riffs Magazine, All Rights Reserved