Paloma del Pozo - Spanish Designer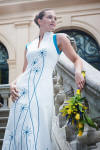 It was a Friday afternoon in February when I left the Melia Princesa Hotel in Madrid walked to the estacion de metro Ventura Rodriguez and made my way by train to another station Gran Via – Pedro Zorolo. It was a sunny day and the open square, like so many in Madrid was bustling in a good way. There was energy, laughter and a lot of people in this city of seven million. I was on my way to Calle de las Huertas, Number 5, fashion designer Paloma del Pozo's shop. Like many of the shops in this neighborhood of narrow winding cobblestone and pavement streets, the shop Ojalá Paloma del Pozo has a somewhat modest storefront, but it is full of treasures inside.
My journey to interview this warm, delightful woman began several months earlier when I noticed a fabulous blouse that was worn by Spanish television, film and stage actress Silvia Marso. When I commented on Ms. Marso's Instagram account about the blouse, she immediately without my asking directed me to Paloma del Pozo. The interview was arranged by her equally warm and personable assistant Sara.
So here I found myself thousands of miles at home surrounded by blouses, skirts, dresses and slacks rich in texture and colorful and in the presence of two fabulous women.
Charlott Axenström - Swedish Designer

When you are a little girl growing up in a tiny village in the very far north of Sweden where during the middle of the winter you may only have at most two hours of daylight and you are in some of the best ski country in Sweden, one supposes like most children you turn to sports or music. Charlotte Axenström became an avid skier, something she still enjoys today, but her imagination and creativity, also took her in another direction.
"It was kind of boring," Charlott Axenström says chuckling, "I think that was the key (to where this all began), you are so bored and it is so dark. I am a skier and a swimmer and I was into clothes. I started sketching clothes when I was five years of age. I think when you have so much time to think about it you (become good at what you are doing). That is what I tell my daughter you have to be bored (first) to be good. If you have everything just in front of you there is no reason for your brain to work."
"I grew up in the same village in northern Sweden as Ingemar Stenmark the skier (Editor's note: Ingemar Stenmark won more international ski races than any other skier in history, including eighty-six World Cup wins). I think with it being dark for twenty-two hours every day (in the winter) that was part of the creative process. Yes it is dark and you are out skiing, but you also stay
Double Down Cosmetics

One listens to Marvin and Kristen Speller talk about their married life, about Doubledown Cosmetics, the work they do in the community and Kristen's music and you are immediately struck by how supportive they are of one another and the warmth of their love for one another.
The seeds were sown a long time for their cosmetic line, as Marvin explains, "I will give the shorter version of this. Almost nine years ago when we first met, I was in North Carolina and I had custody of my daughter and she had a dance recital that weekend. As a guy I knew nothing about makeup. I didn't know what I was going to do. I put my thinking cap on and I called Kristen up and I said I need help and lots of it. She knew a lot about makeup and I thought she was an expert. She was always so passionate about it.
Fast forward down the road and she was always sharing makeup tips with people and always watching people and the gurus. I have always been of the mindset that when you are with someone that you love, a close friend or family member and definitely a significant other you try to help them make their dreams come true.
I kept saying to Kristen you really need a product, because this is something that you are so passionate about and you are so great. She was a guru from my perspective. She was really