Diane Marino at Her Best!

In what may be her best album to date, Soul Serenade the Gloria Lynne Project, Nashville based pianist and Jazz singer Diane Marino brings to life the songs of Gloria Lynne whose career spanned a phenomenal six decades.
Marino talks about her decision to delve into Lynne's catalogue, "I wasn't too familiar with her, but I heard the name years ago. While I was doing a gig up in New York my drummer was Vince Ector and he was Gloria's drummer for the last fifteen years of her life. He knew all of the material very well. We were doing a tune called "I Am Glad There Is You," which I recorded on another album many years (earlier) and I didn't realize it was one of her signature songs. When we played it on the gig Vince told me that. Then he said her big song was "I Wish You Love," and that I know and I sing it too.
It got the wheels turning and I investigated her catalogue of music. I thought these are really cool tunes. I had not heard a lot of them. She also recorded a lot of standards, but the songs that we picked out for this CD I had never heard before."
As for why this particular selection of songs she says, "It is a combination of the song and how she sang them. It is great stuff. How do you put your finger on how it struck you emotionally? When I listen to her versions, I go wow. She was very dynamic and very soulful. I sang from the heart and the soul and it just went right through me. That is what brought me to these particular songs and in listening to more of her music I came to appreciate who she was and what she did."
Andrea Miller - Maybe Today

Andrea Miller, Jazz singer, by choice, but who measured up well with the best R&B and Pop singers when she delved into those genres earlier in her career, may be one of the best young singers on the music scene today. She has drawn praise from the late Al Jarreau with whom she was booked for an extensive tour, before his passing in 2017 (Editor's note: Al Jarreau passed away, before the tour took place.), from Celine Dion for whom she recorded a demo, as she worked with David Foster, as well as Alan and Marilyn Bergman and from producer, arranger, songwriter and musician Tom Saviano (Dolly Parton, Melissa Manchester (as musical director and arranger), Dusty Springfield, Sheena Easton and others).
Andrea Miller recently released her new album Maybe Today, composed and arranged by Michael Cunningham, an album that they hope to tour with full orchestral support.
She talks about the album, "They are all of Michael Cunningham's arrangements and compositions. It is almost like I am the voice of Michael Cunningham on this particular album. These are his wonderfully orchestrated string arrangements. A lot of his original material is on the album.
We did some covers, "It's All Right With Me," "The Water Is Wide," and "You Would Be So Nice To Come Home To." He wrote everything else on the album. I love his writing so much and he in turn likes my voice a lot, so we decided to make an album together.
Outside the Soiree - Erin McDougald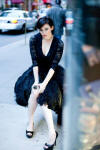 Outside the Soiree, is the name of the album by Jazz singer, arranger and songwriter Erin McDougald, a fitting title for someone who does not shy away from putting a different twist on her music and music that has been composed by others. That said McDougald is far from being a wild child or the 2018 version of in your face Punk come to set the Jazz world on its ear. She is in fact far from that. Erin McDougald is respectful of Jazz music heritage, tips her hat to lyricists and composers from yesteryear and she allows a lot of room for her musicians to showcase their talents. All of those elements are on display in abundance on Outside the Soiree.
For many years now Erin McDougald has been compared to Jazz icons such as Anita O'Day and as flattering as that may be it does a disservice to the tremendous talent that McDougald possesses. This writer would like to suggest that it is now time for Jazz journalists, reviewers and fans to start using Erin McDougald as the gold standard to which other artists should aspire.
The music from Outside the Soiree is being played on the radio from coast to coast with stations in New York City and in Los Angeles raving about Erin McDougald's vocals, her arrangements and the fabulous musicians who compliment her so well, such as, Mark Sherman (vibraphones), soprano and tenor saxophonist Dave Liebman, percussionist Chembo Corniel, pianist and guitarist Rob Block, drummer Rodney Green, Tom Harrell (trumpet and Flugelhorn), bassist Cliff Schmitt and Dan Block (flute, clarinet, alto and tenor saxophone).