Alice Wallace - Country's Next Star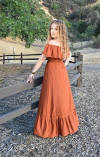 "Poor Cleopatra," the second song on Orange County, California singer, songwriter and guitarist Alice Wallace's third and best album yet, Memories, Music & Pride sends a strong signal that the affable young woman who grew up in Florida has definitely arrived on the Country music scene. Not since artists like the Judds, Reba and Janie Fricke arrived on the scene decades ago has a female Country artist appeared with such impeccable vocals that remain true to the classic Country sound and who also possesses tremendous gifts as a songwriter. Did we happen to mention that she is also an incredible yodeler? We will have more about that later.
Alice Wallace is signed to California Country Records a new record label founded by two superb singers and songwriters and multiple music award winners Manda Mosher and Kirsten Proffit, who comprise two-thirds of CALICO the band. Memories, Music & Pride was co-produced by Proffit and Steve Berns (who also mixed the album), with Eric Craig acting as the Executive Producer. Alice Wallace has a wealth of talented and experienced people behind her who are also very savvy about the business side of music and this should enable her to realize her full potential as one of the best Country music artists to come our way in this millennium.
As for the song "Poor Cleopatra," Wallace says
AJ Lee
For those of you who are reading this and thinking that Bluegrass music is a forgotten genre, I challenge you to spend one-half hour talking to nineteen year old Bluegrass singer, songwriter and musician AJ Lee, because by the time the conversation is over, she will have you ready to try your luck at Bluegrass and she may even have convinced you to try and recruit others. Lee has already been the recipient of numerous music awards in California and if her new self-titled EP, featuring a collection of six songs is any indication; her future looks to be shining pretty brightly.
Lee's vocals on the opening track Gillian Welch's "Miss Ohio," are reminiscent of Alison Krauss when she was the same age. The electric guitar solos are excellent and unfortunately we do not have a breakdown of album credits by individual song, so we cannot tell you if it is Jon Abrams or Paul Lacques on his Telecaster. Throughout the album AJ Lee accompanies herself on her 1954 accoutic Martin guitar and at times on her mandolin. This may surprise some readers, but we prefer Lee's vocals over Welch's when it comes to the song "Miss Ohio," because we with think AJ Lee's vocals are more subtle and prettier, whereas Welch's have more of a bite to them. We suppose the argument could be made that the lyrics lend themselves to Welch's more sardonic take, but we still prefer Lee's interpretation of a young woman cruising with her "rag-top down," and who is resisting her mother's persistent efforts to get her married off.
The rest of the musicians who appear on this EP
Katie Garibaldi - Rooted Clarity

California singer, songwriter and musician Katie Garibaldi is not a rocker, not a twanger and nor is she a jazzer. Her pretty and ethereal vocals and her relatable songs are self-described as being gentle Americana or orchestral Americana. Certainly the gentle Americana description is appropriate for the five songs from her new EP Rooted Clarity. Nathan Lowry's beautiful violin and cellist Emily Nelson give a fuller sound to "Bird In A Cage," and help to create a breathtaking beauty that compliments Garibaldi's vocals.
"I have heard that a lot of artists sometimes think that louder is better and I don't fit into that belief. I think the way my voice is naturally and pairing it with the string players and the orchestral sound is what comes with that description. The gentle and ethereal (description of my music) comes from my voice and how it is naturally soft.
Americana to me is music from the heart, it is storytelling and it is truth from your heart. It is all about showcasing the lyrics and the emotion behind the lyrics. It is always most important just to get the story across," says Katie Garibaldi.
The other common theme throughout the music of Katie Garibaldi is that of love. It is evidenced on several of her albums in songs such as the upbeat and fun, "Lock the Door, Lose the Key," and "Always Kiss Me Goodnight," both from the Follow Your Heart album, "Hey, Hey Darlin'," "Love Without Chains," "and "Falling For You," (all from Next Ride Out), and her single "Baby We're In Love."