Laura Benitez and the Heartache

In conversation singer and songwriter Laura Benitez uses superlatives, lyrically she utilizes metaphors and vocally she is emotive, all of which are effective in communicating her message, often autobiographical, either from personal experience or things she has observed. In many ways she is a throwback to the 1960s and early 1970s when protest songs and social commentary through music were in vogue and yet one should not mistake her music as an attempt to mirror or clone artists such as Bob Dylan, Joan Baez, Sam Cooke, Pete Seeger, and a little later Patti Smith, as she clearly blazes her own trail.
LauraBenitez sat down with Riveting Riffs Magazine recently to talk about her new album California Centuries by Laura Benitez and the Heartache. Depending on where you are on the ideology spectrum you may find yourself cheering this album on or in various degrees of disagreement with the lyrics and tone, but the one thing you should all agree on is these are well crafted songs, played and sung superbly. Full disclosure by this writer that he is firmly encamped in the section cheering this album on.
The opening song "Bad Things," sets the tone for the album, each verse its own story drawn from real life.
"The first verse was inspired by my partner Brian's family, his mom, sister and stepdad all lived in Paradise California and they lost everything in the wildfire. His sister was driving to escape the flames and she got caught in a traffic jam and she had to just run. The first verse is a true story about his sister running for her life. You don't think that
Carla Olson - Triple Threat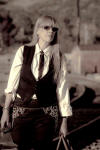 It is rare for an artist / musician / producer to have three almost simultaneous releases and even more rare to have those three be simply outstanding, while being considerably different and yet that is exactly what Carla Olson has accomplished this spring with first her album Americana Railroad, secondly with her cover of The Who's song "I Can See For Miles," with proceeds going to Teen Cancer America. The find project is a beautiful collection of Gordon Lightfoot songs, on an album titled Ladies Sing Lightfoot, featuring artists such as The Kennedys, Natalie Noone, The Textones, Susan Cowsill, IIsey Juber, and Carla Olson sings the closing song, "Ringneck Loon."
The seeds for Americana Railroad, the album, began to take root in the early 1990s with Carla Olson, Gene Clark and Saul Davis, Carla's manager and husband.
Carla Olson says, "It was a nice idea to be a vehicle for a couple of Gene's songs, one of which is "I Remember the Railroad," and not many people know about it unless you are a big Gene Clark fan. Also, his songs, "Train Leaves Here This Morning," and "Kansas City Southern." Gene was a railroad guy. I remember buying a package of shirt patches that they used to sell in train stations and train shops and I bought four or five of the Rock Island Line. I gave a couple of them to Gene when we were first hanging around together in the eighties. He said this is so cool I am going to sew them on my jean jacket as soon as I can. He was a huge reason why we tried to cobble this together. The other song was The Long Ryders' song that Stephen McCarthy wrote called "Here Comes That Train Again." Those were the songs that started the ball rolling."
Heidi Newfield

Music fans have been waiting a long time for another album from Heidi Newfield, the northern California (now living in Nashville) Country singer, songwriter and musician with the Bluesy feel or as she takes occasion on The Barfly Sessions to demonstrate the Blues artist with the Country twang. Just when fans were excited about her new album's release last spring the COVID-19 virus dashed those plans, but she is forging ahead now with an August 28 th (2020) release.
She explains why, "The light is still on and those of us who are still here, are still looking for great music. Regardless of if I get to tour it or not, I feel it is my duty to put (The Barfly Sessions) out.
Putting a record out like this has been such a labor of love, with so much time and effort by a multitude of people, not just myself. To make a record like this and without having put music out for a while and then boom you go okay I am going to jump. I am going to put this thing out and then this happens.
I had to search my heart and ask am I prepared for what may or may not happen when you put a record out and you cannot tour around it? That is a whole new world for all of us when we are putting music out. It is like stepping off a cliff and you don't know if you are going to fly or not. I pray that is the case. I hope that is the case. I hope it catches on and if it is a slow burn that is fantastic. If it catches on fire that is great too. The world of uncertainty that we live in right now is very difficult. We are calling it the year that never happened."
We pointed out to Heidi Newfield there have been many Country music artists who embarked on their careers without ever having set foot on a ranch or a farm, but how her story really