Alice Wallace - Country's Next Star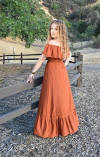 "Poor Cleopatra," the second song on Orange County, California singer, songwriter and guitarist Alice Wallace's third and best album yet, Memories, Music & Pride sends a strong signal that the affable young woman who grew up in Florida has definitely arrived on the Country music scene. Not since artists like the Judds, Reba and Janie Fricke arrived on the scene decades ago has a female Country artist appeared with such impeccable vocals that remain true to the classic Country sound and who also possesses tremendous gifts as a songwriter. Did we happen to mention that she is also an incredible yodeler? We will have more about that later.
Alice Wallace is signed to California Country Records a new record label founded by two superb singers and songwriters and multiple music award winners Manda Mosher and Kirsten Proffit, who comprise two-thirds of CALICO the band. Memories, Music & Pride was co-produced by Proffit and Steve Berns (who also mixed the album), with Eric Craig acting as the Executive Producer. Alice Wallace has a wealth of talented and experienced people behind her who are also very savvy about the business side of music and this should enable her to realize her full potential as one of the best Country music artists to come our way in this millennium.
As for the song "Poor Cleopatra," Wallace says
Ulrika Ölund - Singer, Songwriter

Ulrika Ölund's current album Paper Planes and Skylines is appropriately titled as it provides a snapshot of the Swedish Country music singer, songwriter and musician's life and career. If you are expecting to hear a Swedish accent on these songs or some Swedish concoction of what Country music sounds like from a Nordic country you are going to be disappointed, because Ulrika Ölund sounds like she would be comfortable in Nashville, Tennessee. Guess what? She is and she has spent a lot of time in Nashville and she cut her teeth in the music industry as an intern at Curb Music Publishing. Ölund describes her music as Pop with a twist of Country, but we believe that North American audiences will hear her music as Country with a twist of Pop.
If you enjoy the music of Little Big Town and Lady Antebellum you are probably going to enjoy the music of Ulrika Ölund. Her song "Those Were The Days," is an excellent feel good song that will put a smile on your face. It is up-tempo, with great vocals and solid instrumentals. It would be difficult to imagine concertgoers staying seated during this song, because the music encourages you to stand up and to sing the chorus back to Ölund as she performs. Like most good Country songwriters Ulrika Ölund draws from personal experience and "Those Were the Days," talks about her time growing up in Undrom, Västernorrland in northern Sweden, five and one-half hours drive north of Stockholm. The lyrics draw great word pictures and it is easy to imagine the scene unfolding. There are plenty of great songs on this album, but we would buy the
Joy Burnworth

Anderson is the name of a city in Indiana and it also happens to be the name of a very good musical duo of the same name. The duo comprised of Joy Burnworth and Howie Anderson draws its name from both Howie Anderson's last name and the fact that Joy Burnworth grew up in Anderson, Indiana. The American duo boasts a ton of experience and talent, as Burnworth has worked with producers David Foster, Gerry Gallagher (Led Zeppelin, ACDC) and Matt Hyde (Jonny Lang, No Doubt). She has performed at both the Academy Awards and the Emmy Awards and Burnworth has opened for artists such as Buffalo Springfield, Pat Benatar and Juice Newton. Joy Burnworth is also the first call sub for Jefferson Starship. Howie Anderson is the lead guitarist for The Strawberry Alarm Clock and he has worked with Spencer Davis, actor Ben Vereen, Robbie Krieger of the The Doors, Peter & Gordon, Lynyrd Skynyrd's Ed King, Jerry Corbetta (Sugarloaf) and drummer Buddy Miles to name but a few.
Joy Burnworth sat down with us recently and talked about her own career, the duo Anderson and where it all started for her.
"I write all of the lyrics and it all starts with me. I start with the lyrics and I usually have some type of a melody, but sometimes I will not have a melody and Howie will start playing things to give me ideas. I take the lyric and the partial melody and I go to his house and we hash it out. We figure out if it is going to be in 3/4 or in 4/4 and figure out the tempos and all of that. He comes up with the harmony and helps me to take the melody in a different route based on what he is playing," says Burnworth.