Scott Tarulli New Album
When a big name performer utilizes quality musicians to accompany their performances the contributions of their sidemen and women can sometimes get overlooked when the glare of the spotlight is on the featured performer. There is also however, another train of thought and that is smart and talented artists surround themselves with people who make them look good and often give them a lot of space, so their talents can be showcased as well. Scott Tarulli falls into the latter category and he has recorded with and / or shared the stage with the likes of, Jerry Marotta, Tony Levin, Mark Egan, Ira Coleman, Nile Rodgers, Steve Gadd, Abe Laboriel, The Temptations, Bernard Purdie, Chuck Rainey, Peter Eldridge and Guthrie Govan.
Scott Tarulli has also released three solo albums, Transitions in 2002, September in Boston Live in 2004 and the 2012 release of Anytime, Anywhere. There is also a fourth album in the works for 2017.
In addition, to being a very good guitarist and composer, Scott Tarulli teaches at Berklee College of Music in Boston.
Scott Tarulli's story begins in Medina, Ohio where his family lived until Tarulli was ten years old. At that point they moved to Boston and he has lived in the Boston area ever since.
Nilla Nielsen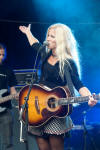 Singer, songwriter, musician and suspense novelist Nilla Nielsen may be the best kept secret outside of Sweden or at least to North American music fans. The very congenial Swede has just released a brand new album Good Day and it opens with a fabulous the fabulous title song. It starts out slowly, before hitting stride as a mid-tempo song and Nielsen's vocals are backed by strong musicians, Bengt Johnson on drums, Niklas Ekelund (electric and acoustic guitar, mandolin), Erik Urban on bass, Tomas Pettersson on Hammond organ and Nilla Nielsen also plays harmonica.
Nielsen describes "Destination Unknown," in this way, "It is about a true adventure. I was traveling around in Sweden with my best girlfriend at the time and we met so many wonderful people. When I sing this line about, "Angels in worn out shoes," it was a homeless person that we met on the street and it just moved us. We had a very special connection. The song is about us traveling around, all of the meetings, how open the feeling was, how open the world was and how it felt. We were never alone. It doesn't matter where you are, (because) it is about who you are there with."
Most of the songs on the album were both mixed and mastered by Nilla Nielsen, with the exception of a couple of them that are from older recordings, but
she mastered those ones as well in her own studio.

Read More
Sweden's David Carlson

There are some things that strike you immediately about David Carlson and despite his great talents as a songwriter, singer, guitarist and a poet, all of that takes a back seat to his personal achievements that are of far more importance, becoming sober eleven years ago when he won the battle over alcohol and after many years of being misdiagnosed, he finally obtained the correct medical assistance in the past couple of years and with the aid of the correct medication and hard work on his part he now effectively manages the bipolar part of his nature.
One of the more striking things that you notice about David Carlson when he speaks is the genuine sense of gratitude with which he lives his life. It is never pretense, but it flows as naturally from his lips as his beautiful vocals on songs such as "Till Alla Dom." You hear the warmth and the pride in his voice as he pauses momentarily during our conversation to take a call from his son.
Carlson has worked with some of Sweden's more prominent artists, as a member of the Raj Montana Band with Dan Hylander and Py Backman, a band that garnered four gold abums. He has also performed and / or recorded with Tove Naess, Susanne Alfvengren, Mikael Rickfors and the late Ted Gärdestad. Carlson toured as a member of The Crickets, which at the time included two original members of Buddy Holly's band. Yet despite all of his musical accomplishments over the past four decades, at