Rich Spina and The Fire

Rich Spina (pronounced spee nah) earlier this year (2015) released Silly Melodies & Soliloquies, a solo album comprised of twelve songs, eleven of which were written and arranged entirely by him and the third track "The Fire," was a co-write with Cindy Smart. Those who live in Cleveland, Ohio may recall the teenage Spina bursting onto the local music scene and fronting a couple of bands, the most notable being Love Affair, which enjoyed some success with the song "Mama Sez." When Love Affair disbanded on amiable terms, Spina put together another band, Richard & The Heartbeats, whose song, "Somebody Loves You," was a national pick by Billboard Magazine. Those who are aficionados of the 1960s music scene may recognize Rich Spina as the former keyboardist and music director for Gary Lewis & the Playboys for eighteen years, before he started touring with Peter Noone of Herman's Hermits. Spina's songs have been recorded by artists such as Billy Hufsey, Gary Lewis and Sonny Geraci (The Outsiders – "Time Won't Let Me," and Climax – "Precious and Few"). In addition he has produced Billy J. Kramer, Mark Lindsay and others.
"It took much longer (to complete) that the album should have taken, because I was doing it in between my touring. It took me a year or a year and one-half to get the album done and I was knocking off songs whenever I could. I was purposely putting a collection together that was a little more adult. In other words, I stayed away from my Rock side on that album and I was keeping it more Pop. In
Ali Handal

Ali Handal an American singer, songwriter and guitarist living in Los Angeles serves up gritty Rock songs that cut like a knife. She also sings tender, ethereal songs like "Last Lullaby." Handal's songwriting and her playing on acoustic songs such as "Distance," and "Sweet Scene," remind us of John Denver. If you are reading this and thinking she cannot possibly be all those things, we would say to you, yes she can and she really is that gifted and versatile as an artist. If you are looking for a reference point for Ali Handal's music we would suggest you take a big mixing bowl and put in a bit of Joan Jett, some Neil Young, a slice of John Denver and a dash of Ann and Nancy Wilson of Heart.
Ali Handal started life in Amorok, New York, the oldest of three girls. When she was twelve years old, she drove across the country with her father in a station wagon when her family moved to northern California and during that trip she became the temporary guardian of the family fern named Rhoda. Her mother and her sisters flew to their new home in the Bay Area.
"I was excited to move to California and for me it was really fun. I had relatives in San Jose, California which is south of where we went to live, but it was a very positive experience," she says.
Although she had started taking piano lessons when she was four years old she later switched to guitar and Ali Handal talks about that decision, "I heard Led Zeppelin and that is what made me really want to play guitar, because I just thought they were the
Cindy Alexander An American Girl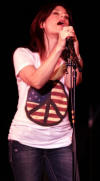 Music fans everywhere are in for a real treat, as Cindy Alexander is about to release her new EP An American Girl, which can stand on its merit as a quality collection of great songs, but it also serves as a prelude to an even bigger undertaking, a double album that is already in the works.
On the phone from her home in Los Angles, singer, songwriter and musician Cindy Alexander explains, "I am doing a series of EPs and I am working with different co-writers / producers, so the next EP I will be doing is with Colin Devlin and I have some more surprises in store. We are going to take these EPs and put them together into a double album with probably some extra tracks, some live tracks and a couple of extra songs. We are going to create a double LP, Four Sides of Cindy Alexander. The next EP will probably come out in March and three to four months after that there will be another one. I would say probably next year by this time."
The eight song An American Girl record demonstrates masterful songwriting, fabulous vocals, top-notch production quality and good musicians. In addition to Alexander playing piano and singing the EP also features, Chip Moreland (drums and background vocals), Carl Sealove (bass), Phil Parlapiano (keyboards and piano), Dave Darling (guitar and background vocals), Randy Ray Mitchell (guitar, dobro), percussionist Tina Trevino, violinist Serena McKinney,