Scott Tarulli New Album
When a big name performer utilizes quality musicians to accompany their performances the contributions of their sidemen and women can sometimes get overlooked when the glare of the spotlight is on the featured performer. There is also however, another train of thought and that is smart and talented artists surround themselves with people who make them look good and often give them a lot of space, so their talents can be showcased as well. Scott Tarulli falls into the latter category and he has recorded with and / or shared the stage with the likes of, Jerry Marotta, Tony Levin, Mark Egan, Ira Coleman, Nile Rodgers, Steve Gadd, Abe Laboriel, The Temptations, Bernard Purdie, Chuck Rainey, Peter Eldridge and Guthrie Govan.
Scott Tarulli has also released three solo albums, Transitions in 2002, September in Boston Live in 2004 and the 2012 release of Anytime, Anywhere. There is also a fourth album in the works for 2017.
In addition, to being a very good guitarist and composer, Scott Tarulli teaches at Berklee College of Music in Boston.
Scott Tarulli's story begins in Medina, Ohio where his family lived until Tarulli was ten years old. At that point they moved to Boston and he has lived in the Boston area ever since.
Marcella Detroit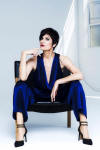 Detroit (also known as) Marcy Levy is in her words "the thing that wouldn't go away." She says that half in jest and half seriously, as she has enjoyed an incredible career as a stunning vocalist, a good guitarist, one of the best songwriters on the planet and more recently she has added to her vast repertoire fashion designer.
For the sake of this interview we are going to toss accepted writing style out the window and dispense with referring to her by only her last name and default to Marcy or Marcella Detroit. After all when this writer asked at the beginning of the interview if she had a preference she said in a mock, snooty, upper class British accent "No you may only call me Marcella," before saying yes it was okay to call her Marcy, and for the record Marcy was in fact born in Detroit. This is the first part of a two-part interview with Marcella Detroit aka Marcy Levy.
Marcy toured as Marcella Detroit on two separate occasions with Eric Clapton and co-wrote several songs with him. She toured with Bob Seger, Leon Russell and was the co-founder of Shakespeares Sister (with no apostrophe) who stayed perched in the # 1 spot on the U.K. charts with their song "Stay," for eight consecutive weeks.
It is simply not possible to name all of the people with whom she has worked as a session singer, but we will name a few, Aretha Franklin, George Duke, Stanley Clarke, Al Jareau, Bette Midler
Peter Himmelman - No Calamity

Peter Himmelman is a lot of things and he does them all very well, he is a guitarist, film and television scorer, a composer, a lyricist, an author and he is also a motivational speaker to corporate America. Peter Himmelman is also a husband and a father and we do not want to lose sight of that, because early in his career Himmelman had a very realistic opportunity to explode globally and become part of the very upper stratosphere of Rock artists, but he chose to redefine his career and placed his family as the first priority in his life.
Fast forward and Peter Himmelman is the go to guy for Fortune 500 companies who are looking for a way to refresh and to renew their corporate vision and to expand the vision of their employees. He also has a brand new album with a collection of songs that are thought provoking and that possess contagious grooves and rhythms. We should also point out that these songs were written prior to the fall of 2016.
That is borne out when Peter Himmelman talks about why he chose the title No Calamity for the album, "I just liked the sound of it. It is a lyric from one of the songs on the record. I chose that title well before any elections were in full swing, just to let you know that it is not a comment on any particular thing. It is more of a personal thing."
Himmelman talks about his unusually named song "245 th Peace Song," "I think I picked that title, because it is subtle