Kirsten Nash Interview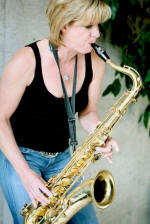 Kirsten Nash is best known as one of North America's premiere saxophonists, singers and songwriters and yet our conversation on this day started with a place in Ms. Nash's career that many people may not be aware of, her gift for creating outstanding musicals. She has two in her hip pocket, both of which have been produced and both of which should be picked up by major theatrical companies looking for something fresh and exciting and which will deeply move their patrons.
"My first rock opera was Alice in Modernland and that was workshopped in 1997 -98 in New York. The premiere of the play was in San Diego in 1999. We did it with Maxwell Enterprises who did Damn Yankees and a whole bunch of other stuff. Alice in Modernland was a take on the old classic and it was about the human journey. It was a sixteen year old's view on life and about leaving home young. It is about a journey of this gal who wanted to make it in the business. It did very well and it is a good play. Eric Nederlander (of the well-known theatrical family) wanted to do it on Broadway in October of 2008 and my manager and I had a meeting with him in New York. Eric said, 'We are going to do it,' that he was going to get married and they were going to fly to Italy and then they would be back. 'Give me a couple of weeks after we get back and we will clear out one of our theaters.' I was ecstatic and I was like yeah! I was getting groceries one day and I was thinking, he must be getting back pretty soon and he was back. On the front of People Magazine was a picture of him and he was about to sue Jerry Seinfeld for alienation of affection, because Eric Nederlander's wife,
Amy Black and Memphis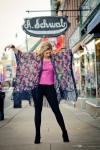 Nashville based singer and songwriter Amy Black is a lot of things, but there are some things that we should dispel immediately about what she is not, just in case readers get the wrong idea from some of the titles for her original songs from her new album Memphis. Her song "It's Hard To Love An Angry Man," is not about any men she knows, unless we want to count the men she has encountered and observed at Home Depot (more about that later) and it is definitely not about her main squeeze, her hubby, whom she describes as her Zen master. The killer tune "The Blackest Cloud," in no way suggests that Amy Black suffers from a Chicken Little syndrome either, far from it, as in the view of this writer she projects as being a happy, positive individual and our conversation was often punctuated with her laughter.
Memphis is the fourth album that Amy Black has released and in some ways is a continuation of the stylistic thread of her previous record, The Muscle Shoals Sessions.
Talking about the evolution of her music Black says, "I think the shift started with my second album, This is Home that I recorded in Nashville and you can definitely hear on the first three songs on that album a little bit more of a soulful, Blues thing going on, before the rest of the album goes onto singer / songwriter kind of Americana.
About the same time that I was recording the Nashville album I had this day booked at Muscle Shoals and I was going to record this song called "Alabama," that I wrote for my grandfather who was from the Muscle Shoals area I thought it would be cool to go
Maurice Williams Interview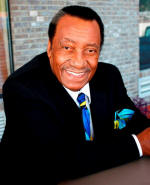 Music historians, fans of the Doo Wop era and the period in which R&B and Beach Music began to emerge, do not need an introduction to the music of Maurice Williams and the Zodiacs, for songs such as "Little Darlin'," first recorded by and written by Maurice Williams, the hit song "Stay," and "May I," are songs to which generations of music fans have sung along. After fifty years as a recording and performing singer – songwriter, Maurice Williams is attracting a lot of attention again, this time with his new album Maurice Williams and the Zodiacs 50 years… The trade mark falsettos, which put songs such as "Stay," at the top of the charts in the 1960s and also made it a hit song years later, for Frankie Valli and the Four Seasons, are back once again. In 1960, Shane Gaston was serving up the falsetto vocals and on the new album it is the late Fred Mangum who provided the falsetto vocals. The combination of Maurice Williams's vocals and Fred Mangum are pure magic.
Williams remembers how it all started, "I started singing in church and then I went to the high school glee club. Our director said, 'Have you guys ever thought about singing Pop songs?" We said we thought about it, but we never did anything and the director said we ought to form a Pop group. I could play piano, one guy could play guitar, another could play bass and we added some drums and I came up with The Royal Charms (for the name of the group). We started winning talent shows and we won one at the local high school. Then there were some guys from the University of South Carolina that started booking us for the university