NIKKOLE Is EXOTIC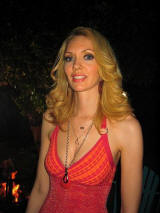 These are pretty heady days for Los Angeles based, urban / R&B singer / songwriter Nikkole, as she just learned, that she has been accepted in eight different categories for Grammy Award nomination consideration (the nominations occur in two stages) and she also learned that she has been selected as one of ten semi-finalists for Cosmopolitan Magazine's StarLaunch, which is being cosponsored by Nikon, CoverGirl, Pantene and bebe. The three finalists will be announced on November 10th and then flown to New York City, where on December 5th they will compete in a gala event at Terminal 5, as they open for Natasha Bedingfield and special guest Solange Knowles. If those accomplishments are not enough to make you swoon, then consider that in late July her companion video for the heat seeking missive, "EXOTIC," occupied the top spot on Blastro, an online video site that allows music fans to see their stars in action. Nikkole out dueled the likes of Rihanna, dance queen Samantha James and the Black Eyed Peas, to capture the top spot.
Last year, was the first time that Nikkole received consideration in the Grammy Award nomination process, as she was acknowledged in three categories, and she found that process to be Read More
.
R&B Chanteuse Alisa Ohri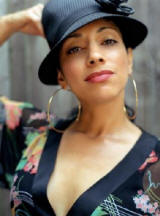 "As an independent artist, I think that it is amazing what we can do amongst ourselves, away from big industry and the huge record labels. There are people out there who want to hear good music and who want to make good music. I am loving it, and I think that we are in really special times," says Alisa Ohri, a R&B singer – songwriter who now lives in New York City and who got her career kick started many years ago, singing backup vocals for a rock band in California, while she attended university and then later performed with a group that morphed into Third Eye Blind.
With her most recent album, 'Cuz I Feel Alisa Ohri has demonstrated that an independent artist can produce a quality recording, with grooves and vibes better than most of what you will hear on FM radio stations these days. It also does not hurt that she is married to one of the funkiest bass players around Hubert Eaves IV, who for several years toured with R&B queen Erykah Badu. His father Hubert Eaves III lends his production and playing skills to Ohri's album as well and the senior Eaves is no slouch either, as he was the mastermind behind D-Train's music and Miles Davis once covered one of Eaves' own songs. As for the third musician who appears on Alisa Ohri's 'Cuz I Feel, Alex Moseley, he was one of the two musicians who backed Lisa Lisa and the Cult Jam. Read More
Soul Queen Stephanie Pickett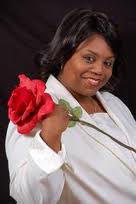 Soul singer and songwriter Stephanie Pickett's time has arrived and that is obvious by the attention the Montgomery, Alabama goddess of song is drawing from radio stations and music journalists throughout America. During the past two years, she has been riding a wave created by her stunning vocal performance on her 2009 album Finally Made It, released on CDS Records.
Signing to CDS Records is one of those rare record deals these days that seems to be working in the artist's favor. Stephanie Pickett had heard from several other labels that all seemed to have similar stories to tell her, "I had been trying to get a record deal for a long time and everybody that I tried would say, 'You have a great voice, but we aren't signing on any new artists at this time,' and (CDS Records) were the only ones that really let me in the door and things started blossoming from there," she recalls.
"In 2009, I was nominated for Best New Artist (by the 5th Annual Southern Soul Blues Critic Awards) and I won. A couple of times songs like "Run'n," made the top twenty-five. Another song "Family Man," which was written by Carl Marshall made # 1 and "Still Want You Baby," was at # 5 or # 6, so for me to be a newcomer and getting a little attention, that's good," she says.