Carolyn Striho Concert Review
Carolyn Striho and her band served up a concert on June 15th that is deserving of a much bigger stage and that is not disrespecting Callahan's Music Hall in Auburn Hills, Michigan where the concert took place, but it is a testament to just how powerful of a performer Carolyn Striho is and a compliment to Callahan's for booking such an outstanding singer-songwriter-musician.
Although, Striho is backed by a band of sensational players comprised of the aforementioned Scott Dailey, dynamic Bonnie Kaye on violin, electric bass guitarist Dave Dion, guest drummer Charlie Bongo, and background vocalist Maurya Kay, there is absolutely no doubt as to who the leader of this band is. At times Striho is like the female embodiment of Freddie Mercury (Queen) and at other times she displays her Punk Rock roots as her fingers attack the keyboard like mini jackhammers. Intensity pulsates through her body and passion infuses her vocals and every note that she plays. On the harder hitting lyrics her eyes pierce your very soul.
The band then moved into the hard hitting "Circles," introduced by Carolyn Striho singing into the hard hitting "Circles," introduced by Carolyn Striho singing "Carve my hand / carve my heart / Tattooed daggers / now it starts / Crawling around in my mind…"
Rockabilly Magic in Detroit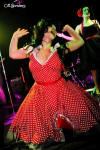 Three and one-half hours before Rio and the Rockabilly Revival fronted by singer-songwriter Rio Scafone took to the stage at Callahan's Music Hall in Auburn Hills, Michigan there was a buzz running through the people lined up outside the venue as they waited for the doors to open. Comments such as "Have you seen Rio before?" and remarks about how exciting her last concert was were common. Following the one hour and forty minute concert Rio Scafone was paid the ultimate compliments as fans waited patiently to have their photos taken with their pixie like hero with the dynamic stage personality and big vocals. In the ultimate form of adulation some fans even dressed similarly to her.
This was not your everyday club gig in a suburb of Detroit, as it was a very polished, well-choreographed musical act, backed by superb musicians and excellent backup singers. Jarod Thompson was outstanding on rhythm guitar, Charlie Bongo kept the drumbeats, guest saxophonist Mambo was solid, Sean Eric Harris is a very good upright bass player and Renee Turner and Yana Levovna were incredible as background vocalists. Rio and the Rockabilly Revival is not merely a concert, it is a memorable experience involving dance, music and elements of theater.
Rio Scafone draws upon her acting experience to tell
Circe Link In Concert - North Hollywood

On Saturday September 22nd, Circe Link and her band performed at Kulak's Woodshed on Laurel Canyon Boulevard in North Hollywood, an intimate, earthy setting that affords the audience ample opportunity to get close to the artists who are performing. Riveting Riffs Magazine took this opportunity to review the concert streaming on the internet. Backed by a solid band, consisting of her partner in both life and in music, guitarist Christian Nesmith (Air Supply, Debbie Peterson of the Bangles), Brant Biles (acoustic guitar), Jason Chesney (bass), drummer Christopher Allis, keyboardist Michael Sherwood (has performed with Yes, Toto, Air Supply, Lisa Loeb) and singers Laura Drew and Deb Tala (who also played accordion), Circe Link performed almost exclusively original songs ("No More Tears," being the lone cover tune). Dressed in a black top, black hot pants, white belt, white boots and with her blonde hair almost waist length, Circe Link's twang, as she sang what she describes as Cowboy Jazz, belies her California heritage.
Longtime friend, musician and singer-songwriter Robbie Rist introduced Circe Link and acted as the host for the evening and he did an outstanding job of demonstrating wit, while mixing in the right degree of sincerity. The ability for fans to email the venue during the concert added a unique element to the evening, as periodically, Rist read the emails and it gave Circe and her band