Katie Cole - Lay It All Down

Lay It All Down is the new album from Australian singer-songwriter-musician Katie Cole, who has made Los Angeles her home for the past three and one-half years. With Howard Willing (Smashing Pumpkins, Kris Kristofferson, Glen Campbell) at the helm as the producer and with an outstanding cast of musicians that includes drummer Aaron Sterling (John Mayer, Natasha Bendingfield), electric guitarist Time Pierce (Faith Hill, Alanis, Jason Mraz), pianist Roger Manning Jr. (Jellyfish), Gary Clark and Lenka's keyboardist and pianist Zac Rae, and bassist Sean Hurley (John Mayer, Vertical Horizon), this is Katie Cole's best album to date. Victor Indrizzo drummer for Sheryl Crow and guitarist Lyle Workman also appear on the recording. Katie Cole played the acoustic guitar parts and she played some electric guitar on the song "Crash Landing." Oh and did we happen to mention that Kris Kristofferson stopped by to lend his vocals to the mid-tempo ballad "Penelope," that chronicles the life of a performing artist. "Hearts Don't Bend," an outstanding light Rock tune whose chorus "Didn't anybody tell you / It's more than I could take / Didn't anybody mention / Hearts Don't bend, they break," clearly defines the theme and the romantic "We Started A Fire," are other stellar songs featured on this album.
Katie Cole says, "On the recording I have some incredible "A" list musicians that my producer managed to reach out to. That is one of the perks of having somebody that is really in the business. It's not just getting great players, it's getting the right players for the right songs and that can make a huge difference as far as how a song translates. Sometimes when I am sent a list of musicians that my producer (Howard Willing) is thinking about hiring, I end up Google stalking people (she laughs) and I find out all of the credits
Jane Bach - Nashville Songwriter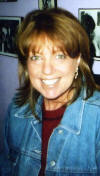 "I obviously was not raised on Country music, but in the late seventies, I guess it was during the urban cowboy days when Country music became a little bit more Popish in its orientation and I was listening to the radio and I thought I can do that. I had been writing songs since I was a child and I knew I could do that. One thing led to another and I went to a NSAI (Nashville Songwriters Association International) workshop in New York. I went to a few of those and then I decided that I needed to go down to Nashville to check it out. I went down for a NSAI weekend and the rest just kind of followed. I moved to Nashville in 1982 and I just started writing. I knew how to write, but I thought the best thing for me to do was to learn the craft. I needed to learn how to write commercially and I was very fortunate to meet some wonderful people. My dearest and oldest friend is Becky Hobbs. Becky and I began writing together and it just kind of worked from there.
I got a publishing deal very quickly within three months after moving here. Three months after that I got my first cut and it was by Tammy Wynette. It was a song called "After Dark," and it was just one of those where do I go from here moments? It was wonderful and it was great. It was a process and not only is the writing a process, but the building of a career is a process as well. It has been a wonderful journey and I have been very, very fortunate and the key to it is to do it constantly and keep doing it almost to the exclusion of everything else. It can be difficult at times. That's it. It is one hundred and fifty percent effort and one hundred and fifty percent focus on what you are doing," says Jane Bach.

Read More
The Scintillating Melanie Stace

Melanie Stace who for the past five years has made her home in New York City put on an absolutely stunning performance on July 17 th at the dinner club 54 Below located in New York's theater district. Ms. Stace who only weeks before had garnered resounding critical acclaim for her performance at Birdland captivated her audience, enticed them and at times seduced them with a performance that can only be described as truly breathaking, by a lady who not only knows how to sing really well, but who is also the consumate entertainer.
Melanie Stace was backed by a superb quartet of musicians that included pianist and musical director Doug Oberhamer, Tony Romano (guitar), David Anthony (drums) and upright bassist Brian Killeen who opened the evening with a splendid instrumental overture featuring a medley of movie theme songs, before giving way to Ms. Stace.
Melanie Stace has developed a spectacular show that she has titled Sirens of the Silver Screen, which as you can guess pays homage to some of the film industry's most scintillating ladies. We might suggest that Melanie Stace who is easily over six foot in heels and who is also beautiful, is a siren in her own right and although she has not, at least to our knowledge graced the silver screen she has performed on stage in London's West End and on Broadway.
During an earlier interview with Riveting Riffs Magazine Melanie Stace had this to say about her show, "I wanted to be focused on the silver screen sirens, but I am not impersonating
Billy Joe Shaver - Outlaw

Country music singer-songwriter-guitarist Billy Joe Shaver, a native Texan called his new album Long In The Tooth, but we caution you do not suggest to this outlaw that he is past his prime or you just might get an ornery response from a fellow who believes he is singing better now than he ever has. It is bad enough that his birthday which is on August 16th, has been widely circulated as sometime in September and that in some reports it has been suggested that there will be a big birthday concert, which Billy Joe Shaver knows nothing about. There are a couple of lines in the title song that do however a tease at that what he used to spend all night doing, now it takes him all night to do.
Shaver has long been regarded as one of Country music's top songwriters and he collaborates with another top writer, musician and singer, his lifelong friend Willie Nelson to form a duet on the song "Hard To Be An Outlaw," a song that talks as much about the changes that have occurred in Country music as it does about the character of…of these two characters. Shaver and Nelson sing "It's hard to be an outlaw who ain't wanted anymore," and then they take a shot at some of today's Country music "superstars nowadays" who are "singing 'bout the backroads they never have been down."
"Willie felt a while back that way (about wanting to do a duet). Willie is hot and everybody comes to see him, maybe they think it is going to be his last show. It happens with me now (he laughs). Willie identified with this song. When I first pitched it to him, I pitched the title and he said, man you had better write that. I went and wrote it and once in a while he would say, that's great. He was familiar with it and when I went over there
Brenda Earle Stokes - New Album

The centerpiece of Canadian singer-songwriter-pianist and arranger Brenda Earle Stokes' new album "Right About Now," is the title song, written by another Canadian Ron Sexsmith. Earle Stokes who now makes her home in New York City with her husband Gerard and their little boy Patrick has crafted a breakthrough album that clearly signals that she deserves to be mentioned in the same breath as other great 21 st century artists to come out of Canada. This writer has known Brenda Earle Stokes for about eight and one-half years and each album has demonstrated more promise and more polish. Now we can stop talking about potential, because Brenda Earle Stokes has set the bar for other Jazz artists who will follow.
Accompanying herself on the Rhodes piano, Earle Stokes is surrounded by a cast of very good musicians including Jordan Perlson whose drumming is subtle and guitarist Steve Cardenas whose elegant playing is reminiscent of the great "Bucky" Pizzarelli. Matt Arnoff (bass) also appears on the song "Right About Now." Earle Stokes' longtime friend saxophonist Joel Frahm appears on several other songs from this breathtaking album.
Brenda Earle Stokes' phrasing on the Sexsmith song "Right About Now," draws the listener into a world where the singer has been worn down by the world and which expresses the need to experience love in that moment. It is a love letter, with a longing to it. When Ron Sexsmith penned the words he left room for the listener to interpret it as either a love that has departed permanently or perhaps a love that just is absent in the moment, but a relationship still intact. Either way the sense of longing and wishing for that love in the moment, in what one imagines is the middle of the night or the very
Kendra Shank & John Stowell

New York Conversations, the splendid new album from west coast guitarist-songwriter John Stowell and east coast singer-songwriter Kendra Shank, opens beautifully with Irving Berlin's "Blue Skies." This is an elegant, laid back arrangement that is stripped bare, except for the guitar accompaniment and Kendra Shank's soft vocals ant it is just one of the many memorable tunes on an album that came together rather spontaneously.
John Stowell explains, "This was not planned at all, as you may know from the press release this was a very ad hoc, spontaneous, let's go the studio, because my old friend offered us some time. It was kind of a whim and going into the studio there was no real plan about repertoire or exactly what we would do. We liked the first session so much we began thinking about a second visit and again there was nothing in mind in terms of an album and after two sessions we realized this could become something. We paid my friend, who initially was giving us studio time gratis, as a way to reconnect after a thirty year absence. We got in touch after thirty years and it was kind of a hello how are you? (It was a) come by the studio invitation. As a result of that being so informal and so low key, there was no pressure, because we were just having a good time with my friend…two friends Kendra and John, just having a good time. It was serendipity that it had enough substance to have merited some real time mixing it and mastering it and in some cases I overdubbed some other guitars as well. John Kilgore (engineer and recording studio owner) and I went to a private school together in the sixties and we played in a Rock band together. We lost touch for about thirty years and we reconnected through a mutual friend in New York. John for

Read More
Think Twice About Nina Storey

Los Angeles singer-songwriter, Nina Storey, who is originally from Boulder, Colorado, has a brand new and spectacular album called Think Twice and it is chock full of delicious R&B influenced songs that reflect what the redheaded singer refers to as Future Retro. There is a tasteful sensuality to her vocals and the beat and melody get the listener's hips moving, the head nodding and the feet dancing.
The title song "Think Twice," paints a playful picture of a wild child and comes with the warning "Think twice before you call my name," and "be careful what you wish for." Her vocals are backed by a kick drum, crash cymbals and the song is introduced by keys. One should not be surprised that the song was inspired by Storey's reading of the Chuck Palahniuk book Damned, a quirky 2011 novel about a thirteen year old girl, "Maddy" Spencer who wakes up in hell and after being given a tour of hell by some interesting characters, she goes about reforming and beautifying that domain. Nina Storey's vocals recall the prime days of Soul and R&B in cities like Memphis, Detroit and Philadelphia and on some of her songs she reminds this writer of the U.K.'s Corrine Bailey Rae.
Standing in stark contrast to songs like "Think Twice," and the danceable "Gimmie Some," is the tender, romantically longing "This Naked Woman."
"That song was probably around the longest. I think I wrote it in 2005 or 2006 and it had never been released, but it has a huge cult following. I thought it needs to be on this record. It

Read More
Billy Vera - Big Band Jazz Interview

With lush big band arrangements by Chris Walden (the bonus track "At This Moment," was arranged by Darrell Leonard), some killer Jazz musicians, including a complete horn section and drawing upon some of the best African American songwriters from the first half of the 20 th century, Billy Vera and his business partner and friend Tamela D'Amico executive produced a stunningly beautiful album, Big Band Jazz, with Vera at its focal point as the singer. The recording was produced by Jimmy Hoyson at Capitol Studio A in Hollywood, California. Billy Vera has built a reputation as a superb music historian and he was recognized in 2013 with a Grammy Award for his work with liner notes and he talks about that experience during the course of our conversation. The album Big Band Jazz is one that you DO want to get the CD for rather than in digital form. The liner notes and the artwork alone make this a collector's item. Vera takes time to provide historical tidbits about the writers who composed the songs on this album and some of the people who recorded the tunes.
"It's an album that I have wanted to do for probably twenty years. I have always wanted to do a big band album and I have always procrastinated and I couldn't get anybody to put up any money for it or any record companies. When Michael Bublé recorded "At This Moment," and sold eight and one-half million records, I took one of the checks and I did it myself.
I had met this girl Tamela D'Amico and she friended me on Facebook. I checked her out on Youtube and all of that and I said wow she's good, she's likes the old stuff. I listened to the album and

Read More