Madeleine Davis - One of a Kind!

If we told you that Madeleine Davis has lived a life full of adventure some might easily argue that is an understatement. She grew up the daughter of a Gospel singing mother, and a pharmacist father in Columbus, Georgia, near the Chattahoochee River, with one sibling, a brother at home and a sister eighteen years older, who had pretty much left home by the time Madeleine appeared on the scene.
Madeleine Davis had a lengthy career with Boney M (By the Rivers of Babylon, Rasputin) and a small sample of her work in the studio and / or live performances includes artists such as Precious Wilson, Hoyt Axton, Peggy March, Terence Trent D'Arby, Rick Astley, Klaus Doldinger, La Bionda and Amanda Lear. She was in demand by producers such as, Ralph Siegel, Tony Monn, Michael Kunze, Sylvester Levay, Giorgio Moroder and Frank Farian.
She sang in church as a young child, acted on stage as a teenager (there is a motorcycle story we will get to in a minute) and she was a soloist with the Atlanta Symphony Orchestra, while still in university.
"My father was a lot older than my mother. He was fifty-nine when I was born and he was seventy-five when I was eighteen.
I grew up with a father who was in World War I. He had so much information for me when I went to school. When he was a paperboy the Titanic sank, so he knew the information from the newspapers of that time. He told
Beatrix Löw-Beer
- German Violinist

While on her way from Munich, Germany to play a gig in Frankfurt, uber-talented saxophonist Beatrix Löw-Beer, whose performances have taken her to England, the United States, the Netherlands, Spain, Ibiza, Mallorca, Italy, Luxemburg, France, Austria, Switzerland, numerous other European countries, Jordan, Egypt, Lebanon, Dubai and some parts of Asia, took time to talk to Riveting Riffs Magazine about her career and her life. The very congenial Beatrix Löw-Beer, while setting a high standard for herself, is as nice a musician as you will meet. She has been compared to her contemporaries, celebrity violinists such as Vanessa-Mae from England via Singapore and American violinist Lindsey Stirling. Beatrix Löw-Beer has performed with such stars as Rod Stewart, Dutch singer Caro Emerald, award winning Pop singer Sarah Connor, the first German performer to ever have four consecutive #1 hits on the German charts. Beatrix Löw-Beer's music ranges from Classical to Rock to House, Pop, Jazz and everything in between.
Artists such as Beatrix Löw-Beer are the reason why people are discovering the saxophone for the first time. When you watch her concert performances or videos to promotional videos everything from her movement to her attitude and her costumes exhibits an exuberance for performing music. One is never left with the impression that you are watching someone playing an instrument, because her saxophone becomes an extension of her persona.
Take us back to where this all began.
"I grew up in Augsburg, which is one hour from Munich, which is the capital of Bavaria. It is in the south of Germany
Woman On The Moon

Giulia Millanta who makes her home in Austin, Texas and is originally from Italy is a perpetual songwriting machine. Shortly after releasing her album Tomorrow Is A Bird two years ago, she began writing more songs, the best of which now appear on her album Woman On The Moon, to be released on April 8 (2022).
She explains, "It is part of my natural cycle. I release a record and then I take a little bit of time to promote and play shows and regroup. I then start writing again. I never write for a record, I just write.
Once I have thirty or forty songs, I start looking at them and choose what to record. I had a few songs that I wrote early in 2021 or maybe the end of 2020. I write often, but not every day, there are people who are way better than me at that. I write fairly consistently, probably every week. If you think about the fact there are fifty-two weeks in a year and I write every week, by the end of the year I have forty to fifty songs. Probably half of them nobody should ever hear and half of them are decent.
This one was different than my previous records, because I didn't record it all at once and normally, I do. I (usually) sit down with all of my songs and decide which ones I want to record. I then go ahead and book my session and record everything in three days. This time I did it differently. In June of last year, I approached Gabe and I said, hey I have a few songs. Can we record them, because I think I want to release some singles? I wasn't planning on a record. (She starts to laugh) We started recording and then one
Nick Pagliari - Hard Lessons

We have all at some point in life had hard lessons to learn and so we can relate to the title of Austin, Texas singer and songwriter Nick Pagliari's new album Hard Lessons, which was released on July 22nd. You have to dig much deeper into a conversation with this amiable musician to discover that some of his greatest influences come from his wife Carmen and the jukebox that was in his parents' home when he was a young boy.
Reflecting upon that jukebox he says, "That is where my early influences in music were from in general. I was probably six or seven years old when my father had that jukebox. We would sit in the living room and he would play little 45s on the jukebox and we would dance around and sing those songs. I was really fortunate and it was really, really cool. My brother who is about three years younger than me has that jukebox. I don't know if it still works, but I would love to hear some of those songs again someday.
There were all kinds of Motown music and I remember specific artists like The Four Tops, The Beach Boys' song "Fun, Fun, Fun," and "Uptown Girl," by Billy Joel. My mom was a huge fan of Huey Lewis, but that might have been later in her car.
All that music was an influence on me and it stuck with me as an artist. I think when you are that young, in that stage of your development you are like a sponge. Musically I soaked that stuff up and it stuck with me."
Just as he was about to embark on a month-long residency at Geraldine's in Austin, Nick Pagliari took time to talk with Riveting Riffs Magazine about his album Hard Lessons.
Rain Perry - A White Album

A White Album, by American singer and songwriter Rain Perry, which will be released on April 15 (2022) is a lot of things, a collection of songs with an activist theme, some original and some covers from music icons, it is heartfelt, and it is sincere, but what is most of all is very, very good. It was our pleasure to sit down with Rain Perry recently to discuss her new record and why these songs are so special to her.
She says, "It is definitely a concept album. It is somewhat of a sequel to my album Cinderblock Bookshelves, and it was a memoir in music about me growing up as a hippie kid raised by my dad. This record, A White Album, is me looking back at my same life and my same family, but through the lens of race. It is called A White Album, because it is me telling my story. I think most larger topics are best addressed through people and it is my way of wading into a fraught conversation and to talk about some issues that we seem to be having a hard time talking about right now."
Although the common thread is raising awareness of societal issues, the songs on the album do not come across as preachy or even protestation, but instead seem to be asking the question, why are we still here after all these years, far removed from the civil rights movement of the 1960s and yet in many ways the needle seems to have barely moved.
"Thank you, that is what I was shooting for. I think the best way to empathize is getting to know somebody and to see the way they are trying to solve the problems we are all trying to solve, how to be happy, to be fulfilled, and to be successful in life. I don't think
Love & Gelato

The lighthearted RomCom Love & Gelato directed by Brandon Camp for which he also wrote the screenplay, based on Jenna Evans Welch's novel, is a delightful film, now streaming on Netflix. The female protagonist Lina, played by Susanna Skaggs, opens the film on a tragic note, with her mother's funeral being the first scene and then fulfilling a promise made to her mother, to visit Italy and her godmother Francesca (Valentina Lodovini). If you are a romantic you will love this film. If you have been on a journey of self-discovery, perhaps this movie is for you.
Love & Gelato was filmed on location in 2021 at several places in Rome and Florence, Italy. I imagine for those who have visited Italy, it is much like the experiences this writer has when watching a film shot on location that he has visited, you feel like you are back there again. The cinematography is excellent, with the grips and camera people catching the essence of motorcycles and cars speeding their way along narrow Italian streets. The architecture is breathtaking and at times the relaxed nature of the culture and people makes this North American envious.
Twenty-year-old Susanna Skaggs delivers a brilliant performance as she is transformed from being an awkward young woman who due to being her mother's caretaker for four years had little chance to explore anything remotely resembling romance. Arriving in Italy her godmother Francesca gives her the diary Lina's mother had kept, before Lina was born and when she had spent time in Italy. Under the tutelage of Francesca Lina grows in confidence and becomes friends with Francesca's cousin Howard Riley played
The Bablers from Finland

"In all art you have to do something that is meaningful for you. If it is not meaningful for you it will not touch another heart," says Finnish singer, musician and songwriter Arto Tamminen of the band The Bablers. "It has been a bit scary, especially when it comes to the Psychadilly Circus album some of the songs are deep and even spiritual and very personal. They are not just Pop nonsense.
Talking to us from his home in Finland, the affable protagonist of this conversation explains when and how the band's name was birthed, "When young people are choosing the name for a band it is not always logical and it can be quite chaotic. In many cases later on many bands regret (the name they chose). In this case we don't. It came from the word babble or bubbling. It is active. Then we took one "b" out of the word and it looked right. We ended up using it and we never looked back since. I think one of the most important things with a band's name is it has to stick in your mind. Many of the crazy names stick there.
We (Janne Haavisto) were located in the same area and we were friends. Many of us went to the same school. The drummer Janne Haavisto's older brother and my older brother were great mates. Janne's brother's band rehearsed in the basement of our house. I come from a family with five children and we lived in quite a big house. They also had great parties (he laughs). I was there as a little boy in my pajamas listening to how they played the old Blues stuff and Irish Folk music. Janne and I just became friends.
Kincső Nóra Pethő
- Actress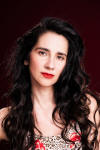 Fresh from performing as a futuristic computer from the year 2100 who is named after the Greek goddess of earth Gaia IA 01, and who sends a message back to today to warn others about a pending environmental apocalypse unless we change our ways, Hungarian actress, choreographer and dancer Kincső Nóra Pethő sat down for a conversation with Riveting Riffs Magazine, over Skype.
Obviously, only the Gaia part is taken from the Greek goddess, as Kincső Nóra Pethő explains, "I am like a computer program from the future who becomes a real person by the end of this 70-minute show. It was called Heroes of the Future and it was part of Planet Budapest 2021. There were about fifty actors and actresses working on this project, which was intended to raise the interest of kids for protecting the environment. For one week (in early December) the program ran from morning until evening. It was a wonderful experience to see how enthusiastic the kids were! I felt great about contributing to such a good goal!"
Continuing she says, "We talk to the children about how in the year 2100 there is not enough air, and the environment has been destroyed. (The message is) they have to be conscious of what they are doing in the present in 2021.
When we had some rehearsal groups and I could see a small guy, who was ten years old and he wore glasses. I was sitting in a box and at first, they could only hear my voice. They could not see me. I could see the