Anna Bonnevier of Odd Molly

In 2002 Per Holknet, a former skateboarding world champion, former drug addict and previously homeless person got together with designer Karin Jimfelt-Ghatan and financier Christer Andersson and co-founded the Swedish clothing company Odd Molly, with a shared vision inspired by a real life girl named Molly. The Odd Molly brand is now sold through a combination of boutiques and Odd Molly owned stores throughout the world. (Editor's note: Holknet and Jimfelt-Ghatan left Odd Molly in 2013 to pursue other business ventures.)
Recently, Anna Bonnevier, the Head of Fashion for Odd Molly took time to talk to Riveting Riffs Magazine from her home in Sweden.
Ms. Bonnevier elaborates on the story behind Odd Molly, "The Odd Molly brand would not exist if there was no Molly girl. It is a true story, because one of the founders Per was a skateboard pro in the '80s and at that time he lived in Los Angeles and there was one girl called Molly, just hanging around the skate parks and so on. It was her personal look and style that really inspired Per to start this brand. I know that Per and Karin bumped into each other in L.A."
We wondered just who is this Molly girl and is she still an inspiration for the designers today?
"Per often talked about her as the girl that everyone wanted to be with, because she was just having her own way of doing everything and also because of the way that she dressed. I think it is the spirit of this girl that is the most inspiring part, because she always did everything in her own way. (You can hear the smile in her voice.) That is
Interview with Benjamin Franklin V

Recently, The University of South Carolina Press published a book authored by Benjamin Franklin V titled An Encyclopedia Of South Carolina Jazz & Blues Musicians and it would make a great addition as a required or recommended supplementary text book for many music courses. The use of the word musician may cause our readers to immediately jump to the conclusion that this book only concerns those who play an instrument and that is not true. The term musician is used in the broader sense here to also include singers and some who composed music.
The author also took time during a recent conversation with Riveting Riffs Magazine to talk about the music that is covered in this very well presented book, "The South Carolina contribution to Jazz and Blues has been rich. I am dazzled by many of the musicians who came out of this small state.
Jazz is pretty well understood, although difficult to define, but Blues over time has expanded to include Doo Wop, Rhythm and Blues, Soul and maybe even other things, but those are the three for sure. I include them and I also say that a line has to be drawn somewhere and I drew that at Gospel music.
There will be Soul singers like Nick Ashford, of the group from the seventies Ashford & Simpson. Nick Ashford is from South Carolina and there is a really nice picture of him in there. I don't think many people would consider them to be Blues and definitely not Jazz, but since I brought Soul into the definition of Blues somebody like Nick Ashford is in there.
There is another name you will
German Actress Marina Welsch

A.R. Gurney's play Love Letters was presented in Solingen, Germany during the spring of 2016 and it starred German actors Marina Welsch and Michael Lesch, with Lesch also directing the play. The play originally was staged Off Broadway in New York City and starred Kathleen Turner and John Rubinstein in 1989 and Love Letters was a finalist for the Pulitzer Prize for Drama. The story is told through letters that were written by the characters, Andrew Makepeace Ladd III and Melissa Gardner to each other throughout their lives. The response for tickets was so great that an additional performance was added at Theater Kammerspielchen and Welsch and Lesch also have plans to present Love Letters in several other German cities during the autumn of 2016.
Just prior to the opening of the play in Solingen, the warm and thoughtful Marina Welsch took a few minutes to sit down with Riveting Riffs Magazine to discuss the play, the art gallery that she owns and her life and career.
As for staging Love Letters in Germany, Welsch explains, "It was my idea. Christina, Michael's wife, was my former acting agent years ago and at the time he was still very busy doing TV serials. He is quite well-known in Germany. When I changed my agency and I lost track of Christina, but when I opened my gallery in September (2015), she went there and meanwhile Michael had returned to Solingen, which was his family's home years ago. Christina and I talked about what Michael was doing and what I was doing. I always dreamt of having a literature salon, something pure, theater work at home and reading something very intimate. I asked him if he was interested in doing Love Letters. At first I felt that we might do it at their
Time Sailors of Pizzolungo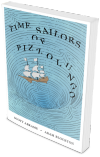 In a world where children have video games, high definition televisions to watch their favorite programs and parents take them to the cinema to watch the latest and greatest movies; it takes a special parent to give a child the gift of a book. Scott Abrams and Adam Blockton are the co-authors of a remarkable children's book, Time Sailors of Pizzolungo. It is a timeless and classic adventure book that will entertain children and adults alike. More importantly this beautiful book stimulates the imagination in a warm, positive fashion in a world in which our children need to hear a message of hope and dream dreams of what someday might be and that they might become. Join Guillermo, Piccolo, Enzo, Mario, Luca and Tony as they sail the high seas and create magic five centuries before any of these children were born.
Scott Abrams sat down with Riveting Riffs Magazine recently to discuss this children's adventure novel.
"I never set out to write a book, much less a children's book and the idea came to me in an unexpected way. Years ago I was in Sicily near Pizzolungo. We were sitting at a villa poolside and it happened to be my birthday when a friend of mine gave me a small little boat as a birthday gift. I am not sure why. The boat package said that it grows in the water. Naturally we plunked it into the pool and we sat around waiting for it to grow, but strangely it didn't grow. We said maybe it needs some time to grow and we checked it the next day and we couldn't find the boat. We searched the same pool and it was completely gone. A few years after that I was emailing with one of my friends who was with me that day and exchanging joking messages about the boat and

Read More
Joy Burnworth

Anderson is the name of a city in Indiana and it also happens to be the name of a very good musical duo of the same name. The duo comprised of Joy Burnworth and Howie Anderson draws its name from both Howie Anderson's last name and the fact that Joy Burnworth grew up in Anderson, Indiana. The American duo boasts a ton of experience and talent, as Burnworth has worked with producers David Foster, Gerry Gallagher (Led Zeppelin, ACDC) and Matt Hyde (Jonny Lang, No Doubt). She has performed at both the Academy Awards and the Emmy Awards and Burnworth has opened for artists such as Buffalo Springfield, Pat Benatar and Juice Newton. Joy Burnworth is also the first call sub for Jefferson Starship. Howie Anderson is the lead guitarist for The Strawberry Alarm Clock and he has worked with Spencer Davis, actor Ben Vereen, Robbie Krieger of the The Doors, Peter & Gordon, Lynyrd Skynyrd's Ed King, Jerry Corbetta (Sugarloaf) and drummer Buddy Miles to name but a few.
Joy Burnworth sat down with us recently and talked about her own career, the duo Anderson and where it all started for her.
"I write all of the lyrics and it all starts with me. I start with the lyrics and I usually have some type of a melody, but sometimes I will not have a melody and Howie will start playing things to give me ideas. I take the lyric and the partial melody and I go to his house and we hash it out. We figure out if it is going to be in 3/4 or in 4/4 and figure out the tempos and all of that. He comes up with the harmony and helps me to take the melody in a different route based on what he is playing," says Burnworth.
Take for instance the Anderson
Swedish Drummer Rasmus Kihlberg

Earlier this year Swedish drummer Rasmus Kihlberg who has played and / or recorded with artists such as Tom Jones, Charlotte Church, Bill Champlin, The Cardigans, Björn Skifs, Japanese singer and actress Tomoyo Harada and Joseph Williams of Toto, had a very busy tour schedule.
Talking about this year's tour Rasmus Kihlberg says, "I played with Nils Landgren. He is a Swedish trombone player and singer and with my wife Viktoria Tolstoy who is a singer. (There was also) a piano player, a bass player and the Frankfurt Philharmonic Orchestra, but not the strings, only the woodwinds and the horn players. The arrangements for that tour were made by Vince Mendoza and we played only Leonard Bernstein music, all the famous hits and also the non-famous. It was a fantastic tour and we had thirteen or fourteen concerts in a month and only in Germany. There was a full house in every place and standing ovations. Nils and Viktoria sang this music so well. Sometimes they would sing duets, sometimes she would sing one song and (other times) he would sing one. Sitting in the middle of this orchestra with my drums was also a dream come true, because I love all of the things that come from Vince's pencil (and that has been) since the first time I heard Vince's arrangement of Joni Mitchell's Both Sides Now (the album). It has been a huge experience and also a fantastic tour to be able to play enormously beautiful arrangements. It was fantastic."
That tour came on the heels of a very ambitious tour schedule for Kihlberg's wife, the accomplished and highly respected singer, Viktoria Tolstoy, whose own tour embraced several months in the fall of 2015 and the early part of 2016, with breaks to return home to be with her family.

Read More
Cindy Alexander and Deep Waters

Earlier this year Cindy Alexander released her album Deep Waters, a collaborative effort with Colin Devlin of The Devlins. It is Cindy Alexander's best album yet. It is a collection of songs that are original tunes, with two exceptions a cover of "Heaven's Wall," by The Devlins and Jann Arden's "Good Mother."
The new album opens with Cindy Alexander covering "Heaven's Wall," a 1990s song by the Irish band The Devlins, from their 1997 album Waiting. She has always had a good voice, but this song fits very well with Alexander's vocals and her phrasing is excellent. As the song builds to a crescendo at the 2:30 mark Cindy Alexander's connection with this song is evident as she repeats the chorus "Come on, take my hand, we'll rise above it all / Then we can meet as planned outside of heaven's wall."
"When I was going through Colin's material, before we were going to start writing together, I was listening to his music and I came across this song. It is a Devlin's song from the '90s and it hooked me. I loved the groove and I loved that the beat was relentless, but there was this slow and steady build. It kept going through my head and it was an earworm. When it came time to put the songs together I thought it would be nice to cover one of his songs. I love the guitar solo by Colin," says Alexander.
The album Deep Waters was difficult for us to get through the first time and only because each of the songs is so well presented that the tendency is just to keep replaying them, before finally
Toronto International Film Festival

During the recently concluded Toronto International Film Festival in Canada, Variety hosted the Creative Conscience Symposium, which had as its main topic social activism in films, particularly in independent documentary films. A panel consisting of Mexican actor, producer and director Gael Garcia Bernal (The Motorcycle Diaries in which he portrayed Che Guevara, directed Los Invisibles in collaboration with Amnesty International, directed Rosewater and won a Golden Globe Award in 2016 for the lead role in Mozart in the Jungle), American filmmaker Morgan Spurlock who first reached notoriety with debut film Super Size Me in 2004, later Where In the World is Osama Bin Laden, and the television series 30 Days among many others.) Joining Gael Garcia Bernal on the panel were filmmakers Kief Davidson and Richard Ladkani whose documentary film The Ivory Game that was viewed at this year's festival. Actress and author Maria Bello was also originally scheduled to take part in the panel, but due to the sudden death of a close friend she sent her regrets.
The session began with Variety's award winning editor Jenelle Riley asking the directors to talk about their most recent films. Spurlock began by talking about The Eagle Huntress, which he described as being about a 13 year old girl from Mongolia. He called it "One of the most inspiring films you will ever see." This trailer will do far more to tell you about the film than this writer could possibly do justice to.
Spurlock went on to talk about his