Bill Toms is Movin' On

Recently, Pittsburgh singer, songwriter and musician Bill Toms returned to playing before audiences with his band Hard Rain, as North America slowly starts to emerge from the COVID-19 pandemic. These were also the first times that he had to perform in a concert setting, songs from his new album Movin' On, so we asked him how all that felt.
"There was quite a bit of nerves. The fact that we had not played in front of an audience for over a year, and we were playing some songs we've never played before made for some uneasiness. But that first show in Columbus (Ohio) was amazing and soothed the soul. It also seemed to do the same for the audience. We are (now) certainly rebooted and ready to go. The new songs are being received well. It is always nice to have fresh bait in the box.
We started rehearsing in mid-April, and it felt good to start up those engines and to feel that band behind me. It was an unbelievable feeling. You have to remember too, that I started playing in bars in 1980, so for forty years I always had a gig and a calendar with gigs in front of me. For the first time it was all gone. That was quite a shock. Making this record was therapeutic and saved my sanity," he says.
Movin' On is a musical novella, not so much because there is exists a common theme between the songs, but rather, because they are a collection of stories set to music.
Always thoughtfully and reflectively, as Bill Toms shares his views, he says, "I think sometimes storytelling is a lost art. I love to do storytelling types of concerts. I do a lot of shows, with just an acoustic guitar
Evie Sands - New Album

Evie Sands started her music career (writer puts hand over mouth and mumbles, as it is never polite to discuss a woman's age) that many years ago, but you would never know it from her new album, her vocals are crisp, the music more imaginative than many of today's artists, and that is not a slam on today's musicians and songwriters, but rather a nod to Sands. If you were not aware of all that Evie Sands has already accomplished during her career, you might think she was just starting out, because of her unbridled enthusiasm. We wondered how she has managed to stay on top of her game and with such a contagious, positive and fun attitude.
"I trust in the music and then I let it go. I think it is probably a combination of things. It is my ongoing and will be forever, my insane passion for music, about making it, listening to it and breaking it down. I enjoy it, but I like to figure out what is that stuff sonically, what is going on and it is the enjoyment part of it. It is just ongoing. It is just like I was born, and I started listening. I just get excited. Then there is the striving to continually get better and all the skills that are involved, whether it is continuing to be a better singer, a better songwriter, better composer, a better musician, a better producer and engineer. It drives who I am.
I never look to chase the trends. I have learned that is a losing game. By the time we see and hear things, it already took a while for those things to be created and released, so by the time we say that must be the kind of stuff people want to hear and by the time I could get it out there it would be a day late and a dollar short. It would be old news. Also, it wouldn't be honest, because for me making music is all about being connected to the heart. It is a combination of my heart
Maia Sharp - New Album

Maia Sharp's new album Mercy Rising takes the listener from the highs, of the beautiful, seductive and romantic "You'll Know Who Knows You," which may be the ultimate love song of this century, to the reflective and picturesque "Things to Fix," about a relationship that has ended. The former, burns with passion, mixed with 'I want you and nobody else,' and the latter uses the metaphor of fixing broken and worn things in a house for what the individual failed to address in the relationship, that perhaps would have made a difference. The words, "What I should have said / And what I should have done / Ya' I keep skipping over number one / On my list of things to fix," will take anybody who has been in that moment back there again.
The person in "Things to Fix," stands in contrast to "John Q Lonely," from Maia Sharp's 2008 album Echo, and he was also dealing with a relationship that had come to an end.
She explains, "It shows that I have been doing it long enough that we can compare the end of a relationship thirteen years ago compared to the end of a relationship now.
"John Q Lonely," is just a crab and his reaction to being hurt is just takes his football and he is going home. He is not going to play this game anymore. He closes himself off. His reaction is to pout. If love didn't like me then I'm not going to like love.
"Things to Fix," is a pretty different mindset. It is open and she is aware enough to see that there is something at the very top of my list that I'm avoiding, but the crux
Camila Rodriguez Bohorguez

It was a journey that began as a child in Bogotá, Colombia, with dreams of utilizing a career path first as a biologist and now as a filmmaker to see the world. In between those two careers, she served as the Head of Production in a company that specialized in new and virtual media marketing for major brands. She is now immersed in several other film projects in both Madrid, Spain, where she now lives and in Colombia, but for the moment she is not at liberty to discuss them.
Each fifty-two minute segment of Atlántico directed by Daniel Landa, who was also the series creator, is filled with culture, adventure, and beauty, as the four person crew filmed in Spain, Portugal and twelve west African countries, which border on the Atlantic Ocean. Other members of the four person team were Tato de la Rosa and Vinsen Modino, the cinematographers.
"Daniel has devoted his life to being a journalist, director and a writer. He specializes in long expedition series and documentary series.
When Daniel (Landa) came to me he was looking for a way to make his product a little more modern within an internet and digital context. We tried to expand the narrative and we decided on a lot of things for social media. We found our principal sponsor Volvo who gave us two cars for the expedition.
It was very interesting to work with Volvo, because the first thing they told us was we are not a 4 x 4 adventure brand. We are not one of those brands that people use to cross Africa, but we do share the spirit, values, and the principles of the series. That is a whole other

Read More
Amelie Blake - U.K. Interview

Amelie Blake may not be a household name or at least yet, but some of the films and television shows that you watch and many of the movie trailers enticing you to watch a particular film have music created by Amelie Blake. The new mother and affable British woman, who grew up in Warrington, England is now also turning her attention to writing songs for other artists. She is very focused on her music, but also quite low key about her success, a far cry from that moment when she first learned one of her songs had been picked up.
She recalls that moment, "My husband, Mike and I created some demos and we sent them to a lot of production companies, trailer houses and publishers and eventually after hundreds of emails one got back to us. They asked if we could do music for this brief and so we did. (Next) we were introduced to several publishers. We then wrote the album Songs for the Soul, which was a collection of a few songs we had written over the years and we also wrote some new ones for the album. It was put out there for the music supervisors to pick from. It is not written for a (specific) trailer. We write them and then we do not know what is going to get chosen.
I was driving to a job interview for a teaching job, but I had wanted to get out of teaching for a few years, because I really wanted to pursue my music. The phone call came (when I was driving) and I could not answer it, so my husband answered the phone and put it on the loudspeaker. My dad said, do you know that you are on this trailer? He started playing it over the phone and that is when I started to scream (as I was driving) down the motorway, because I was so excited. I didn't care about my job interview after that."

Read More
Filmmaker Lara Celenza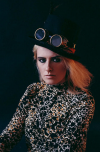 It would be easy to lose track of how many prestigious universities and how many countries film producer, screenwriter and director Lara Celenza has studied in. She has studied in Bologna, Italy, at Cambridge University in England, in Moscow and in Saint Petersburg, Russia.
Lara Celenza, chronicles her travels, "I studied everywhere. I did my bachelor's degree in Bologna, which was already very different from where I grew up, because Italy, as a country is very culturally diverse. I grew up in the south-central part of the country and then I moved to Bologna, which is a sophisticated, university city. It was much bigger than my hometown, but not like a big city. It was kind of a mid-size city.
I experienced the first culture shock of my life there. It was more of an intellectual type of environment, where everybody was sitting down, drinking wine, and discussing literature and movies. It was very inspiring, but at the same time, at the beginning I felt very intimidated (she laughs lightly). It was also kind of wild with the partying. I wasn't used to having all of these students around. My parents were very conservative and strict. When I went to university it was party, after party, after party. I had the chance to meet people from all over the country and some people from other countries.
I did the Erasmus programme in London, at UCL (University College London), which is quite a prestigious school.
I also studied in two different universities in Russia, one in Moscow and one in
Executive Producer Jeanette B. Milio

Recently, Riveting Riffs Magazine sat down with Jeanette B. Milio who depending on the project she is working on sometimes wears the hat of producer and sometimes she dons the executive producer's hat. During the course of her career Ms. Milio has garnered significant respect from her peers, networks, film studios and distributors for her keen business acumen and her knowledge of how to finance and produce a feature film or television and streaming series that will put people in the seats in cinemas or have their eyes glued to their television sets at home. We asked Jeanette B. Milio if she would be gracious enough to take us behind the scenes and explain the business side to us.
Jeanette B. Milio's story begins in a small town outside of Cologne, Germany, where she was raised by a single mother, who was a hairdresser. At first glance this would appear to be an inauspicious start and far removed from the life she built as a movie mogul, but she credits in part, her success to lessons learned from her mother (more about that in a minute).
"I didn't have any idea of what this industry would be like.
The one thing I remember that drew me to storytelling even as a child, is that I would come up with little stories and I would engage all the children on our street to perform the stories in Saturday morning theater pieces on the stairs in front of our house. I invited all of the other neighborhood kids to come and watch the plays and to pay ten pennies. I think I was ten or eleven
Fuchsia & the Grey - Eden Iris

Eden Iris' new album Fuchsia & the Grey opens with the song "Death is a Teacher," which is punctuated, but not dominated by, edgy vocals that segue into her more ethereal and beautiful singing. If that sounds like a bit of a contradiction consider that the theme is grief, but it opens with an aria that is ever present in the background.
She explains, "I had a friend pass away and the song started out that day. It was a good three years until I finished it. At that point I took it to another friend of mine who came in and helped me finish the production and the writing structure. My friend's death was the one experience, which triggered it.
It is (interesting) the way that life unfolds, that I would have to be in a particular mood or state of mind, when the song would just float into the room or my mind and how it brought comfort at the time."
The accompanying video for "Death is a Teacher," is shot in black and white and is quite stark. Eden Iris talks about the video, "I do a lot of hiking around Southern California and I have always been fascinated, because growing up in New Zealand it is such a different terrain. The video was just me with my iPhone and Samantha (Myles) that day in the park.
We stumbled upon a clearing, and we improvised those shots. I made the decision when editing it to put it into black and white to give it the feeling that you are in a dream, and you aren't sure if what you are experiencing is real. She is haunted by this persona and feeling of death, which I represented.
When I was writing the