Eilen Jewell Releases Gypsy

You will travel a long way and you will meet a lot of singers, musicians and other people in life, before you will meet someone as nice as Eilen Jewell who took time out from writing more splendid songs and family life with husband Jason Beek and their five year old daughter Mavis to talk about her new album Gypsy. A decade had passed since Eilen Jewell had been our guest at Riveting Riffs Magazine, when she released her Sea of Tears album, and our conversation began with talking about the move from the northeast United States back to Boise, Idaho a few years ago. It was an important part of our conversation, because those Idaho roots provide the color and the fabric of Eilen Jewell's music.
"I felt pretty homesick almost as soon as I left (Idaho). Part of me enjoyed feeling homesick and I wanted to keep it up and to keep it going, which is why I stayed away as long as I did. I was gone for fifteen years and then I just felt like I had been homesick long enough and it was time to go home. I really have enjoyed being back here. Part of it is Jason Beek my husband and drummer and I, we were ready to buy a house. We felt we would never be able to afford that in the northeast. Now we have this sweet little home and two years after we bought our house we had our little girl, Mavis. It has been really nice to raise her here in Idaho. I don't think I could do the big city parenting thing. I see people with strollers on subways and I just cringe. I don't think I could hack it. I am just a western girl by nature," she says.
Seguing back to the album Gypsy, Eilen Jewell says, "(It has been four years) since my last album of original material. I released an album of Blues covers in 2017. It was called Down Hearted Blues. I started writing some of the songs (for Gypsy) eight or nine years ago. They were
Cool Country Music From Sweden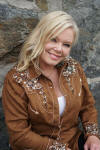 Fresh off of her tour of Finland Swedish Country Music singer and songwriter Cina Samuelson took time with Riveting Riffs Magazine to reflect upon her career and her life.
"We had a wonderful tour and we played at wonderful places that most of the times were near water. We had lovely weather, the sun was shining and the sunsets were so wonderful. It was a tour that I will have in my mind and in my heart for a very long time," says Cina Samuelson (pronounced Keena Samuelson).
The year 2020 will mark the twentieth anniversary for Cina Samuelson's solo career, after spending ten years as a founding member of the band Freetown Highway and another five years performing with other bands. During her career she has toured and performed in the United States with Charlie McCoy, Dale Watson, Teri Joyce and Becky Hobbs.
To celebrate that anniversary she is going to start recording a new album this fall (2019) to be released in 2020 and it will include her recent single "Sweet Mama, Elvis and Me," (now available to purchase online).
She talks about that single, "It is a song that I wrote about my mother and me and the way that she taught me to dance crazy to Rock and Roll and Elvis Presley. I haven't got a name for the new album yet. I haven't decided which song will be the title song. I am going to record this exactly the way I did it with the Roots and Memories album (2014), to sit down with all of the musicians at the same time. I did it that way with this single as well. It was a smaller studio. I would like to do the
Interview with Lisa Dondlinger

You would be hard-pressed to find an iconic music figure with whom violinist, arranger, composer and singer Lisa Dondlinger has not performed with and / or recorded with during the course of her career. To name drop for a moment, Lisa Dondlinger has performed and / or recorded with Lady Gaga, John Legend, Andrea Bocelli, Beyoncé, Stevie Wonder, Rihanna and Tony Bennett. That is barely scratching the surface of her musical resume. Perhaps you have seen her appear as a soloist or concertmaster on the Grammy Awards, American Idol, The American Music Awards, The Voice, The Ellen Show, The Tonight Show or The Academy Awards, Dancing with the Stars, The Emmy Awards and the Latin Grammy Awards.
The former Miss America beauty pageant contestant who represented the state of Iowa (Miss Iowa) sat down with Riveting Riffs Magazine recently to talk about her current album Movies & The Masters, as well as her career.
In talking about her album Dondlinger says, "I have always heard melodies together in my head and I know that sounds really weird, but I always hear things that lend themselves to something else. One of the things on the album that I am the most proud of and sounds the most weird is I was hearing Stravinsky's Firebird Suite and especially two of the movements Infernal Dance (Of King Kashchei) and the Finale. I was trying to figure out what could go with them? What would sound really cool with them? The thing I came up with was Jai Ho from Slumdog Millionaire. It is definitely a Pop tune (originally recorded for the movie by Sukhvinder Singh, Mahalaxmi Iyer and Vijay Prakash). The Pussycat Dolls recorded it (as well). It is definitely a Pop dance song. I was working with Chad Rehmann who was the co arranger with me on
Mindi Abair Interview

"We always joke that our band is a sport. Some people just stand there and play or play quietly or play nice little Jazz, but with what we do we are dripping wet by the second song. It is a sport and we all believe that you are supposed to give a pound of flesh and that you are supposed to give a piece of your soul every night to (your audience) That is the deal that you make when you step on stage. I think it is good for us. It is a great catharsis. I don't need therapy, because I have a band (she laughs) and an audience," says singer, songwriter and saxophonist Mindi Abair, while talking about her band Mindi Abair and the Boneshakers.
Abair's comments were part of a conversation when talking about the song "Whose Going to Save My Soul?" from the new album No Good Deed released on June 28 (2019).
About the song she says, "It is a hard song to sing, because you have to give your all. It is one of those songs that you can't pretend. Every ounce of your being has to emote. This will be one of the songs in the set that takes it out of us."
Mindi Abair both sings and plays a lengthy saxophone solo during "Whose Going to Save My Soul?" and we wondered how much that is going to sap her energy.
"I think that it is really helpful to have songs that I am singing and then songs that I am playing sax on (both for the same song). It breaks it up. Sometimes if you are just playing saxophone all night, those muscles get broken down and those muscles in your face hurt. As a singer different muscles are going to be worked. It is all energy and it is all (about) you giving, but it is different. It does help to be able to spread it out over the night and to go I am going to sing this song and
Charleene Closshey Interview

Charleene Closshey has been on a red hot creative streak since the spring of 2018. The cinematic release of the film she produced and starred in, No Postage Necessary during the summer of 2018 was followed by the release of the soundtrack for the album in October of 2018. Her new orchestral arrangement for the song "I Heard the Bells On Christmas Day," peaked at # 24 on the AC charts and the Holiday charts in America. The Christmas song is a precursor for the full length Christmas album, which will be released in time for the 2019 Christmas season and it is produced by six time Grammy Award winning producer / sound engineer Brent Mayer. If your head is not spinning by now Closshey is also releasing her album Only Love Remains and as we write this we are getting close to the date for the release of the first single from the album. Charleene Closshey's short film Perception did well on the festival tour and she received numerous awards for the music she composed for Perception.
We are out of breath after that whirlwind tour of the past year of Charleene Closshey's career and you probably are as well, so let's turn out attention to our recent conversation with this multi-talented and creatively brilliant native Floridian.
Even though No Postage Necessary was in theaters during the summer of 2018, it can still be viewed through a variety of means, iTunes, Amazon and through the new media platform Vevue.
Closshey says, "I produced the film with my business and life partner Jeremy Culver. He was the writer and director on this particular
Fiona Joy Hawkins Interview

Fiona Joy Hawkins is the owner of Q Pop Up Gallery in Australia, but you know her best as being an amazing Neo Classical / New Age and Contemporary Instrumental Music, pianist and composer, who doubles as a member of the ensemble FLOW and in collaboration with musician (also a member of FLOW) and producer Will Ackerman co-produced an award winning debut album for American artist Jennifer DeFrayne. Fiona Joy, as she is sometimes referred to is also a visual artist and some of her own paintings are featured in the gallery.
Elegant while seated in front of her piano, vivacious while doing this Skype interview and giving us a tour of her gallery and down to earth enough to have become the mother to numerous orphaned Joeys (baby kangaroos), one immediately recognizes the deep connection between nature and her music.
"The love for nature and animals has always been there from when I was a little girl. I used to bring home strays all of the time. I would land at home with a cat or a dog. I would find a dog with a broken leg or a bird with a broken wing or that was starving to death. I have always had a lot of animals. When my kids were growing up I was a wildlife information and rescue officer. I took some courses about kangaroos, so I was able to hand raise joeys (baby kangaroos). When the mother is killed and the joey gets thrown from the pouch someone has to raise it and that is something that I did. It was a volunteer job, but I loved it, because I love animals," she says.
Continuing to talk about the connection
Charlie Faye & The Fayettes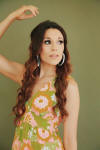 Get ready folks, because coming your way in early February (2019) is a sensational and fun album by Charlie Faye & The Fayettes. The new record is The Whole Shebang, literally the name and the listening experience. The trio of ladies from Austin, Texas, boasts great harmonies, led by Charlie Faye and supported by her Fayettes, BettySoo and Akina Adderley. Influenced by girl group of the sixties and Soul from the sixties and early seventies they are so good that listeners may find themselves saying I am sure I have heard this song before somewhere and assume the trio is merely covering songs from yesteryear and yet that is not the case, as these are all original songs.
"In fact that happened at a show of ours last weekend. Someone who wasn't really familiar with us, came up to us after the show and that person said I thought these were all songs from the sixties until you said something about that you had written all of these songs. I think that happens a lot," says Charlie Faye.
The Whole Shebang opens with a song co-written by Charlie Faye and Bill Demain, "1-2-3-4," feels like it stepped out of the sixties, but more importantly resonates with the audience in 2019. The first four lines recall that feeling of meeting "the one" with "1,2,3,4, That was all it took / A heartbeat and a look, and I was so gone / Felt my whole world tilting left and right / And suddenly a light just came on…"
It is easy to imagine being at a
Beth Bombara - Americana Rock

We do not often think of the word Evergreen, as summer is winding down, but Christmas came early this year with a delicious album from Beth Bombara that bears that title. The dual first tracks, which for the music video merge into one another, "I Only Cry When I'm Alone," and "Upside Down," are well worth investing in the album, so the listener can discover some other treasures.
Beth Bombara talks about those first two songs, "Social media has changed how we interact socially and what I was really thinking about is how it has enabled us to hide behind this curtain, minus emotion. If you don't want somebody to know that you're sad you don't have to post a picture of you looking sad on the internet. Nobody has to know that you are sad or upset. It is this idea of not letting people behind your emotional curtain. That is what I was thinking about when I started writing," the she adds that you can also convey your true emotions, "I have cried in front of other people before. It is capturing the idea that it is a lot easier now than ever to let people see when you are feeling sad."
Although, the song does not focus specifically on the period of her life when Beth Bombara was dealing with depression, she says, "I was not thinking about that, but generally speaking yes. Part of my battle with depression during that time period was the aspect of feeling stuck and not feeling like I had any power to do anything. There is an aspect of "Upside Down," that alludes to that. It is the feeling of being stuck and not having the power to do anything and then just flipping your whole perspective upside down. If you think you are at a place