This Is Paris - Film Interview

Where to begin? One hears that there is a documentary film about to be released concerning the life of Paris Hilton and one does not know quite what to expect, because yes, it is that Paris Hilton! If you were a teenager or perhaps a bit older twenty-some odd years ago you were probably living in a pretty insulated life if you did not know who Paris Hilton was. Her picture was in front of you everywhere, tabloids, television programs, and more often in one way or the other on the internet, where she became an icon. Those images were not always her best moments. Just prior to the September 14 (2020) release of This Is Paris, director, writer and executive producer Alexandra Dean, a trusted friend of Riveting Riffs Magazine sat down with us to talk about when she was asked to do a documentary about Paris Hilton, why she decided to say yes and how it affected her deeply.
The documentary film This Is Paris is not the story most of us were anticipating and while it begins with some of what we already know about her life, it does so not for shock value, but to provide context for the side of Paris Hilton's life that has never been told before. For those of you would quickly conclude, before watching the film that is merely a publicity stunt by Paris Hilton or an attempt to capture notoriety in 1:45:12 seconds consider this, Alexandra Dean is an Emmy Award winner, as well as being the recipient of numerous other awards and accolades for her documentary work. Make know mistake about it, people already know who she is.
She also has a message for those who are quick to judge Paris Hilton's motives, "Anybody who wants to judge her for doing this film and thinking she was doing it for publicity or for another stab at fame, I would ask them to question themselves, would you let someone come into your life and film you when you have no editorial control? Paris had enormous trust in me, and I am not surprised that the first couple of times she watched the film that it was difficult for her to watch. She did come around and she has been extremely brave. She does like the film now. I think it was hard, but I think it paid off for her."
This is a story of a survivor, a damaged survivor of abuse as a teenager and then as happens with many victims of abuse, as an adult through relationships that often become violent. While much of the focus in this film is on one particular girls boarding school where the abuse occurred for Paris Hilton, other teenage girls and in
Actor Miquel Garcia Borda

Recently, Miquel Garcia Borda, an actor, director, producer, and writer who splits his time between Barcelona and Madrid was our guest at Riveting Riffs Magazine. You have seen him TV 3 the Catalan television station in series such as If I Hadn't Met You and in the Vancouver Media / Atres Media production of the popular television, now Netflix series Money Heist, which first aired on Antena 3 in Spain. You can also catch him in the current production Hache, also on Netflix. He is directing, producing, and starring in the feature film Pregunta Por Mí Mañana opposite actress Paula Moncada. Earlier in his career he also directed music videos for two better known Spanish bands, Sol Lagarto and Pastora, as well as two other films.
We quickly learned about Miquel Garcia Borda even prior to the interview that is he is a very gracious man, who does not take his opportunities and accomplishments for granted, who seems to understand that who he is as an artist is the sum of his life experiences and the people from whom he has learned along the way.
"When I was in college and I was nineteen we were doing a play The Philanderer by George Bernard Shaw and I was playing the main character. The instructor, Juame Melendres said to me are you allowed to go out at night? You are too young to do that. (He laughs) I said I get it. I will try harder. You must have lived. You have to live a lot to use it for your characters," says Miquel Garcia Borda.
Although, attending Institut Del Teatre in Barcelona, helped prepare Miquel Garcia Borda for his acting career, like a lot of actors there were many other stops along the way.
"I worked in a lot of places to pay for my time in college and before I started my career. I was a tennis instructor and a gymnastic instructor. I was a motorcycle courier, I worked with children and I worked in bars and restaurants. I think it helps a lot. When you are in your twenties you are a young actor and you have potential. It is like when Leonardo DiCaprio was twenty, he was amazing, but he was not the immense actor that he is now. I think an actor, or an actress must live, before he or she becomes a great actor or actress. I think the more that you live, the more that it will help you," he says.
Fast forward to 2020 and his film Pergunta Por Mí Mañana, in which Garcia Borda plays the much older lover / guitarist / songwriter to Paula Moncada's mid-twenties singer.
Modern Wedding - Designed by drezz2imprezz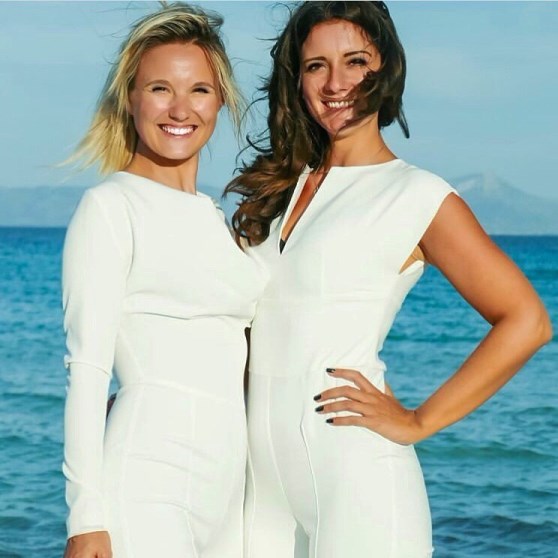 Models: Sandra Scheack (L), Vanessa Vinson (R) Drezz2Imprezz website