Charlie Faye & The Fayettes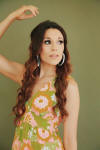 Get ready folks, because coming your way in early February (2019) is a sensational and fun album by Charlie Faye & The Fayettes. The new record is The Whole Shebang, literally the name and the listening experience. The trio of ladies from Austin, Texas, boasts great harmonies, led by Charlie Faye and supported by her Fayettes, BettySoo and Akina Adderley. Influenced by girl group of the sixties and Soul from the sixties and early seventies they are so good that listeners may find themselves saying I am sure I have heard this song before somewhere and assume the trio is merely covering songs from yesteryear and yet that is not the case, as these are all original songs.
"In fact that happened at a show of ours last weekend. Someone who wasn't really familiar with us, came up to us after the show and that person said I thought these were all songs from the sixties until you said something about that you had written all of these songs. I think that happens a lot," says Charlie Faye.
The Whole Shebang opens with a song co-written by Charlie Faye and Bill Demain, "1-2-3-4," feels like it stepped out of the sixties, but more importantly resonates with the audience in 2019. The first four lines recall that feeling of meeting "the one" with "1,2,3,4, That was all it took / A heartbeat and a look, and I was so gone / Felt my whole world tilting left and right / And suddenly a light just came on…"
It is easy to imagine being at a Charlie Faye & The Fayettes concert and everybody being up on their feet dancing to their music. These are songs that their fans are going to be singing back to them and singing with them.
Karin Risberg and Angel Blue

From Pop singer to Swedish Country music star and from the small town of Skelleftehamn, just a couple of hours from the Arctic Circle to France, back to Sweden and onstage in Nashville with the legendary Time Jumpers and Vince Gill, that just about sums up Karin Risberg's career as a singer, songwriter and guitarist.
Risberg has a 2019 tour planned with her friend Country music singer Cina Samuelson as the duo Honky Tonk Angels, a duo that still performs at times with Kerstin Dahlberg as the trio Three Chicks. The group Three Chicks has been performing together since the 2010 Lida Country Music Festival in Sweden, while Honky Tonk Angels made their debut in September of this year (2018) when they performed at the Sweden Country Music SM.
So where did this all begin for Karin Risberg? Her answer is not surprising, as she continues the long line of outstanding Swedish singers and musicians who have come from small towns and villages throughout the country.
"I was born in a small town called Skelleftehamn and it is in the north of Sweden, eight hundred kilometers north of Stockholm. It is very close to the Arctic Circle. I grew up in a family with my mom and my dad and a little sister. My mom used to sing in the choir and she also sang for me every night when I was going to sleep. She was the only (musical person) in our family. My father always encouraged me. He heard me singing all of the time when I was a little girl. He was proud of me, so he had me sing everywhere that I went with him. They started to pay me with chocolates and things like that. He was a ship broker and he took me onboard all of these big, big boats. I got to sing when I was very little.
Stellar Album by Mandy Barnett

Although Mandy Barnett made a name for herself portraying the legendary Country music singer Patsy Cline in the musical Always…Patsy Cline, her new album Strange Conversation showcases in splendid fashion her versatility as an artist, as she easily transitions into other genres. The album opens with Blues singer Mable John's "More Lovin'," and Barnett turns up the heat right away with a sultry vocal performance that will have you tapping your toes, nodding your head and moving your shoulders. The song is a duet with Arnold McCuller and the two singers complement each other well.
It becomes immediately apparent on this album that the producers Marco Giovino (Norah Jones, Robert Plant, and Patty Griffin) and Doug Lancio (Gretchen Peters, John Hiatt, and Patty Griffin) ensured that Mandy Barnett was accompanied by musicians who understood that their role was to compliment Barnett. They become the perfect dance partners with Mandy Barnett leading the way and like any truly great performance you find yourself caught up in the moment. Tom West's organ sets the mood, Viktor Krauss is on bass, Giovino keeps beat on drums and Lancio is the guitarist. Grammy Award winning sound engineer Gord Hammond from The Nuthouse studio in Sheffield, Alabama does a superb job.
Released on Dame Records, Mandy Barnett's own label and distributed by Thirty Tigers, Strange Conversation is a collection of songs that is a "must have" for anyone who truly appreciates well thought out song selections that showcase a singer and make you sit up and go "wow."
In 1962 The Tams released the song "It's All Right (You're Just In Love)," and Barnett puts her own stamp on the tune, as she brings it back to life with a new arrangement and a stunning
Hayley Sales - "Like Never Before"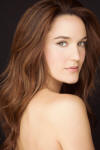 Rarely in this century has an individual come along who possesses the ability to equally amaze others with her acting and her musical talent to the degree that American / Canadian Hayley Sales does. It has been an incredibly busy late summer and early fall for the affable Hayley Sales, as she recorded one album, is recording another, shot a film and a television episode and in the midst of all that she also got married.
Sales, took time out from her busy schedule to sit down with Riveting Riffs Magazine to discuss at length her album Slightly Out of Tune, which will be released in the spring of 2019 (She has posted some songs on YouTube), her twin careers and to share a little bit about her life.
The self-described romantic co-produced her album (and yes she really does know her way around a recording studio) with her father Richard Sales, known for his work as a producer and sound engineer with the Grateful Dead, The Ramones and Miles Davis. The songs on Slightly Out of Tune range from those that invite the listener to dance, such as the opening track "I Don't Believe," and the retro infused "Waiting It Out," backed by a stellar horn section and the soulful "Out of Tune," to her romantic love letter "Like Never Before," co-written with Sharon Stone.
Often punctuating our conversation with light laughter Hayley Sales talks about her musical influences, "I have always been in love with Judy Garland who was my first influence. When I was five years old I was madly in love with her and that introduced me to a different time. In some ways I was that absolute dork. I didn't know that Pop culture existed until I was eleven or
Terri Lynn Davis

Chasing Parked Cars a new album from Portland, Oregon's Terri Lynn Davis scheduled for release on February 15th on the eve of her national tour may be the best album that you hear by a still relatively new artist in 2019. Consisting of five songs, which we suppose many would refer to as an EP, but here at Riveting Riffs Magazine we do not make a distinction, it boasts a collection of finely crafted original songs and superb musicians. While the album is more Country than it is of any other genre the best song on Chasing Parked Cars is "Times Past," which merges pedal steel guitar and electric guitars with fabulous vocals that remind one of Stevie Nicks. The melody also suggests, but in no way copies Fleetwood Mac.
Terri Lynn Davis wrote the song "Times Past," which showcases her fabulous vocals, surprisingly so, because she had very limited formal vocal instruction earlier in life. Yet, those amazing vocals were also evident on a previously recorded album with, "Montana Love Song." Davis is also an amazing songwriter and "Times Past," paints word pictures, "river of time," and the desire to slow everything down "be still my mind." The gentle melody is matched by lyrics such as "floating down the river with you." You watch a story unfold of two people the first time they met with the sun glistening on their skin and with their toes in the sand. Musicians of note on "Times Past," are Tucker Jackson on pedal steel, lead guitarist Nick Champeau and rhythm guitarist Jacob Miller. Ben Nugent keeps time on drums.
Terri Lynn Davis gives credit to her producer Ryan Oxford for assembling the fine cast of
Interview with Brad Cole

When you listen to Brad Cole speak, the casual way in which he talks about his own accomplishments and the gratitude that he expresses would lead the uniformed to conclude that he is just a guy trying to find his way in the music world. That is unless, you already know enough about Cole to ask him about being the musical director and keyboardist for Phil Collins for twenty-eight years or his work as a musician, sound engineer, arranger and producer with a star studded array of artists that includes Paula Abdul, Gino Vanelli, Dave Koz, Michael Bolton, Darlene Koldenhoven, Rita Coolidge, Brenda Russell, Peabo Bryson, Al Jarreau and the late Natalie Cole, as well as numerous others. Brad Cole who as we write this is in the midst of a North American tour with Phil Collins, took time out recently just prior to his leaving for the tour, to talk about his career.
Brad Cole grew up in a suburb of Philadelphia and despite the fact it was a burgeoning scene for Doo Wop, Pop Music and Rhythm and Blues in the late 1950s and throughout much of the 1960s, Cole was drawn to music far removed from what most people his age were listening to at the time.
"That is a somewhat amusing part of it, because when I was a kid after a certain time I had no interest at all in listening to AM radio and bubble gum Pop music. Even The Beatles and stuff I became a real snob about. I was a Jazz purist and a Classical purist and I was that way for much of the rest of high school. By the time The Beatles' Abbey Road came out, which was 1969 that is when I started getting reacquainted with mainstream Pop and Rock. I also liked Cream (Eric Clapton, Ginger Baker, Jack Bruce). I came back to it
Tom Saviano - Interview Part One

In one or more of the following capacities, Tom Saviano has played live or recorded in the studio with and / or composed for or arranged music for artists and bands such as, Chicago, Juice Newton, Sheena Easton, Dolly Parton, Sweden's Björn Skifs, KISS, David Foster, Dusty Springfield, Melissa Manchester, Bill Champlin, Leo Sayer and many other iconic artists.
One might say that Tom Saviano's journey to becoming one of the most respected individuals in the music industry began with his childhood in a multi-ethnic neighborhood in Chicago. On the other hand it is far more likely that we can say that odyssey began with his father Albert who was born in 1920.
"My dad came through the depression. By the time he was fifteen they were six years (removed) from the '29 crash. There were fourteen children in the family and there was not enough money to buy each of the children instruments, so he waited until he was married to my mom and I think she helped him buy his first instrument.
(When he was growing up) he wanted to play so badly, while he watched his older brothers play (an instrument) that he would play a paper accordion. It was almost sad and funny at the same time. He was so hungry to be a musician that once he got a horn he just ate it up. That is all he did.
He found Zilner Randolph (Jazz trumpeter) when he saw Lil Armstrong, Louis Armstrong's
Andrea Miller - Maybe Today

Andrea Miller, Jazz singer, by choice, but who measured up well with the best R&B and Pop singers when she delved into those genres earlier in her career, may be one of the best young singers on the music scene today. She has drawn praise from the late Al Jarreau with whom she was booked for an extensive tour, before his passing in 2017 (Editor's note: Al Jarreau passed away, before the tour took place.), from Celine Dion for whom she recorded a demo, as she worked with David Foster, as well as Alan and Marilyn Bergman and from producer, arranger, songwriter and musician Tom Saviano (Dolly Parton, Melissa Manchester (as musical director and arranger), Dusty Springfield, Sheena Easton and others).
Andrea Miller recently released her new album Maybe Today, composed and arranged by Michael Cunningham, an album that they hope to tour with full orchestral support.
She talks about the album, "They are all of Michael Cunningham's arrangements and compositions. It is almost like I am the voice of Michael Cunningham on this particular album. These are his wonderfully orchestrated string arrangements. A lot of his original material is on the album.
We did some covers, "It's All Right With Me," "The Water Is Wide," and "You Would Be So Nice To Come Home To." He wrote everything else on the album. I love his writing so much and he in turn likes my voice a lot, so we decided to make an album together.