Rebecca Staab - Film & TV Actress

Film and television actress Rebecca Staab recently talked to Riveting Riffs Magazine from her home in California. The former supermodel who was born in Kansas and who grew up in Grand Island and Omaha, Nebraska discussed a wide range of topics from one of her passions, rescuing dogs, to her partner in life William, to touching upon her love for home renovations, which she warned this writer would easily comprise an entirely different interview, to talking about how she enjoyed an illustrious modeling career and currently is one of the film and television industry's most respected actresses, careers that this former straight A high school student never had her heart set on. In this the first part of a two-part interview with Rebecca Staab she talks about her childhood and later her modeling career. It is our hope that our readers will get a sense for this funny, determined, down to earth, brilliant and engaging woman who recently starred in the ABC television miniseries Somewhere Between, as Colleen DeKizer, was Elizabeth Barrington in the television show Port Charles, is currently shooting the pilot for the television series Manopause, appears as Camille Richfield in the 2017 film Coming Home for Christmas and who has appeared in a plethora of films and television shows, some of which are still in various stages of production.
"I was born in Kansas, but we moved to Omaha when I was seven. I just have an older sister and a younger brother. My sister is one and one-half years older than me, but my brother is nine and one-half years younger. There were two childhoods in a way. There were a few years when there was just my sister and then my brother was born when I was in the fourth grade and that was like the second half of my childhood. My sister and her husband still live in Nebraska. My brother is in Colorado. My parents had moved to Colorado (and later
Marcella Detroit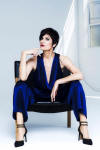 Detroit (also known as) Marcy Levy is in her words "the thing that wouldn't go away." She says that half in jest and half seriously, as she has enjoyed an incredible career as a stunning vocalist, a good guitarist, one of the best songwriters on the planet and more recently she has added to her vast repertoire fashion designer.
For the sake of this interview we are going to toss accepted writing style out the window and dispense with referring to her by only her last name and default to Marcy or Marcella Detroit. After all when this writer asked at the beginning of the interview if she had a preference she said in a mock, snooty, upper class British accent "No you may only call me Marcella," before saying yes it was okay to call her Marcy, and for the record Marcy was in fact born in Detroit. This is the first part of a two-part interview with Marcella Detroit aka Marcy Levy.
Marcy toured as Marcella Detroit on two separate occasions with Eric Clapton and co-wrote several songs with him. She toured with Bob Seger, Leon Russell and was the co-founder of Shakespeares Sister (with no apostrophe) who stayed perched in the # 1 spot on the U.K. charts with their song "Stay," for eight consecutive weeks.
It is simply not possible to name all of the people with whom she has worked as a session singer, but we will name a few, Aretha Franklin, George Duke, Stanley Clarke, Al Jareau, Bette Midler, Burt Bacharach, Leiber and Stoller and Carole Bayer Sager. Her songs have been recorded by Chaka Khan, Belinda Carlisle, Al Jareau and Philip Bailey.
She also recorded the duet "Ain't Nothing Like the Real Thing," with Sir Elton John, as well as recording duets with artists such as

Read More
Celia Berk

There is something about listening to a singer who knows how to infuse each and every phrase of a song with authenticity and when she is accompanied by superbly orchestrated musicians playing exquisite arrangements that puts you right in the middle of the scenes that she has vividly brought to life. Celia Berk's interpretation of the songs on her current album Manhattan Serenade accomplishes all of that. The collection of thirteen songs by composers and lyricists such as David Heneker, Irving Berlin, Richard Rodgers / Lorenz Hart, Cy Coleman and David Zippel and others is Ms. Berk's love letter to the city she has lived in and around her entire life. This is home for Celia Berk and in the midst of the hustle and bustle and masses of people she finds beauty and peace. That is really what this album Manhattan Serenade is all about.
It is about a woman who was born in Manhattan and grew up on Long Island, before eventually moving back to New York City, as an adult. As a young girl her mother would take her to the Opera on Saturdays and Celia Berk's father inspired within her a love for the Great American Songbook.
"My mother took me to the Opera and she started out when she first came to the city and they had a subscription at the Metropolitan Opera. My father, because he commuted all week long into the city, the last thing that he wanted to do (was come back to the city) on a Saturday afternoon. Frequently I was the one who went with my mother. I saw some of the absolute greats doing the Opera repertoire. That was my whole life," she remembers.
Ms. Berk is a mezzo-soprano with a three octave range who has become celebrated in
I Am An Art Superhero

I Am An Art Superhero a book by Desirée DiGerolamo is a book for young children. It is also a book for adults and older children. It is a book for teachers. Most importantly it is a book that teaches a valuable lesson in building self-esteem in our most precious treasure, our children. The fifty-six page book is wonderfully illustrated by Richa Kinra and in a manner that is fun. Oh and do not let the fifty-six pages scare you off, as about half of the pages consist of only an illustration.

Desirée DiGerolamo a former actress, who you may remember from the '80s television series Rocky Road (she played Jessica Stuart and was credited as Desirée Boschetti) is now both an art teacher and a drama teacher in an elementary school and she says, "I wrote the book, because it was an actual incident that happened in my art classroom during the first or second year that I was teaching art. The young child dropped a blob of paint on the paper and he started to cry, because he thought he had made a mistake. I thought wait a minute now, how do I deal with this? If I give the child new paper everybody is going to want new paper every time they don't like something that they do. It's not about being perfect. It's about experimentation and trying things. I think as adults what we try to do is to make everything better for the child, whether it is your own child, or you are a teacher with a student. We try to solve the problem for them instead of empowering them to figure out what to do on their own. I think that is such an important part of growing up. At an early age empower them and let them have ownership of the behavior and deal with the consequences, so I wrote the book.

I took the story that happened in the classroom and then I would tell the story to friends over dinner or at parties and everybody fell in love with the story and the idea of how I dealt with it.

One morning I woke up at 5 am and the story that
Dakota Danielle - Country EP

Country music singer and songwriter Dakota Danielle who grew up in the small town of Teutopolis, in southern Illinois blends the heartfelt lyrics of her original songs with good vocals and drives her tunes with her guitar playing. Her six songs EP opens with "When It Rains," is it a metaphor for when difficult times come along. It would have been easy to default to cheesy clichés, but instead what Dakota Danielle created is a song that uses the imagery of rainstorms and individual raindrops to depict individual trials and being deluged by them and barely being able to keep one's head above water.
"I came up with the melody first and then I like the saying when it rains it pours. It was something that has happened to me before in my life, including the last year when I was trying to get my EP together. I wrote a song about when it rains it pours, as when a lot of bad things hit you and you have to stay strong to overcome that. People enjoy the melody and they relate to the (words)," says Danielle when talking about the song.
Dakota Danielle's entry to the Country music scene is timely, unlike her entry into life, which was premature, very premature.
"I am an only child and I was born one pound and eleven ounces. I was a preemie baby. I was born September 7 th and I was supposed to be born in December. I was in the incubator until Christmastime and then I got to come home as a Christmas present," she says.
Actress Barbara Niven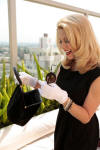 Barbara Niven is a lot of things, but if you were to ask her, she would probably tell you that what she is most proud of is being a mother and a grandmother. She waves that flag proudly and so she should. Barbara Niven, the actress has appeared in more than one hundred feature films and made for television movies. Her roles have been as diverse as currently starring as Megan O'Brien on the Hallmark Channel's wildly popular Chesapeake Shores, where she is the prodigal mother who returns home to her five adult children and her ex Mick O'Brien or in her role as Delores Swensen, mother to amateur sleuth Hannah Swensen played by Alison Sweeney in the Murder, She Baked mystery movies, also Hallmark productions and the middle-aged Rebecca Westridge in Nicole Conn's A Perfect Ending with the late John Heard and Jessica Clark, a story in which her character is trapped in a loveless marriage and she falls in love with another woman.
While there is a part of every actor invested in every role that they play or at least there should be if that role is to be performed well, not every moviegoer or fan who sits in front of their television sets on a Saturday or Sunday night gets an opportunity to discover who the real person is behind the character. We invite you to spend a few minutes with us as we chat with an incredible woman, who seems to find the perfect balance between strength and kindness, while not being afraid to lend her voice to causes she truly is passionate about such as, animal rights, anti-bullying, human rights and helping others to realize their dreams. As Barbara Niven so often likes to say,
Maria Elena Infantino Interview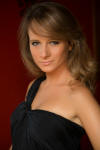 Singer and actress Maria Elena Infantino will be performing on November 3rd (2017) at the Egyptian Theatre in Hollywood for the opening ceremony of the ARPA International Film Festival's screening of the film Dalida. Dalida is based on the life and career of the legendary singer by the same name and as Infantino notes, of course she will be performing one of Dalida's songs.
Maria Elena Infantino's performance at the ARPA International Film Festival could not come at a better time, as she continues to develop a new one woman show (she is well celebrated for her Édith Piaf show), this time featuring the music of Dalida.
Infantino says, "Dalida sang in fourteen languages. She was the Disco queen and she was huge in the seventies. She inspired me in the sense that it is so dramatic and theatrical to represent her life on stage. This year marks the thirtieth anniversary since her passing. I met the actress and the director from the movie Dalida, which was filmed in France and I thought why don't I do this? She had such a wonderful life and for two years I have already incorporated some of her songs into my show. I sing "Bambino," and "Paroles, Paroles," the famous duet that she did with Alain Delon. I think I will be doing a show about her very soon, because everyone claims her. The Lebanese love her, the Armenians, the Egyptians, the Italians and the French. I would combine all of these cultures together and you can imagine the audience I would get with such an international flavor. It would unite all of the nationalities together.
Kerry Knuppe - New Films

The feature film Solver will be in theaters early in 2018, which means once again one of Riveting Riffs Magazine's favorite actresses Kerry Knuppe will also be on the big screen. Knuppe is one of the most versatile and gifted actresses in film today with other film credits including a major role in Like A Country Song and Nicole Conn's A Perfect Ending, where she played the daughter of Barbara Niven's and the late John Heard's characters.
"Solver was a really fun project that we did and we filmed it in upstate New York. It is a mystery adventure and it has Antonio Jaramillo who was in Shades of Blue and me. He played the bad guy and he was really fun to work with. The people that we worked with were so wonderful. It was so fun to be in a small town where they were appreciative of us being there. It was a different feeling.
It is a fun story and a "what's going" on mystery kind of a thing. It was a really fun project," says Knuppe.
Solver directed by Xandy Smith and also starring John Ruby and Jesiree Dizon, also had some interesting moments before filming began.
Kerry Knuppe shares one of those moments, while laughing, "When I was cast they said you have a week to prepare and I said I would like to come out a couple of days before we start shooting and shadow a mechanic (her character is a mechanic), so they said that was fine. They spoke to the person who owned the mechanic shop