Pear Duo - No Boundaries

Pear Duo comprised of pianist / composer and arranger Curtis Brengle and singer / songwriter and musician Julie Ragins recently released their new album No Boundaries, a wonderful and diverse collection of songs that are a mix of original tunes and cover songs. The husband and wife singing combo bring a wealth of musical experience painted across a vast genre palette to this recording. Their combined history has seen them perform with The Moody Blues, Chaka Kahn, Sheena Easton, Pointer Sisters, Ray Charles, Sergio Mendes and numerous other stellar artists. The affable couple sat down with yours truly and Riveting Riffs Magazine recently to talk about their new album.
Curtis notes the fact that they do have such a vast genre palette to choose from is what led to the title No Boundaries for this record.
"We are not going to limit ourselves to a particular style," he says and Julie adds, "Much to the chagrin of every platform on the internet that wants to pigeonhole you in a single genre."
Our conversation wanders in another direction for a moment as we ponder whether or not the music industry still wants to pigeonhole artists into specific genres.
Julie Ragins says, "The first question everybody asks you is what kind of music do you play? They want an elevator pitch answer. They want to hear Country. They want to hear Blues; they want to hear Rock and Roll. They do not want (to hear you say well we are a group that is kind of rooted in a fusion of Jazz and Pop, but we also have a lot of elements of Soul and R & B, Rock
Pam Tillis - New Album

Pam Tillis' eleventh album Looking for a Feeling, reminds you of being a child, back in the day and standing in the candy store with a quarter or fifty cents and looking at all the penny candy, so many yummy treasures to choose from. Fortunately with this album, Grammy Award and Country Music Award winning singer, songwriter and musician Pam Tillis lets us have all of these delicious songs on one album. Just like the candy store when all of the treats came in different colors and each with its own unique taste, Looking for a Feeling offers the same diversity of colors, shades, moods and vibes. Pam Tillis joined us recently at Riveting Riffs Magazine to talk about her new album.
"Looking for a Feeling, is as personal as anything that I have done, maybe ever. I am in a lot of ways a really private person, which kind of runs counter to what an artist is supposed to be. You know cut a vein and bleed on the page. I am very private and so it takes a lot for me to do that. I think in some ways I am understated with my feelings. In a lot of songs I am just trying to process the craziness that is life and the craziness that is our world and I am trying to put it into context. I (want) to understand it. There is an underpinning and in some ways it is a little bit philosophical. If you listen long enough you will hear it in there," says Pam Tillis.
As for why she co-wrote the title song with Waylon Payne she says, "Because it said write me (she laughs lightly). You don't always get a choice. Some days you pick up the guitar and you get out your laptop or your yellow legal pad and you might as well be digging a ditch. Some days you pick up the guitar and it talks and the words are just coming through you. That's what happened that day. It was kind of a moody gray day.
Sweet Lizzy Project - What A Band!

Imagine living in a country where you become a microbiologist and when you graduated you were at the top of the class and began a career as a university professor and you performed music on the side, as a hobby. You were probably thinking at the time even though you enjoyed being a singer what was the point, considering a broken guitar string was a tragedy, as there were not any places to buy more guitar strings and if a piece of your equipment failed well good luck on replacing that. Combine that with the challenges you faced with forging a music career in Cuba and no it made much more sense to keep teaching at the University of Havana and one certainly would never have imagined then moving to the United States to pursue a music career. It sounds like quite the adventure or someone has an active imagination, except these are the real life adventures of Sweet Lizzy Project.
Lisset Díaz is the lead singer for the Cuban band Sweet Lizzy Project a group that plays a mixture of Rock, Pop and Americana music and they do all of it well. The electric guitar work by Miguel Comas is stunning and echoes Eric Clapton in the days of Cream (with Jack Bruce and Ginger Baker) and as another musician suggested to us there are also shades of David Gilmour (Pink Floyd) in his playing. The rest of the musicians Angel Luis Millet (drums and percussion), bass player Alejandro González, Wilfred Gatell on synthesizer, Lenard Delgado the other electric guitarist (as well as acoustic and backing vocals) and cellist Yanet Moreira are all fabulous. Comas, also provides background vocals. Although, the music is considerably different, Sweet Lizzy Project may be the best band to emerge with Cuban roots since Gloria Estefan and the Miami Sound Machine.
On February 21st Sweet Lizzy Project
Christina Mauro, Actress & Writer

There are many facets to Christina Mauro's career as an actor, screenwriter and a producer and there are also many facets to her life and so it was with great interest that we sat down with this native Texan, now living in Los Angeles. Life began for Christina Mauro in Beaumont, Texas, before her family moved to Falfurrias and then to Conroe, Texas. Her family tree on her father's side has roots in Texas before it was Texas. Her heritage on that side is Colonial Tejano or Tejano Texians, who were citizens of what was then known as the Kingdom of Spain and who moved into the territory now yet known as Texas, started settling there in the 17 the century and through to the Texas revolution during the 1800s.
As for her mother's side of the family she says, "My mom's family is English, Scottish and Irish. They are a very different kind of people and they are a lot quieter, whereas my dad's family is more opinionated. When I think of my dad's family, I think of these warrior people who are not afraid to voice their opinions and to get into the frontline. Many in my dad's family are activists. The people in my mom's family are more soft-spoken. I come from two different cultures."
In conversation with Christina Mauro some things immediately become apparent, she is passionate about the things that are important to her, family, career and her involvement with Peace Over Violence, which on April 29 th, which just past used Denim Day to draw attention to and to educate people about gender violence.
"I am a survivor of teen dating violence when I was in my late teens. I am also a survivor of sexual assault. I have always talked about
Actress Natalia Fisac from Spain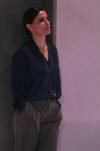 The road to an acting career is not the same for everyone, some you read about living in their cars, before fame found them, some are discovered while they are children and others toil for years in obscurity, prior to getting their big break. For Spanish film, television and theater actress Natalia Fisac the pathway to becoming an actress was far removed from any of those scenarios. The very personable native of Madrid, Spain has a law degree and she obtained it while earning very high marks. She always had a passion for acting, but it was not until she came to a crossroads in her life with the death of the love of her life, after completing her fourth year of university that Natalia Fisac made the decision to pursue her dream of becoming an actress.
She explains, "I always wanted to be an actress. The first time I remember wanting to be an actress I was seven years old. I was playing at home all of the time. In school I participated in all of the plays. I even wrote and directed some of the plays. I was also a very, very good student and you know there is this idea that you have to study something if you are so clever. You are meant to get a degree in something and that was my mistake. I studied law and I could have studied communications or become a journalist or something that was more related to my skills and the things that I liked.
I had spoken to one of my uncles who and he was a lawyer who spoke very highly about (a career in law). That is why I ended up studying law. The good thing is I still have very good friends from that time.
Ada Rovatti & Randy Brecker
There is something about sitting down for an interview with two people whom you have known for many years, although most of that from a distance, that has more of the feel of friends getting together for a visit, a comfortable conversation if you like. Ada Rovatti and Randy Brecker's new album, Brecker Plays Rovatti: Sacred Bond creates that same mood when you listen to the collection of songs composed and arranged by Ada Rovatti. The musicians who play on the album were drawn together by Randy Brecker and the album was masterfully recorded at Bunker Studios by Aaron Nevezie, while Cynthia Daniels put her magical touch on the mixing and mastering of the album. Just a word about Cynthia Daniels, we could not possibly do justice to her career, the many artists with whom she has worked, or the Broadway productions, films and television shows that have her fingerprints on them, so we encourage you to visit her website.
In proper journalism practice first names alone are seldom used when referring to the one being interviewed however, in this situation when conversing with the husband and wife team of Randy Brecker and Ada Rovatti and our familiarity with them it somehow would not feel right to refer to them by their last names, so we are going to cast protocol aside. Their daughter Stella also appears on this album, but her demands for a significant appearance fee could not be met by Riveting Riffs Magazine and before anyone takes us seriously, we are joking folks, but we did want to give Stella a nod for her singing performance on the opening track "Sacred Bond," as well as making a debut on her mom and dad's album.
Katja Rieckermann - Double Release

You know the song "Da Ya Think I'm Sexy," from when Rod Stewart recorded it on his 1978 album Blondes Have More Fun, but you have never heard it played like this before. Saxophonist, arranger and composer Katja Rieckermann and TMTQ turn in a stunning dance version of the song, with new vocals by Sir Rod Stewart. Rieckermann who toured with Stewart for fourteen years and during that time she began her solo career, which to date has produced three albums, the self-titled Katja (2007), Horn Star (2010) and Never Stand Still (2014). Katja Rieckermann has performed with a diverse group of artists, which include, Carole King, Brooks and Dunn, David Foster, Mary J. Blige, Al Green and Jeff Goldblum.
Katja Rieckerman first started thinking of recording "Da Ya Think I'm Sexy," "about two and one-half years ago. Originally it was going to be an instrumental version of "Da Ya Think I'm Sexy?" and it was going to be very close to the original with the tempo and the vibe of it. I wrote a couple of horn sections for it and we recorded it.
I sent it to Rod for approval and said what do you think? I said hey Rod what do you think? I am thinking about releasing this version. Do you like it? He wrote back, yes I love it. How about I sing on it? I was like wow! That is crazy. Of course, that would be fantastic. He ended up singing over the original track that I sent to him.
I thought now I have these newly recorded vocals of Rod and it is too close to sounding like the original, so I should do something super hip and
NEVERWONDER

"2020 is going to be a great year for NEVERWONDER. We have a new record coming out, we have some great shows coming up and we will be at SXSW (in Austin, Texas). We have had radio play and we have some more coming up," says Fabienne Grisel, the Swiss born leader singer of the melodic Rock band NEVERWONDER (yes the name is all in capitals), while in conversation with Riveting Riffs Magazine.
About the new album she says, "We are experimenting a little bit more with effects. We work together as a unit even though we all have our own instruments. We collaborate, for instance if I hear something that the drums are or are not doing we can talk about it. If the guys hear something that I am doing vocally they will say something. We might say (to one another) why don't you try this or that? I can't wait to see what comes out of these songs in the studio, because they are already great, but I think we can take them to the next level for sure.
(The album) will first be recorded in analog and then it will be put through the digital (process). I like analog, because as a singer you can hear every crack and every crisp in the voice. I like to hear things that are not so perfect. I am not talking about notes or anything, but the things that make music interesting or the moment interesting; the crack in the voice or that little screech in the guitar. It is those things that you might not be able to hear as much in a digital recording. I am not trying to disregard people who are digital. I think for certain genres of music that is totally