Fashion Designer Pamela Quinzi

Pamela Quinzi, a fashion designer originally from Rome, Italy, via Milan and who now makes her home in New York City, is considered to be one of the rising young stars on the international fashion scene. Her collection of couture shoes, Kilame is popping up in boutiques in Beverly Hills and in New York City and since there are no two shoes exactly alike you can also contact Pamela Quinzi directly through her website and follow her on the official Kilame Facebook page. Pamela Quinzi also has an accessories collection, but her main focus right now is Kilame. In the past she has collaborated with some of the world's leading designers and fashion houses to design dresses, handbags and other accessories and she still does create new designs for dresses, jewelry and accessories. Kilame however is her baby and she works feverishly day and night to grow the international presence of her brand (the shoes) and it has earned her the nickname Cinderella of New York.
During our recent conversation Quinzi was in the southern part of Italy on the coast of the Adriatic Sea for a month where she works closely with manufacturers, creating new styles and in May she will be heading back to Los Angeles for the second time in 2017.
"I had been before to LA for traveling and for checking out everything, but this was the first time for the collection to be in LA and a whole new world opened up to me. I will be in New York and then in Los Angeles for a month in May. I will be with the showroom (in Los Angeles) that is representing the shoes for all of the celebrities. We had a connection with the Oscars through Blanca Blanco the actress. We are (making connections) every day in photoshoots and we have other
Jenny Jones - Blondies Recipe

Jenny Jones hosted her own nationally syndicated talk show but that was just one of many jobs that Jenny has held, including waitress, bookkeeper, author, comedian, musician, singer, songwriter, caterer and chef.
Jenny Jones Easy One Bowl Blondies
You only need 3 tablespoons of butter for these yummy, chewy bars. Toasting the pecans makes a huge difference in taste and there's almost no cleanup if you line your pan with foil. Do not overmix or overbake. - Jenny Jones
Prep Time: 12 minutes
Cook Time: 18 minutes
Total Time: 30 minutes
Makes: 16 servings
Ingredients:
3 Tablespoons butter, melted & cooled
1/4 cup vegetable oil
1/2 cup brown sugar
1 egg
1 1/2 teaspoons vanilla
Pegi Young Releases RAW

Pegi Young's new album RAW featuring her band The Survivors opens with the plaintive song "Why," a question one party or the other always seems to be left asking when a divorce takes place. RAW is Young's musical chronicle of her journey through divorce from Neil Young. "Why," a song written by Kelvin Holly, Spooner Oldham and Pegi Young asks the question "Why'd you have to ruin my life?" The song looks through the eyes of the one being left and she wants to know why he avoided the hard questions and she says he was not straight with her. The playing of Holly, Oldham and newcomer, bassist Shonna Tucker is perfectly balanced and serves as a fine accompaniment to Young's vocals.
Guitarist Kelvin Holly has performed and / or recorded with Little Richard, Bobby Blue Bland and Gregg Allman to name a few. He also was a studio musician at Muscle Shoals. Keyboardist Spooner Oldham was also part of the Muscle Shoals Rhythm section and he has played on such iconic songs as Percy Sledge's "When A Man Loves A Woman," and Wilson Pickett's "Mustang Sally." He co-wrote "Cry Like a Baby," for The Box Tops and "I'm Your Puppet," recorded by James and Bobby Purify, a tune that rose to # 5 on the charts. Shonna Tucker played with the Drive By Truckers and appears on records by Booker T. Jones and Bettye LaVette.
As for the album RAW, Pegi Young says, "When (the album) was done and I was listening to it as I was driving down the road one day, I thought shoot this is like the soundtrack of the stages of grief. It was all over the map emotionally as I was for a good amount of time after things changed as dramatically as they did.
I was fishing around for a title in my

Read More
Lene Fogelberg - Beautiful Affliction

It almost does not seem appropriate to refer to Lene Fogelberg as an author, because that moniker almost sounds too distant, too formal, for the young Swedish woman, for really she is a storyteller and that has a much warmer feel to it, as does her book, Beautiful Affliction A Memoir. Not many people write their Memoir when they are still thirty-something, but Lene Fogelberg has already lived a lifetime and more. Her story begins as a young child in Sweden when the doctors determined that there was absolutely nothing wrong with her health and how throughout her life when it became apparent that something was going on inside of her and that she could not do even the simplest of activities without tiring quickly, that indeed something was wrong. This is also a love story, about the love of Lene and her husband Anders who met when Lene was twelve years old and he was fourteen. It is the love of a family, their two young daughters and Lene and Anders' parents. It is about how Anders' job transfer to America for the briefest period of time, slightly more than a year, became the catalyst in enabling doctors to discover that if Lene did not have open heart surgery quickly that she would die.
Like no other book that we have ever read before Beautiful Affliction A Memoir will have you crying, will have you believing once again that miracles really do happen and will have you grow in admiration of Lene Fogelberg and be moved by her husband's devotion to her. The book also ends on a bit of a funny note, but we will leave that for the readers to discover for themselves.
October Wish from Australia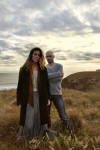 Sarah Gurry and Matt Leffanue from Melbourne, Australia comprise the musical duo October Wish who just released their first album Grief And Grace. If you are looking for a reference point for their music you are going to find that a little more difficult genre wise, because they do an excellent job of blurring those lines, while keeping the songwriting and the music at a high level. There is a little bit of Blue Rodeo's "Try," in their music, a touch of Matchbox Twenty's "3 AM," a dash of another Melbourne, Australia band, Crowded House's "Don't Dream It's Over," and a smidgen of Coldplay, reflected Gurry and Leffanue's songwriting.
The production quality on Grief And Grace is excellent with producer Michael Oliphant at the helm. Oliphant who is also a superb keyboardist, singer and songwriter is well-respected by those in the Australian music community.
Sarah Gurry talks about their music, "Because we took so much time (the album was recorded over three years) and we weren't scared to take time with it we didn't race any of the songs over the line. I think it has a natural breath about it and sometimes it opens up into orchestral moments that really just showed us what they wanted us to do. Probably one of the best examples is the song that we just debuted as a clip ("Caught Up In This Lie"). Going into the recording process we thought we would have to rewrite it. Matt at one point wanted to ditch it. My partner Johnny was saying that's my favorite song. You've got to keep it
Nancy Valentine - Lovesome

Lovesome is the name of Nancy Valentine's current album and we would love some more of that and if you are patient you are going to get more, because she has already recorded five songs for another album. On the cover of her album it says Nancy Valentine sings the music of Billy Strayhorn, to which we might add, she sings it pretty well.
The album opens up with Boris Kozlov's double bass introducing Ms. Valentine's exquisite vocals as she coos "You Better Know It," a song by Billy Strayhorn, Duke Ellington, with a new arrangement by John di Martino. There is a sultry tone to Nancy Valentine's vocals that is further enhanced by her "in the moment" phrasing. Harry Allen (tenor saxophone) and Joe Magnarelli (trumpet) take turns soloing. The song also lends itself to Valentine showing off her scatting chops.
The torchiness, if the readers will permit us to invent that word, is evident throughout Nancy Valentine's interpretation of Billy Strayhorn's "So This Is Love," as she is accompanied elegantly by John di Martino on piano.
"It (the album) didn't start as a tribute to Strayhorn. I like to get that out of the way. I am just an interpreter of this fabulous music written by the composer Billy Strayhorn and that has surrounded my life. I have tried to find as many of his songs as possible that resonate with me and to bring them to the public and to have him stand on his own separate from Ellington. This is what it grew into. We didn't have enough music to fill
Elisabetta Russo

Elisabetta Russo is an Italian soprano soloist and Opera star who was born in Bari in the Puglia region of Italy and who grew up in Calabria in the town of Cariati. She now makes her home in Los Angeles, California and recently she received her green card. She has performed with some of Europe's and North America's most well-known members of the music community including, Andrea Bocelli, David Foster and Renato Bruson.
Describing her childhood she says, "It is a beautiful city in the Calabria region. I had a loving childhood and I was raised in a very loving family who always supported me. Living in Cariati it was nothing short of an amazing privilege, because I was incredibly lucky to play by the sea, inspired by nature and the coastline. I was twelve years old when my father brought home a magazine, along with a Classical CD of the opera Aida by Giuseppe Verdi. I fell in love with the story, but most of all with the beautiful music. It was my soundtrack for the whole next month. I just couldn't stop listening to it.
I used to sing Pop music as a child, but then I am an old soul and Rossini, Verdi and Puccini were the right companions for the musical adventure that I was about to start."
During her youth Elisabetta Russo played Classical piano and she also took vocal lessons. She later auditioned for the S. Cecilia Conservatory of Music in Rome, from which she graduated in 2004 with a Bachelor degree in Vocal Art and she also has a Master's degree cum laude in

Read More
Anna Danes Has Found Her Wings

Imagine if you will for a moment living in three different countries by the time you are eleven years old and having to escape the first one under the guise of a vacation. Then you achieve scholastic excellence in your new found home, begin a promising career as an attorney, give it all up for love and move to a fourth country. As a single parent you think you are giving your child a gift by providing her with singing lessons, she stubbornly refuses to take part in them and then magic, at the suggestion of the vocal coach you take the rest of the lessons and you launch a career as a Jazz singer, topped off by recording your most recent album in the very same studio where Frank Sinatra once recorded. It sounds a little farfetched I know, except all of this really happened and it could not possibly have happened to a more deserving person than the warm and gracious Jazz singer Anna Danes, who now makes her home in San Diego, California. This is only part of Anna Danes' story, read further and you will discover a courageous lady who is always looking forward, who does not dwell on the disappointments of the past and who just released her second album.
Anna Danes' story begins in Gdansk, Poland, "Life (in Poland) was certainly very, very different than it is here, especially on the economic side of things and with personal freedoms, because there were none. It was the time of the communist regime in Poland and so things were scarce and you had to fight to survive every day. You couldn't leave the country, unless the government gave you permission to leave the country. You couldn't speak your mind and if you could speak your mind it could backfire and it would affect your

Read More