Sayonara Sorrow - Ben Brown

Singer, songwriter and musician Ben Brown from Austin, Texas sat down with Riveting Riffs Magazine recently to talk about his new album Sayonara Sorrow a collection of songs whose music is as beautiful as the lyrics are poignant. A common thread throughout these songs is social commentary, which should not be mistaken for being political, because that it is not. Commenting on social issues through music is a familiar theme For Ben Brown as the Pennsylvania born songwriter and his brother Jeff, who tragically passed away a few days after this interview, recorded the song "That's How the West was Lost," with their band The Savage Poor.
He says, "The song, "What Will Happen to All that Beauty," was inspired by novelist and activist James Baldwin. James Baldwin was a writer and activist in the sixties and seventies. I was reading some of his writings a few years ago and the line "What Will Happen to All that Beauty?" is a direct quote from one of his essays called The Fire Next Time. At the end of his essay, he talks about what will happen to the beauty that is blackness. He equates beauty with blackness. He says what will happen to the beauty of blackness, in the United States if we don't reconcile the racial injustices. He said this in 1968. When I read that line it sounded profound and like a great title. Shortly thereafter I heard music in my head that seemed to fit the mood and the tone, so it went from there. I made a YouTube video with a quote from James Baldwin and some stock footage of 1960s civil rights activism."
Ben Brown takes the lead vocals on the song, "What Will Happen to All that Beauty," while producer Mick Flowers lays down the drumbeats, Jeff Brown plays bass
Derek Siow - Actor Interview
Derek Siow is one of those people you could sit and talk to for hours on end, both because he is so affable and he is an immensely talented actor, screenwriter and voice actor, who has worked in film, theater and the burgeoning video game market. The Australian thespian who now makes his home in London, England, he is part of the cast for the audio book The Sandman: Act II, which featured a stunning cast that included, James McAvoy, Emma Corrin, Brian Cox, Kat Dennings, John Lithgow and Bill Nighy. He also has two films in postproduction that he is not yet at liberty to talk about.
Before we get into Derek Siow's acting let's spend a moment or two talking about his other passion, screenwriting.
"I write sci-fi, drama and comedy and I write mainly because I just crave that creative outlet. In my younger days I wrote a lot of songs (oh right we forgot to mention his music, but we will!) but my writing is more focused on screenplays now. I was really fortunate last year when one of my comedy scripts placed as a semi-finalist one of the screenwriting competitions so I'm always looking at the various options on where to take my projects," he says.
Derek Siow's acting career got a big push in 2013 when he played the character Lee in the feature film Piercing Brightness.
"This was a very thought-provoking film. It was more a piece of art than anything else and it was screened at various film festivals,
Love On the Rebound

What happens when a producer with Puerto Rican heritage and a British lady who is a talented singer and songwriter meet on social media? The answer is I.Q. The Professor and Melanie Stace created a beautiful album Love On the Rebound. Both individuals called New York City home and their talents complement each other well. Melanie Stace who has been a welcome guest at Riveting Riffs Magazine for a decade and one-half sat down with us recently to discuss the album and the creative process.
The album opens with the beautiful "Getting Started," a good place to begin with a collection of songs that envelope the various stages and aspects of love.
"There is some of that west coast groove, which I love so much, in "Getting Started," and there is a bit of Wayne (Brown) in there, because he taught me so much (Editor's note: the late Wayne Brown for many years was Melanie Stace's co-writer and pianist).
The mood is I have no expectations and you have no expectations, but I am getting started with you. Then that butterfly feeling comes in when you see that person or you are with that person again. It is about going into something new with your feet on the ground and having no expectations. That is exactly how I feel about this album and Edwin (I.Q. The Professor) does too," says Melanie Stace.
So how did this collaboration start, we wondered.
Melanie Stace who is also an actress, was doing voiceover work in her
Norwegian Actress / Director

In September Norwegian director, screenwriter and actress Camilla Roman's short film Waves premiered at the tenth Global Nonviolent Film Festival in Hollywood, California. Riveting Riffs Magazine had the opportunity to watch Waves. Like other films that Camilla Roman has written and directed Waves packs a powerful message that is very relevant to this moment in time.
Without giving away too much of the storyline, asylum seeker Leyla played by Tonje Thwin and Stig portrayed by Eric Vorenholt meet during a COVID-19 lockdown, while Stig is making a delivery to her home. All is not what it seems however and as the story unfolds the characters have to make a decision to trust one another and to tell their own stories.
Norwegian readers will recognize Tonje Thwin from television series such as Sol, Snart Seks (2016) when she was cast in the role of Linnea's mother and her regular role as Fiona in Hotel Caesar between 2014 – 17. Eric Vorenholt is best known for his role as Arne Hammer in The King's Choice (2016), which was in consideration for an Academy Award for Best Foreign Film. He also appeared in six episodes of the 2020 television series Vikingane.
Camilla talks about casting both actors, "I thought Tonje Thwin and Eric Vorenholt would be excellent choices for this film. When I wrote the script they appeared in my mind, because I knew them a little bit. It was the natural choice to ask them. They said yes and I was very happy that I cast them. I think both of them are excellent actors.
I can tell you why I was
Ana Muñozo - Costume Designer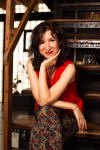 Costume designer Ana Muñozo has designed for productions in theater and film, in both Barcelona, Spain and in New York City. She has lectured at Fordham University in the United States and UNED University in Spain. Although, she is a designer, you discover while in conversation with her that she is part costume designer, with a bit of director, a dash of screenwriter and with an affinity for actors and actresses.
Ana Muñozo studied fashion design and in fact spent four years at the beginning of her career in the industry and established a fashion brand with some colleagues.
"On white fabric we hand painted the prints ourselves and we made a color chart for every season.
We designed accessories such as ties, fans, umbrellas, scarves and dresses. Actually, the original idea were nightshirts, I remember when I showed them to a client, she told me that she saw them as dresses and I said, "as long as you sell it, I don't care if they wear it to dinner or to dream." We did everything ourselves, the boxes, the labels, they were exclusive and on the label the client could see the number of the series. (There might be) a series of fifteen and you bought number four, therefore you knew that there were only fifteen of that model. We did fashion shows in different places like the international "fashion cafe" and we also participated in some collective exhibitions. I also worked at different times as a stylist for several publications," she says.
Grace Pettis of Nobody's Girl

If you have never before heard the music of the Austin, Texas, all-women band Nobody's Girl, you are going to fall in love with their signature harmonies. Comprised of Betty Soo, Grace Pettis, and Rebecca Loebe, the trio released their self-titled album on July 30 th and they are backed by some fabulous musicians. Grammy Award winning producer was at the helm and he also doubled on percussion and keyboards, as Nobody's Girl was also accompanied by Glenn Fukunaga played bass, guitarists were Charlie Sexton, David Grissom and David Pulkingham, while drummers J.J. Johnson and Conrad Choucroun kept time on drums. The album was released on the Lucky Hound Music label. Grace Pettis sat down with us recently to talk about the new album.
The second song "Rescued," is one of those ones that is perfect for summer, with the top down on your convertible, the radio blasting and you and your friends singing along.
Grace Pettis agrees, "Absolutely, yeah, yeah, we wanted it to be that kind of a song when we were writing it. I am really glad that we have a song like that on the record. We are all serious songwriters. We enjoy the craft of songwriting. We take it seriously and in a lot of our songs we touch on things that are a little deeper and meaningful to the cultural things. We also have fun and I think that is a big part of why we want to keep playing music together. We really enjoy each other's company, and we have a lot of fun. We are like a mobile slumber party when we go on tour. It is work, but at the end of the night when we are back in the hotel room it is a fun thing

Read More
A Boy Called Christmas

In what may very well be the most well written, best acted and wonderfully directed family Christmas film in ages, A Boy Called Christmas, now streaming on Netflix has at its center actor Henry Lawfull, as Nikolas or as his mother called him Christmas. This is an enchanting story of the origins of Christmas, born from the imaginations of author Matt Haig, whose book the screenplay by Ol Parker and Gil Kenan is based on. Gil Kenan also directed the film.
Dame Maggie Smith appears as Aunt Ruth, and she certainly needs no introduction and her performance is just as stellar as the rest of her career has been. Dutch actor Michiel Huisman, whom among his many film and television credits counts, Angela Black (TV), The Guernsey Literary and Potato Peel Society (film-2018), Game of Thrones as Daario Naharis and the character Liam McGuinnis in Nashville portrays Nikolas' father Joel, in an understated way. Stephen Merchant is fabulous as the voice of the mouse Miika. Zoe Margaret Colletti is simply brilliant as the Truth Pixie.
Oh yes we forgot to mention this story has a pixie, a troll, and many, many elves who live in an…hmm….well a magical place, called Elfhelm, where of course elves live and for this story at least it is found in the north of Finland. This is the right Christmas film for December 2021, because it reminds us of hope and goodness, even if it is a screenplay born from imagination. COVID-19 and all the ramifications that have come with that have done a number on our psyches that we may not yet understand for many years. There is enough light humor and there are enough magical moments to balance the sadness that several of these characters experience.
Evie Sands - New Album

Evie Sands started her music career (writer puts hand over mouth and mumbles, as it is never polite to discuss a woman's age) that many years ago, but you would never know it from her new album, her vocals are crisp, the music more imaginative than many of today's artists, and that is not a slam on today's musicians and songwriters, but rather a nod to Sands. If you were not aware of all that Evie Sands has already accomplished during her career, you might think she was just starting out, because of her unbridled enthusiasm. We wondered how she has managed to stay on top of her game and with such a contagious, positive and fun attitude.
"I trust in the music and then I let it go. I think it is probably a combination of things. It is my ongoing and will be forever, my insane passion for music, about making it, listening to it and breaking it down. I enjoy it, but I like to figure out what is that stuff sonically, what is going on and it is the enjoyment part of it. It is just ongoing. It is just like I was born, and I started listening. I just get excited. Then there is the striving to continually get better and all the skills that are involved, whether it is continuing to be a better singer, a better songwriter, better composer, a better musician, a better producer and engineer. It drives who I am.
I never look to chase the trends. I have learned that is a losing game. By the time we see and hear things, it already took a while for those things to be created and released, so by the time we say that must be the kind of stuff people want to hear and by the time I could get it out there it would be a day late and a dollar short. It would be old news. Also, it wouldn't be honest, because for me making music is all about being connected