Laura Benitez and the Heartache

In conversation singer and songwriter Laura Benitez uses superlatives, lyrically she utilizes metaphors and vocally she is emotive, all of which are effective in communicating her message, often autobiographical, either from personal experience or things she has observed. In many ways she is a throwback to the 1960s and early 1970s when protest songs and social commentary through music were in vogue and yet one should not mistake her music as an attempt to mirror or clone artists such as Bob Dylan, Joan Baez, Sam Cooke, Pete Seeger, and a little later Patti Smith, as she clearly blazes her own trail.
Laura Benitez sat down with Riveting Riffs Magazine recently to talk about her new album California Centuries by Laura Benitez and the Heartache. Depending on where you are on the ideology spectrum you may find yourself cheering this album on or in various degrees of disagreement with the lyrics and tone, but the one thing you should all agree on is these are well crafted songs, played and sung superbly. Full disclosure by this writer that he is firmly encamped in the section cheering this album on.
The opening song "Bad Things," sets the tone for the album, each verse its own story drawn from real life.
"The first verse was inspired by my partner Brian's family, his mom, sister and stepdad all lived in Paradise California and they lost everything in the wildfire. His sister was driving to escape the flames and she got
Akash Sherman - Film Interview

Some people when you encounter them you just get this sense they are standing on the precipice of greatness. It has not quite arrived yet, but all the signs are there, your artform, whatever it may be and in this case with Canadian screenwriter and director Akash Sherman it is his internationally and critically acclaimed film. You have significant peers, who only seems like yesterday were not your peers, seeking you out for collaborations and you have two television and film stars who heap praise upon you after working with you.
As much as the entertainment industry is filled with stories of successful performing artists who grew up in places like Los Angeles, New York City and Nashville, there are an equal number of fabulous stories of artists who grew up in obscure places, not obscure, because they were unimportant, but more because one does not think of those towns, cities and villages, as an incubator for creatives. Edmonton, Alberta, Canada is one of those cities and this writer says that with warmth and sincerity, as it is still the city considered to be my hometown, even though I was born in Toronto.
Akash Sherman, whose father and sister are both doctors and whose mother is a pharmacist, one might have assumed would have been headed for more of an academic career, in a cold, northern city, far removed from Canada's two Hollywood North cities, Vancouver and Toronto and where minus thirty and minus forty degrees Celsius temperatures keep most people indoors, unless you ski or
Actress Chelsea Clark

These days Chelsea Clark has a lot of things going right for her acting career and it seems the sky is the limit. The dark haired, Ohio born actress who fell in love with New York City during her teenage years appears equally adept on screen in films, television and streaming, as she is on the theater stage.
Last month (September 2022), she presented a reading of Joseph Krawczyk's The Last of the Freudians directed by Eddie Lew in New York City.
Chelsea Clark elaborates, "I have worked with Joseph Krawczyk before. He is a brilliant playwright and I love his work. This one is about a college professor who for some reason can commune with the dead spirit of Sigmund Freud. I think it is brilliant. The way it is done in the play is he can hear Sigmund Freud, but nobody else can. I play one of the professor's graduate students and (my character) is still having an affair with this professor. It is not the typical play that I am in, but I love Joe's work, so I am excited to be in this reading."
As for her preparation for The Last of the Freudians, she says, "I work from the outside in if it is a character I do not understand emotionally. I work a lot with physicality. How does this person walk? How does this person speak? What is the tone of their voice? Is their voice different than mine? That will inform how to play this person if it is not something that does not come naturally to me. This person is a little bit sexy, which is not really who I am. She has this little hip-hop and that is what I work with.
Sierra Rein - Actress / Singer
These are heady days for actress and singer Sierra Rein, she has now returned to what she enjoys doing most in life, performing on stage and in front of a camera, after two years of much of the arts world being put on an involuntary pause due to COVID. She has two podcasts on the go, a short film in post-production, appears in two episodes of a series to be broadcast and streamed on FX on Hulu this fall and she has several exciting music gigs coming up. Believe or not that is just barely scratching the surface.
Sierra Rein (pronounced Rhine as in rhinestones) talks about her role in the Hulu series Fleishman is in Trouble, "It came out of the blue. It was January of this year and my agent who hadn't really talked to me for a while said hey can you put yourself on tape for this TV show? I didn't really know much about the project, so I did a tiny bit of Googling. I was like oh, okay there is this character Cherry who is in the book Fleishman is in Trouble, but there wasn't very much about her. I had my husband do the other dialogue and I shot the scene and sent it in. This was when we were in lockdown a little bit (New York City). We were slowing emerging and putting our toes back into the river of humanity of this year.
In mid-February I got an email that said, you are booked. I called my husband and I said you know that one minute scene that you shot with me, I am going to do a scene with Claire Danes and Jesse Eisenberg. It was one of those surreal moments. I was surprised they didn't have a callback. I think it was one of those (times) when they see who the person is and think yep that's the character. That's great, because
Rain Perry - A White Album

A White Album, by American singer and songwriter Rain Perry, which will be released on April 15 (2022) is a lot of things, a collection of songs with an activist theme, some original and some covers from music icons, it is heartfelt, and it is sincere, but what is most of all is very, very good. It was our pleasure to sit down with Rain Perry recently to discuss her new record and why these songs are so special to her.
She says, "It is definitely a concept album. It is somewhat of a sequel to my album Cinderblock Bookshelves, and it was a memoir in music about me growing up as a hippie kid raised by my dad. This record, A White Album, is me looking back at my same life and my same family, but through the lens of race. It is called A White Album, because it is me telling my story. I think most larger topics are best addressed through people and it is my way of wading into a fraught conversation and to talk about some issues that we seem to be having a hard time talking about right now."
Although the common thread is raising awareness of societal issues, the songs on the album do not come across as preachy or even protestation, but instead seem to be asking the question, why are we still here after all these years, far removed from the civil rights movement of the 1960s and yet in many ways the needle seems to have barely moved.
"Thank you, that is what I was shooting for. I think the best way to empathize is getting to know somebody and to see the way they are trying to solve the problems we are all trying to solve, how to be happy, to be fulfilled, and to be successful in life. I don't think
Beatrix Löw-Beer
- German Violinist

While on her way from Munich, Germany to play a gig in Frankfurt, uber-talented saxophonist Beatrix Löw-Beer, whose performances have taken her to England, the United States, the Netherlands, Spain, Ibiza, Mallorca, Italy, Luxemburg, France, Austria, Switzerland, numerous other European countries, Jordan, Egypt, Lebanon, Dubai and some parts of Asia, took time to talk to Riveting Riffs Magazine about her career and her life. The very congenial Beatrix Löw-Beer, while setting a high standard for herself, is as nice a musician as you will meet. She has been compared to her contemporaries, celebrity violinists such as Vanessa-Mae from England via Singapore and American violinist Lindsey Stirling. Beatrix Löw-Beer has performed with such stars as Rod Stewart, Dutch singer Caro Emerald, award winning Pop singer Sarah Connor, the first German performer to ever have four consecutive #1 hits on the German charts. Beatrix Löw-Beer's music ranges from Classical to Rock to House, Pop, Jazz and everything in between.
Artists such as Beatrix Löw-Beer are the reason why people are discovering the saxophone for the first time. When you watch her concert performances or videos to promotional videos everything from her movement to her attitude and her costumes exhibits an exuberance for performing music. One is never left with the impression that you are watching someone playing an instrument, because her saxophone becomes an extension of her persona.
Take us back to where this all began.
"I grew up in Augsburg, which is one hour from Munich, which
Enola Holmes 2 - Film Review

On November 4th Netflix debuted the film Enola Homes 2 starring Millie Bobby Brown and Henry Cavill and it is a simply a wonderful movie. Better yet, it is a film that can be enjoyed as a family and that you can watch over and over again. Whereas the first Enola Holmes movie, based on Nancy Springer's Enola Holmes Mysteries book series was a fun romp through Victorian England with Henry Cavill as Sherlock Holmes and Millie Bobby Brown as his teenage sister, with a lot of adventure thrown in for good measure, Enola Holmes 2 digs in a little deeper.
Whether it was the screenplay written by Jack Thorne and the story adaptation courtesy of Harry Bradbeer (who also directed) or Nancy Springer's book that provided for more character development and a more complicated mystery to solve, the result is great and keeps us guessing.
Perhaps it is just the familiarity with the characters of Sherlock, Enola and Lord Tewkesbury (Louis Patridge) and the fabulous (can we say that again? fabulous) actress Helena Bonham Carter who plays Eudoria Holmes, the mother to Sherlock and Enola that gives us a jumping off point to plunge right into the plot. Susan Wokoma is back as Edith who along with Eudoria taught and continues to teach Enola how to fight back at the world and how to be an independent woman with feminist values, before the word was used.
It is always difficult to write a review of a film you are really enthused about, because you cannot go into the details of the juicy parts or you will spoil it for those who have not yet watched. Let us say this, after solving her first big case in the first Enola Holmes movie,
Carla Olson - Triple Threat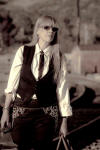 It is rare for an artist / musician / producer to have three almost simultaneous releases and even more rare to have those three be simply outstanding, while being considerably different and yet that is exactly what Carla Olson has accomplished this spring with first her album Americana Railroad, secondly with her cover of The Who's song "I Can See For Miles," with proceeds going to Teen Cancer America. The find project is a beautiful collection of Gordon Lightfoot songs, on an album titled Ladies Sing Lightfoot, featuring artists such as The Kennedys, Natalie Noone, The Textones, Susan Cowsill, IIsey Juber, and Carla Olson sings the closing song, "Ringneck Loon."
The seeds for Americana Railroad, the album, began to take root in the early 1990s with Carla Olson, Gene Clark and Saul Davis, Carla's manager and husband.
Carla Olson says, "It was a nice idea to be a vehicle for a couple of Gene's songs, one of which is "I Remember the Railroad," and not many people know about it unless you are a big Gene Clark fan. Also, his songs, "Train Leaves Here This Morning," and "Kansas City Southern." Gene was a railroad guy. I remember buying a package of shirt patches that they used to sell in train stations and train shops and I bought four or five of the Rock Island Line. I gave a couple of them to Gene when we were first hanging around together in the eighties. He said this is so cool I am going to sew them on my jean jacket as soon as I can. He was a huge reason why we tried to cobble this together. The other song was