Pear Duo - No Boundaries

Pear Duo comprised of pianist / composer and arranger Curtis Brengle and singer / songwriter and musician Julie Ragins recently released their new album No Boundaries, a wonderful and diverse collection of songs that are a mix of original tunes and cover songs. The husband and wife singing combo bring a wealth of musical experience painted across a vast genre palette to this recording. Their combined history has seen them perform with The Moody Blues, Chaka Kahn, Sheena Easton, Pointer Sisters, Ray Charles, Sergio Mendes and numerous other stellar artists. The affable couple sat down with yours truly and Riveting Riffs Magazine recently to talk about their new album.
Curtis notes the fact that they do have such a vast genre palette to choose from is what led to the title No Boundaries for this record.
"We are not going to limit ourselves to a particular style," he says and Julie adds, "Much to the chagrin of every platform on the internet that wants to pigeonhole you in a single genre."
Our conversation wanders in another direction for a moment as we ponder whether or not the music industry still wants to pigeonhole artists into specific genres.
Julie Ragins says, "The first question everybody asks you is what kind of music do you play? They want an elevator pitch answer. They want to hear Country. They want to hear Blues; they want to hear Rock and Roll. They do not want (to hear you say well we are a group that is kind of rooted in a fusion of Jazz and Pop, but we also have a lot of elements of Soul and R & B, Rock
Paloma del Pozo - Spanish Designer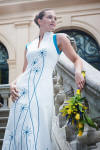 It was a Friday afternoon in February when I left the Melia Princesa Hotel in Madrid walked to the estacion de metro Ventura Rodriguez and made my way by train to another station Gran Via – Pedro Zorolo. It was a sunny day and the open square, like so many in Madrid was bustling in a good way. There was energy, laughter and a lot of people in this city of seven million. I was on my way to Calle de las Huertas, Number 5, fashion designer Paloma del Pozo's shop. Like many of the shops in this neighborhood of narrow winding cobblestone and pavement streets, the shop Ojalá Paloma del Pozo has a somewhat modest storefront, but it is full of treasures inside.
My journey to interview this warm, delightful woman began several months earlier when I noticed a fabulous blouse that was worn by Spanish television, film and stage actress Silvia Marso. When I commented on Ms. Marso's Instagram account about the blouse, she immediately without my asking directed me to Paloma del Pozo. The interview was arranged by her equally warm and personable assistant Sara.
So here I found myself thousands of miles at home surrounded by blouses, skirts, dresses and slacks rich in texture and colorful and in the presence of two fabulous women.
"We don't make a collection," says Paloma del Pozo, "We make what we want. We don't have the same calendars as other designers, (referring to seasonal collections), but we do create throughout the year. We have different colors and different fabrics. You might see one (design) in the wintertime and another similar (item) in the
Ada Rovatti & Randy Brecker
There is something about sitting down for an interview with two people whom you have known for many years, although most of that from a distance, that has more of the feel of friends getting together for a visit, a comfortable conversation if you like. Ada Rovatti and Randy Brecker's new album, Brecker Plays Rovatti: Sacred Bond creates that same mood when you listen to the collection of songs composed and arranged by Ada Rovatti. The musicians who play on the album were drawn together by Randy Brecker and the album was masterfully recorded at Bunker Studios by Aaron Nevezie, while Cynthia Daniels put her magical touch on the mixing and mastering of the album. Just a word about Cynthia Daniels, we could not possibly do justice to her career, the many artists with whom she has worked, or the Broadway productions, films and television shows that have her fingerprints on them, so we encourage you to visit her website.
In proper journalism practice first names alone are seldom used when referring to the one being interviewed however, in this situation when conversing with the husband and wife team of Randy Brecker and Ada Rovatti and our familiarity with them it somehow would not feel right to refer to them by their last names, so we are going to cast protocol aside. Their daughter Stella also appears on this album, but her demands for a significant appearance fee could not be met by Riveting Riffs Magazine and before anyone takes us seriously, we are joking folks, but we did want to give Stella a nod for her singing performance on the opening track "Sacred Bond," as well as making a debut on her mom and dad's album.
When this writer opens the conversation by saying the songs on this album seem to
Charlott Axenström - Designer

When you are a little girl growing up in a tiny village in the very far north of Sweden where during the middle of the winter you may only have at most two hours of daylight and you are in some of the best ski country in Sweden, one supposes like most children you turn to sports or music. Charlotte Axenström became an avid skier, something she still enjoys today, but her imagination and creativity, also took her in another direction.
"It was kind of boring," Charlott Axenström says chuckling, "I think that was the key (to where this all began), you are so bored and it is so dark. I am a skier and a swimmer and I was into clothes. I started sketching clothes when I was five years of age. I think when you have so much time to think about it you (become good at what you are doing). That is what I tell my daughter you have to be bored (first) to be good. If you have everything just in front of you there is no reason for your brain to work."
"I grew up in the same village in northern Sweden as Ingemar Stenmark the skier (Editor's note: Ingemar Stenmark won more international ski races than any other skier in history, including eighty-six World Cup wins). I think with it being dark for twenty-two hours every day (in the winter) that was part of the creative process. Yes it is dark and you are out skiing, but you also stay home a lot. In the summer I was outside all of the time. From April until September you don't sleep that much (Editor's note: there is almost continual daylight)," she says.
When this writer comments about how for such a small country in terms of population Sweden is and yet how it seems like from every
Marisol Rozo - Dance / Theater

Marisol Rozo may very well be the most creatively gifted person that Riveting Riffs Magazine has interviewed and yet she is also one of the most modest about her own achievements. Marisol Rozo was born in Colombia and twenty-two years ago she arrived in Madrid, Spain with only her two suitcases. Her career, as a dancer and began at the age of fourteen and she later appeared as an actress on Colombian television. In the years that have passed since she moved to Spain, Marisol Rozo has become a well-respected dancer, choreographer, director, playwright, appeared in films and not many people realize she is also a noted author of books for both children and adults, although she admits almost somewhat shyly that not many people are aware that she is an author. She says it is almost too much to tell people about. She has performed in and directed numerous theatrical projects in several countries, including major European cities and in New York City, as well as in China.
While conversing and getting to know Marisol Rozo one becomes aware of three things, her passion for her creative endeavors, her ability to balance a family life with a very busy artistic schedule and her kind and generous heart.
As for finding the time to do everything she laughs and says, "It is very difficult to be a mother, a couple, dance, and theater and to write, but when you are passionate about what you do and you love it, I think that time is your friend. When I talk about that I can't understand how I made it (she laughs). It is better if I don't think about it."
Actor Tatum Shank - Interview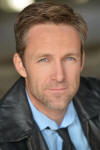 It was a smoky evening on Cahuenga Blvd West in Los Angeles, California last October, while I was waiting to be admitted to Theatre West when a very personable man struck up a conversation with me. He introduced himself to me as Tatum Shank. He was very unassuming and I do not think it was until after the night of one act plays when we talked again outside of the theatre that I learned that Tatum Shank is a film, television and stage actor, as well as the owner of a production company. I still did not know a lot about his acting and producing, but I was so impressed with him I decided to dig in deeper when I returned to Vancouver, contacted him and we arranged an interview earlier this year.
Tatum Shank never intended to be an actor, at least when he was going through his childhood and teenage years. In fact he was more interested in athletic pursuits and eventually attended university on a football scholarship, just an hour south of where he grew up in Des Moines, Iowa. Yet, he has portrayed George Bailey in It's A Wonderful Life on stage, he has appeared on Law & Order: LA, CSI: NY, Criminal Minds, NCIS and Hawaii Five-O (are you noticing a trend?). In post-production is the film Blonde, scheduled for release this year (2020), in which he plays Dick Tracy, but not that Dick Tracy. We will have more on that in a minute.
"(Acting) was a departure and I am the one lone wolf in the family I guess. My dad built houses when I was growing up and by the time I development and the second house he built in that
Katja Rieckermann - Double Release

You know the song "Da Ya Think I'm Sexy," from when Rod Stewart recorded it on his 1978 album Blondes Have More Fun, but you have never heard it played like this before. Saxophonist, arranger and composer Katja Rieckermann and TMTQ turn in a stunning dance version of the song, with new vocals by Sir Rod Stewart. Rieckermann who toured with Stewart for fourteen years and during that time she began her solo career, which to date has produced three albums, the self-titled Katja (2007), Horn Star (2010) and Never Stand Still (2014). Katja Rieckermann has performed with a diverse group of artists, which include, Carole King, Brooks and Dunn, David Foster, Mary J. Blige, Al Green and Jeff Goldblum.
Katja Rieckerman first started thinking of recording "Da Ya Think I'm Sexy," "about two and one-half years ago. Originally it was going to be an instrumental version of "Da Ya Think I'm Sexy?" and it was going to be very close to the original with the tempo and the vibe of it. I wrote a couple of horn sections for it and we recorded it.
I sent it to Rod for approval and said what do you think? I said hey Rod what do you think? I am thinking about releasing this version. Do you like it? He wrote back, yes I love it. How about I sing on it? I was like wow! That is crazy. Of course, that would be fantastic. He ended up singing over the original track that I sent to him.
I thought now I have these newly recorded vocals of Rod and it is too close to sounding like the original, so I should do something super hip and
Beth Bombara - Americana Rock

We do not often think of the word Evergreen, as summer is winding down, but Christmas came early this year with a delicious album from Beth Bombara that bears that title. The dual first tracks, which for the music video merge into one another, "I Only Cry When I'm Alone," and "Upside Down," are well worth investing in the album, so the listener can discover some other treasures.
Beth Bombara talks about those first two songs, "Social media has changed how we interact socially and what I was really thinking about is how it has enabled us to hide behind this curtain, minus emotion. If you don't want somebody to know that you're sad you don't have to post a picture of you looking sad on the internet. Nobody has to know that you are sad or upset. It is this idea of not letting people behind your emotional curtain. That is what I was thinking about when I started writing," the she adds that you can also convey your true emotions, "I have cried in front of other people before. It is capturing the idea that it is a lot easier now than ever to let people see when you are feeling sad."
Although, the song does not focus specifically on the period of her life when Beth Bombara was dealing with depression, she says, "I was not thinking about that, but generally speaking yes. Part of my battle with depression during that time period was the aspect of feeling stuck and not feeling like I had any power to do anything. There is an aspect of "Upside Down," that alludes to that. It is the feeling of being stuck and not having the power to do anything and then just flipping your whole perspective upside down. If you think you are at a place