NEVERWONDER

"2020 is going to be a great year for NEVERWONDER. We have a new record coming out, we have some great shows coming up and we will be at SXSW (in Austin, Texas). We have had radio play and we have some more coming up," says Fabienne Grisel, the Swiss born leader singer of the melodic Rock band NEVERWONDER (yes the name is all in capitals), while in conversation with Riveting Riffs Magazine.
About the new album she says, "We are experimenting a little bit more with effects. We work together as a unit even though we all have our own instruments. We collaborate, for instance if I hear something that the drums are or are not doing we can talk about it. If the guys hear something that I am doing vocally they will say something. We might say (to one another) why don't you try this or that? I can't wait to see what comes out of these songs in the studio, because they are already great, but I think we can take them to the next level for sure.
(The album) will first be recorded in analog and then it will be put through the digital (process). I like analog, because as a singer you can hear every crack and every crisp in the voice. I like to hear things that are not so perfect. I am not talking about notes or anything, but the things that make music interesting or the moment interesting; the crack in the voice or that little screech in the guitar. It is those things that you might not be able to hear as much in a digital recording. I am not trying to disregard people who are digital. I think for certain genres of music that is totally appropriate for Rap and things like that, but for what we do I think it just fits us. We are primarily an organic band. I just like the sound of analog (recordings). We like to play around too. We play around with effects and we merge some digital aspects into what
Katja Rieckermann - Double Release

You know the song "Da Ya Think I'm Sexy," from when Rod Stewart recorded it on his 1978 album Blondes Have More Fun, but you have never heard it played like this before. Saxophonist, arranger and composer Katja Rieckermann and TMTQ turn in a stunning dance version of the song, with new vocals by Sir Rod Stewart. Rieckermann who toured with Stewart for fourteen years and during that time she began her solo career, which to date has produced three albums, the self-titled Katja (2007), Horn Star (2010) and Never Stand Still (2014). Katja Rieckermann has performed with a diverse group of artists, which include, Carole King, Brooks and Dunn, David Foster, Mary J. Blige, Al Green and Jeff Goldblum.
Katja Rieckerman first started thinking of recording "Da Ya Think I'm Sexy," "about two and one-half years ago. Originally it was going to be an instrumental version of "Da Ya Think I'm Sexy?" and it was going to be very close to the original with the tempo and the vibe of it. I wrote a couple of horn sections for it and we recorded it.
I sent it to Rod for approval and said what do you think? I said hey Rod what do you think? I am thinking about releasing this version. Do you like it? He wrote back, yes I love it. How about I sing on it? I was like wow! That is crazy. Of course, that would be fantastic. He ended up singing over the original track that I sent to him.
I thought now I have these newly recorded vocals of Rod and it is too close to sounding like the original, so I should do something super hip and new.
I contacted award winning composer and arranger Sandi Strmljan who produced
Ada Rovatti & Randy Brecker
There is something about sitting down for an interview with two people whom you have known for many years, although most of that from a distance, that has more of the feel of friends getting together for a visit, a comfortable conversation if you like. Ada Rovatti and Randy Brecker's new album, Brecker Plays Rovatti: Sacred Bond creates that same mood when you listen to the collection of songs composed and arranged by Ada Rovatti. The musicians who play on the album were drawn together by Randy Brecker and the album was masterfully recorded at Bunker Studios by Aaron Nevezie, while Cynthia Daniels put her magical touch on the mixing and mastering of the album. Just a word about Cynthia Daniels, we could not possibly do justice to her career, the many artists with whom she has worked, or the Broadway productions, films and television shows that have her fingerprints on them, so we encourage you to visit her website.
In proper journalism practice first names alone are seldom used when referring to the one being interviewed however, in this situation when conversing with the husband and wife team of Randy Brecker and Ada Rovatti and our familiarity with them it somehow would not feel right to refer to them by their last names, so we are going to cast protocol aside. Their daughter Stella also appears on this album, but her demands for a significant appearance fee could not be met by Riveting Riffs Magazine and before anyone takes us seriously, we are joking folks, but we did want to give Stella a nod for her singing performance on the opening track "Sacred Bond," as well as making a debut on her mom and dad's album.
When this writer opens the conversation by saying the songs on this album seem to
Aïda Ballmann is Feeling Alive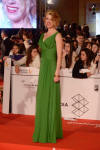 It is not often at the end of an interview that one has tough choices to make in terms of writing, but in the case of actress Aïda Ballmann, there are so many interesting aspects to her life and career and they are intertwined. She grew up in Islas Canarias (the Canary Islands), on the smallest of the islands El Hierro and she describes her parents at the time as being hippies from Germany. She is a very good, trilingual (English, German, Spanish) actress who has drawn rave reviews for her performances. Where we decided to begin however, is with her documentary film Sand Path filmed in Senegal. It is a documentary of the people, the ties to her family, the work that she volunteered to do there, along with her friend Eva Gamallo (also a splendid actress) and it encompasses the reasons that Aïda Ballman became an actress and the values she holds dear.
Aïda Ballmann talks about her documentary film Sand Path, "I didn't plan to be a producer. I think my childhood was very nice and when I was eighteen and I started traveling around the world with my twin sister. I found that the world is not as fair as I thought. I thought what can I do to make it a little bit better? I decided I wanted to tell stories about our reality and maybe give a little push to the audience to think a little different or have a new point of view about their reality and change by themselves. When I was studying theater and started acting afterwards I realized I wasn't telling the stories that I wanted to tell. That is why I made this documentary film, which was the first official film that I started and finished (as a producer). It was like going back to the reason why I started acting and why I wanted to study
Eva Gamallo - Actress from Spain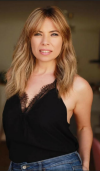 You sit down with someone on the other end of a telephone call or in this case on SKYPE to do an interview or as we prefer to say to have a conversation and neither person knows quite what to expect. All you know about in this case, Eva Gamallo, a wonderful film, television and stage actress from Madrid, Spain is what your research has been able to tell you and all she really knows about you and Riveting Riffs Magazine is what you have told her and what she has read when visiting the magazine's website. What this writer discovered during our hour long conversation with a very talented actress, is a warm and charming woman for whom you immediately want the best for her in life and career. Take a few moments and listen in on our conversation with actress Eva Gamallo. Oh and yes we do know how to say her name correctly in Spanish, because through much shared laughter and some giggles on her part, Eva Gamallo was gracious enough to teach this writer how to pronounce hers surname correctly. Her first name Eva is also pronounced like we would say Ava in English.
Eva Gamallo was born in Switzerland to Spanish parents. Her mother was from Pontevedra in the north of Spain and her father from Granada in the south of Spain.
"I have one brother and one sister. (My family) was medium size, not so small and not so large. When I was three years old we moved (from Switzerland) to Granada. I lived there until I was eighteen or nineteen and then I went to live in
Sara Ballantine A Triple Threat

Riveting Riffs Magazine has counted actress Sara Ballantine, as one of our friends for more than a decade now and there are some things that no longer surprise us about her, those being; how busy she seems to keep whether it is with films, television, theater doing a commercial or learning a few magic tricks. When we caught up with Sara Ballantine recently both in person while we were in Los Angeles and then later on the phone she talked about her most recent career adventures.
"I was in American Christmas, which aired on SHOWTIME on December 1 st, starring Tara Reid and Robert Carradine. I played Annie, a nosy neighbor and my hubby was played by Stuart Pankin. We had a ball working on this funny and racy Christmas movie, with a lot of the creative team from the web series that we did last year called Kaplan's Korner.
I am also now learning some magic, as I am appearing for the first time ever at the world famous Magic Castle in the Palace Theatre at the end of December, carrying on in the tradition of my dad, Carl Ballantine who was known as The Amazing Ballantine. (Editor's note: Carl Ballantine was also considered to be a very good television and film actor.) I was asked by a magician to be a part of his act and that week between Christmas and New Year's they need a host. He asked me if I would assist him. I am going to learn an illusion.
I have learned a few teeny weeny
YYNOT - American Rock Band

YYNOT is a Rock band mostly out of California with a dash of Florida and their name addresses what others might be prompted to ask. Those questions might be why three musicians and a singer got together first as a RUSH tribute band and later started to write their own songs, but still very much in the vein of Progressive Rock. Another question might be what does a twenty-two year old lead singer (Rocky Kuner) know about the pinnacle of RUSH's career or what does she know at all about that era of music? Yet another question stems out of the former question, which is can three older (not old) guys who grew up listening to RUSH and a Generation Z singer actually make it work? Well if one considers the strong following that YYNOT has and they have played concerts all across America rather than just being a regional band then the answer to the last question is a resounding yes!
The new album Resonance opens with an instrumental "Synergos," written by Billy Alexander, a longtime friend of Riveting Riffs Magazine. Alexander sat down with us to talk about the band YYNOT and the songs on this album. Heavy drumbeats (Joel Stevenet) and dare we say it, riveting guitar riffs slice through the air (courtesy of Alexander), while Tim Starace works his magic on bass.
Superb songwriting (Billy Alexander) and fabulous vocals by Rocky Kuner take over with the second song on the album, "Wildest Dreams." The song is both an encouraging missive and a challenge to keep imagination alive, to keep that little girl or little boy spark inside of us or to reignite it and to keep pursing our dreams. The theme is
Beth Bombara - Americana Rock

We do not often think of the word Evergreen, as summer is winding down, but Christmas came early this year with a delicious album from Beth Bombara that bears that title. The dual first tracks, which for the music video merge into one another, "I Only Cry When I'm Alone," and "Upside Down," are well worth investing in the album, so the listener can discover some other treasures.
Beth Bombara talks about those first two songs, "Social media has changed how we interact socially and what I was really thinking about is how it has enabled us to hide behind this curtain, minus emotion. If you don't want somebody to know that you're sad you don't have to post a picture of you looking sad on the internet. Nobody has to know that you are sad or upset. It is this idea of not letting people behind your emotional curtain. That is what I was thinking about when I started writing," the she adds that you can also convey your true emotions, "I have cried in front of other people before. It is capturing the idea that it is a lot easier now than ever to let people see when you are feeling sad."
Although, the song does not focus specifically on the period of her life when Beth Bombara was dealing with depression, she says, "I was not thinking about that, but generally speaking yes. Part of my battle with depression during that time period was the aspect of feeling stuck and not feeling like I had any power to do anything. There is an aspect of "Upside Down," that alludes to that. It is the feeling of being stuck and not having the power to do anything and then just flipping your whole perspective upside down. If you think you are at a place