Laura Benitez and the Heartache

In conversation singer and songwriter Laura Benitez uses superlatives, lyrically she utilizes metaphors and vocally she is emotive, all of which are effective in communicating her message, often autobiographical, either from personal experience or things she has observed. In many ways she is a throwback to the 1960s and early 1970s when protest songs and social commentary through music were in vogue and yet one should not mistake her music as an attempt to mirror or clone artists such as Bob Dylan, Joan Baez, Sam Cooke, Pete Seeger, and a little later Patti Smith, as she clearly blazes her own trail.
Laura Benitez sat down with Riveting Riffs Magazine recently to talk about her new album California Centuries by Laura Benitez and the Heartache. Depending on where you are on the ideology spectrum you may find yourself cheering this album on or in various degrees of disagreement with the lyrics and tone, but the one thing you should all agree on is these are well crafted songs, played and sung superbly. Full disclosure by this writer that he is firmly encamped in the section cheering this album on.
The opening song "Bad Things," sets the tone for the album, each verse its own story drawn from real life.
"The first verse was inspired by my partner Brian's family, his mom, sister and stepdad all lived in Paradise California and they lost everything in the wildfire. His sister was driving to escape the flames and she got
Beatrix Löw-Beer
- German Violinist

While on her way from Munich, Germany to play a gig in Frankfurt, uber-talented saxophonist Beatrix Löw-Beer, whose performances have taken her to England, the United States, the Netherlands, Spain, Ibiza, Mallorca, Italy, Luxemburg, France, Austria, Switzerland, numerous other European countries, Jordan, Egypt, Lebanon, Dubai and some parts of Asia, took time to talk to Riveting Riffs Magazine about her career and her life. The very congenial Beatrix Löw-Beer, while setting a high standard for herself, is as nice a musician as you will meet. She has been compared to her contemporaries, celebrity violinists such as Vanessa-Mae from England via Singapore and American violinist Lindsey Stirling. Beatrix Löw-Beer has performed with such stars as Rod Stewart, Dutch singer Caro Emerald, award winning Pop singer Sarah Connor, the first German performer to ever have four consecutive #1 hits on the German charts. Beatrix Löw-Beer's music ranges from Classical to Rock to House, Pop, Jazz and everything in between.
Artists such as Beatrix Löw-Beer are the reason why people are discovering the saxophone for the first time. When you watch her concert performances or videos to promotional videos everything from her movement to her attitude and her costumes exhibits an exuberance for performing music. One is never left with the impression that you are watching someone playing an instrument, because her saxophone becomes an extension of her persona.
Take us back to where this all began.
"I grew up in Augsburg, which is one hour from Munich, which is the capital of Bavaria. It is in the south of Germany
Ariana Donovan Making A Difference

There is an early twenties something young woman living in a small prairie city in Canada who is already making her mark on the world of modeling, but not quite the way you might expect. Ariana Donovan from Regina, Saskatchewan has been an advocate for providing a safe environment in which models (and other independently employed people) can work and she has coupled that with building a career as a creative director. What is even more remarkable is she is forging her career, while attending university with a major in Human Justice and a minor in film. Oh, did we happen to mention that pre-pandemic she was the first model to grace the runway in her very first fashion show? Well, we do not want to tell Arian Donovan's story for her, so we will let her tell you.
"Modeling was never actually an interest of mine. It was just something that popped up for me. I grew up in Regina, Saskatchewan and there is not a whole lot to do here. Modeling and fashion is one of the ways I kept myself entertained for six years now.
Originally, when I got into modeling I had been falsely scouted online by a predator, who used to be an agent for a really big agency in New York. My mom called their office and they let us know about it (that he was a predator), so I applied to a local agency and I was accepted. I think I was a little naïve about (the stalker), but after my mom called the office, it made more sense. I was gullible and I didn't pay attention," she says.
Remember this experience, because it starts to inform the
Carla Olson - Triple Threat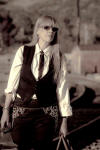 It is rare for an artist / musician / producer to have three almost simultaneous releases and even more rare to have those three be simply outstanding, while being considerably different and yet that is exactly what Carla Olson has accomplished this spring with first her album Americana Railroad, secondly with her cover of The Who's song "I Can See For Miles," with proceeds going to Teen Cancer America. The find project is a beautiful collection of Gordon Lightfoot songs, on an album titled Ladies Sing Lightfoot, featuring artists such as The Kennedys, Natalie Noone, The Textones, Susan Cowsill, IIsey Juber, and Carla Olson sings the closing song, "Ringneck Loon."
The seeds for Americana Railroad, the album, began to take root in the early 1990s with Carla Olson, Gene Clark and Saul Davis, Carla's manager and husband.
Carla Olson says, "It was a nice idea to be a vehicle for a couple of Gene's songs, one of which is "I Remember the Railroad," and not many people know about it unless you are a big Gene Clark fan. Also, his songs, "Train Leaves Here This Morning," and "Kansas City Southern." Gene was a railroad guy. I remember buying a package of shirt patches that they used to sell in train stations and train shops and I bought four or five of the Rock Island Line. I gave a couple of them to Gene when we were first hanging around together in the eighties. He said this is so cool I am going to sew them on my jean jacket as soon as I can. He was a huge reason why we tried to cobble this together. The other song was The Long Ryders' song that Stephen McCarthy wrote
Rain Perry - A White Album

A White Album, by American singer and songwriter Rain Perry, which will be released on April 15 (2022) is a lot of things, a collection of songs with an activist theme, some original and some covers from music icons, it is heartfelt, and it is sincere, but what is most of all is very, very good. It was our pleasure to sit down with Rain Perry recently to discuss her new record and why these songs are so special to her.
She says, "It is definitely a concept album. It is somewhat of a sequel to my album Cinderblock Bookshelves, and it was a memoir in music about me growing up as a hippie kid raised by my dad. This record, A White Album, is me looking back at my same life and my same family, but through the lens of race. It is called A White Album, because it is me telling my story. I think most larger topics are best addressed through people and it is my way of wading into a fraught conversation and to talk about some issues that we seem to be having a hard time talking about right now."
Although the common thread is raising awareness of societal issues, the songs on the album do not come across as preachy or even protestation, but instead seem to be asking the question, why are we still here after all these years, far removed from the civil rights movement of the 1960s and yet in many ways the needle seems to have barely moved.
"Thank you, that is what I was shooting for. I think the best way to empathize is getting to know somebody and to see the way they are trying to solve the problems we are all trying to solve, how to be happy, to be fulfilled, and to be successful in life. I don't think
The Brother Brothers

The new album Cover to Cover by The Brother Brothers, released on Compass Records is a solid album pulling songs from diverse genres and artists and as the title suggests all of them are cover songs. Although, it is not unusual at some point during a band or a solo artist's career to release an album of cover tunes, this is the first time The Brother Brothers have done so, because they are usually recording their original songs, as they are skilled songwriters and arrangers.
David Moss, one-half of the duo sat down with Riveting Riffs Magazine recently, "I think you can tell this from this record that most of the songs are older and not that modern. We really cherish the songs that we grew up with. We listen to a lot of new music too, but when we are making music, we gravitate to older music and an older sound.
Any musician has an arsenal of songs that they didn't write, even if they are songwriters and I think when you are sitting on so many songs, you do them yourselves and when you do them in your own style, you go man, I should really record one of these. I like my version and I want to share it.
During the pandemic we released our album Calla Lily and we had not been able to tour it, so we barely played those songs out on the road. Calla Lily slipped by the wayside, but we thought if we put out an album of covers, we could fill a concert with both albums at the same time. It also seemed like a very good time to come into the studio and put out (a covers album) with the pandemic and the way touring had been.
Madeleine Davis - One of a Kind!

If we told you that Madeleine Davis has lived a life full of adventure some might easily argue that is an understatement. She grew up the daughter of a Gospel singing mother, and a pharmacist father in Columbus, Georgia, near the Chattahoochee River, with one sibling, a brother at home and a sister eighteen years older, who had pretty much left home by the time Madeleine appeared on the scene.
Madeleine Davis had a lengthy career with Boney M (By the Rivers of Babylon, Rasputin) and a small sample of her work in the studio and / or live performances includes artists such as Precious Wilson, Hoyt Axton, Peggy March, Terence Trent D'Arby, Rick Astley, Klaus Doldinger, La Bionda and Amanda Lear. She was in demand by producers such as, Ralph Siegel, Tony Monn, Michael Kunze, Sylvester Levay, Giorgio Moroder and Frank Farian.
She sang in church as a young child, acted on stage as a teenager (there is a motorcycle story we will get to in a minute) and she was a soloist with the Atlanta Symphony Orchestra, while still in university.
"My father was a lot older than my mother. He was fifty-nine when I was born and he was seventy-five when I was eighteen.
I grew up with a father who was in World War I. He had so much information for me when I went to school. When he was a paperboy the Titanic sank, so he knew the information from the newspapers of that time. He told
Kincső Nóra Pethő
- Actress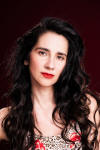 Fresh from performing as a futuristic computer from the year 2100 who is named after the Greek goddess of earth Gaia IA 01, and who sends a message back to today to warn others about a pending environmental apocalypse unless we change our ways, Hungarian actress, choreographer and dancer Kincső Nóra Pethő sat down for a conversation with Riveting Riffs Magazine, over Skype.
Obviously, only the Gaia part is taken from the Greek goddess, as Kincső Nóra Pethő explains, "I am like a computer program from the future who becomes a real person by the end of this 70-minute show. It was called Heroes of the Future and it was part of Planet Budapest 2021. There were about fifty actors and actresses working on this project, which was intended to raise the interest of kids for protecting the environment. For one week (in early December) the program ran from morning until evening. It was a wonderful experience to see how enthusiastic the kids were! I felt great about contributing to such a good goal!"
Continuing she says, "We talk to the children about how in the year 2100 there is not enough air, and the environment has been destroyed. (The message is) they have to be conscious of what they are doing in the present in 2021.
When we had some rehearsal groups and I could see a small guy, who was ten years old and he wore glasses. I was sitting in a box and at first, they could only hear my voice. They could not see me. I could see the