Gretchen Parlato & Flor

Ten years had gone by since Jazz singer, composer and lyricist Gretchen Parlato and I last sat down to have a chat. A lot had changed both in the world and in Gretchen Parlato's life during that time. She moved from New York City back to Los Angeles to be closer to her family, she got married and she now has a seven-year-old son. She received a Grammy Award nomination, Best Jazz Vocal Album, in 2015 for her album, Live in New York City. Her sense of humor, which was so evident a decade ago is still evident and as we talked over the phone she was just as insightful, introspective and still comfortable in her own skin.
Ten years ago, she told this writer, "The goal of art is to reflect who you are and to reflect your life. It has been a process for me to get to that place and to realize that it is okay to not try to sound like anyone else or to try to be like anyone else. It is just being completely honest and open and vulnerable. I want to be versatile, but I also want to sound like me."
Did she still feel the same and does her new album Flor (her quartet has the same name), reflect that same sentiment?
She enlightened us, "I am pleased with my thirty-five year old self for saying that (she laughs lightly). I would agree, that was my path then and it was my self-realization then. It is definitely a continued path now. Our art is a reflection of our life, so my life now and for the past seven years of motherhood is very different than when I was thirty-five, single, independent, and doing whatever I wanted to do, when I was touring the world. It did take me a little bit of time even after I
Liisa Evastina - Actress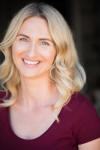 Liisa Evastina is a brilliant actress, screenwriter and aspiring producer / director with her own film development company, Scarlet Studios and she has worked in her homeland of Finland, England, Malta, Spain and she spent nine years studying and working as an actress in the United States where she had a recurring role in the television series NCIS / NCIS Los Angles, was featured in the film 13 Hours, as well as the HBO production 12 Miles of Bad Road and she was a series regular on Rock, Paper, Scissors and Uncut. Liisa Evastina's film and television credits are much more extensive than that, but that gives you an idea of well-respected this multilingual (Finnish, English, German) blue-eyed blonde, five-foot seven-inch actress is, and oh did we happen to mention that she is trained in the martial art, Hapkido and performs her own fight scenes?
Recently with her dog Scarlet looking on and providing encouragement and her cat Oscar offering sage advice Liisa Evastina sat down with Riveting Riffs Magazine to talk about her career and her very interesting life. One immediately becomes aware of her great sense of humor, which ranges from subtle to larger than life (in a good way), laughter, which comes easily to her and her gift for making others feel at ease. Although, at the time of our conversation she was speaking with us from her home in one of the world's northern most countries, Finland, she was already in the midst of planning her move to Barcelona, Spain, while she awaits her visa approval, so she can live in Canada.
She was born Vivienne Liisa Evastina Mannerkoski and that would have been a lot to put on a marquee or in the film and
Grace Pettis of Nobody's Girl

If you have never before heard the music of the Austin, Texas, all-women band Nobody's Girl, you are going to fall in love with their signature harmonies. Comprised of Betty Soo, Grace Pettis, and Rebecca Loebe, the trio released their self-titled album on July 30 th and they are backed by some fabulous musicians. Grammy Award winning producer was at the helm and he also doubled on percussion and keyboards, as Nobody's Girl was also accompanied by Glenn Fukunaga played bass, guitarists were Charlie Sexton, David Grissom and David Pulkingham, while drummers J.J. Johnson and Conrad Choucroun kept time on drums. The album was released on the Lucky Hound Music label. Grace Pettis sat down with us recently to talk about the new album.
The second song "Rescued," is one of those ones that is perfect for summer, with the top down on your convertible, the radio blasting and you and your friends singing along.
Grace Pettis agrees, "Absolutely, yeah, yeah, we wanted it to be that kind of a song when we were writing it. I am really glad that we have a song like that on the record. We are all serious songwriters. We enjoy the craft of songwriting. We take it seriously and in a lot of our songs we touch on things that are a little deeper and meaningful to the cultural things. We also have fun and I think that is a big part of why we want to keep playing music together. We really enjoy each other's company, and we have a lot of fun. We are like a mobile slumber party when we go on tour. It is work, but at the end of the night when we are back in the hotel room it is a fun thing being in a

Read More
Maia Sharp - New Album

Maia Sharp's new album Mercy Rising takes the listener from the highs, of the beautiful, seductive and romantic "You'll Know Who Knows You," which may be the ultimate love song of this century, to the reflective and picturesque "Things to Fix," about a relationship that has ended. The former, burns with passion, mixed with 'I want you and nobody else,' and the latter uses the metaphor of fixing broken and worn things in a house for what the individual failed to address in the relationship, that perhaps would have made a difference. The words, "What I should have said / And what I should have done / Ya' I keep skipping over number one / On my list of things to fix," will take anybody who has been in that moment back there again.
The person in "Things to Fix," stands in contrast to "John Q Lonely," from Maia Sharp's 2008 album Echo, and he was also dealing with a relationship that had come to an end.
She explains, "It shows that I have been doing it long enough that we can compare the end of a relationship thirteen years ago compared to the end of a relationship now.
"John Q Lonely," is just a crab and his reaction to being hurt is just takes his football and he is going home. He is not going to play this game anymore. He closes himself off. His reaction is to pout. If love didn't like me then I'm not going to like love.
"Things to Fix," is a pretty different mindset. It is open and she is aware enough to see that there is something at the very top of my list that I'm avoiding, but the crux
Camila Rodriguez Bohorguez

It was a journey that began as a child in Bogotá, Colombia, with dreams of utilizing a career path first as a biologist and now as a filmmaker to see the world. In between those two careers, she served as the Head of Production in a company that specialized in new and virtual media marketing for major brands. She is now immersed in several other film projects in both Madrid, Spain, where she now lives and in Colombia, but for the moment she is not at liberty to discuss them.
Each fifty-two minute segment of Atlántico directed by Daniel Landa, who was also the series creator, is filled with culture, adventure, and beauty, as the four person crew filmed in Spain, Portugal and twelve west African countries, which border on the Atlantic Ocean. Other members of the four person team were Tato de la Rosa and Vinsen Modino, the cinematographers.
"Daniel has devoted his life to being a journalist, director and a writer. He specializes in long expedition series and documentary series.
When Daniel (Landa) came to me he was looking for a way to make his product a little more modern within an internet and digital context. We tried to expand the narrative and we decided on a lot of things for social media. We found our principal sponsor Volvo who gave us two cars for the expedition.
It was very interesting to work with Volvo, because the first thing they told us was we are not a 4 x 4 adventure brand. We are not one of those brands that people use to cross Africa, but we do share the spirit, values, and the principles of the series. That is a whole other

Read More
Bill Toms is Movin' On

Recently, Pittsburgh singer, songwriter and musician Bill Toms returned to playing before audiences with his band Hard Rain, as North America slowly starts to emerge from the COVID-19 pandemic. These were also the first times that he had to perform in a concert setting, songs from his new album Movin' On, so we asked him how all that felt.
"There was quite a bit of nerves. The fact that we had not played in front of an audience for over a year, and we were playing some songs we've never played before made for some uneasiness. But that first show in Columbus (Ohio) was amazing and soothed the soul. It also seemed to do the same for the audience. We are (now) certainly rebooted and ready to go. The new songs are being received well. It is always nice to have fresh bait in the box.
We started rehearsing in mid-April, and it felt good to start up those engines and to feel that band behind me. It was an unbelievable feeling. You have to remember too, that I started playing in bars in 1980, so for forty years I always had a gig and a calendar with gigs in front of me. For the first time it was all gone. That was quite a shock. Making this record was therapeutic and saved my sanity," he says.
Movin' On is a musical novella, not so much because there is exists a common theme between the songs, but rather, because they are a collection of stories set to music.
Always thoughtfully and reflectively, as Bill Toms shares his views, he says, "I think sometimes storytelling is a lost art. I love to do storytelling types of concerts. I do a
Executive Producer Jeanette B. Milio

Recently, Riveting Riffs Magazine sat down with Jeanette B. Milio who depending on the project she is working on sometimes wears the hat of producer and sometimes she dons the executive producer's hat. During the course of her career Ms. Milio has garnered significant respect from her peers, networks, film studios and distributors for her keen business acumen and her knowledge of how to finance and produce a feature film or television and streaming series that will put people in the seats in cinemas or have their eyes glued to their television sets at home. We asked Jeanette B. Milio if she would be gracious enough to take us behind the scenes and explain the business side to us.
Jeanette B. Milio's story begins in a small town outside of Cologne, Germany, where she was raised by a single mother, who was a hairdresser. At first glance this would appear to be an inauspicious start and far removed from the life she built as a movie mogul, but she credits in part, her success to lessons learned from her mother (more about that in a minute).
"I didn't have any idea of what this industry would be like.
The one thing I remember that drew me to storytelling even as a child, is that I would come up with little stories and I would engage all the children on our street to perform the stories in Saturday morning theater pieces on the stairs in front of our house. I invited all of the other neighborhood kids to come and watch the plays and to pay ten pennies. I think I was ten or eleven
Evie Sands - New Album

Evie Sands started her music career (writer puts hand over mouth and mumbles, as it is never polite to discuss a woman's age) that many years ago, but you would never know it from her new album, her vocals are crisp, the music more imaginative than many of today's artists, and that is not a slam on today's musicians and songwriters, but rather a nod to Sands. If you were not aware of all that Evie Sands has already accomplished during her career, you might think she was just starting out, because of her unbridled enthusiasm. We wondered how she has managed to stay on top of her game and with such a contagious, positive and fun attitude.
"I trust in the music and then I let it go. I think it is probably a combination of things. It is my ongoing and will be forever, my insane passion for music, about making it, listening to it and breaking it down. I enjoy it, but I like to figure out what is that stuff sonically, what is going on and it is the enjoyment part of it. It is just ongoing. It is just like I was born, and I started listening. I just get excited. Then there is the striving to continually get better and all the skills that are involved, whether it is continuing to be a better singer, a better songwriter, better composer, a better musician, a better producer and engineer. It drives who I am.
I never look to chase the trends. I have learned that is a losing game. By the time we see and hear things, it already took a while for those things to be created and released, so by the time we say that must be the kind of stuff people want to hear and by the time I could get it out there it would be a day late and a dollar short. It would be old news. Also, it wouldn't be honest, because for me making music is all about being connected