Peter Himmelman - No Calamity

Peter Himmelman is a lot of things and he does them all very well, he is a guitarist, film and television scorer, a composer, a lyricist, an author and he is also a motivational speaker to corporate America. Peter Himmelman is also a husband and a father and we do not want to lose sight of that, because early in his career Himmelman had a very realistic opportunity to explode globally and become part of the very upper stratosphere of Rock artists, but he chose to redefine his career and placed his family as the first priority in his life.
Fast forward and Peter Himmelman is the go to guy for Fortune 500 companies who are looking for a way to refresh and to renew their corporate vision and to expand the vision of their employees. He also has a brand new album with a collection of songs that are thought provoking and that possess contagious grooves and rhythms. We should also point out that these songs were written prior to the fall of 2016.
That is borne out when Peter Himmelman talks about why he chose the title No Calamity for the album, "I just liked the sound of it. It is a lyric from one of the songs on the record. I chose that title well before any elections were in full swing, just to let you know that it is not a comment on any particular thing. It is more of a personal thing."
Himmelman talks about his unusually named song "245 th Peace Song," "I think I picked that title, because it is subtle irony, as there are so many songs that are extolling peace as a way of life. The song is personal and introspective in a way. It could allude to the interrelation piece between two people. It could be societal in some ways. It asks questions (about) the holes in people's lives (that have) to be filled. It is a statement, but "you've got to be careful what you fill them with."
Cindy Morawetz - Fashion Designer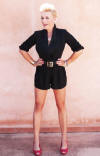 The story of German fashion designer Cindy Morawetz who established her own brand DREZZ2IMPREZZ is both inspiring and amazing. With more and more celebrities wearing her dresses and jumpsuits she can now fondly look back to where even though she did not realize it at the time, it all began, in her teenage years and she can look forward to a bright future. She already has her sights set on making a big splash on the American fashion scene.
Cindy Morawetz started designing her own clothes when she was a teenager, but she very emphatically says "absolutely not," when asked if that was when she first started thinking about a career in the fashion world.
"I never had this idea, because it was only just for me and I never studied this. I only had fun doing things for myself, because everything that you could buy I did not like. If something was not done like I would have liked it, I recreated it.
My family is also very conservative, so they told me I had to study something to get good money, so after school I started to study (to be) a lawyer. It was my family's idea but I only studied for one and one-half years and I noticed this wasn't something that I could be creative doing. Absolutely not. This was the moment when I knew I had to do something creative, but I didn't know what. Studying fashion was not an option, because my family did not have the money to send me to the school and I had no idea that I could ever earn money with this fashion stuff. It was always only for me. Later on it was never planned, it just came.
I started to look at other designers
Amy Black and Memphis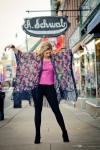 Nashville based singer and songwriter Amy Black is a lot of things, but there are some things that we should dispel immediately about what she is not, just in case readers get the wrong idea from some of the titles for her original songs from her new album Memphis. Her song "It's Hard To Love An Angry Man," is not about any men she knows, unless we want to count the men she has encountered and observed at Home Depot (more about that later) and it is definitely not about her main squeeze, her hubby, whom she describes as her Zen master. The killer tune "The Blackest Cloud," in no way suggests that Amy Black suffers from a Chicken Little syndrome either, far from it, as in the view of this writer she projects as being a happy, positive individual and our conversation was often punctuated with her laughter.
Memphis is the fourth album that Amy Black has released and in some ways is a continuation of the stylistic thread of her previous record, The Muscle Shoals Sessions.
Talking about the evolution of her music Black says, "I think the shift started with my second album, This is Home that I recorded in Nashville and you can definitely hear on the first three songs on that album a little bit more of a soulful, Blues thing going on, before the rest of the album goes onto singer / songwriter kind of Americana.
About the same time that I was recording the Nashville album I had this day booked at Muscle Shoals and I was going to record this song called "Alabama," that I wrote for my grandfather who was from the Muscle Shoals area I thought it would be cool to go to FAME (Studios) and record that song. (Instead) we knocked it out
Jesse & Noah - Southern Usonia

In an alternate reality Jesse & Noah's (Bellamy) album Southern Usonia would be topping the charts in America or at least some of the songs would be, because the lyrics are great, but we have come to expect that of this duo, and there are some great guitar solos that make your ears perk up. It just so happens that the album title plays to that alternate reality.
Jesse explains, "It could refer to the American South in an alternate reality."
To which Noah adds, "Usonia is an archaic term for the United States that was favored by Frank Lloyd Wright and some other great thinkers of his day. Everyone in Americana was making "identity" albums. It plays with that idea by coming from a place that doesn't exist. It's an imaginary identity album!"
The ten track album opens with "This Town Was Built On Heartbreak Songs," which pays homage to Nashville where both Jesse and Noah live. The companion music video has cameo appearances in the audience by some storied musicians, singers and songwriters.
Noah explains, "We wanted people with some history behind them. We put the concept out there and ended up with a group of legends with a deep history in Nashville (such as), Tanya Tucker, Deborah Allen, T. G. Sheppard, Ronnie McDowell, and (of course) the Bellamy Brothers (David Bellamy is the father of Jesse and Noah and Howard is their uncle)."
Jesse says, "We knew that we wanted to do a video, but ultimately we didn't know what form it would take. Our friends at the
Makeup Artistry of Margret Avery

For someone who never planned on a career as a celebrity makeup artist, Margret Avery has done a good job of becoming one of America's most sought after artists. A very small sample of her clients has included, Christy Turlington, Cindy Crawford, Barbra Streisand, Isabella Rossellini, Annette Benning and Naomi Campbell. Margret Avery has worked with some extraordinary photographers including, Helmut Newton, Denis Piel, Herb Ritts, Eric Boman and Irving Penn, to name but a few. She has worked with major brands such as, L'Oreal, Max Factor and Revlon.
She says, "I never thought of having a career as a makeup artist first and foremost. It never entered my mind. I came to New York City from Ohio to go to college. I went to Parsons School of Design and my major was fashion design.
I came from a lower middle class family in Ohio and there wasn't any money to put any of us six kids through college, so I had to put myself through college. I had a partial scholarship the first year and then full scholarships onward. I had to work a lot and at one point I had three part-time jobs with a full load of school. At one of the part-time jobs I met two guys who were aspiring photographers and they wanted to keep taking my picture. I felt so free in New York and being able to have this creative expression. Studying fashion design, I wore different wigs and makeup and clothes every day and it was like a game to me. It was a lot of fun. That is why they wanted to take my picture.
I however, am not comfortable with
Kate Bass - Songs of the Open Road

In recent years singer and songwriter Kate Bass had the opportunity to return to her personal roots and her career roots and it brought back special feelings for her. Most recently in July of this year (2017), Bass returned to perform in Alaska where she grew up listening to music ranging from Beethoven to The Beatles and a time when the animated film The Little Mermaid served as one of her early inspirations to pursue her lifelong dream of becoming a singer.
"Alaska was a particularly special tour for me, because it's my home, and I'm very proud to be from such an amazing place. I hadn't been back in about five years, after my family moved out of state, so it was even more emotional for me because of that. The community out there is very strong, so I saw a lot of very special people from my past, and it really felt like the homecoming I was dreaming of having. My mother even flew out to surprise me. It was a very special moment getting to perform the song "Denali" in Alaska, since I wrote it about missing Alaska and wondering how I could ever find my way back there," says Kate Bass.
Reflecting upon her childhood she says, "Alaska is one of the most beautiful places that I have been to in the world. There are vast amounts of wilderness, with big towering mountains and I grew up in Anchorage right on the coast. At least a couple of times a week you would be driving.
Girl In Between - Anna Daniels
To say that there is a little bit of Anna Daniels in her character Lucy Crighton as portrayed in her novel Girl In Between, set in Rockhampton, Australia would be pretty accurate. The affable Australian author, who is an award winning television presenter for her work on the Australian network ABC and who has produced and contributed content for radio and television including the BBC production John Bishop's Australia, grew up in Rockhampton and like Lucy Crighton whose kelpie (a breed of dog) is her constant companion, Anna Daniels also has a kelpie. Lucy the character and Anna Daniels in real life share career similiarities and Brian, Lucy's dad Brian seems to at least in some ways resemble Daniels' own father.
The Crighton family is to say the least a very interesting family and so are their friends, Lucy's best friend Rosie and then there is the matter of Oscar and Ben, the two lads who move their mother in next-door to the Crightons. The Crightons are not a dysfunctional family at all, we prefer the term refunctional (yes we invented that word) and once you get to know them they will teach you how to rethink the things you thought you had all figured out.
Anna Daniels says that her book Girl In Between resonates with "women from twenty-five up to seventy-five years old. I didn't write it with men in mind, but a lot of guys have been reading it and getting in touch with me and saying that they are really enjoying it. It is obviously from a female voice and a female point of view, but I don't
Joan Severance - Manifest Your Mate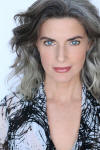 What do you do when you are a super model who has graced the covers of every notable fashion magazine for decades and who is also a film and television actress? You have been the face that launched campaigns for Versace, Armani and Chanel. You were asked to endorse Maybelline, Clairol, L'Oréal and Revlon and you have had a career in which you were in demand as a model for top designers worldwide. Well if you are Joan Severance you are confident enough to let your thick hair stay gray and you write a book called Manifest Your Mate. Severance also acts as a personal coach providing guidance to others in the area of manifesting their mate, as well as other areas of their lives. There may be those who are somewhat dubious about how someone so beautiful and accomplished could possibly understand their plight of attracting Mr. Right to their lives, so we posed just that question to Joan Severance when we chatted with her recently.
"First I would say to them, they are incorrect in making the assumption that I can attract any man that I want. They are incorrect and they don't know my life and I can't (attract any man that I want). You can't just go and get exactly what you want, because of your looks or your status. That's not it. They can make assumptions and I can say the assumptions that they make are probably not only about me, but those assumptions are against themselves.
The book and the content of the