Actress Charlene Tilton

I had a lot of days with really dark times and that were really challenging. There were times when I didn't want to get out of bed. Things had happened, but I have also had some really blessed days and some really good days. Even on the darkest and most challenging days the one thing that I will say is life is exciting no matter what it brings," says film, television and stage actress and playwright Charlene Tilton.
Charlene Tilton did not have time to be bored in (2017), even if that was in her nature, as she co-starred with Lauren Aliana in the movie Road Less Traveled, as an eccentric wine making aunt, had another major role in Second Chance Christmas, as the meddling mother of Katrina Begin's character Caroline who is dealing with amnesia and she appears in the drama Vengeance: A Love Story with Nicholas Cage and Anna Hutchinson, as the mother of two meth addicts and a drug dealers. In the latter role she says some of her own friends did not recognize her when they saw the film. She appeared on the revived Battle of the Network Stars and she wrote the script for a one woman play Tammy Faye Tweets. At the beginning of 2017 Charlene Tilton starred in the stage production of Driving Miss Daisy. Along the way there was a stop in October of 2017 to speak at Voices for the Voiceless: Stars for Foster Kids, hosted by Seth Rudetsky in New York City, just one of several charitable causes that Ms. Tilton is involved with.
Charlene Tilton talks about Voices for the Voiceless: Stars for Foster Kids, a star studded evening that featured Broadway stars, Tony Award winning actors and producers, as well Grammy Award winner Stephanie Mills and stars from television and film.
"Everybody comes in and donates their
Marcella Detroit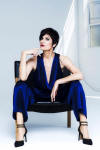 Detroit (also known as) Marcy Levy is in her words "the thing that wouldn't go away." She says that half in jest and half seriously, as she has enjoyed an incredible career as a stunning vocalist, a good guitarist, one of the best songwriters on the planet and more recently she has added to her vast repertoire fashion designer.
For the sake of this interview we are going to toss accepted writing style out the window and dispense with referring to her by only her last name and default to Marcy or Marcella Detroit. After all when this writer asked at the beginning of the interview if she had a preference she said in a mock, snooty, upper class British accent "No you may only call me Marcella," before saying yes it was okay to call her Marcy, and for the record Marcy was in fact born in Detroit. This is the first part of a two-part interview with Marcella Detroit aka Marcy Levy.
Marcy toured as Marcella Detroit on two separate occasions with Eric Clapton and co-wrote several songs with him. She toured with Bob Seger, Leon Russell and was the co-founder of Shakespeares Sister (with no apostrophe) who stayed perched in the # 1 spot on the U.K. charts with their song "Stay," for eight consecutive weeks.
It is simply not possible to name all of the people with whom she has worked as a session singer, but we will name a few, Aretha Franklin, George Duke, Stanley Clarke, Al Jareau, Bette Midler, Burt Bacharach, Leiber and Stoller and Carole Bayer Sager. Her songs have been recorded by Chaka Khan, Belinda Carlisle, Al Jareau and Philip Bailey.
She also recorded the duet "Ain't Nothing Like the Real Thing," with Sir Elton John, as well as recording duets with artists such as

Read More
Interview with Imogen Tear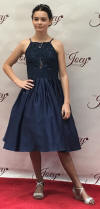 Actress Imogen Tear just turned fourteen years old and she has already won several awards and when you are in a conversation with her she sounds like she has been at this for years. In fact, she has been acting for years, not many years, but the past five years. Throughout the conversatino you are also reminded of something else that she is a teenager and she still sees the world through the eyes of a teenager and in a very positive way. She defaults to superlatives when describing the people who are her friends and while talking with enthusiasm about the television and movie sets on which she has worked. She also does something else that immediately stands out and that is that she expresses gratitude often for the opportunities that she has been given, for her family and for other actors who have helped her along the way.
She talks about winning the Young Entertainer's Award for best actress in a television series (awarded to those between the ages of five and twenty-one). Recently, she also won a Joey Award for Best Lead Actress in a television role (an award, which is also given to youth actors).
"I won the award for my role as Hattie in When Calls the Heart and it was an incredible experience. It was my first time ever going to LA and the experience was totally amazing!
I never go anywhere thinking that I am going to win otherwise I will always disappoint myself. Even after I win I remind myself that awards are the result of hard work. It was pretty amazing, because it was my first award ceremony ever and winning on top of that was super cool. I was quite surprised to win something, because there were so
Maria Schafer - To Know Love

To say that Maria Schafer is an old soul, a beautiful and classic voice from another era would seem to be stating the obvious, whether she is singing the Harry Warren and Mack Gordon song, "The More I See You" or Cole Porter's "You'd Be So Nice To Come Home To," when she demonstrates her smooth, effortless scatting ability. Both songs are from her current album To Know Love. Where does that old soul vibe come from?
Maria Schafer explains, "I have always been a quiet, curious, studious type of person. It was not that I didn't get along with children my own age; it was just that as I was growing up I was more interested in spending time with adults. I (wanted to know) what they were concerned about and I wanted to be a part of their conversations. I loved to do well in school and I was very shy. I loved to read and I was interested in the culture of the old school society that was presented in old movies from the forties through the sixties.
In high school I came across a movie called The Girl Can't Help It featuring Jayne Mansfield and Julie London. Julie London plays a sultry ex-lover of one of the male leads. She keeps coming up in the movie singing "Cry Me A River," which is the song that got me into Jazz. The way in which people conducted themselves and the way they communicated was always a little more attractive to me than present day communication styles. It branded me as an old soul and I hear that quite often.
One of the benefits for me of being a singer rather than an instrumentalist is we get these wonderful lyrics that are poetic and heartbreaking or uplifting, but they are poetry. We have the opportunity to sing those and they should not only be sung, but they should be conveyed in a way that is very personal and in a way that is very impactful to
Rebecca Staab - Film & TV Actress

Film and television actress Rebecca Staab recently talked to Riveting Riffs Magazine from her home in California. The former supermodel who was born in Kansas and who grew up in Grand Island and Omaha, Nebraska discussed a wide range of topics from one of her passions, rescuing dogs, to her partner in life William, to touching upon her love for home renovations, which she warned this writer would easily comprise an entirely different interview, to talking about how she enjoyed an illustrious modeling career and currently is one of the film and television industry's most respected actresses, careers that this former straight A high school student never had her heart set on. In this the first part of a two-part interview with Rebecca Staab she talks about her childhood and later her modeling career. It is our hope that our readers will get a sense for this funny, determined, down to earth, brilliant and engaging woman who recently starred in the ABC television miniseries Somewhere Between, as Colleen DeKizer, was Elizabeth Barrington in the television show Port Charles, is currently shooting the pilot for the television series Manopause, appears as Camille Richfield in the 2017 film Coming Home for Christmas and who has appeared in a plethora of films and television shows, some of which are still in various stages of production.
"I was born in Kansas, but we moved to Omaha when I was seven. I just have an older sister and a younger brother. My sister is one and one-half years older than me, but my brother is nine and one-half years younger. There were two childhoods in a way. There were a few years when there was just my sister and then my brother was
Celia Berk

There is something about listening to a singer who knows how to infuse each and every phrase of a song with authenticity and when she is accompanied by superbly orchestrated musicians playing exquisite arrangements that puts you right in the middle of the scenes that she has vividly brought to life. Celia Berk's interpretation of the songs on her current album Manhattan Serenade accomplishes all of that. The collection of thirteen songs by composers and lyricists such as David Heneker, Irving Berlin, Richard Rodgers / Lorenz Hart, Cy Coleman and David Zippel and others is Ms. Berk's love letter to the city she has lived in and around her entire life. This is home for Celia Berk and in the midst of the hustle and bustle and masses of people she finds beauty and peace. That is really what this album Manhattan Serenade is all about.
It is about a woman who was born in Manhattan and grew up on Long Island, before eventually moving back to New York City, as an adult. As a young girl her mother would take her to the Opera on Saturdays and Celia Berk's father inspired within her a love for the Great American Songbook.
"My mother took me to the Opera and she started out when she first came to the city and they had a subscription at the Metropolitan Opera. My father, because he commuted all week long into the city, the last thing that he wanted to do (was come back to the city) on a Saturday afternoon. Frequently I was the one who went with my mother. I saw some of the absolute greats doing the Opera repertoire. That was my whole life," she
Maria Elena Infantino Interview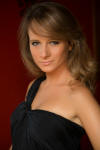 Singer and actress Maria Elena Infantino will be performing on November 3rd (2017) at the Egyptian Theatre in Hollywood for the opening ceremony of the ARPA International Film Festival's screening of the film Dalida. Dalida is based on the life and career of the legendary singer by the same name and as Infantino notes, of course she will be performing one of Dalida's songs.
Maria Elena Infantino's performance at the ARPA International Film Festival could not come at a better time, as she continues to develop a new one woman show (she is well celebrated for her Édith Piaf show), this time featuring the music of Dalida.
Infantino says, "Dalida sang in fourteen languages. She was the Disco queen and she was huge in the seventies. She inspired me in the sense that it is so dramatic and theatrical to represent her life on stage. This year marks the thirtieth anniversary since her passing. I met the actress and the director from the movie Dalida, which was filmed in France and I thought why don't I do this? She had such a wonderful life and for two years I have already incorporated some of her songs into my show. I sing "Bambino," and "Paroles, Paroles," the famous duet that she did with Alain Delon. I think I will be doing a show about her very soon, because everyone claims her. The Lebanese love her, the Armenians, the Egyptians, the Italians and the French. I would combine all of these cultures together and you can imagine the audience I would get with such an international flavor. It would unite all of the nationalities together.
Stew Cutler - Every Sunday Night

Drop on in every Sunday night and hear us play. After listening to Stew Cutler's album Every Sunday Night that is exactly what you will want to do and you will be checking out his website to figure out where he is playing his next gig. For the first time in more than a decade (our fault not his) we sat down with the affable guitarist / composer and talked about his new album.
The album opens with "The Grind" introduced by Nick Semrad's organ, percussion by Bill McClellan and a scintillating guitar solo by Cutler. If you like Funk and you salivate over a good groove with a late night nightclub feel then you are going to love "The Grind."
Cutler talks about when he first started working on this album in 2015, "I was trying to arrange for somebody to come into the club and to just record us there, but for a variety of reasons I couldn't get it to work. I went to a studio where I had previously recorded and I was very comfortable with the place, plus the engineer (Rich Gaglia) is brilliant. I thought it could flow pretty well if we came in and just more or less played live. It was recorded in one and one-half days. There aren't a lot of overdubs. "The Grind," was done in just one take.
I met Rich when I was still involved with Fountainbleu (Entertainment Inc., the record label) and I recorded a record there called So Many Streams. We played these songs and we didn't do it piece by piece. There were no overdubs and there were no songs when I decided I would add acoustic guitar or there was a second synth track. There was none of that, but at the same time Rich Gaglia did his tinkering. He's tremendous."