Amelie Blake - U.K. Interview

Amelie Blake may not be a household name or at least yet, but some of the films and television shows that you watch and many of the movie trailers enticing you to watch a particular film have music created by Amelie Blake. The new mother and affable British woman, who grew up in Warrington, England is now also turning her attention to writing songs for other artists. She is very focused on her music, but also quite low key about her success, a far cry from that moment when she first learned one of her songs had been picked up.
She recalls that moment, "My husband, Mike and I created some demos and we sent them to a lot of production companies, trailer houses and publishers and eventually after hundreds of emails one got back to us. They asked if we could do music for this brief and so we did. (Next) we were introduced to several publishers. We then wrote the album Songs for the Soul, which was a collection of a few songs we had written over the years and we also wrote some new ones for the album. It was put out there for the music supervisors to pick from. It is not written for a (specific) trailer. We write them and then we do not know what is going to get chosen.
I was driving to a job interview for a teaching job, but I had wanted to get out of teaching for a few years, because I really wanted to pursue my music. The phone call came (when I was driving) and I could not answer it, so my husband answered the phone and put it on the loudspeaker. My dad said, do you know that you are on this trailer? He started playing it over the phone and that is when I started to scream (as I was driving) down the motorway, because I was so excited. I didn't care about my job interview after that."

Read More
Evie Sands - New Album

Evie Sands started her music career (writer puts hand over mouth and mumbles, as it is never polite to discuss a woman's age) that many years ago, but you would never know it from her new album, her vocals are crisp, the music more imaginative than many of today's artists, and that is not a slam on today's musicians and songwriters, but rather a nod to Sands. If you were not aware of all that Evie Sands has already accomplished during her career, you might think she was just starting out, because of her unbridled enthusiasm. We wondered how she has managed to stay on top of her game and with such a contagious, positive and fun attitude.
"I trust in the music and then I let it go. I think it is probably a combination of things. It is my ongoing and will be forever, my insane passion for music, about making it, listening to it and breaking it down. I enjoy it, but I like to figure out what is that stuff sonically, what is going on and it is the enjoyment part of it. It is just ongoing. It is just like I was born, and I started listening. I just get excited. Then there is the striving to continually get better and all the skills that are involved, whether it is continuing to be a better singer, a better songwriter, better composer, a better musician, a better producer and engineer. It drives who I am.
I never look to chase the trends. I have learned that is a losing game. By the time we see and hear things, it already took a while for those things to be created and released, so by the time we say that must be the kind of stuff people want to hear and by the time I could get it out there it would be a day late and a dollar short. It would be old news. Also, it wouldn't be honest, because for me making music is all about being connected to the heart. It is a combination of my heart
Maia Sharp - New Album

Maia Sharp's new album Mercy Rising takes the listener from the highs, of the beautiful, seductive and romantic "You'll Know Who Knows You," which may be the ultimate love song of this century, to the reflective and picturesque "Things to Fix," about a relationship that has ended. The former, burns with passion, mixed with 'I want you and nobody else,' and the latter uses the metaphor of fixing broken and worn things in a house for what the individual failed to address in the relationship, that perhaps would have made a difference. The words, "What I should have said / And what I should have done / Ya' I keep skipping over number one / On my list of things to fix," will take anybody who has been in that moment back there again.
The person in "Things to Fix," stands in contrast to "John Q Lonely," from Maia Sharp's 2008 album Echo, and he was also dealing with a relationship that had come to an end.
She explains, "It shows that I have been doing it long enough that we can compare the end of a relationship thirteen years ago compared to the end of a relationship now.
"John Q Lonely," is just a crab and his reaction to being hurt is just takes his football and he is going home. He is not going to play this game anymore. He closes himself off. His reaction is to pout. If love didn't like me then I'm not going to like love.
"Things to Fix," is a pretty different mindset. It is open and she is aware enough to see that there is something at the very top of my list that I'm avoiding, but the crux
Filmmaker Lara Celenza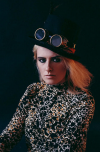 It would be easy to lose track of how many prestigious universities and how many countries film producer, screenwriter and director Lara Celenza has studied in. She has studied in Bologna, Italy, at Cambridge University in England, in Moscow and in Saint Petersburg, Russia.
Lara Celenza, chronicles her travels, "I studied everywhere. I did my bachelor's degree in Bologna, which was already very different from where I grew up, because Italy, as a country is very culturally diverse. I grew up in the south-central part of the country and then I moved to Bologna, which is a sophisticated, university city. It was much bigger than my hometown, but not like a big city. It was kind of a mid-size city.
I experienced the first culture shock of my life there. It was more of an intellectual type of environment, where everybody was sitting down, drinking wine, and discussing literature and movies. It was very inspiring, but at the same time, at the beginning I felt very intimidated (she laughs lightly). It was also kind of wild with the partying. I wasn't used to having all of these students around. My parents were very conservative and strict. When I went to university it was party, after party, after party. I had the chance to meet people from all over the country and some people from other countries.
I did the Erasmus programme in London, at UCL (University College London), which is quite a prestigious school.
I also studied in two different universities in Russia, one in Moscow and one in
Actress Ana Cerdeiriña

Actress from Madrid, Spain has been a lot of things when she first took up acting. She was a mosquito, a bird, the sun, and a tree, but as her career progressed, she was cast in juicer roles, such as, a nun who sold aphrodisiac candies, and a psychopath. One gets the sense the role she enjoys the most is being the mother to her daughter. Ana Cerdeiriña has been in drama series such as Si No Thagues Conegut, sitcoms like Gym Tony (2015) and her most recent role in the television series Los Hombres de Paco Reboot.
Life began for Ana Cerdeiriña, "in Salamanca, a little town in Castile y León. It is a big area in the northwest of Spain, but not as far north as Galicia. It is a university city with students from all over the world. I have a small family, my father, my mother, my sister, and me. The center of my life is my father, my mother, my sister and now my daughter. My mother is a nurse, my father is a doctor, and my sister works as a hospital administrator. My father and mother split up when I was twelve years old, and I went to live in Madrid with my mother and my sister. I have lived in Madrid for thirty years.
When I was a child and I wanted to become an actress, my mother and father thought that was bad news. They wanted me to study for a different career. In Spain when you are fourteen and sixteen years old and if you say you want to be an actress, it is not beautiful news, because it is so difficult to be an actor or an actress here. Our country has a lot of good things, but the arts and acting or creative (careers) are difficult.
If my daughter came home and said she wanted to be an actress I would probably tell her no, but fortunately she loves math and science," says Ana Cerdeiriña.

Read More
Montse Muñoz - Actress, Model

What happens when you have a beautiful model, a daring stuntwoman and a fabulous actress and they all meet? Well when they are three different people, we are not sure and this story is not about three different people, because our guest at Riveting Riffs Magazine recently was Montse Muñoz and she is actively engaged in all three careers. Perhaps the story of how she received her first name is a good place to begin.
"My first name Montse comes from Montserrat, which is a really high mountain mountain range, and they are difficult to climb. My name comes from these mountains. I always asked my mom why she chose this name and she said, because you asked for this name when you were born. She said all of your life you wanted to climb, and you always looked for the difficult way to arrive at the top. You are doing it step by step and that is why you have this name," says Montse Muñoz.
She was born in the small city of Manresa, sixty-seven kilometers from Barcelona, located in Spain's autonomous region of Catalunya. Legend has it that St Ignatius of Loyola, while on his way back from Montserrat stopped in Maresa to pray and that for one year he lived in a cave not far from Maresa.
She was one of only two children in her family and her extended family on her maternal and paternal side was even smaller.
When asked if her creativity is something naturally flows from her family, she laughs lightly and says, "My mother is the only one in
These Fine Moments - Season 10

Through the magic of technology our guests recently at Riveting Riffs Magazine were Hilary Kaufmann who was in Austin, Texas and Robert Watts who was in the Greater Beaumont area of Texas, while this writer talked to them from Toronto, Canada. They joined us to talk about their brand-new album Season 10, whose title informs the listener that the music duo has now spent ten years performing as These Fine Moments.
Hilary Kaufmann talks about their respective musical styles when she first met Robert Watts, "We were different in that my musical interests were completely opposite from Robert's. I was more into Bonnie Raitt, Linda Ronstadt and I guess more Folk Rock and Americana, but I have been doing original music in bands for a long time. My band was a finalist in the Kerrville Folk Festival. I am also a songwriter. Robert is much more edgy than I am, and he took me way out of my comfort zone. Our voices blended so well together it was a natural progression. I feel writing with him has really helped me to grow as a musician."
Robert Watts picks up the conversation, "I come at it from a little different angle. My writing style is not so much literal, but it is more abstract. Hilary centers me a lot to keep me from getting too far out there."
"Robert's influences are more from eighties music and I am slightly older, so my influences are mostly from the seventies," she says.
As far as how their music has evolved during their ten-year careers together,
Leah Belle Faser - Rising Star

It has been a long time since Riveting Riffs Magazine has said of any young artist that she or he has superstardom in their future. In fact, the last time we said that was when we sat down in April 2005 with then little-known singer, songwriter and guitarist Kimberly Perry of The Band Perry and that is exactly what we predicted. Here we are almost sixteen years later and having recently spoken with sixteen-year-old Leah Belle Faser from Atlanta, Georgia, we are saying the same thing. She has the voice, the songwriting skills and the maturity to become a really special artist, one that we suspect someday will receive serious consideration for and could possibly be the winner of any of the top music awards in Country music.
When you first listen to songs such as "Better Than Mine," "Back Home," "The Lift," and "Second-Hand Store," from Leah Belle Faser's new album Crossing Hermi's Bridge, songs about relationships and longing for home, the first thing you want to do is go to the album credits to find out who co-wrote these songs with her. Surely, you think, a sixteen-year-old could not write so insightfully about such mature themes and compose such well constructed songs. Then you think there must be information missing from the album credits, because all of these songs are attributed to this affable teenage girl who answers your questions thoughtfully and you realize not only are her songs mature, but so is she. Yes, she has all the exuberance of a sixteen-year-old, but she also is wise beyond her years.
Leah Belle Faser says, "There is only so much that has happened in my life at sixteen, so there are only so many things that I can