Charleene Closshey Interview

Charleene Closshey has been on a red hot creative streak since the spring of 2018. The cinematic release of the film she produced and starred in, No Postage Necessary during the summer of 2018 was followed by the release of the soundtrack for the album in October of 2018. Her new orchestral arrangement for the song "I Heard the Bells On Christmas Day," peaked at # 24 on the AC charts and the Holiday charts in America. The Christmas song is a precursor for the full length Christmas album, which will be released in time for the 2019 Christmas season and it is produced by six time Grammy Award winning producer / sound engineer Brent Mayer. If your head is not spinning by now Closshey is also releasing her album Only Love Remains and as we write this we are getting close to the date for the release of the first single from the album. Charleene Closshey's short film Perception did well on the festival tour and she received numerous awards for the music she composed for Perception.
We are out of breath after that whirlwind tour of the past year of Charleene Closshey's career and you probably are as well, so let's turn out attention to our recent conversation with this multi-talented and creatively brilliant native Floridian.
Even though No Postage Necessary was in theaters during the summer of 2018, it can still be viewed through a variety of means, iTunes, Amazon and through the new media platform Vevue.
Closshey says, "I produced the film with my business and life partner Jeremy Culver. He was the writer and director on this particular script. We opted to produce as well, because we are gluttons for punishment. It was a story we wanted to get out there in an efficient (way) and
Interview with Charlotte Martin

Charlotte Martin has been a lot of things during her lifetime, a beauty pageant winner and contestant (numerous times), an Opera singer, Classical pianist, she was signed to a major record deal, she is both a private music teacher and she teaches music at a college in the Greater Los Angeles area, but if you asked her what her greatest accomplishment has been and the one from which she has derived the most satisfaction she would likely tell you it is being mom to her son and daughter. If you asked us what strikes us most about Charlotte Martin we would tell you it is her toughness. We are not talking about the kind of tough that comes with an edge or that is confrontational, but rather the kind of strength that wills one through life. She overcame anorexia early in life, for more than a decade she has dealt with considerable physical pain from a condition known as arachnoid neurological syndrome and she has soldiered on with her music career, albeit at the moment she is more focused on the educational and songwriting aspects of it.
Charlotte Martin grew up in Charleston, Illinois the daughter of Becky and Joseph and with a brother six years older. Joseph was a professor of music for forty-seven years and he played woodwind instruments, while Becky was a singer who also taught choirs and music in general.
"I grew up listening to a lot of music. I listened to a lot of Classical and my dad also loved Elvis. My mom was also very influenced by Christian music and I grew up singing in churches. She always sang in the worship band in church and she played as well.
I grew up in a great community for music. The access to music education there is so much more intense than it is even here in
Andrea Miller Continuing a Legacy

Earlier this year for the second time in as many years singer Andrea Miller received a blow to her heart. In February of 2017 just prior to leaving for a world tour with Al Jarreau word came that he had passed away. May 2 of this year Andrea Miller was to fly to Chicago to record the George Gershwin song "I've Got a Crush on You," with longtime collaborator, producer, arranger, composer and lyricist Michael Cunningham, for a George Gershwin tribute album he planned to release. However on April 8th word came that her friend had passed away suddenly.
Andrea Miller is one of the more gifted singers of our time and although these days her preference is to sing Jazz, she has clearly demonstrated throughout the years that her vocals translate well into a number of other genres.
Andrea Miller who has become a friend of Riveting Riffs Magazine took time to talk about her three song EP she recorded with Michael Cunningham and she reflected upon their time working together and their friendship.
She says reflectively, "It puts perspective on the big picture of what I do and why I do it and what it is all supposed to be about. You never know. Every performance you do and every recording you make and every song that you sing it makes them even more meaningful. Eventually, at some point in my life it will be my last song and I don't think the people that I have lost ever knew that would be their last song that they wrote or sang. You have to enjoy and savor every second of it.
I have lost a lot of people in the last two years and especially in the last two months and it has become even more important to me for what I
Barbara Dennerlein - Blues Album

Barbara Dennerlein has long been considered one of the world's foremost Blues and Jazz Hammond B3 organists and composers and in more recent years has added to her musical palette by playing the same music on pipe organs. The affable artist who lives in Germany took time out from her busy schedule to chat with Riveting Riffs Magazine about her first ever compilation album Best of Blues: Through the Years.
"There are two things that came together, one is I love Blues and my roots are Blues. For a long time I wanted to do something with the Blues, because I have a lot of contact with the audience when I play concerts. Over the years many people have asked me on which of your CDs are the most Blues compositions? I realized that one day I should do some kind of a Blues compilation (album). This has been in my mind for many years and I have thirty-three years of Bebab Records, which is my own label. I thought it would be nice to do it now. I have been in the business for long enough now to do a compilation from my label," she says, laughing lightly.
Because it is a compilation album, it is important to note that the songs were all recorded at different times throughout the years and then remastered recently.
Barbara Dennerlein says, "First I had to pick the songs I wanted on the album. There were many Blues compositions (that I recorded) over the years. The difficult part was to pick the ones that I want on the compilation. There are so many that I like. There are a lot of different albums with different songs and some of them were recorded live and some of them were recorded in the studio. Naturally the sound and the lineups are
Give Up Your Ghosts - Rebecca Loebe

With the recent release of Rebecca Loebe's fifth full length album Give Up Your Ghosts she has sent a clear and powerful message to the music community that she is a singer and songwriter to be reckoned with. Her vocals are pristine, her phrasing is impeccable and her songwriting draws you in as she paints vivid word pictures. Loebe (pronounced Low Bee) was born in Arlington, Virginia, her family moved to Atlanta, Georgia when she was eight years old, she was schooled at Berklee College of Music in Boston and she now calls Austin, Texas her home. She took time out from her rigorous North American and international tour schedule to talk to Riveting Riffs Magazine about the record Give Up Your Ghosts and her career.
"The record is called Give Up Your Ghosts, because it is about what is holding you back or what is no longer serving you. That is the global theme of the whole record. It is pulled from specific lines from the song "Ghosts," which are "Give up all of your ghosts / At least the ones you love the most / They were never holding you as close / As you were holding them." That song came together pretty quickly in the writing process. Some songs I labor over for many months, but this one was a stream of consciousness writing experience. It felt like I was writing gentle instructions to myself for how to be happy, how to handle my life right now and how to handle (times of) feeling overwhelmed by the world at large. I just have to remember to relax and to chill out a little bit. I feel those lines in particular are about letting go of your fears or these giant roadblocks that you see ahead of you, because often they are really only in your own
Fiona Joy Hawkins Interview

Fiona Joy Hawkins is the owner of Q Pop Up Gallery in Australia, but you know her best as being an amazing Neo Classical / New Age and Contemporary Instrumental Music, pianist and composer, who doubles as a member of the ensemble FLOW and in collaboration with musician (also a member of FLOW) and producer Will Ackerman co-produced an award winning debut album for American artist Jennifer DeFrayne. Fiona Joy, as she is sometimes referred to is also a visual artist and some of her own paintings are featured in the gallery.
Elegant while seated in front of her piano, vivacious while doing this Skype interview and giving us a tour of her gallery and down to earth enough to have become the mother to numerous orphaned Joeys (baby kangaroos), one immediately recognizes the deep connection between nature and her music.
"The love for nature and animals has always been there from when I was a little girl. I used to bring home strays all of the time. I would land at home with a cat or a dog. I would find a dog with a broken leg or a bird with a broken wing or that was starving to death. I have always had a lot of animals. When my kids were growing up I was a wildlife information and rescue officer. I took some courses about kangaroos, so I was able to hand raise joeys (baby kangaroos). When the mother is killed and the joey gets thrown from the pouch someone has to raise it and that is something that I did. It was a volunteer job, but I loved it, because I love animals," she says.
Continuing to talk about the connection
Charlie Faye & The Fayettes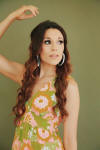 Get ready folks, because coming your way in early February (2019) is a sensational and fun album by Charlie Faye & The Fayettes. The new record is The Whole Shebang, literally the name and the listening experience. The trio of ladies from Austin, Texas, boasts great harmonies, led by Charlie Faye and supported by her Fayettes, BettySoo and Akina Adderley. Influenced by girl group of the sixties and Soul from the sixties and early seventies they are so good that listeners may find themselves saying I am sure I have heard this song before somewhere and assume the trio is merely covering songs from yesteryear and yet that is not the case, as these are all original songs.
"In fact that happened at a show of ours last weekend. Someone who wasn't really familiar with us, came up to us after the show and that person said I thought these were all songs from the sixties until you said something about that you had written all of these songs. I think that happens a lot," says Charlie Faye.
The Whole Shebang opens with a song co-written by Charlie Faye and Bill Demain, "1-2-3-4," feels like it stepped out of the sixties, but more importantly resonates with the audience in 2019. The first four lines recall that feeling of meeting "the one" with "1,2,3,4, That was all it took / A heartbeat and a look, and I was so gone / Felt my whole world tilting left and right / And suddenly a light just came on…"
It is easy to imagine being at a
Interview with Singer Margret Avery

There have been many well-known and outstanding singers who have almost had their careers sidetracked due to stage fright, stars such as Barbra Streisand, Fiona Apple, Adele, Beyonce, Andrea Bocelli and Carly Simon had stage fright to such a degree that she once passed out during a performance and Renee Fleming. We mentioned all of those people, because our guest at Riveting Riffs Magazine, Margret Avery is also an outstanding singer in her own right and she had to learn how to cope with stage fright, as well.
Margret Avery grew up in Ohio where when she was growing up she sang in school productions.
"The first things that I sang when I was very young were Hungarian Christmas carols. Later I had a girl group that I put together. There were four of us singing (again) in school productions and we did some classic Motown things. It was a lot of fun. We didn't go anywhere with it, it was just something that we enjoyed.
I started to develop some stage fright and when I made my plans to come to New York to go to college I put it (singing) on the backburner. I decided to make a different career choice, but I had a roommate who would hear me sing, while I was doing my homework. I was sitting there as a designer stitching and sewing and she could hear me sing. She would pop her head around the corner and say to me, what are you doing with that voice? (She laughs). She said you could be making money, why aren't you singing? I said maybe.