Peter Himmelman - No Calamity

Peter Himmelman is a lot of things and he does them all very well, he is a guitarist, film and television scorer, a composer, a lyricist, an author and he is also a motivational speaker to corporate America. Peter Himmelman is also a husband and a father and we do not want to lose sight of that, because early in his career Himmelman had a very realistic opportunity to explode globally and become part of the very upper stratosphere of Rock artists, but he chose to redefine his career and placed his family as the first priority in his life.
Fast forward and Peter Himmelman is the go to guy for Fortune 500 companies who are looking for a way to refresh and to renew their corporate vision and to expand the vision of their employees. He also has a brand new album with a collection of songs that are thought provoking and that possess contagious grooves and rhythms. We should also point out that these songs were written prior to the fall of 2016.
That is borne out when Peter Himmelman talks about why he chose the title No Calamity for the album, "I just liked the sound of it. It is a lyric from one of the songs on the record. I chose that title well before any elections were in full swing, just to let you know that it is not a comment on any particular thing. It is more of a personal thing."
Himmelman talks about his unusually named song "245 th Peace Song," "I think I picked that title, because it is subtle irony, as there are so many songs that are extolling peace as a way of life. The song is personal and introspective in a way. It could allude to the interrelation piece between two people. It could be societal in some ways. It asks questions (about) the holes in people's lives (that have) to be filled. It is a statement, but "you've got to be careful what you fill them with."
Cindy Morawetz - Fashion Designer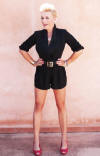 The story of German fashion designer Cindy Morawetz who established her own brand DREZZ2IMPREZZ is both inspiring and amazing. With more and more celebrities wearing her dresses and jumpsuits she can now fondly look back to where even though she did not realize it at the time, it all began, in her teenage years and she can look forward to a bright future. She already has her sights set on making a big splash on the American fashion scene.
Cindy Morawetz started designing her own clothes when she was a teenager, but she very emphatically says "absolutely not," when asked if that was when she first started thinking about a career in the fashion world.
"I never had this idea, because it was only just for me and I never studied this. I only had fun doing things for myself, because everything that you could buy I did not like. If something was not done like I would have liked it, I recreated it.
My family is also very conservative, so they told me I had to study something to get good money, so after school I started to study (to be) a lawyer. It was my family's idea but I only studied for one and one-half years and I noticed this wasn't something that I could be creative doing. Absolutely not. This was the moment when I knew I had to do something creative, but I didn't know what. Studying fashion was not an option, because my family did not have the money to send me to the school and I had no idea that I could ever earn money with this fashion stuff. It was always only for me. Later on it was never planned, it just came.
I started to look at other designers
Actress Barbara Niven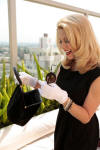 Barbara Niven is a lot of things, but if you were to ask her, she would probably tell you that what she is most proud of is being a mother and a grandmother. She waves that flag proudly and so she should. Barbara Niven, the actress has appeared in more than one hundred feature films and made for television movies. Her roles have been as diverse as currently starring as Megan O'Brien on the Hallmark Channel's wildly popular Chesapeake Shores, where she is the prodigal mother who returns home to her five adult children and her ex Mick O'Brien or in her role as Delores Swensen, mother to amateur sleuth Hannah Swensen played by Alison Sweeney in the Murder, She Baked mystery movies, also Hallmark productions and the middle-aged Rebecca Westridge in Nicole Conn's A Perfect Ending with the late John Heard and Jessica Clark, a story in which her character is trapped in a loveless marriage and she falls in love with another woman.
While there is a part of every actor invested in every role that they play or at least there should be if that role is to be performed well, not every moviegoer or fan who sits in front of their television sets on a Saturday or Sunday night gets an opportunity to discover who the real person is behind the character. We invite you to spend a few minutes with us as we chat with an incredible woman, who seems to find the perfect balance between strength and kindness, while not being afraid to lend her voice to causes she truly is passionate about such as, animal rights, anti-bullying, human rights and helping others to realize their dreams. As Barbara Niven so often likes to say, "Don't stop five minutes before the miracle happens."
For those readers who are not familiar with Chesapeake Shores, now in its
Actress, Mary Jane Wells - Heroine

Whether she is talking to you on the phone or you are watching her act in a film or she is narrating a book the first thing you notice about Mary Jane Wells is the command that she garners with her voice. She possesses great vocal technique, Wells is articulate and the tonal quality of her voice is magical. Mary Jane Wells uses her voice in another way however, to draw attention to a very important issue sexual assault in the military. Her one woman play titled Heroine is a true story of a lesbian soldier named Danna Davis (a pseudonym that we will use throughout this interview) who served in the United States army.
Mary Jane Wells talks about first becoming aware of Danna Davis, "A friend of Danna Davis and who knew her when she was in basic training approached me while I was on the set for (the film) A Perfect Ending. She gave me a script that she had written with Danna Davis and then she told me that they had written a part for me. I read it and I was very flattered. I thought, this sounds like a true story and it has a ring of authenticity about it. It was thinly veiled in artistic license. I spoke to her and that script really didn't go anywhere or not yet anyway. I gradually got to know the person behind it, the survivor and whose story it really was. We became friends over the course of several years. I also said to her now that nothing has happened with it being a screenplay would you mind if I tried my hand at it as a stage play?
I am not famous in any way and I couldn't really help in terms of leverage and getting her script made at all, but I do have a lot of theater experience in the U.K. and that is more where I thought I might have some inroads. The possibility of it actually being told in the public arena is a very important healing ritual for her.
Makeup Artistry of Margret Avery

For someone who never planned on a career as a celebrity makeup artist, Margret Avery has done a good job of becoming one of America's most sought after artists. A very small sample of her clients has included, Christy Turlington, Cindy Crawford, Barbra Streisand, Isabella Rossellini, Annette Benning and Naomi Campbell. Margret Avery has worked with some extraordinary photographers including, Helmut Newton, Denis Piel, Herb Ritts, Eric Boman and Irving Penn, to name but a few. She has worked with major brands such as, L'Oreal, Max Factor and Revlon.
She says, "I never thought of having a career as a makeup artist first and foremost. It never entered my mind. I came to New York City from Ohio to go to college. I went to Parsons School of Design and my major was fashion design.
I came from a lower middle class family in Ohio and there wasn't any money to put any of us six kids through college, so I had to put myself through college. I had a partial scholarship the first year and then full scholarships onward. I had to work a lot and at one point I had three part-time jobs with a full load of school. At one of the part-time jobs I met two guys who were aspiring photographers and they wanted to keep taking my picture. I felt so free in New York and being able to have this creative expression. Studying fashion design, I wore different wigs and makeup and clothes every day and it was like a game to me. It was a lot of fun. That is why they wanted to take my picture.
I however, am not comfortable with
Dina Morrone - The Italian In Me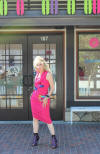 Actress Dina Morrone has appeared in feature films both on screen and off as a voice artist and she has also appeared in a whole host of commercials. The Canadian / Italian actress who has called Los Angeles home for many years now is likely the voice that you heard at numerous high profile awards shows, as she introduced the celebrities walking out on stage.
With all those options exercised in Canada, Italy and America, Dina Morrone says, "My love and my passion would be for me to only write plays and to be a solo performer, whether it be through the acting of my work or the reading of my pieces on stage."
Despite the fact that there was a period in Morrone's life when she was in denial of being the daughter of an Italian immigrant family, it was her embracing of her Italian heritage, in addition to the coaxing of a few friends and acquaintances that resulted in one of her most successful theatrical achievements, her self-produced play The Italian In Me.
Her one woman play prompted renowned Canadian film director Norman Jewison to say, "Not since Moonstruck have I seen such Italian wit, humor and charm."
American actor and producer Maray Ayres describes Dina Morrone's performance in The Italian In Me this way, ""Every now and then talent
Girl In Between - Anna Daniels
To say that there is a little bit of Anna Daniels in her character Lucy Crighton as portrayed in her novel Girl In Between, set in Rockhampton, Australia would be pretty accurate. The affable Australian author, who is an award winning television presenter for her work on the Australian network ABC and who has produced and contributed content for radio and television including the BBC production John Bishop's Australia, grew up in Rockhampton and like Lucy Crighton whose kelpie (a breed of dog) is her constant companion, Anna Daniels also has a kelpie. Lucy the character and Anna Daniels in real life share career similiarities and Brian, Lucy's dad Brian seems to at least in some ways resemble Daniels' own father.
The Crighton family is to say the least a very interesting family and so are their friends, Lucy's best friend Rosie and then there is the matter of Oscar and Ben, the two lads who move their mother in next-door to the Crightons. The Crightons are not a dysfunctional family at all, we prefer the term refunctional (yes we invented that word) and once you get to know them they will teach you how to rethink the things you thought you had all figured out.
Anna Daniels says that her book Girl In Between resonates with "women from twenty-five up to seventy-five years old. I didn't write it with men in mind, but a lot of guys have been reading it and getting in touch with me and saying that they are really enjoying it. It is obviously from a female voice and a female point of view, but I don't
Amy Black and Memphis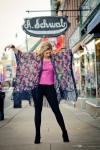 Nashville based singer and songwriter Amy Black is a lot of things, but there are some things that we should dispel immediately about what she is not, just in case readers get the wrong idea from some of the titles for her original songs from her new album Memphis. Her song "It's Hard To Love An Angry Man," is not about any men she knows, unless we want to count the men she has encountered and observed at Home Depot (more about that later) and it is definitely not about her main squeeze, her hubby, whom she describes as her Zen master. The killer tune "The Blackest Cloud," in no way suggests that Amy Black suffers from a Chicken Little syndrome either, far from it, as in the view of this writer she projects as being a happy, positive individual and our conversation was often punctuated with her laughter.
Memphis is the fourth album that Amy Black has released and in some ways is a continuation of the stylistic thread of her previous record, The Muscle Shoals Sessions.
Talking about the evolution of her music Black says, "I think the shift started with my second album, This is Home that I recorded in Nashville and you can definitely hear on the first three songs on that album a little bit more of a soulful, Blues thing going on, before the rest of the album goes onto singer / songwriter kind of Americana.
About the same time that I was recording