Melanie Stace - The Key To Me

Melanie Stace in collaboration with Wayne Brown has created a breathtaking album of beautiful and original songs with the album The Key To Me. The songs range from the tender love letter "Change of Season," to the up-tempo "Waiting Game," a song about waiting for a lost love to call again and the song "The Night Has Just Begun," about a lady of the night.
"Change Of Season," expresses all of those feelings that come to the surface when you finally realize this is the one! This is the person with whom you are in love and how your step has a little more bounce, how you take great delight in the smallest of things that perhaps you didn't notice before. Ms. Stace's phrasing is impeccable and in the lines "You opened up my eyes / To ever sunny skies / Exactly! What I have been missing," she sings exactly with conviction. It is easy to imagine "Change Of Season," as the first dance between and groom at a wedding reception. It is just as easy to imagine two lovers driving down the road in a convertible, with the radio turned up and singing this song together, sharing smiles and knowing looks.
"I wrote this song when I had returned from a long but great seven months working in Seattle with Teatro Zinzanni. It had been raining almost non-stop during the time I was there, and I arrived back at Heathrow (airport in London) to unexpected sunshine. I reflected on what an amazing time I had in Seattle (performing) in the show and what a personal journey I had been on. Having never thought the weather affected me much previously, I thought a lot about how it can have a big influence on practically everything. It's fairly obvious that this song is about being happy to be in love, but it's also about love being the reason for many things including the reason to step out and change things up a little in order to experience

Read More
Kimmie Rhodes & Cowgirl Boudoir

Cowgirl Boudoir an album released in March of this year by Kimmie Rhodes on Sunbird Records is a family affair, as her daughter Jolie Goodnight appears on background vocals and one of her two sons Gabriel Rhodes produced the album. There were songwriting collaborations with friends Johnny Goudie, Colin Linden and Gary Nicholson, while others were written either solely by Kimmie Rhodes or in collaboration with Gabriel Rhodes. The songs once again demonstrate Rhodes' prowess as a songwriter and why over the years iconic artists such as Emmylou Harris, Peter Frampton, Mark Knopfler, Willie Nelson, Wyonna Judd, Waylon Jennings and several others have recorded the songs that she has written.
"Cowgirl Boudoir is a musical experiment we decided that we would have. I have been working as an associate producer on a documentary that is going to be presented by the Country Music Hall of Fame and (I am working) with a producer named Eric Geadelmann. It covers the period of time from the late sixties until the mid-eighties. This is when all the different influences started to come in and a lot of people came back to Country music, with The Byrds and Dylan and all of that. When I did my show Radio Dreams I listened to a lot of different music. I was revisiting a lot of music. For (many) years I was writing a lot and focusing on that and I wasn't really listening that much to what other music was out there. Then I did the Covers record and I also started working on this documentary. I really revisited a lot of the music from that era and I became more and more aware of the influences that are in my music.
Johnny Goudie is a guest on my record and I sing with him on his song "I'm Falling." He is a young writer and to me his voice sounds like a young John Lennon. I love his voice and I love
Joanne Tatham Out Of My Dreams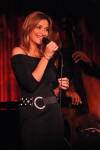 "You Taught My Heart To Sing," the McCoy Tyner and Sammy Cahn song opens Joanne Tatham's new album "Out Of My Dreams," and Tatham's vocals are out of this world. Add to her lush vocals the scintillating piano solo by Tamir Hendelman, the wonderful John Clayton on bass, Peter Erskine on drums and an accompaniment by saxophonist Bob Sheppard and you have an all-star cast. Platinum award winning singer and lyricist Mark Winkler is the producer and the result is a gorgeous collection of songs and an experience that definitely should not be missed by any true lover of Jazz music.
Jamieson Trotter beautifully arranged Harry Nilsson's "Without Him (Without Her)," and Trotter also accompanies Joanne Tatham on piano. As for Ms. Tatham her phrasing is masterful. She makes this song dance and likewise the scenes dance in the listener's imagination.
Mark and I knew each other from being on the same circuit and we would go to see each other's shows. Then one day a couple of years ago he said I would like to produce an album for you. I am no fool, so I said sure, when do we start? We sat down and we started talking about the kind of music that we like and we wanted to do what we like. We really hit it off. We were a good team. There were a number of tunes that I had been doing around town in clubs that I had not yet recorded and I enjoyed and I thought were really a good fit for me."
As for the title of the album it is drawn from the Richard Rodgers and Oscar Hammerstein II song "Out Of My Dreams," the closing
Cherie Currie Interview / Review

If you only have enough money to buy one album this year then buy Cherie Currie's brand new album Reverie. Cherie's vocals have never been better and the song "Inner You," is an absolute musical gift. The album is produced by Jake Hays, Cherie Currie's son and he contributes vocals to many of the songs and takes the lead on "Shades Of Me," another treasure. Reverie is
the best Rock album that Riveting Riffs Magazine has heard in many years.
In the 1970s Cherie Currie was the lead singer of The Runaways, an all-girl teenage group managed by the late Kim Fowley. Although, there is no doubt that Reverie sends a loud and strong message that Cherie Currie is an exceptional solo artist, she collaborated on the songwriting portion of this album with Fowley and Hays and Lita Ford another former member of The Runaways lends her vocals to Currie's new album.
Cherie Currie sat down with Riveting Riffs Magazine to discuss her new album, three days after it was officially released through iTunes.
She says, "It took over a year (for the album to come together) and it happened when Kim Fowley reached out to Blackheart Records to see if there was any paper (legal contract) between myself and them, which I did not have one. He had heard that I had said that I would work with him again, so he reached out to me, knowing that I was a free agent. Working with Kim again was something that I wanted to do. It was a way to bury the past and to start over and that's what we did."
Asha Puthli In The Studio Again

Pop / Jazz singer Asha Puthli. with some assistance from her friends Ron and Mara New, has been recording songs for a new and yet to be named album. When Ms. Puthli left her homeland India in the 1970's and traveled to America on a dance scholarship, armed with a background in Classical and Opera music, her goal was to bridge the Indian and American cultures and to record and perform the type of music she had listened to on the radio shows Voice of America, hosted by Willis Conover and Radio Ceylon.
"I listened to what was called Radio Ceylon in those days and now it (the country) is called Sri Lanka. I was fascinated by Jazz, because of the similarity of Indian music and Jazz in so many ways, in the sense of the freedom and the improvisation quality and a lot of it used chords (similar to) raga music, which I was studying. It was Jazz, which I was so passionate about, but it only came on for an hour. The other one was the Voice of America. Radio Ceylon taught me Rock and Roll. It had Elvis Presley, Pat Boone and Cliff Richard. Little did I realize that one day I would meet Pat Boone and one day I would do a television show with Cliff Richard. A year and one-half after I left for America Willis Conover, was playing Ornette Coleman's album that I had sung on, so it was like a cycle coming complete.
In Willis Conover's autobiography called Broadcasting To The World he mentions John Coltrane and me as being the first people to bring Indian music to Jazz and mixing
Tomorrowland - Film Review
Director Brad Bird in his comments about his new feature film Tomorrowland says, "It is about the journey not the destination," and that is a very apt way to perceive this film that boasts a tremendous screenplay and storyline crafted by Brad Bird (The Incredibles), Damon Lindelof and Jeff Jensen. The movie starts off with a dialogue between George Clooney's character Frank Walker (as an adult) and Casey Newton portrayed by American actress Britt Robertson. It is a conversation that takes place in the here and now or is it in the future? It is a film that compels us to take a look at decisions and choices made in the past that guide our present lives and that dictate future outcomes.
This movie has a little of everything in it. There is action, drama, humor, some great special effects and there is a hint of romance, but not in a way that you would expect. Most of all there are outstanding acting performances of course by Clooney, certainly by Robertson, but also from thirteen year old British actress Raffey Cassidy as Athena the common thread between Frank Walker and Casey Newton. Child actor Pierce Gagnon also puts in a solid performance, as Casey's brother Nate Newton. Hugh Laurie appears as David Nix, but his acting is somewhat limited by the narrow emotional scope of his character and we will leave it at that, so we do not spoil the plot. Amazingly enough Raffey Cassidy is rumored to have performed a number of her own stunts (as revealed in a studio interview with Robertson) and during her own interview Cassidy talks about taking martial arts lessons and gymnastic lessons to prepare for her part in this film. Audiences are going to fall in love with the charming Raffey Cassidy and who the young actress is when she is not in front of the cameras seems equally as charming. Tim McGraw
Julie Budd Interview

She was born Edith Claire Erdman, in Shore Haven, New York, the daughter of Saul and Joan and when she was three months old her parents bought what she describes as "a big old house" on the corner of 54 th Street and Avenue K in Brooklyn. You have known her for most of her life as Julie Budd, a prolific singer and a well-respected vocal coach. She was one of three daughters and her immediate and extended family was instrumental in cultivating a love for music early in Julie Budd's life.
She recalls, "My mother was an outstanding singer, not a good singer, she was an outstanding singer. My grandfather, my mother's father, used to write music and so did his brother. There were a lot of people, my cousin Emily Remler was a world class, Grammy Award winning international star. She was a very famous guitarist."
Then the memories start to flow and you can hear the warm glow in Julie Budd's voice as she says, "My sister Jill took me into Manhattan to see Fiddler On The Roof. I was about ten or eleven years old and I had never seen a Broadway show before and it was a matinee, a Sunday matinee or something and Jill took me on the train from Brookyn. In those days, it is not like today (her voice deepens), people go to the theater and they don't look all dressed up and that annoys me. It really annoys me, you see a ten million dollar production and somebody is wearing shorts. I still get dressed up and I got very dressed up that day and so did Jill. We went into Manhattan and we saw Herschel Bernardi in Fiddler On The Roof and it was glorious (you can still hear the excitement in her voice). I will never forget the opening scene, it was the bottle dance. Remember the bottle dance? I couldn't even breathe it was so exciting.
Angela Parrish - New EP Soon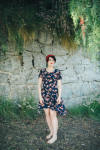 The first thing you notice about Los Angeles based, Kansas born and raised, singer-songwriter-musician Angela Parrish is her vocals. Her vocals to the casual listener sound effortless as she masters Jazz, Americana and lighter Pop songs, but to the trained ear, one realizes right away that this is an artist who has invested a lot of time in honing her craft. The second thing that jumps out at you as you listen to songs such as, "Higher," "The Couple Down The Hall," "Hand Me Down," and "Noon In Denver," is Angela Parrish is a skilled songwriter. In the autumn of 2015 Parrish will be releasing a new EP and she collaborated with producer Jamie Candiloro who has worked with artists such as Courtney Love and R.E.M. and who regularly composes and produces for television and film.
Life began for Angela Parrish in the small town of Newton, Kansas and she has one sibbling, a younger sister Abbey.
She says, "Newton is a small town and it has a small town feel and I like everything about that.
I come from a family of music appreciators. They participated in choirs or lessons growing up, but I am the only professional musician in my family. I am the only one in my family, who went into it, but everyone in my family is supportive and they have a strong appreciation for music.
My parents had me late in life. They were in their mid-forties when I was born and the music of their generation was always playing.